Many organizations aim to provide a seamless customer experience and reduce the burden on customer support teams by enabling customers to help themselves. As a result, customer service leaders are studying all the best practices to enable self-service and increase case deflection rates.
However, as service leaders well know – this can be a challenging task. In fact, approaching it the wrong way can end up giving rise to multiple disjointed experiences in the process that can negatively impact customer retention while severely damaging customer loyalty.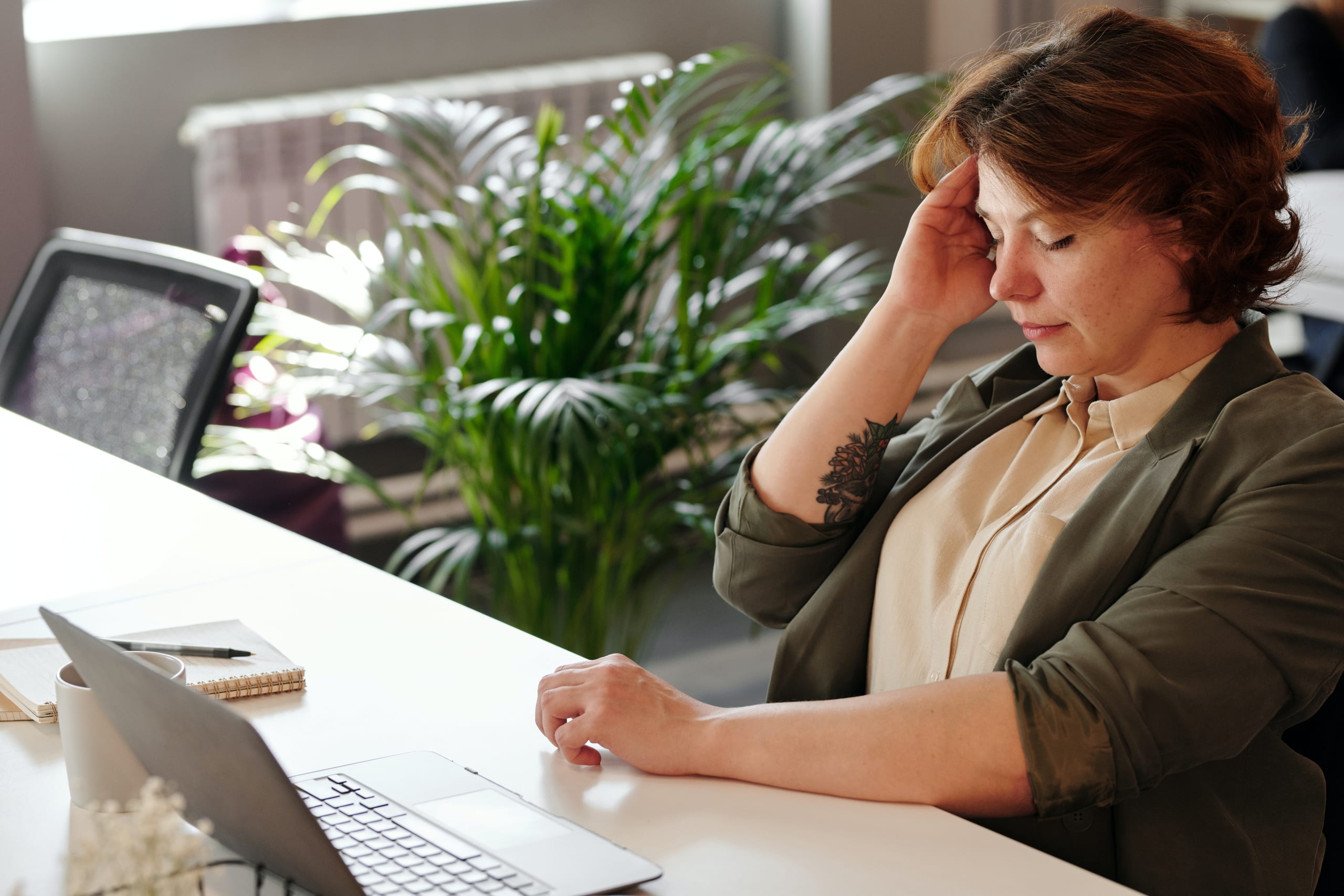 There is a solution to avoid this fracturing. And, as was revealed at the recentRelevance 360 conference, it is to build and implement an omnichannel customer service strategy.
Check out the full session for all the thrilling details
Watch: Building Omni-Channel Service Strategies
The key to delivering a successful omnichannel customer experience is by building each communication channel in a manner that allows them to complement rather than work against one another. And according to Coveo VP of Service Products, Sawan Deshpande, and Senior Product Manager, Bonnie Chase, it is imperative that this initiative be launched now in order to capitalize on five rising omnichannel customer service trends. 
5 Rising Trends Shaping Omnichannel Customer Service Strategy
Let's find out what these trends are and how they can help you meet customer expectations and build customer loyalty.
#1. Conversational AI Powers Digital Assistants
The six fastest-growing channels in customer service all involve small-screen conversational experiences. According to"">Salesforce , these are all positioned to grow over 40% in the next 18 months, making their adoption integral to a business's ability to meet customer needs.
One of the most pertinent channels is online live chat – poised to grow at 44%. This means that customers will be looking for an ultra-personalized experience catering to their issues instead of a standard and irrelevant scripted response.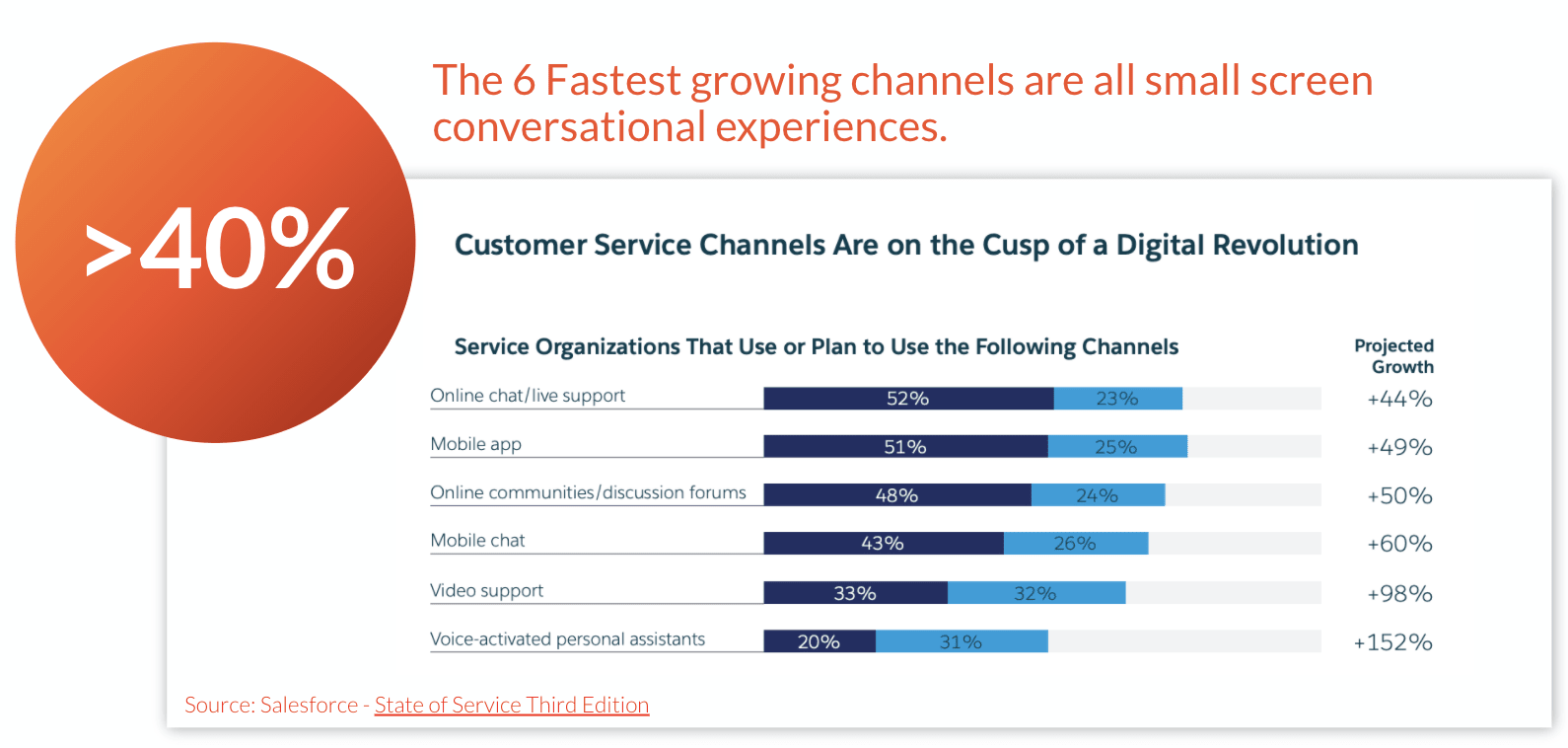 To scale effectively without having to drastically increase payroll costs, companies will need to leverage the powers of AI and"">natural language processing (NLP) to properly communicate with their users and provide automated results without support agent intervention. AI solutions will have to be built into these windows to scour databases – including relevant customer data – and return information in a manner that feels synergistic with the medium – a tough ask for some companies' current tech stacks.
Another important facet of digital assistants will be video support, which is set to grow by 98%. Without a way to automate away a live video chat with an agent, it will be paramount for companies to properly qualify customers beforehand with AI. Deflecting the proper cases and allowing only the necessary cases through to the customer service agent will make a massive difference in the service cost and drive down overall customer service expenses.
#2. Brace Yourself, Chatbots Are Coming
In line with the rise of live chat and the need to make its provision offering scalable and effective,"">Salesforce predicts that chatbot usage will grow at 136% over the next 18 months. Yet, there is typically a gap between customer experience and customer expectations. Businesses need to make sure that they fall in the small category of those able to generate customer engagement via this channel. Using multiple channels in your communication mix can help reach diverse profiles giving you an opportunity to identify what's working and what's not.
This same study shows that 54% of consumers have experienced a negative interaction with a chatbot – and negative experiences chip away at brand loyalty.
If companies want to be able to compete in this digital channel and provide their customers with the seamless experience that they expect, they need their chatbot experience to feel as fluid and personalized as a phone call, but at a fraction of the cost.
How can this be achieved?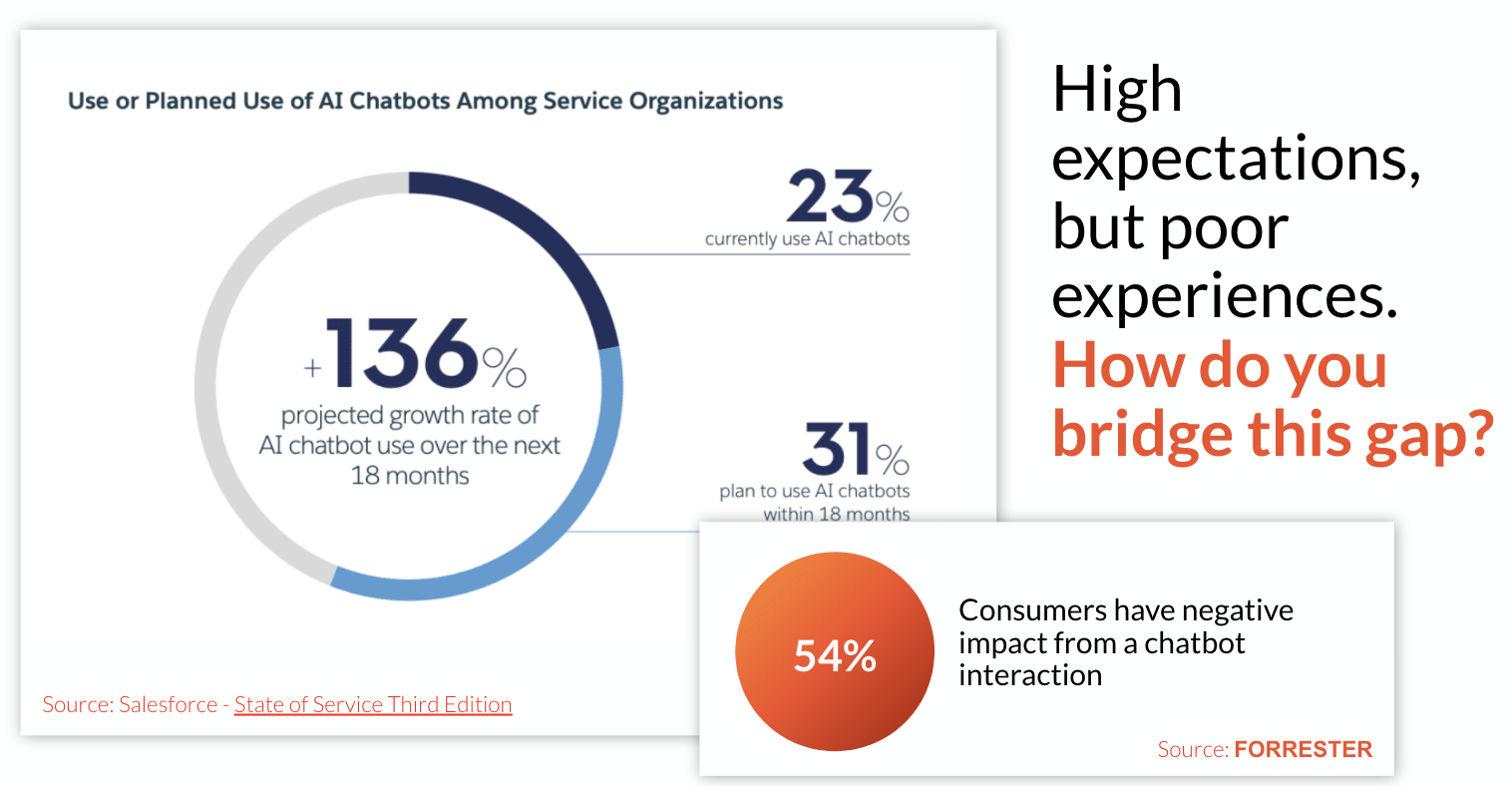 The answer – by having a chatbot system that is, just like search and navigation, tied to all available customer and content data. And customers interact with chatbots differently than they would with a search function or community, so these systems need to be equipped with NLP to contextualize customer queries.
Uncovering the intent behind every customer interaction can be a difficult task. However, by allowing AI to be spanned across the entirety of a user's journey – from site clicks to chat messages – businesses can predict customer preference and better address customer needs..
#3. The Rise of Personalized Journeys 
In delivering hyper-personalized digital experiences, tech giants have conditioned customers to expect this from any business – including yours. And the benefits of doing this well cannot be overstated. According toMcKinsey , Amazon generates 35% of their revenue off recommended products alone, while Netflix is generating 80% of their views in this same way.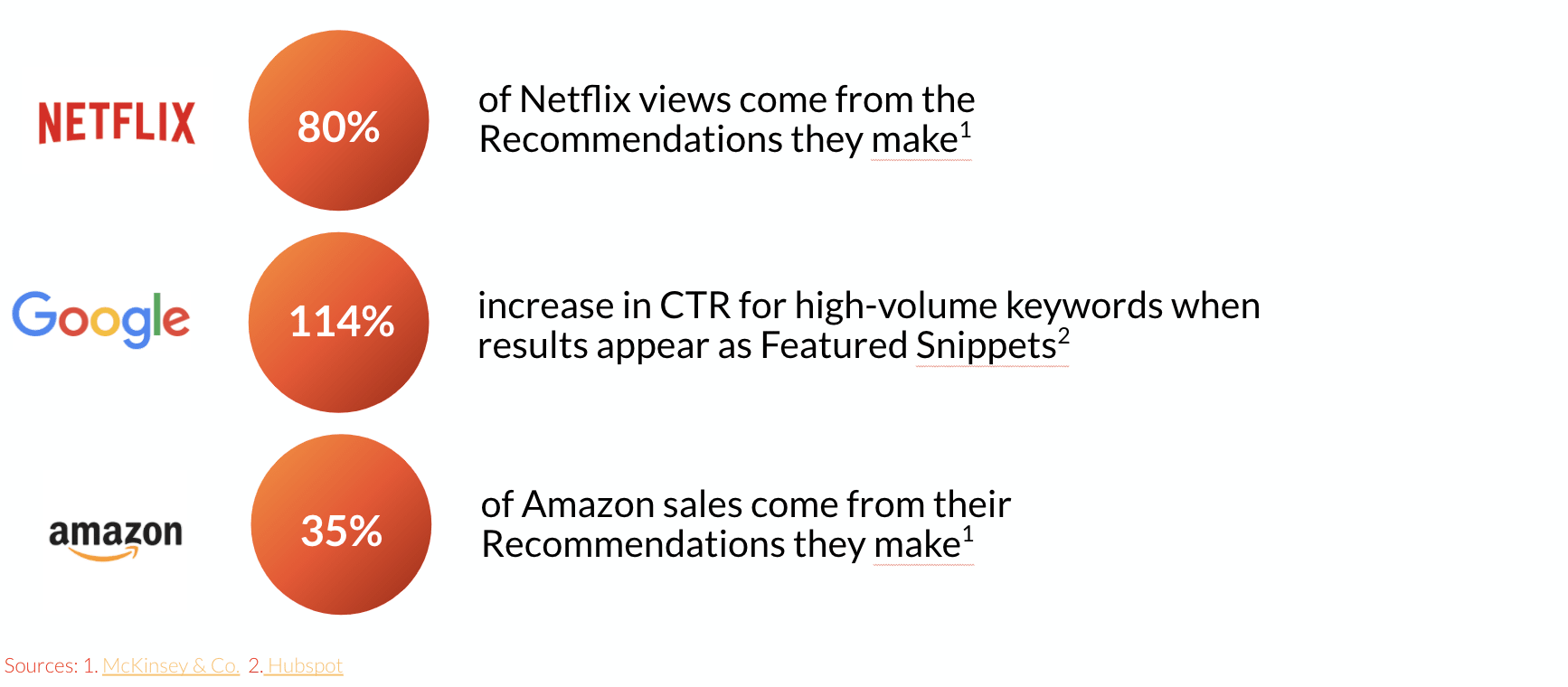 So this begs the question: when recommendations are bringing in the big bucks, how can other businesses leverage their data in equally beneficial ways? For smaller players with comparably meager data sets, is there a way forward that will allow them to achieve the same results as the market leaders?
Implementing AI and unifying their tech stack is the only option. By connecting disparate data sources to bring everything together, companies can add artificial intelligence on top in order to contextualize the data and understand how to best serve customers.
F5 and RingCentral have done it - discover how
Read: Delivering Omni-Channel Self-Service Experiences
Machine learning predicts where a customer is headed and helps get them there faster. It makes users proficient in a way that both scales easily and lowers the overall cost to serve – benefitting the business and the customer alike.
#4. Case Deflection vs. Case Collection
Case deflection is a hot topic in the customer service space. If companies can help the customer self-serve, rather than resort to the more expensive and strenuous routes of dealing with a contact center or live agent, they can expedite resolution and lower overall costs. The only problem is that while case deflection is easy, doing it well is not.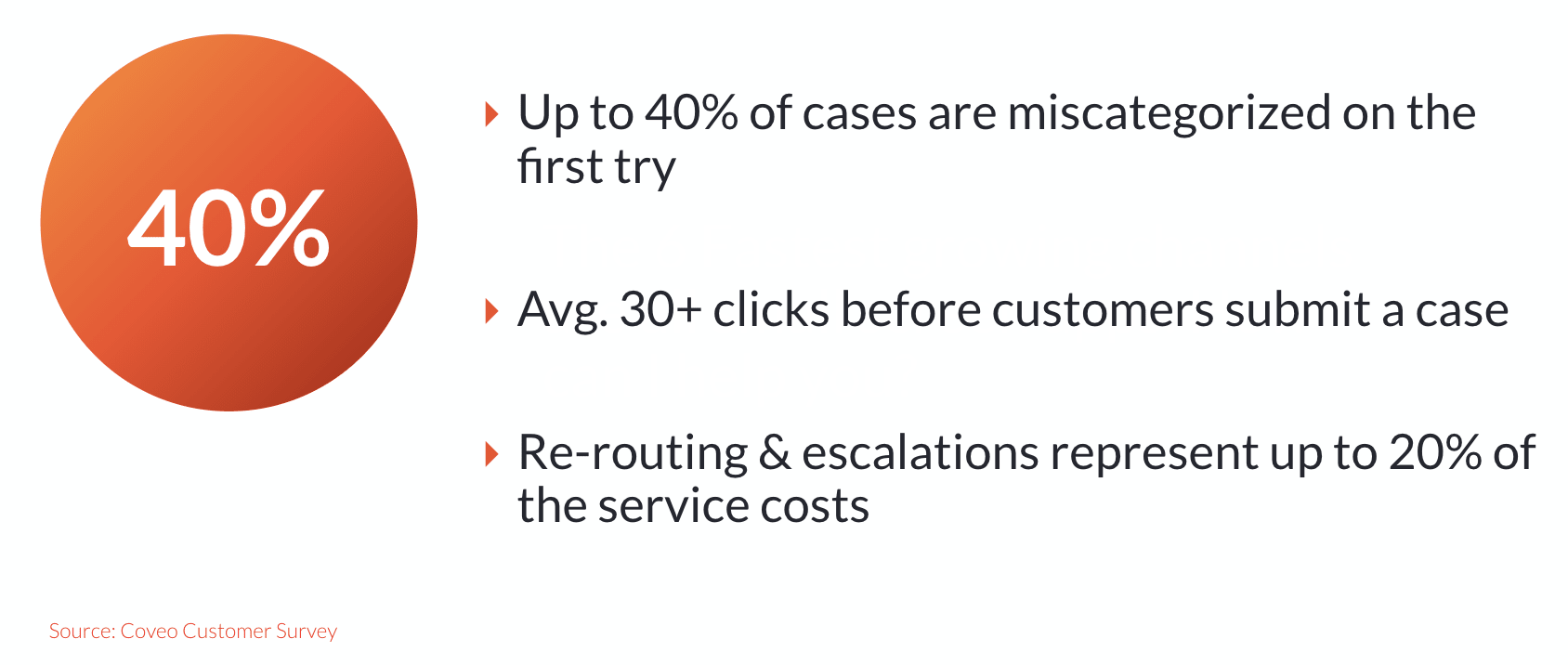 Your contact center can deflect cases all day without doing it smartly. They can bury telephone numbers and make it more and more difficult for their customers to get a hold of someone from the customer service team – all in the hope that they'll simply solve their own problems. However, this creates more issues than it solves, and though a company may be seeing massive savings in their support costs, they'll be met with equally massive decreases in revenue from all the potential customers that they're losing.
Customer service centers are there to help customers in the best way possible using their repertoire of professional services. Sometimes that can mean using the more traditional – and expensive – means of communication. While determining when to direct them to these sources can be difficult, it doesn't have to be.
Smart technologies powered by AI remove that burden of calculation from employees by quickly determining what content is relevant for which questions and identifying questions that have not been asked before. This ensures that customers are only directed to traditional customer service sources when it is absolutely necessary.
#5. The Need for Increased Agent Proficiency
While AI can certainly improve self-service capabilities, it can also serve to boost agent proficiency when case collection is necessary.
According toTSIA , currently, only 41% of an agent's time is spent solving customer requests. By embracing an omnichannel approach to customer support, organizations can free agents from having to deal with peripheral tasks – such as understanding the nature of the inquiry and finding relevant personal information – and allow them to focus more of their time on higher-value work.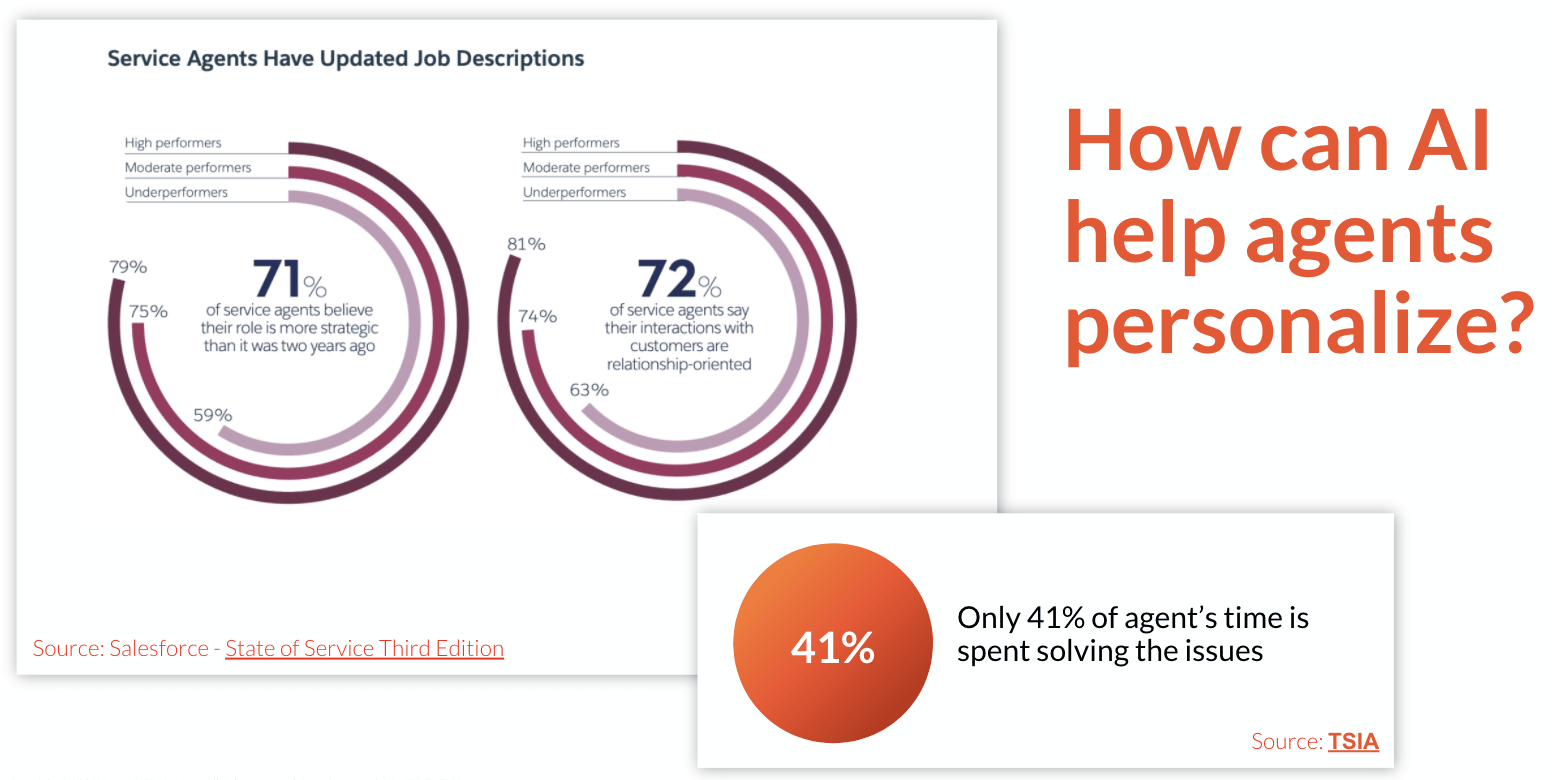 Given that AI can instantly make sense of the behavioral data available – such as search and click history – it can help agents better understand the customer on the other end of the phone and help them determine what that potential customer might need before even saying hello. This not only decreases the call time and associated business costs, but also gives rise to a more seamless experience for the customer.
In a world where building strong relationships and good impressions are like currency, this win-win approach toward customer satisfaction is worth its weight in gold.
How to Adopt an Omnichannel Customer Service Strategy?
Streamlining your omnichannel experience and embracing new channels is key. That is the only way to ensure that you're interacting with customers on a deeper level – across all stages in the customer journey – and engaging with them in honest ways rather than simply deflecting their issues to customer care.
By adopting a data-first approach, and applying AI in a meaningful way, you can make sure that you're well prepared to embrace change currently underway and make the most of what all the multiple channels have to offer.
Dig Deeper
Want to learn more about the rise and value of omnichannel service strategies? Watch Sawan and Bonnie's presentation from Relevance 360: Building Omnichannel Service Strategies. 
F5 and RingCentral have seen stellar results from adopting an omnichannel strategy. To find out how they did it, read our blog post: "">New Release on Impact+: Delivering Omni-Channel Self-Service Experiences.