To call the Amazons, Wayfairs, and Rakutens of the world ecommerce giants is an understatement. Rakuten alone did 1.46 trillion Japanese yen in 2020 (that's more than $13 billion U.S.). Ubiquitous and seemingly unstoppable is more like it. So, is it unrealistic for companies that aren't Amazon—organizations that don't have the staff and the resources of a tech giant—to ask, "what are Amazons of the world doing that we're not?"
Not at all. 
At least not to Coveo's own Olivier Têtu, solution architect, and Lloyd Bureau, business value manager. In a recent Coveo webinar, the two discuss how brands large and small can build a solid business case for AI in ecommerce. As Lloyd points out, "more often than not, brands are using applied AI to improve business outcomes considerably."
Getting buy-in for an ecommerce AI investment, however, can be a challenge. 
What can retailers learn from Amazon about using AI to provide personalized recommendations?
Tune into our podcast, The Ecom Edge!
First Off, You Might Have a Relevance Problem
If you're getting crushed by Amazon, or watching your most important ecommerce KPIs stagnate, you might not have a product, service, or people problem. You might have a consumer relevance problem. 
What does relevance mean in the ecommerce world? You'll need to deliver personalized recommendations and supporting content, for one. Perhaps most important to consumers, however, is the ability to quickly find what they need. 
This kind of relevance matters deeply to ecommerce consumers, as it turns out. According to DigitalCommerce360, for example, "63% of consumers are influenced by personalized recommendations on the homepage." In an Inc.com survey, 59% of respondents deemed the ability to "quickly find products via search tools" important to their ecommerce experiences.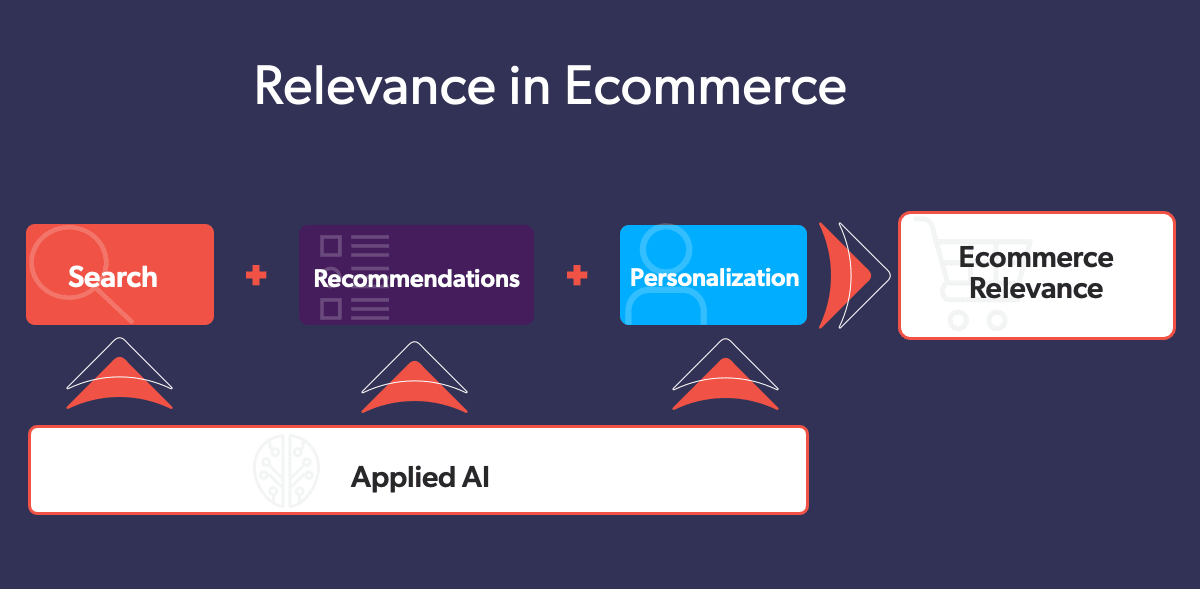 The good news is that applied AI can help solve for many of these consumer expectations. It's what the Amazons and Wayfairs already know, having set the standard and forcing other organizations to deliver better experiences. 
Where Applied AI Fits into Ecommerce Operations
As to how different AI models can impact different areas of ecommerce, Olivier breaks it down into four buckets:
Ranking
People are more likely to buy something if they're shown what they're looking for right away. Who wants to spend time digging or clicking around? Applied AI models like dynamic content ordering, dynamic content boosting, and automatic facet selection can quickly get people where they need to go. As Olivier points out, this can even help with call deflection, as there's less tendency to call for more information when it's all served up automatically.
Recommendations
An applied AI model can use product and content recommendations to surface products based on the user's context. For example, the model might populate the product detail page with complementary or similar products that the person might not have known about or purchased before, but now do thanks to these recommendations.
Discovery
 This is where the use of discovery tags and query suggestions help guide the user down the right path.  Applied AI can then take the burden of rule creation  out of merchandiser hands, saving them considerable time to focus on more meaningful tasks such as promotion strategy or optimization of their site.
Personalization
By personalization, we mean modifying the shopper journey in real-time  by using each interaction signal,  combined with AI models. As an example, Coveo for Commerce uses intent-aware query suggestions, intent-aware product ranking, and session-based recommendations to deliver this kind of ongoing and immediate personalization.
Time to Draw a Line in the Sand
The question for those tasked with building a business case for ecommerce AI is, how to measure the opportunity costs related to ecommerce experiences that are not optimized by applied AI? Or, as Lloyd puts it, how do you measure, articulate, and project the potential impacts attributable to an AI-powered digital experience? 
"In ecommerce we look at value in a few ways. We look at cumulative revenue uplift. But we know that increase in revenue comes with cost to serve, so we only calculate ROI to the gross margin equivalent that AI is generating for your store."
What Lloyd is referring to is the value of your ecommerce experience now versus after your investment in applied AI—a line drawn in the sand, if you will. This is how you build your success plan, connect applied AI to organizational objectives, and demonstrate how the platform increases revenue (average order value, for example, or checkout conversion) and/or reduces cost (merchandising cost or call deflection). 
Building this kind of business case will help you in four important ways: 
Build a success plan for a successful AI-powered ecommerce implementation
Align your desired business outcomes with value drivers supported by operational data
Understand the potential ROI that AI can provide to your ecommerce operations (adapted to your context)
Gain buy-in and alignment from decision makers at all levels
What the Business Case for AI in Ecommerce Looks Like
The idea here is to project the uplift that applied AI models will have for key ecommerce value drivers. If we can reliably hypothesize, for example, that an an AI model for ranking (bringing relevant products to the top of the ecommerce experience, for example) and recommendations (cart suggestions for complimentary items, for example)  will lead to a 5% increase in conversion rate and average order value, we can arrive at a hard-number for cumulative revenue uplift.
These two examples comprise only part of a comprehensive summary of potential ROI. What follows is an example business value assessment depicting the potential benefits (and overall ROI) of an applied AI solution for ecommerce: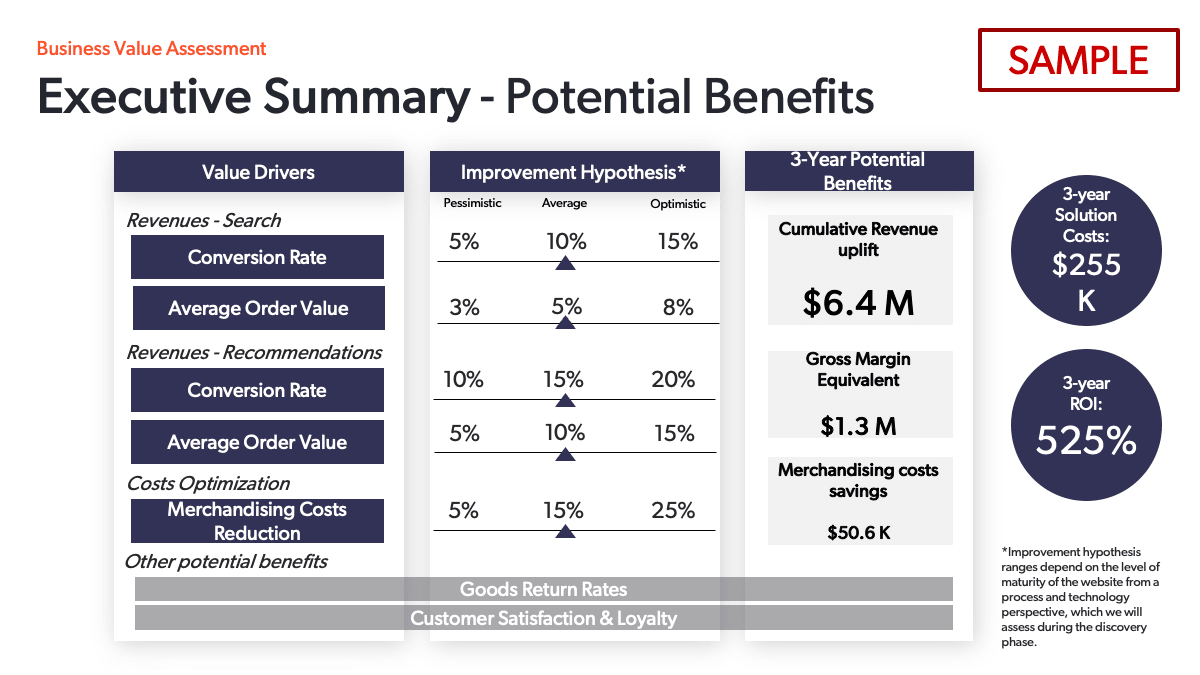 As you can see, this summary considers multiple value drivers and projected improvements to predict bottom-line benefits over a three-year period. 
Watch the Webinar to See Applied Ecommerce AI in Action
That business value assessment is pulled directly from Olivier and Lloyd's discussion for Projecting the Impact of AI on Your eCommerce Business. I encourage you to watch the webinar for a more in-depth look at some of the key components of such an assessment. This includes real-world examples of applied AI in action for ecommerce. You'll also learn how a large pet supplies retailer used applied AI models to increase cart value by 94%.
In the meantime, if you want to do a quick back of the envelope calculation on the value that AI can bring to your ecommerce site then you can access our ROI calculator tool and find out in a few easy steps. 
You can also take the pulse of your own ecommerce site from our team at Coveo. Just request a site assessment to get a detailed report sent to your email.