Implementing location-aware search should be a top priority for brands in 2022.
Why? Well, to start with, the holiday shopping season of 2021 fueled a resurgence of in-person shopping, even as the coronavirus pandemic stubbornly lingers. A recent survey by PwC found that most shoppers still prefer purchasing in person vs. online.
But that doesn't mean that consumers are turning back the clock to low-tech shopping experiences. According to the PwC survey, almost three out of four shoppers browse online before completing their purchase in store. And a McKinsey survey revealed that omnichannel customers buy up to 70% more than offline-only shoppers. As McKinsey concludes, "the impact of the online channel on offline cannot be overstated."
For merchants with both physical and digital stores, the stakes are high for making sure that their websites support hybrid shopping experiences with omnichannel location search. The website can't be an afterthought compared with brick-and-mortar. Nor can the two channels be disconnected entities.
Now, throw in the sky-high expectations consumers have about online shopping. Customers want seamless, individualized experiences. For digital-only merchants, that means delivering relevant product search results and recommendations. Brands with both websites and brick-and-mortar locations must do all of that and guide shoppers who prefer to purchase offline to a physical storefront.
That makes implementing location-aware search on websites paramount. 
Location-aware site search goes beyond location services (Think embedding a Google map into your website.) and location based search (searching for something based on its location relative to you).
What Is Location-Aware Search?
The best way to understand location-aware site search is to see a couple of examples of it in action.
"_blank" rel="noreferrer noopener">Caleres, which owns and operates such popular shoe brands as Famous Footwear, Dr. Scholl's Shoes and Naturalizer, undertook digital transformation with help from Coveo. Caleres brands now can customize a shopper's experience not just based on the shoes they want, but also on the availability of those shoes at their desired pick-up location.
On the B2B side, Coveo enabled similar capabilities for "_blank" rel="noreferrer noopener">FleetPride, the largest independent parts and service provider in the heavy-duty trucking industry. On FleetPride's website, customers easily can see what's in stock at their local store before they make a trip there.
How Does Location-Aware Site Search Work?
Implementing location-aware search on your website requires a few things. Here's the breakdown:
Geolocation data on items. Regardless of how you're indexing stores or content you want to be findable on a map, you can just add fields for latitude and longitude. 
Location data from the user. This information can be obtained by:
A static position provider, such as a drop-down list of specific cities.
Coveo's navigator position provider, which uses the built-in capabilities of the browser to identify location.A way to calculate distance. "We make it easy for you with a set of different components that are built into our JavaScript Search Framework," Asanovic said. The DistanceResources component will calculate the distance between the location of the end user and each geolocalized item.
Get a technical walkthrough here
CoveoMap: Building a custom Coveo Component
The Potential of Location-Aware Site Search
A powerful degree of personalization is possible when a website enables visitors to combine location search with other search criteria.
For example, here's how you might search for a pharmacy through Humana.com, another Coveo client. By first searching via your location (the 90210 ZIP code), this populates a map with nearby pharmacies. Next, you can narrow the search by selecting facets such as the language spoken at the pharmacy, the services provided and the health plans accepted. With this search, you can quickly find the pharmacy location that best suits your needs.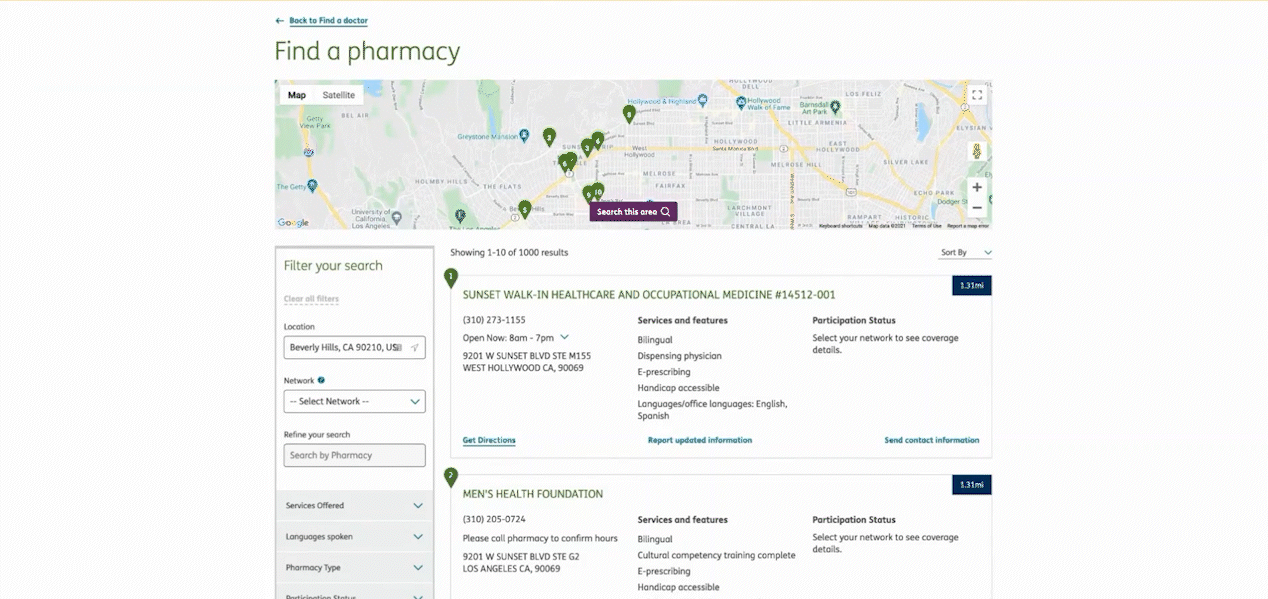 Filters aren't the only way that brands can make location search results more relevant to each shopper. Coveo location search can be customized so that results closer to the user are prioritized. If a user is logged in, that, of course, provides lots of information to help personalize results in location-based search. But even with anonymous users, you can leverage their past queries during a session to help make search results more relevant.
Location-aware search can even be "smart" enough to provide relevant results that the user did not actually search for. Going back to our last example, if there were no pharmacies in the 90210 ZIP code that fit the searcher's criteria, but there was one in the adjacent 90069 ZIP, the website could suggest that location to the searcher because it has a good chance of being relevant to them.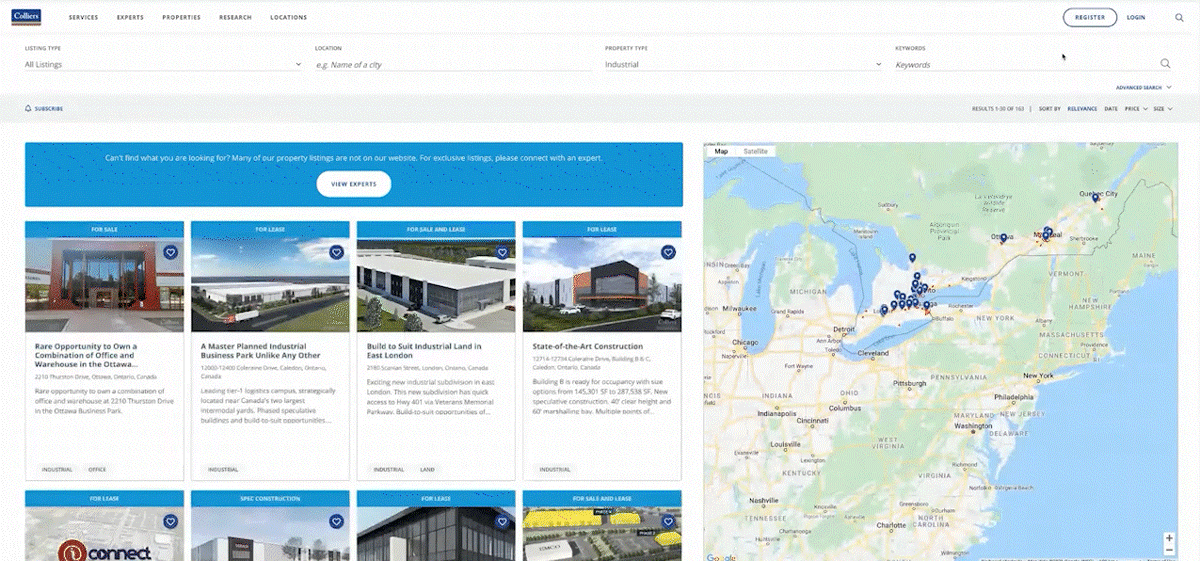 A site gets better at providing these location-based suggestions the same way it gets better at making product recommendations: by learning from past users' activity. In other words, if a lot of people search for a pharmacy with particular facets in the 90210 ZIP code, but ultimately end up choosing a location in the 90069 for their curbside pickup order, the site learns to direct similar searchers to that location in the future.
Learn More About Location-Aware Search
The bottom line is that shoppers who want to start their buying journey online and finish at a physical store expect websites to make this easy for them. "People take great experiences for granted," Asanovic said. But they definitely notice when an experience does not rise to their expectations — and may take their business elsewhere.
To learn more about location-aware search, view the full presentation for Coveo's Relevance 360 event.
Watch the full presentation
Building Location-Aware Search