The coronavirus pandemic has transformed the way we shop. The dramatic rise in online B2C shopping tends to grab most of the headlines. But, as customer expectations about ecommerce store experiences evolve, shifts are also happening in the typically slower-to-change B2B world.
So what does a B2B seller need to know about this new landscape? And what kinds of changes should they be focusing on in order to win and keep customers?
B2C Ecommerce Changes Expectations for B2B Business
Historically, B2B companies have lagged behind sellers in the experience they provide for B2C customers. There have been signs of impending change for years. Back in 2016, in fact, McKinsey & Company stated: "This gap will become even more apparent as B2B customer expectations rise. Digitization and the rising use of smartphones are establishing new standards for fast, seamless customer service in all settings."
The pandemic accelerated the need for change. As people stayed home more, they also bought more online. In the U.S., ecommerce grew by almost one-third. That means that more people got used to the smooth and personalized experiences provided by digital giants like Amazon and Wayfair.
And, of course, the embrace of online B2C purchases included plenty of people who buy from B2B companies as part of their jobs, says Ken Clinchy, vice president of digital and ecommerce at FleetPride, the largest independent parts and service provider in the heavy-duty trucking industry. Clinchy spoke about how his company transformed its online B2B ecommerce solution during Relevance 360° Week, a digital event recently presented by Coveo.
"We hear it all the time: 'Hey, sorry. My customers aren't interested in ecommerce. They don't do ecommerce,'" Clinchy said. "The reality is, yes, they do. Your customers go home every night and order something on Amazon."
FleetPride realized that as its business customers did more online shopping in their personal lives, their expectations about B2B commerce would also change. That realization led them to partner with Coveo for a digital transformation aimed at bringing more B2C-like functionality to their B2B website.
Making B2B Ecommerce Platform Search More Relevant
One of the most important ways that B2C ecommerce creates relevance for their customers is through the search box. We all want to find what we're looking for and get on with our days. And an intelligent search box can help ecommerce site visitors accomplish this.
In B2B, search might be even more important than in B2C ecommerce sites. Sellers often have vast and complex catalogs for a B2B buyer to navigate. That's certainly true for FleetPride, which has over a million SKUs, from an $8 turn signal light to a $17,000 drop-in engine. On top of that, there are also thousands of facets for different products.
A B2B buyer also often has very specific needs. FleetPride's customers, for example, need exactly the part they're looking for—or absolute confidence that a suggested substitution will work. Buying the wrong part could keep a truck off the road longer, and that costs the FleetPride customer money.
Before undertaking their B2B ecommerce digital transformation, FleetPride's search experience was extremely dated.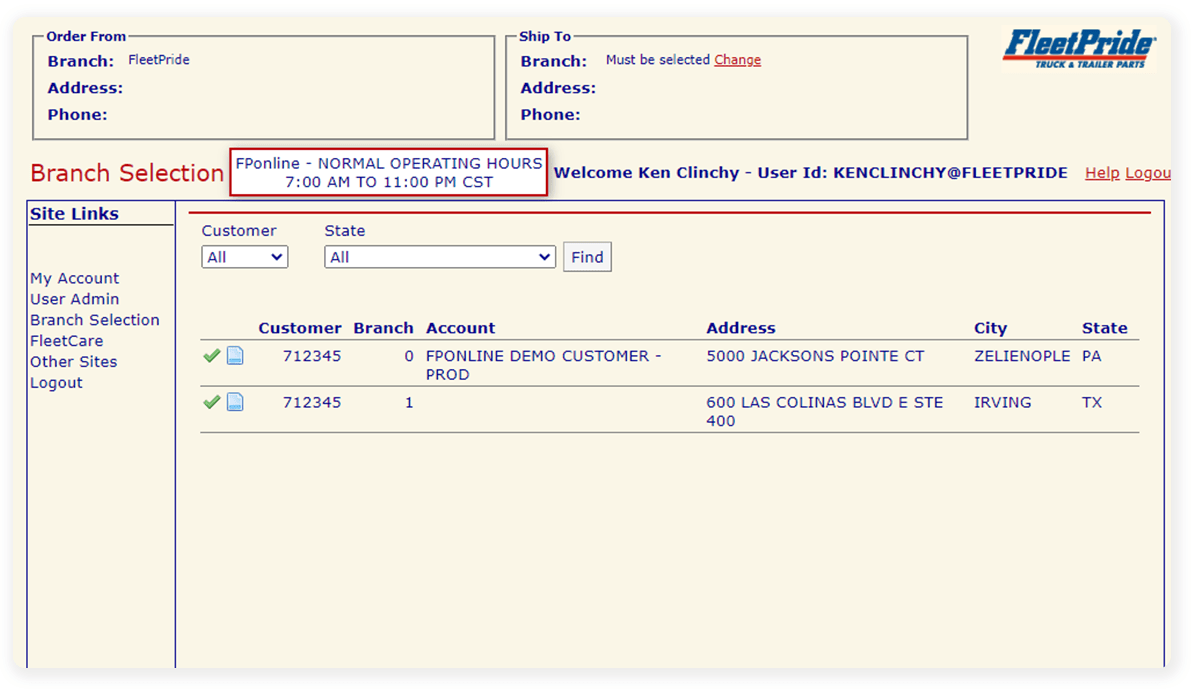 "I'm sure a lot of B2B organizations go through this," Clinchy said. "We had, I would say, an ordering platform. We didn't have a digital presence."
That B2B ecommerce platform was built in the late '90s with very basic search capabilities and never updated.
"It worked for a small, small subset of customers who knew exactly what they wanted," he said. "But we knew that in order for us to truly grow digitally, and to capture new customers as well as grow with our customers, we had to reinvent."
B2B search can take advantage of the features customers have gotten used to through their B2C ecommerce experiences. For example, FleetPride's revamped ecommerce store uses AI-powered query search suggestions to deliver more relevant search results.
"It's very powerful," Clinchy said. "It's really driving the right results to the top."
FleetPride's new B2B ecommerce website also has capabilities that are especially useful for business buyers: partial part number match and VIN lookup. "It's just incredibly helpful for our customers" and getting them to the parts they need faster, Clinchy said.
Relevance isn't just about showing customers what they're seeking, though. It's also about not overwhelming them with information that's irrelevant to them—or at least not relevant at that moment. And on a B2B website like FleetPride's, where the products have many different facets, that could become a real issue. As the company worked with Coveo to improve their search experience, they wanted to make sure that customers were not hit with a long list of facets when they do an initial search. Instead, dynamic facets appear as they become relevant in the customer's search.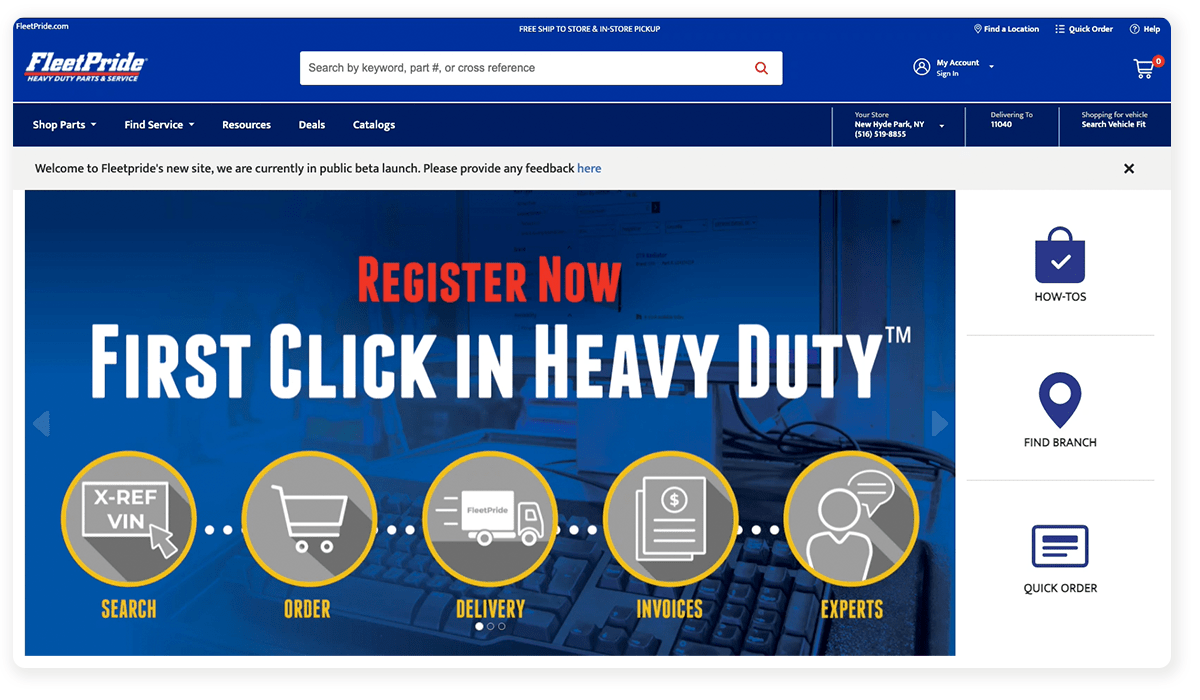 How Relevant Recommendations Fit in B2B Business
In addition to smooth and helpful search experiences, B2C retail has gotten shoppers accustomed to personalized and relevant recommendations. It might not seem like recommendations would be as useful in B2B commerce, where purchases are driven by business needs, and customers aren't treating themselves or making impulse purchases. However, the same recommendation capabilities that B2C sites have used successfully can be adapted for B2B e commerce.
For logged-in users, a B2B ecommerce website can localize the content they display when a customer arrives on the homepage. That's one way of helping customers get to the products they need faster. "So I'm not trying to sell a snow brush to a customer in Florida," Clinchy said. "I can make sure that whatever I'm driving is relevant to the locale of that customer."
One of the FleetPride site's most creative uses of recommendations is the "complete the job" feature. Coveo and FleetPride built an algorithm to figure out items that go together when you're, say, changing the oil on a truck or switching out the clutch. It enables the site to tell a customer: "Hey, if you're buying this part, chances are you're going to need four (other) parts to actually complete the job," Clinchy said. Customers "walk away satisfied because they know that they've got every single part needed and they're not going to have to drive back to the store" or keep the truck off the road longer because they forgot something.
Benefits of Search Relevance for B2B Commerce Platform
For B2C retailers, ecommerce isn't just about sales that happen entirely via the website. BOPIS (buy online, pickup in store) shopping has grown dramatically in popularity, especially during the pandemic. On this blog, we previously shared the success story of Caleres, which enabled its brands' sites to show customers which stores near them have the shoes that they want in stock.
FleetPride's experiences show that similar strategies can work well for B2B sales. Their new ecommerce site is transparent about inventory availability, so business customers can easily see what's in stock at their local store before they make a trip there. In this way, improving the website is making customers happier even if they aren't making a purchase online. It's all about giving each customer the "solution they need from digital, whether it's an actual purchase or just interacting with us digitally."
The company's digital transformation hasn't just driven satisfaction and sales, Clinchy said. The machine learning that powers the new website has also yielded some surprising insights, including that there were 20,000 parts missing from the database! "Otherwise, we wouldn't have a way to know," Clinchy said.
You can learn more about how Coveo helped FleetPride raise the bar on B2B ecommerce platform by viewing the full Raising the Bar in Ecommerce Experiences presentation.