Need some B2B ecommerce best practices? Don't look twice, but you're losing B2B buyers to sites that offer a B2C experience.
A B2B customer is also a B2C customer — and they don't understand why the two experiences differ. They refuse to wait more than one second for a B2B site page to load and want the same easy-to-use websites they shop on for their personal needs.
B2B players need to acknowledge the reality and importance of the 'two-window phenomenon.' This is where buyers have your B2B website open in one window, while searching for important information in another. While B2B ecommerce warrants a more "serious" presentation — with first-screen logins and a more businesslike user interface — a B2B buyer still expects the most relevant experiences.
Forcing them to look up product information needed to complete an order either through a separate site, or even through Google, is sending them towards your competitors — or Amazon Business. 
While 65% of B2B brands plan to invest more in their ecommerce platform to close the gap with B2C, survey after survey reveals that search and navigation are critical to the B2B buying experience, and 63% of corporate buyers still report findability issues as their biggest frustration​. In fact, only 7% rate the B2B marketplace they use as excellent.
So where do B2B suppliers start when it comes to improving their digital experience to meet B2B customer expectations? 
Case Study
Transforming Fleetpride to the First Click in Heavy Duty
You Can Adopt Proven B2C Approaches 
If you're of the opinion that B2B is too different from B2C digital commerce for practices to carry over, think again.
Amazon Business, which tripled Amazon's overall growth rate, has invested heavily in enabling B2B marketers and merchants to make online purchases using the experiences these same buyers have become accustomed to as consumers making personal purchases on Amazon.com.
Thus, manufacturers and distributors need to adopt new technology to remain relevant and competitive. The most relevant consumer-style best practices include the use of recommendations and automated merchandising that relies on AI at its core.
By harnessing collaborative filtering technologies and recommendation engines, B2B retailers can offer cross-sells and upsells — limited by the authorized products a buyer can purchase, of course—to increase the average order value and enhance the customer experience.  
By embedding AI-powered search in your B2B ecommerce platform, B2B businesses can empower their merchandising team to 'boost and bury' SKUs based on high-margin products, inventory, or return rates. It can also provide category product owners with 'demand signal' data to help build new offerings and promote products. Using search analytics to mine demand insights can help guide manufacturers and distributors to focus production on the most in-demand and profitable products.
Case in point, Hearts on Fire, a Coveo customer, planned to discontinue a product because sales lagged. However, search data from their D2C site indicated that many shoppers were looking for the product. Because their sales teams weren't promoting the item, their retailer network was not stocking it. Search data helped them identify the issue, make appropriate changes, and resulted in the product becoming one of their most popular items.
Adopting proven B2C approaches will set you on the right course, but there are also a number of challenges specific to B2B that should not be overlooked. Let's look at five best practices for adapting consumerization for business buyers.
5 B2B Ecommerce Best Practices That Start With Search
Recognizing your real B2B buyer experience needs — and adapting your B2B ecommerce platform strategy accordingly — will put you a step ahead of your competitors. However, trying to make a simple B2C recipe work for a highly-complex B2B business is like trying to fit a square peg in a round hole.
Here are five B2B ecommerce best practices, all starting with search, that can help get you on the right footing.
Best Practice 1: Balancing Precision in the B2B Brand Search Box
Search queries have to be weighted for recall and precision, which can be seen as the systole and diastole of relevant search. The maximization of one does come at the expense of the other, but given they're both essential to determining functionality, a balance is usually found between the two. 
Recall refers to the ability of a search algorithm to properly classify and return all relevant products—nothing less.  Precision, on the other hand, refers to the ability of a search algorithm to return only those products identified as relevant—nothing more. 
At their core, however, so many B2B experiences demand high precision. Whether you are looking to source a power tool, replace a part for a water heater, or obtain a dehumidifier, what's clear is that you're looking for something really, really specific. Delivering a great experience is about getting the customer the right part in the shortest time possible. 
With this in mind, companies are choosing machine learning models like Coveo's Automatic Relevant Tuning (ART) to properly weigh recall against precision. Businesses catering to B2B buyers that address these pains will have a clear advantage over their competition.
Best Practice 2: Handling Catalog Management and Product Complexity
B2B catalogs carry upwards of millions of SKUs, which can quickly become overwhelming in a search. Buyers need tools to quickly browse and comb through the results to get to what they need. Applying custom sorting or intelligent search faceting to cut through the noise, narrowing a set of results to let them easily find just what they're looking for.
B2B products can also be very complex, which means that empowering buyers to select the best (aka most relevant) product attributes (such as size, color, or dimension), brand, manufacturer, or price range is crucial for a great customer experience.
For B2B ecommerce, advanced product attributes are table stakes. Intelligent faceting allows buyers to narrow a set of results as they go, with the facets dynamically reordering and changing based on the query and the product category. 
Buyers see what they want to see, nothing more, nothing less. This streamlines customer journeys, leading to more conversions.
Best Practice 3: Meeting Unique Needs for Each Buyer Type
B2B buyers aren't a faceless monolith. As a seller catering to this audience, you'll need to be able to meet different audience needs even within this complex group. 
Seasoned, returning customers  know exactly what product or products they want—and as a result, they want to quickly get in, find, add-to-cart, and checkout. However, current B2B search boxes tend to be unforgiving. Product ID/SKU searches missing punctuation or other formatting necessities can mean that even if a power user knows the exact product number but still formats it incorrectly, zero results would be returned. While SKU searches are unique to B2B commerce buyers, they still need to be flexible enough to return results with missing formatting like hyphens or spaces.
New buyers lean more toward the browser end of the B2B spectrum, and want to explore the catalog to see what's available. They need to find different products using different attributes. Because B2B products can be very complex, this is quite a challenge. 
Predictive query suggestions and machine learning can meet both of these needs. Offering  search suggestions based on popular and successful past searches—while taking into account a user's particular context (location, products owned, entitlements, etc.). Predictive query suggestions can even use in-session behavioral data to suggest search terms  that the user  might not have thought of.
Best Practice 4: Creating Personalization for the 'Company' Customer
Experiences personalized to a buyer's purchasing habits are now also critical. 
The challenge of B2B personalization is that the customer is not a she, he, or they: it's an organisation. An organisation that may have many humans within but none that can be considered the sole point of contact. A B2B digital experience may have one company as a customer, but under that heading comes a variety of users.
Personalization may also depend on products that an organization owns. A diverse customer base ranging from the researcher to the customer service representative makes factoring in vertical, account, department, and application to find the right information difficult. Pricing is also challenging as each individual product could end up with a different price. 
B2B sellers can leverage AI and machine learning to offer personalized results based on entitlements and contracts, ensuring that products, items, and prices are correctly shown to different groups. 
Beyond creating personalized experiences for authenticated users, real-time personalization is possible even for new buyers. Unauthenticated and new B2B buyers alike offer a wide variety of signals while shopping, which can be capitalized on with in-session personalization. Simple search terms, such as "paper" can refer to "copy paper," wrapping paper, paper towels, and the like. But if a buyer previously looked at a copying machine, those search signals can be key pieces of data indicating what products they're actually searching for and used to improve the experience as they continue to search and browse the catalog.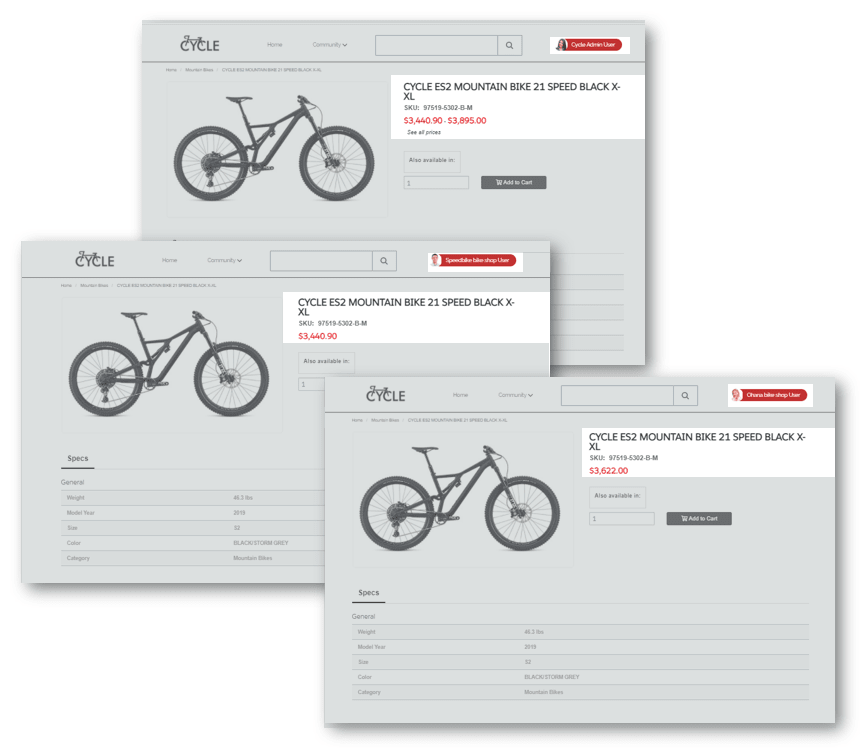 Best Practice 5: Unifying the Customer Experience Around B2B Purchase
A popular view in B2C had been that items that are not actual product SKUs could be a distraction and dilute the conversion funnel. But this could hardly be further from the truth in B2B, where documents and content residing outside the product catalog can in fact be critical to ease decision making. 
How many times have you gone to YouTube to check a video when your dishwasher floods or appliance malfunctions? Great B2B manufacturers ensure that their digital property is the world's best source for research about their product and the problems it was intended to solve.
Further, unlike B2C purchases, B2B purchasing decisions involve a host of input from various people within a company. This means that collecting information, documents, and validating claims is really critical.
Access to all information within a single search (flyers, brochures, regulatory docs, engineering specs, instructional videos etc.) is key to arming the buyer with all that they need in order to make a purchase decision. Failure to deliver this information in an easy, intuitive, cohesive experience may result in existing customers requesting customer support (which is expensive) or making higher order error rates (which is also very expensive), or actually not completing the transaction at all. (Since their new Google search led them elsewhere!)
Unfortunately, most search vendors can't include content in their index, forcing B2B buyers to look up documentation in a separate screen.
Combining product and content search is critical to create a seamless experience and prevent losing shoppers to the competition along the way.
B2B Ecommerce Website Experiences Can Be As Effortless As B2C
While we often want to separate personal from professional, this doesn't mean B2B buyers are willing to forgo the luxuries they've received as consumers. As customization and choice become more prevalent for B2C shoppers, B2B are wondering why they're being held to a different standard. 
Offering a frictionless, convenient, and streamlined B2B customer experience doesn't just benefit them—it benefits you, too. With an increase in conversions, and with loyal customers who keep coming back for more. 
Dig Deeper
Wondering how to best evaluate all the search options on the market? Here are six questions to ask yourself (and vendors!) when shopping for a new search solution. 
Or learn more about what B2B buyers want in our Buyers Want B2C Experiences eBook!
Ready to find out how Coveo can enhance your B2B commerce? Build customer-centered buying experiences with our ecommerce solution.
Discover the top drivers of e-shopper frustrations, the importance of making ecommerce experience relevant for buyer loyalty, and how AI can help you determine shopper intent to create highly personalized and relevant experiences in our Relevance Report 2022: Ecommerce.
Are Retailers Closing the Experience Gap?
Report: Ecommerce Relevance Report 2022