For today's businesses, digital isn't new. Offering digital channels to interact with customers can be the difference between not just surviving, but thriving in today's difficult economic climate. And this is no different for 125-year-old Dow Chemical Company (Dow), one of the three chemical-producing leaders in the world. 
What has changed is the speed and accuracy with which companies must deliver those digital solutions, regardless of audience. Even today's B2B customers expect personalization, just like B2C customers. And B2B companies have a good reason to make this digital investment: 80% of companies see a lift in sales after implementing personalization.
Dow started their digital transformation journey in 2020, and immediately saw impressive results. By 2021, they saw a 45-50% increase in digital sales revenue, and in 2022 they were on track to achieve their goal of 12 billion dollars from digital sales.
"One of the catchphrases Dow lives by is 'meet the customer where they are,'" says Sarah Gallo, Dow's Digital Capability Manager. That essentially meant using digital tools to understand their customers and recognize their needs at each phase of their journey.
In a conversation with Bryan McGlynn, Coveo's GM of Ecommerce, on Master B2B, Gallo discussed how AI-powered search was a pivotal piece of Dow's digital acceleration strategy.
Why Revamp Search to Achieve Digital Maturity?
Like many well-established companies, Dow found itself at a crossroads. What made a company easy to do business with 10 years ago was not the same today — digital disruption has shifted expectations. In a complex system like theirs, digital technology like fine-tuned search is hugely important as two out of every three visits to dow.com include some interaction with their search capabilities. 
To kick off their digital transformation, Dow's digital acceleration team created a centralized customer data platform (CDP) to help them recognize customer journey touchpoints. This would let them really get to know their customers: who they are, where they're located geographically, what languages they speak, how they like to do business, and what products, markets, application areas are they most interested in.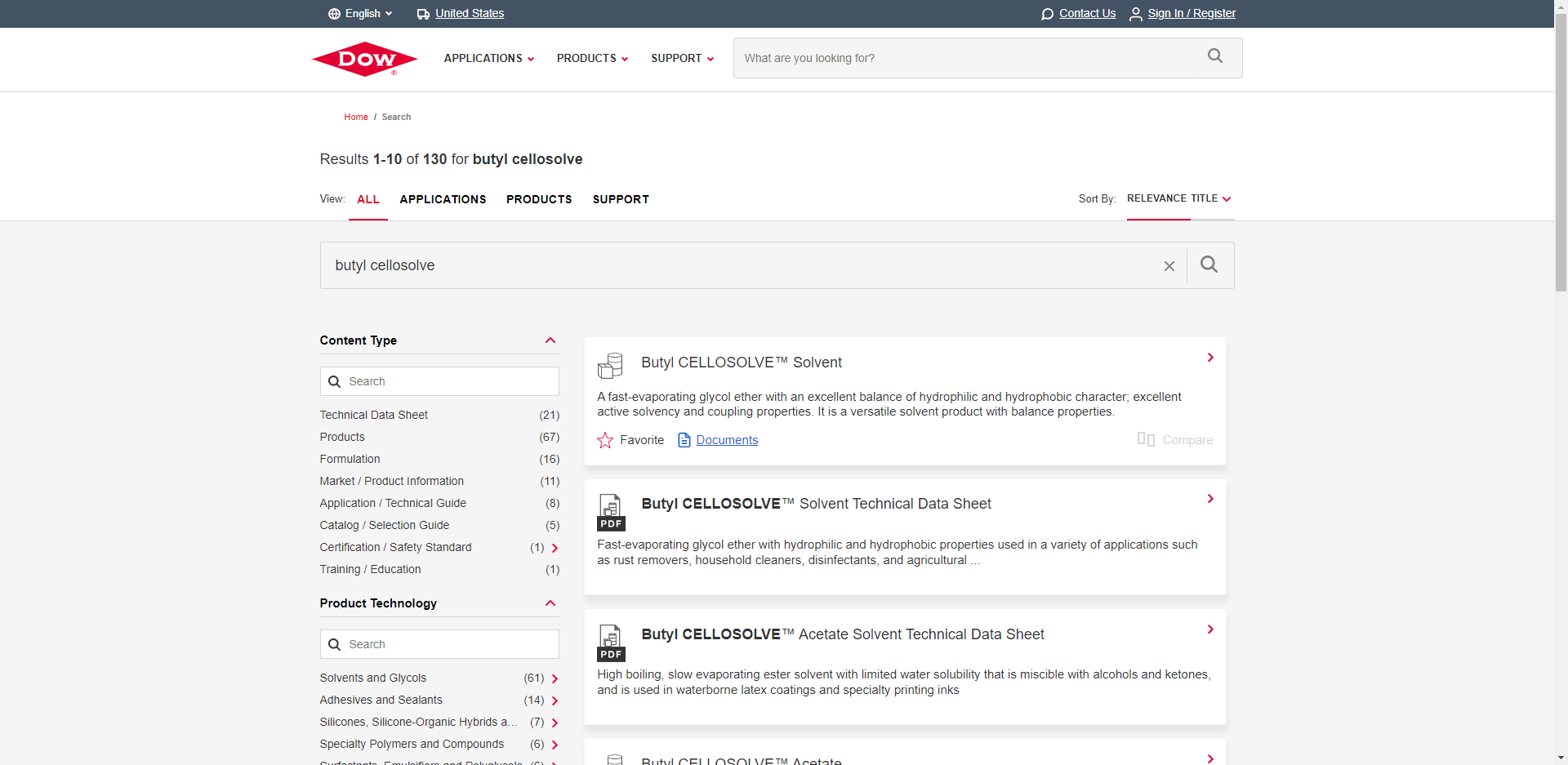 Unifying for an End-to-End Experience
This also meant integrating data from different traffic sources across touch points into that newly built digital platform — website, CRM, email, campaign management tools, call centers, and more — in one place to gain a really solid and unified view of their customers. 
This is a tall order for a company whose customer base is as diverse as Dow's. It includes scientists, R&D departments, influencers, and decision-makers. In addition, their digital platforms are used by distributor partners and various internal and external stakeholders. This highly diverse group also varies in terms of geography and spoken languages. 
Partnering with Coveo has allowed them to completely revamp and fine-tune their site search. This collaboration provides them with an AI-powered search platform that offers a competitive advantage by integrating across existing systems and data silos
"Our search is now much more intelligent," shares Gallo, describing the cloud computing solution that's helped give Dow a digital edge. "It's based on actual data from user interactions, and it gets smarter over time. In the end, our goal is to create a completely seamless search experience enabling users to find what they're looking for as quickly and as easily as possible."
And it's not just Dow and their customers recognizing the digital strategy of great site search. In 2022, Dow added the 2022 Artificial Intelligence Excellence Award to their already impressive and ever-growing list of achievements.
Dow's 3-Step Plan for Improving Digital Acceleration
Like any company that has been around for a while, Dow faced a very specific set of challenges when it came to digital transformation. 
The first step of its digital journey was facing the realization that its biggest assets were also their challenges, and vice versa. Partnering with Coveo helped them realize how to best work with these.
1. Getting Employee Buy-in to Build Digital Culture
"We have a workforce of about 35,000 people" says Gallo. "And that is our biggest asset. It's also a big challenge when you're talking about digital and cultural transformation at this scale."  
People tend to be wary of digital adoption because they fear it's a new tool they'll have to learn. Or that this tool is going to get 'too smart' and make their job redundant. In fact, this wariness is one of the biggest reasons that, despite the wide recognition of the importance of AI, nearly 87% of all AI projects fail. 
So the first step was to address — directly and transparently — the 'what's in it for me?' mentality in their organization. This helped address those fears and help shift the focus to a digital-first mindset.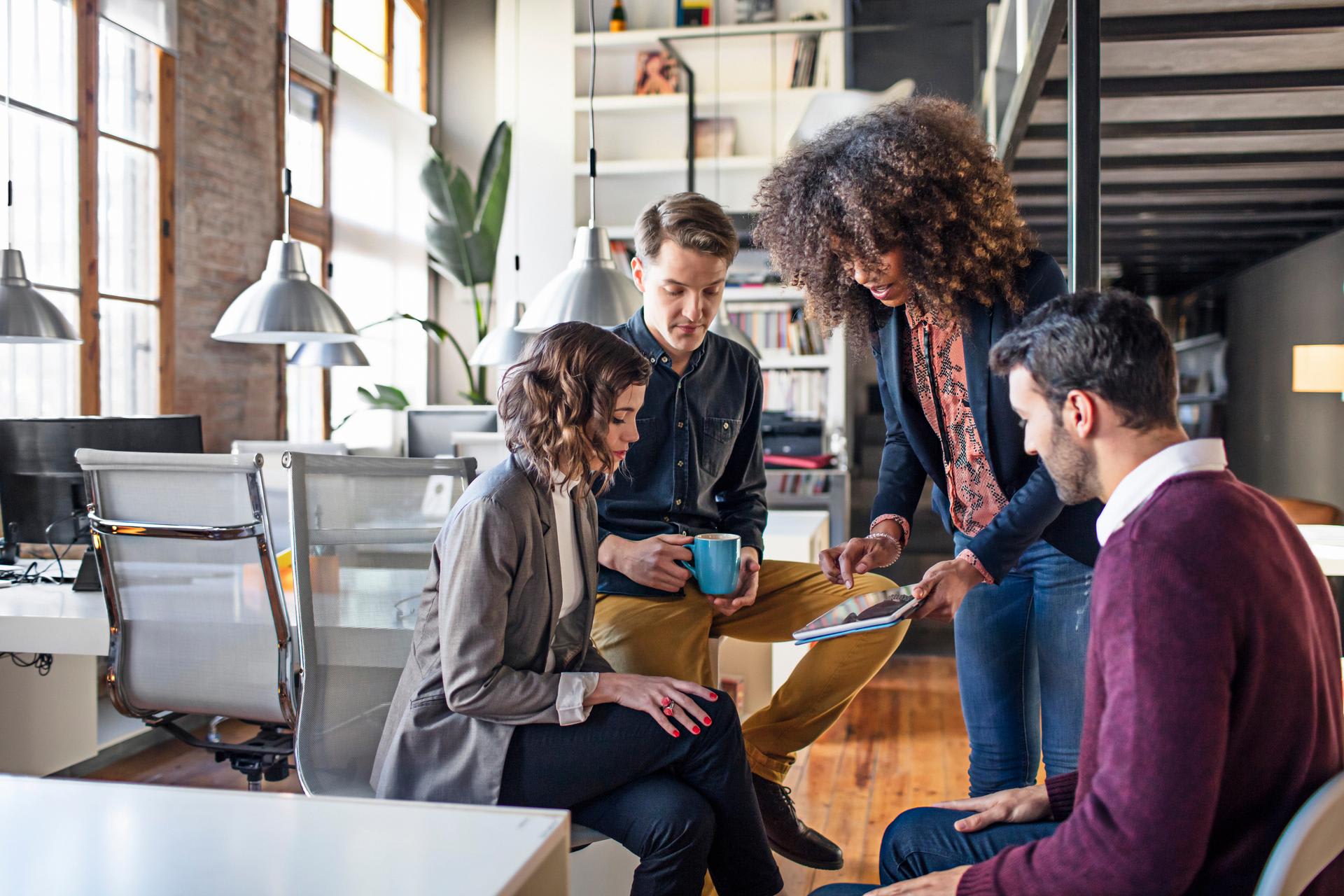 "We had to communicate not only consistently but also very transparently with everyone, to really show people that digital isn't something to be afraid of. The goal was to show people how this is going to help their day-to-day jobs and make their lives easier and their jobs more enjoyable. 
"When this is managed correctly, you get people that are excited about the change and motivated and who will then become change ambassadors themselves."
2. Knocking Down Walls Between Siloed Domains and Knowledge
Being such a global and well-established company, it's hardly surprising that Dow had very traditional silos in place. Different business units, different geographies, and different functions were all organized in traditional silos.
To achieve true digital acceleration at scale and be able to provide a truly seamless customer experience, Dow needed to break down those silos across the company. According to Coveo's 2023 Tech Report on Enterprise Search, 96% of respondents reported a disconnect between a need for search and business support received.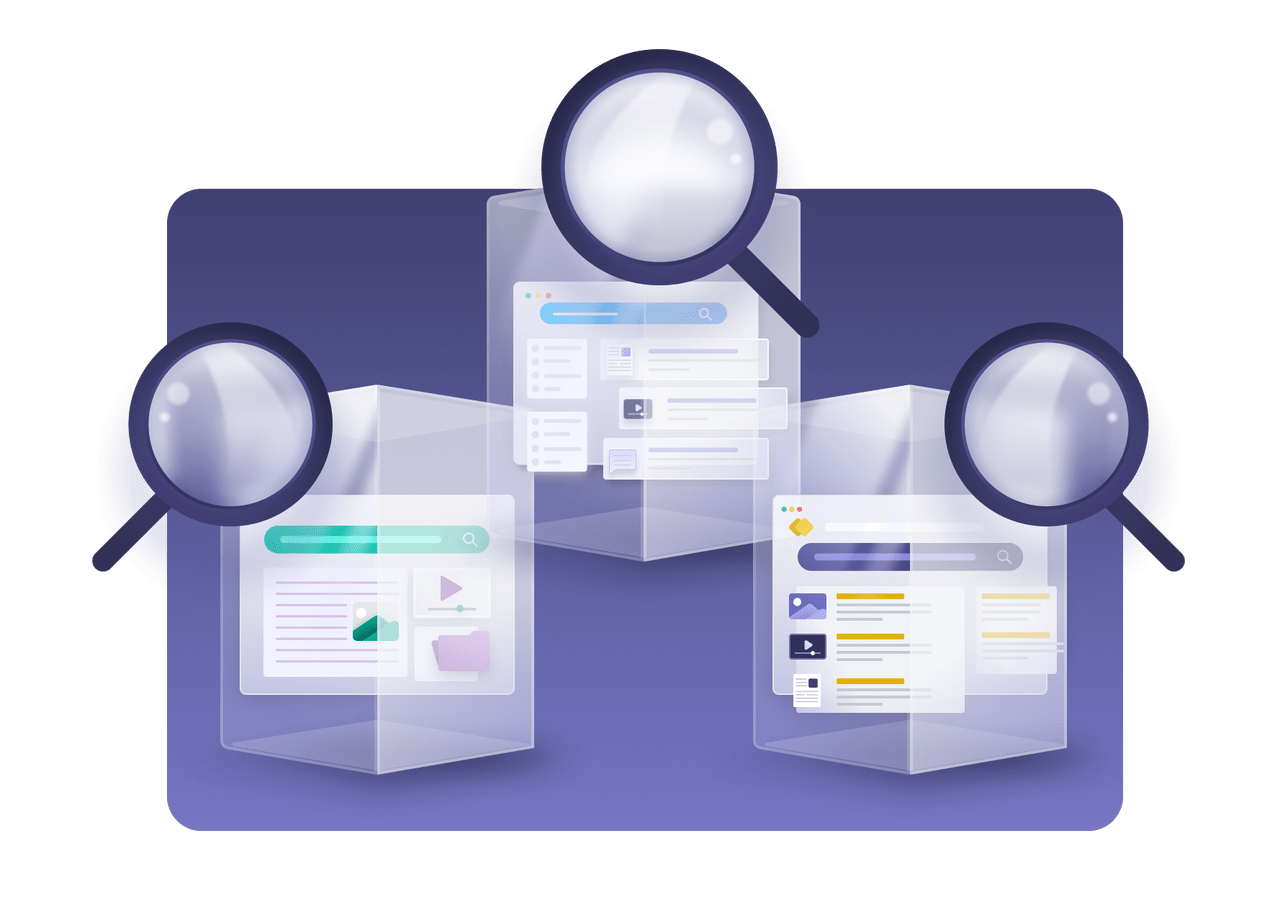 "This was a big aha moment for us," says Gallo. "This was when we realized that digital transformation is not something that's just led by the IT function. This is an end-to-end transformation that everybody across the company has to be engaged in and be a part of, in order for it to be successful."
3. Unlocking the Value of Unstructured Information and Structured Data 
Another big asset turned challenge turned asset was their data. That included both the data that employees need to do their jobs effectively and the information that their customers rely on to do business with them. Often answers to common questions are found in unstructured data, which presents a challenge for search indexing. 
Dow stood up a Master Data Management Group, whose sole focus was to look at what data sources are most impactful to their bottom line. These are called Credit Data Elements, or CDEs. They received priority for data cleansing.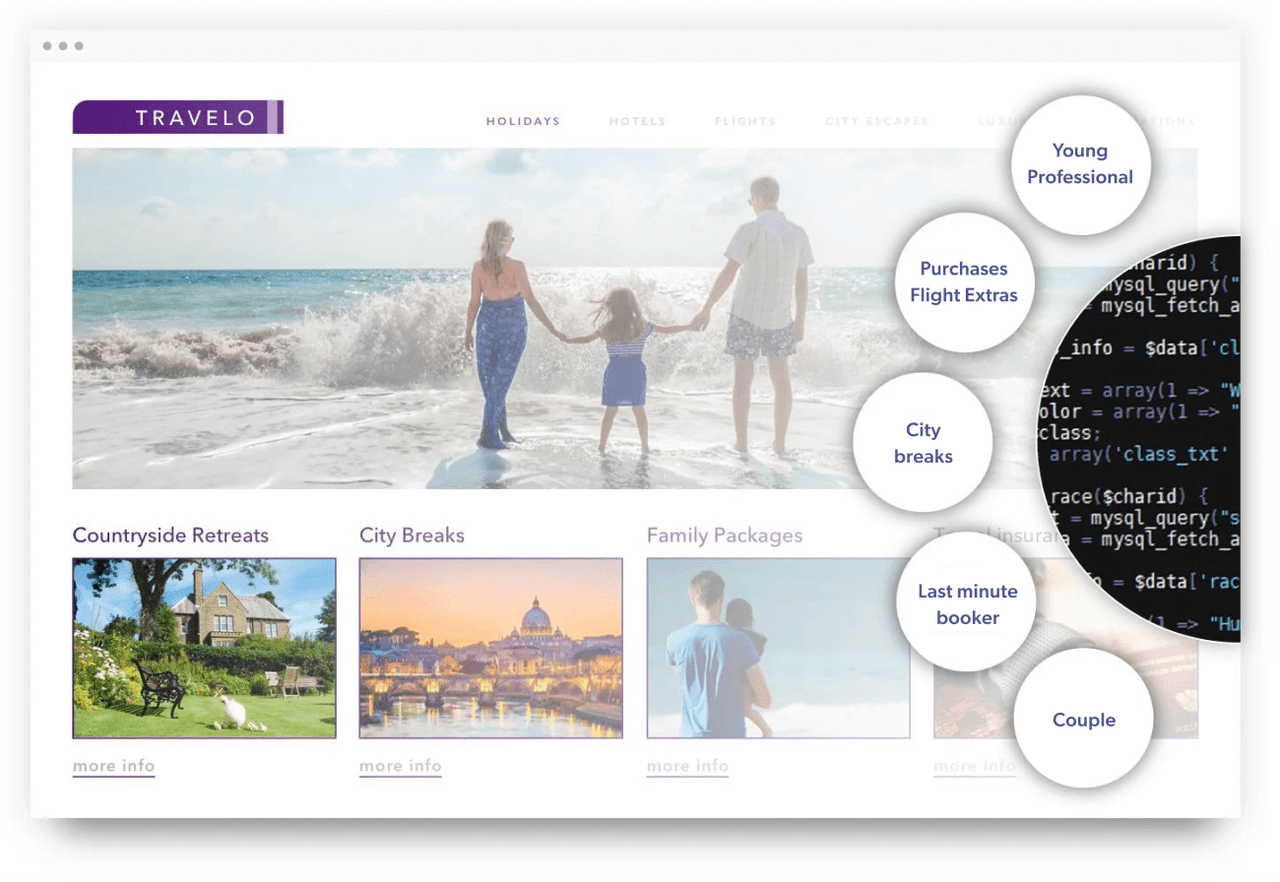 The first big step was to cleanse the data. Second, they had to put a business process in place that would maintain it. Third, they set up monitoring and health checks to get alerts to anything that may happen in that space. 
Finally, they put data in the hands of the data owners. That means that marketing data needs to be owned and driven by the marketing team, business data needs to be handed to the business management team, and so on. That owner mindset helped greatly with distributing roles and responsibilities and maintaining their data moving forward. 
Dow's Digital Ambition Roadmap
Now, of course, the goal is to use the momentum and continue the digital acceleration journey while taking advantage of their assets and overcoming obstacles.
"There are a lot of really exciting things in our roadmap that we're going to continue partnering with Coveo on," says Gallo, describing their planned digital initiatives.
Here's a quick rundown of the enhanced functionality they'll be adding to their digital services.
1. Dynamic recommendations
Dynamic recommendations are a great way to create an optimized user experience outside the search box. An AI-based recommender powered by machine learning maps user behavior over time. It creates more personal experiences, recommending content based on the user's previous interactions.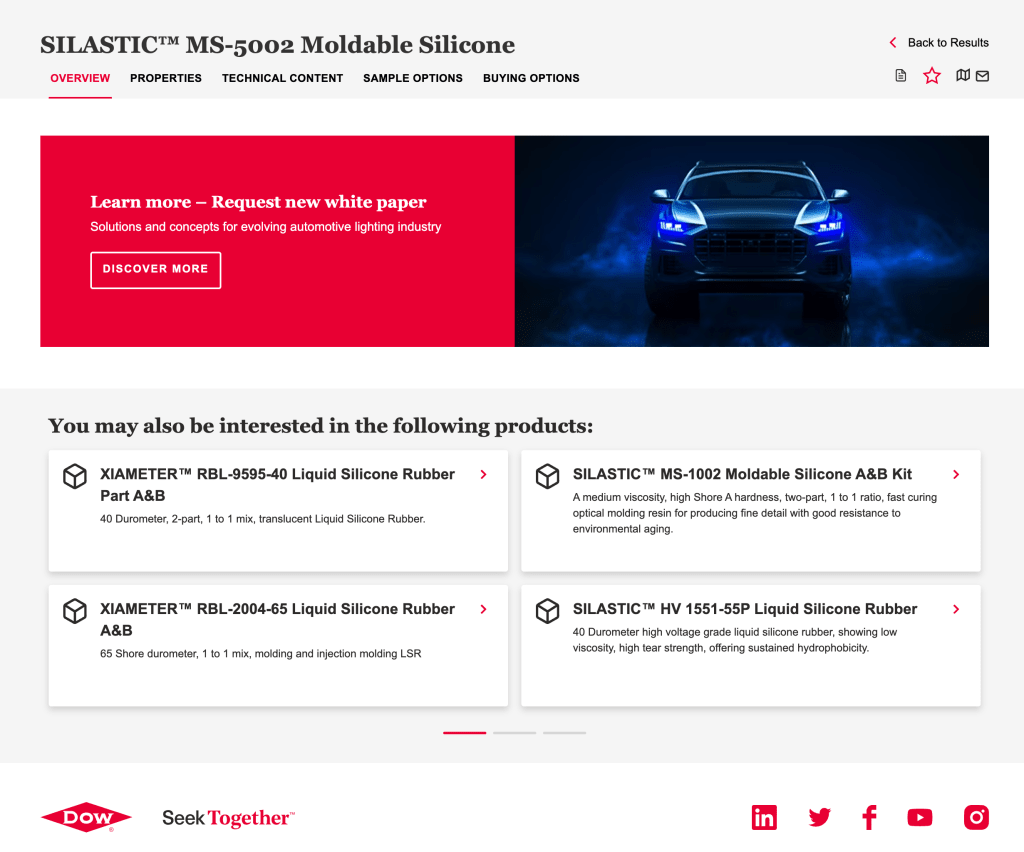 "Our goal is to use the content that's indexed in our search and pair it with that data that we now know about the customer (e.g., geography, past shopping and browsing behavior, markets or products they have an affinity for) to create a personalized recommendation system," Gallo said.
2. Achieving omnichannel
Addressing high-traffic touchpoints where they're engaging most heavily with their end users was a priority. But the website is just one piece of the digital transformation puzzle. 
"I think the question is actually a little bit broader than Dow's specific customers, or even our industry's customers. I think it's looking at a whole, at how has the average customer changed," Gallo said.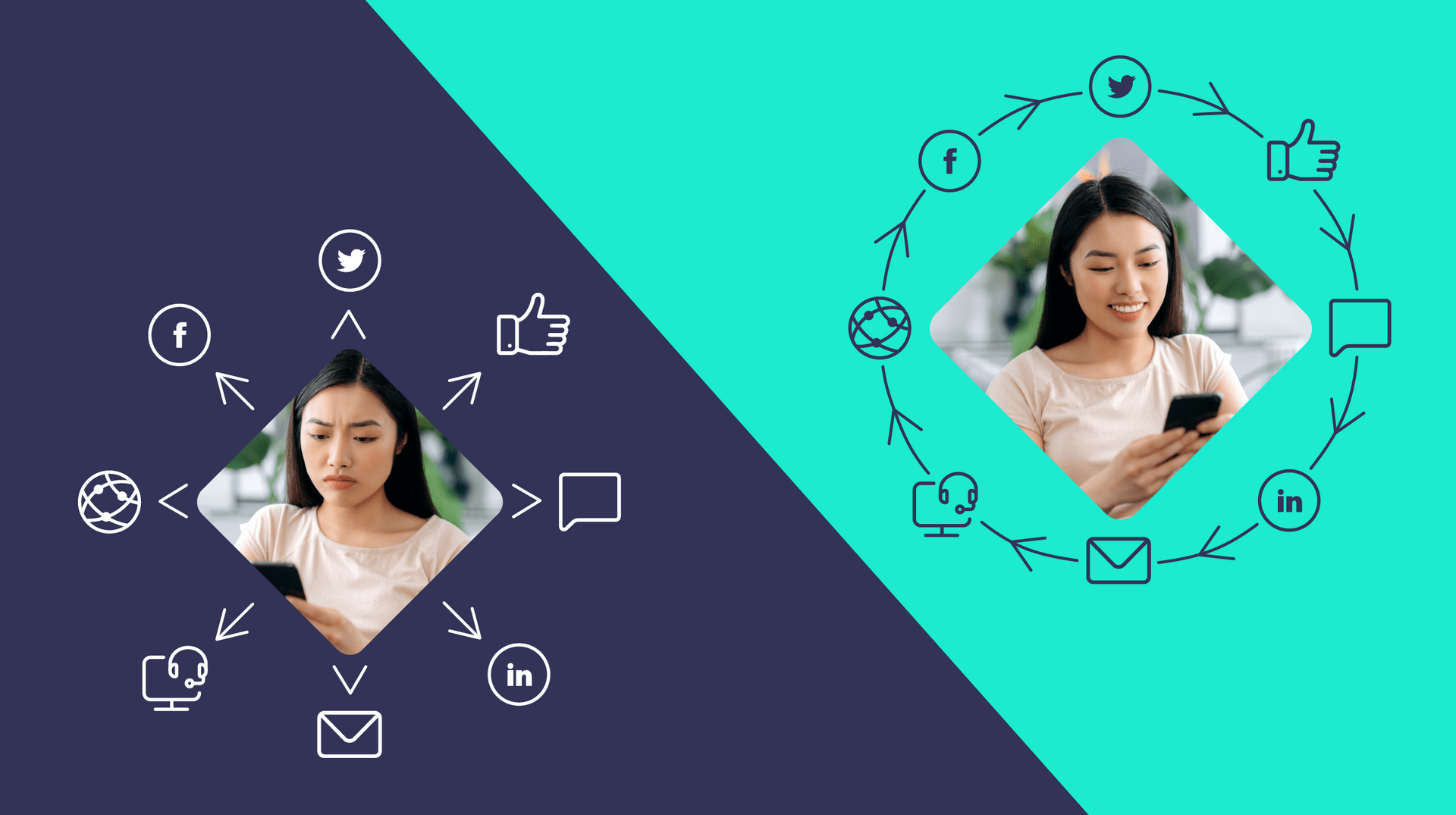 "The way that customers are choosing to interact and want to interact has changed in the last few years. There's this whole culture of self-service. 'I want to find what information I'm looking for, I want to find it as quickly and easily as possible with minimal hassle to me.'"
Ultimately, the goal is to create an omnichannel, cross-device experience that is personalized throughout. Regardless of where a customer enters Dow's digital presence — website, email, or phone — information is the same throughout all digital channels.
3. Personalization: A tiered model
Dow is phasing in personalization gradually as a tiered model, with the idea that some personalization is better than none.
Tier one is a one-to-many level of personalization. That is, they might know a little bit about the visitor based on their onsite user behavior. Content can then be curated based on that.
The next tier would be one-to-some, where the visitor might be an existing customer with a little bit more history. As the system learns more and more about them, their experience will be increasingly curated to them individually.
Finally, the highest level is the one-to-one highly personalized experience. This is where each customer is getting something that nobody else would receive — this content is curated specifically to them. The ultimate goal is to get that highly individualized personalization across the platform. 
"Personalization is something we're approaching with a sense of urgency," says Gallo. "But it's also a huge opportunity for us and something that we're really excited about. If done correctly, it can be a lot of value to us as the company and to our customers."
"In the end, we've learned that any personalization is better than nothing. Take baby steps and you'll find that it snowballs."
Get all the details in our on-demand version of the conversation. 
Dig Deeper
If anything the pandemic has taught businesses, it's how to pivot. The COVID-19 crisis has accelerated obsolescence in corporate transformation plans. Companies can no longer rely on five-year plans in order to stay ahead of the game. And while search is not a new technology, its a fundamental that you don't want to get wrong. It can be foundational, as seen throughout Dow's story, to achieving innovation on a huge scale.
Coveo's Founder, President and CEO, Laurent Simoneau, explains the new imperative: how data and AI are the new frontiers to power business transformations. Discover how investments in  AI-powered self-service platforms can help customer service agents and employees become more proficient and efficient. Learn how these same investments can help companies deliver personalized commerce experiences and edge out the competition.