In a remote-first workplace, poor search, minimal AI, knowledge silos, and irrelevant data are hampering productivity, decreasing proficiency, and driving employees out. We need a better Intranet.
The first versions of the internet were designed to give us precisely what we want. When Web1 was introduced by Tim Berners-Lee in 1990, he dreamed of an internet that would grow through machine learning. Web2, the social era, brought that dream forward with content delivery algorithms that track our interests and history — and, as a result, now know how to deliver a firehose of stuff we like. 
There is no better example of this than Facebook's Newsfeed. To fine-tune the AI that feeds user content, they paid users to install a special app on top of their Facebook account, and asked three questions about every piece of content:
Does it give you information you want? Does it entertain you? Does it make you feel connected? 
Giving Us What We Crave Impacted Trust
It may have been one of the largest human intel operations ever undertaken. Facebook incorporated the results into a nearly Pavlovian, pellets-in-a-bowl approach to content delivery, ensuring that we get exactly what we want. 
Whether the content is accurate or authentic is less important than whether it's 'information you want.' If you liked that, you'll like this.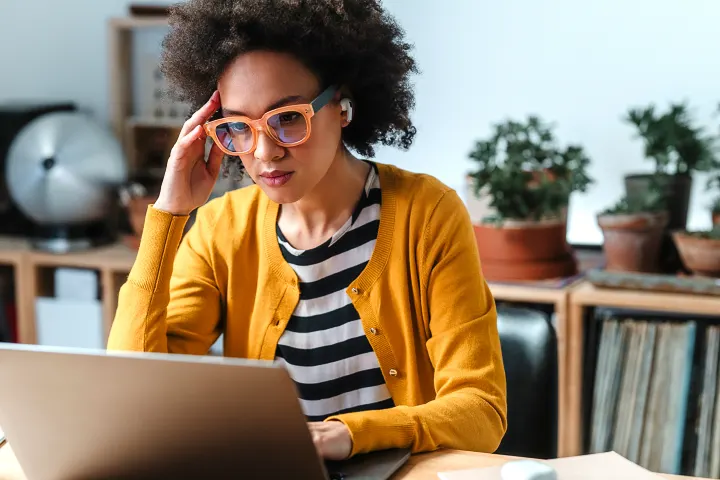 Of course, the accuracy and authenticity of the content have turned out to be a big deal as well, and unhealthy content triggers have now spilled into the global economy. As a consequence of irrelevant or inaccurate data, news, analysis, and more, we face a worldwide crisis of faith in information. 
Nobody knows who or what to trust.
In the Workplace, Bad Data Leads to Employee Burnout
At work, the knowledge gaps, poor decision-making, and faulty conclusions that derive from bad data have had a different, but no less profound effect. 
According to Coveo's 2022 Workplace Relevance Report, difficulty accessing good information makes 1 in 6 employees want to quit. Obviously, poor enterprise search can't account for all of the 47.8M American employees who quit their job last year, (a more than 30% rise over the previous year). But amid the uncertainty of the pandemic, more people struck out on their own than ever before — and it wasn't really about the pay. 
Per data from Revelio Labs, job insecurity was a leading factor in the Great Resignation, and that has been exacerbated by what-you-think-you-want AI, creating growing mounds of corporate clutter that hamper productivity and increase employee stress. 
Coveo's relevance report, which surveyed 4,000 workers, found employees spend 3.6 hours each day searching for information — a nearly 40% increase from last year's Workplace Relevance Report.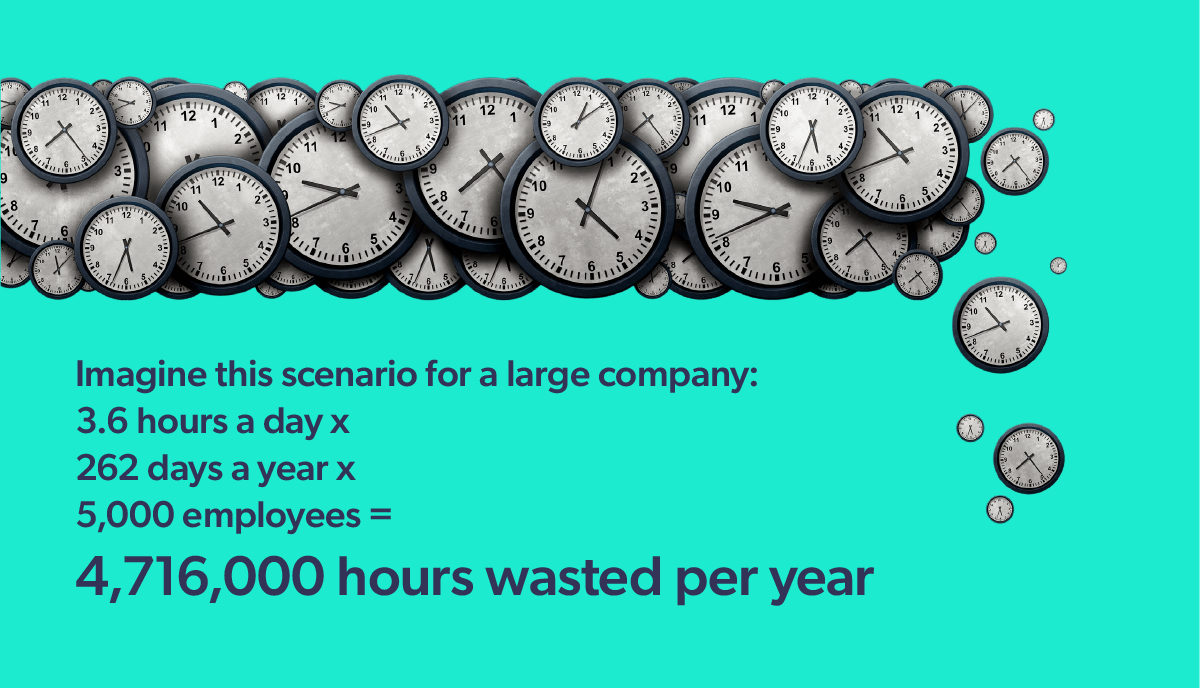 Those in IT jobs logged 4.2 hours a day, so more than half our workday can be spent seeking reliable information and actionable data. Little wonder we worry whether what we find is inaccurate, out of date, or embargoed. 
The numbers are damning: 
43% of those surveyed blamed ineffective search technology and/or intranet.
58% attributed the problem to too many knowledge sources.
44% said that the information is irrelevant to what they do.
50% don't even know where to start looking.
42% said the inability to find the right resources undermined their confidence in their work. And why not? What if you spent all day building a presentation around a use case only to discover that the customer no longer wants its name used publicly? Or maybe it has last year's data in it. Or perhaps marketing has since pivoted key positioning, rendering it moot. 
Bad data is a conversation stopper. And potentially a business stopper too.
What If the Right Information Found You?
Coveo believes the AI that powers our digital workplaces needs to move the conversation forward. If, as our relevance report found, 8 out of 10 people can't access key info in critical moments, if IT workers feel half of their time is wasted on irrelevant, outdated intranets and portals, the problem is in our workplace systems. 
We need AI that understands, organizes, and delivers the right information when we need it. 
Across every employee touchpoint, Coveo's Relevance Cloud self-optimizes to anticipate intent, enhance knowledge and build trust. With out-of-the-box functionality delivering immediate results, our what-you-need AI continues to refine knowledge experiences over time, simplifying workflows and cutting through the noise.
Download your copy of 2022 Workplace Relevance Report, or get an an introduction to the Coveo Relevance Cloud. 
Get your insights
Report: Does your workplace pass "The Employee Expectation Test"?
---