As customer success strategies evolve to adapt to the increasing demands of the modern consumer, there is one thing that remains at the core: customer engagement.
There is no shortage of available information on ways to improve your customer engagement strategy. But it all boils down to the need for a personalized experience. Your customers want experiences tailored to their needs. They expect to feel at ease, in control of their journeys by finding relevant information independently, and delighted with the entire experience. 
These personalized experiences are not only essential for B2C scenarios, but also in B2B environments. Research indicates that 73% of millennials are involved in B2B purchasing decisions. With this new generation of buyers valuing independent research and self-sufficiency in their journeys, personalization is no longer a nice-to-have. It's expected. 
So how do you provide this level of personalization and influence the way your customers feel about your brand? You have to understand how they think. This is where a cognitive search engine can play a pivotal role in your customer engagement strategy.
What is Cognitive Search?
Search has expanded far beyond traditional keyword matching. Today's data-driven business environment requires that search take into account the rapidly increasing volume and rich diversity of data within organizations.
Cognitive search is the next evolution of search solutions that uses artificial intelligence, such as machine learning, to help companies extract and deliver valuable, highly relevant information from multiple, disparate data sources.
Analyst firm Forrester defines cognitive search as: "Indexing, natural language processing, and machine-learning technologies combined to create an increasingly relevant corpus of knowledge from all sources of unstructured and structured data that use naturalistic or concealed query interfaces to deliver knowledge to people via text, speech, visualizations, and/or sensory feedback."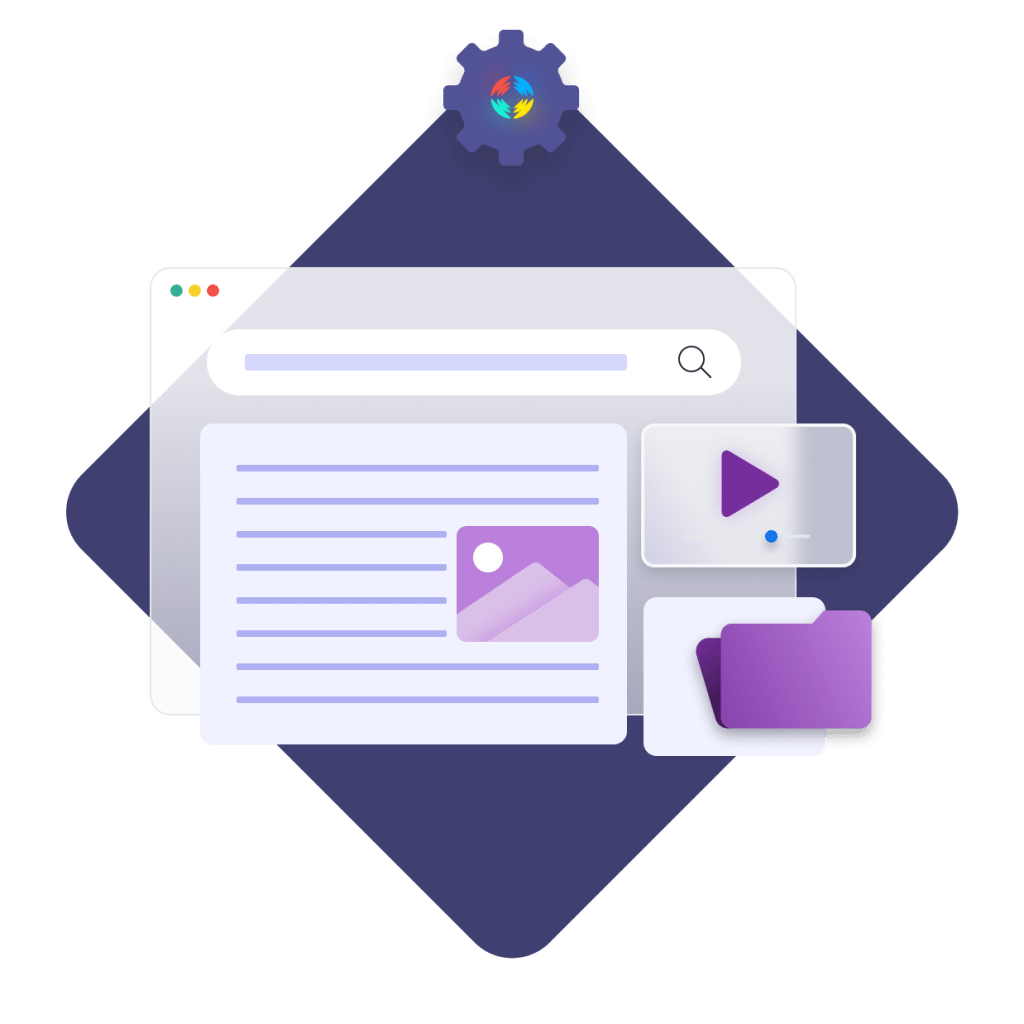 Cognitive search solutions include the following characteristics:
Scales to handle multiple data sources and types
Uses artificial intelligence to continuously learn and improve
Allows developers to embed search into other applications (for example, customer portals)
With AI capabilities, today's search is intelligent and changing the customer service landscape. Modern-day search learns how your customers think and engage with your content. Combined with rich usage analytics that automatically track successful outcomes, it allows you to make sense of your data by adding context to your customer's journey.
With this insight, you are capable of driving more engagement with every interaction. 
How Cognitive Search Improves Customer Engagement
Your engagement rate is a direct correlation to how your customers feel about your brand, so it's important to know what goes into keeping them happy (so you can be happy). Cognitive search will help you to retain and satisfy your customers, as it allows you to:
Make your content accessible. An intelligent enterprise search solution enables you to create a unified search index of company resources and collective knowledge, across a wide variety of sources, and puts it at your customer's fingertips. By giving them secured access to structured and unstructured content, such as audio, visual, and image-based assets, your customers are in control of their journey, feel empowered to make informed decisions, and can successfully self-serve.
Refine search results. Making your content available is critical, but offering it all at once will do more harm than good. You can avoid making your customers browse through a seemingly endless search result page by using filters and facets to ensure they get the most relevant results the moment they need it.
Leverage the power of AI technology. One of the biggest factors that sets cognitive search apart from standard semantic search is the ability to leverage AI capabilities. Machine learning can draw insights from your data, offer contextual recommendations, and even offer predictive recommendations based on the intent of a search query. The more data you have, the smarter your machine learning model gets, and self-tunes to automatically improve the relevancy of results quickly.
(And if you're worried you don't have enough data… you do.)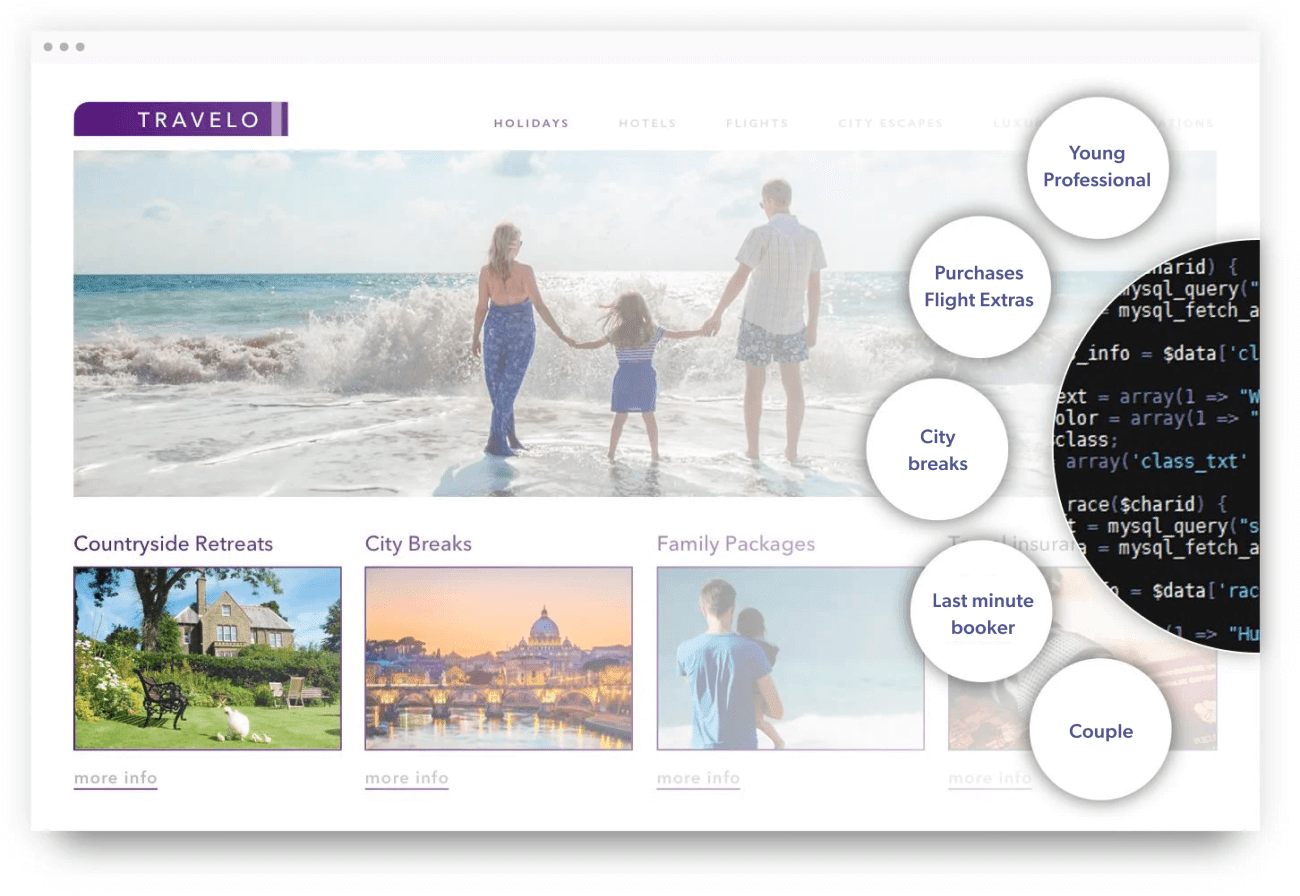 Offer in-product help. One of the most innovative ways to use search functionalities is through offering in-product help to predict and prevent issues directly within the tool your customer is using.
Create an intelligent case creation page. Cognitive search allows you to proactively suggest a document on your case creation page based on the case information your customer is entering. This is proven to significantly boost case deflection rates and drive customer satisfaction. See how Brocade has used search to boost case deflection by 40%.
Continuously improve. It helps you to measure the success of your customers' search experiences, and continuously improve them, by clearly understanding where they're struggling and what document is most likely to help them succeed. This insight enables you to continuously evolve your engagement strategy to meet your customers growing demands.
Significance of Cognitive Search Today
In an article, Coveo CEO Louis Têtu explains the importance of cognitive search to the self-service experience:
"Whether companies just want to redirect customers to the most salient information, articles or community posts; or actively drive increased case deflection, relevant content in the context of the customers is essential."
Providing a relevant and engaging search experience taps into today's desires for self service and personalization in digital commerce, customer support, and cultivating B2B customer relationships. Cognitive search — especially cloud search that connects to a legacy tech stack without requiring dire overhaul — delivers benefits across the enterprise in a variety of business scenarios.
Self-Service Digital Commerce
When buyers start their research, they've already identified a challenge or need and are looking for a solution. To ensure they not only find your company but also find answers to their challenges (which could be a product or information), your site needs to offer optimal buying experiences.
Onsite search is the top way B2B buyers choose to interact with suppliers in the research and consideration phase. When they get to your website, they want to search for the product or solution they are looking for, easily find more information, and process their order. 
The preference for onsite search shows that the buying and research process is digital-first and driven by self-serve opportunities. This shows a drift towards on-demand information, giving buyers the ability to research at their own pace. 
Cognitive search engines, sometimes called insight engines orrelevance platforms, make it easier for users to browse relevant products based on their search terms. When this functionality is implemented in a commerce platform, personalization displays its real investment value. Using AI, cognitive search will index entire product inventories to list appropriate items against search queries, eradicating the dreaded 'no results' page. 
Underpinned by machine learning, it intuitively acknowledges human errors (think typos, awkward spaces, and abbreviations) to predict the intention of search queries, understand the data and generate better results.
AI-Driven Customer Service
Rather than scheduled phone calls or back and forth emails, buyers opt for on-demand. This enables them to engage with potential suppliers when it suits their schedule.
There is still a desire for sales rep-led interactions, even in an increasingly digital market. When delivered well, a live chat system that combines automated and staffed solutions can help deliver the digital experience buyers want, but with a personalized touch.
By utilizing captured data from the user's interaction with the business to date, from search queries to document visits, a live chat or AI-powered chatbot can deliver the personalized digital experience the buyer is looking for. Parts of this can be decided in the background, such as knowing which page the visitor is on. This information can then be used to inform which representative joins the live chat.
Additionally, cognitive search can handle multiple data formats such as text, video and audio. It has the potential to provide digital assistant functionality with integrations into audio, video and Internet of Things (IoT) search functionalities. 
Personalized B2B Buyer Journeys
Relationships take time to build. It's a long-term process of listening, learning, and responding. While human-to-human contact is still valued, digital technology can now bear the load. When implemented well, personalization can nurture prospects into loyal customers.
In the B2B realm, the larger a customer company is, the more people are involved in the buying process. Enabling personalized options by leveraging AI can make the commerce experience slicker for both vendor and buyer. 
From recommendations to re-orders, machine learning can enable an intelligent buying experience that's associated with a customer's previous buying history. This data allows AI to personalize content to improve the experience and help increase up-sell and cross-sell opportunities.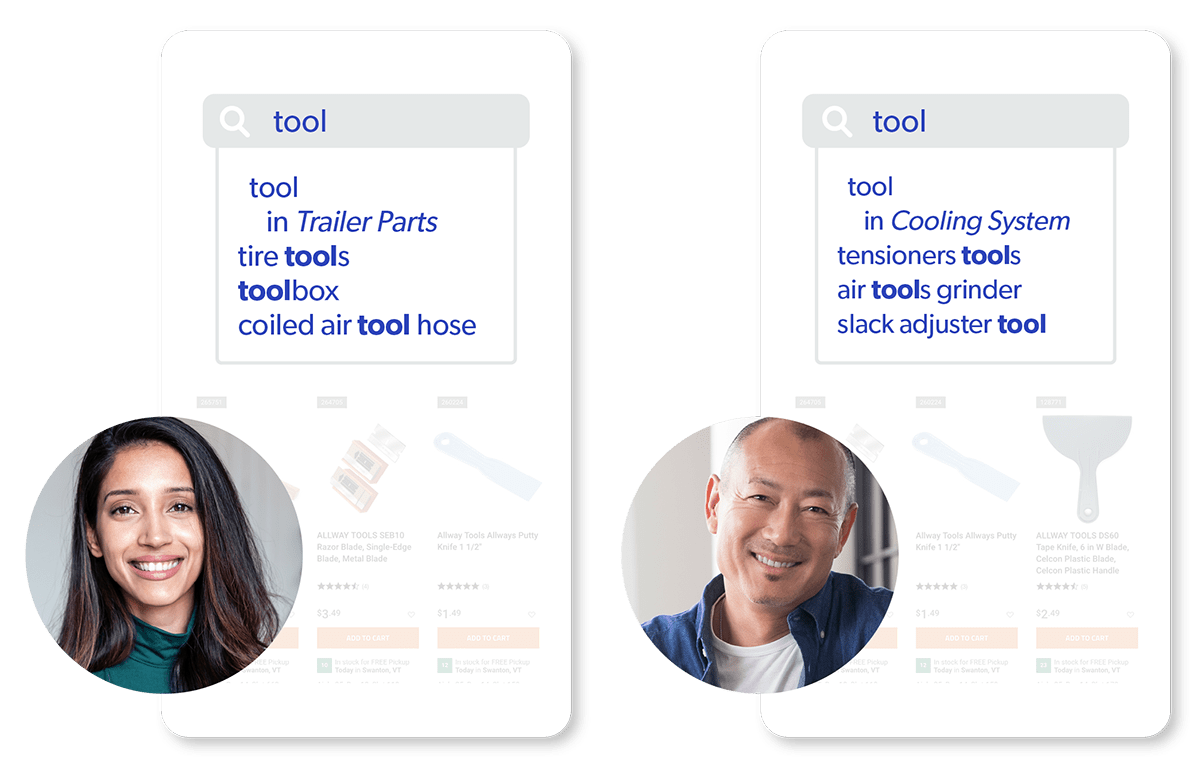 Because every buyer is unique, the more customized profiles can be, the more vendors can provide the B2C personalization options that B2B buyers are demanding. 
You also have to consider the education component. In addition to products, cognitive search identifies and returns related, rich relevant documents, such as videos or warranty guides, that are important to the buying decision. 
When fewer buyers are generating more business, efficiency matters. User friction is a big deterrent, and even the smallest mistake can have major implications. It's not as simple as rectifying the customer relationship with a discount voucher or free delivery. Personalization technology has advanced so far in recent years that it can be fully customized to fit within the complex mechanisms of a B2B sales cycle. 
By letting clicks and queries shape the experience, you can deliver content, interfaces, and journeys tailored to people, not personas.
Going Deeper with AI-Powered Search
By embracing personalization throughout the buyer journey using cognitive search, businesses can both streamline the path to conversion and secure long-term client satisfaction and loyalty. 
Coveo remains at the forefront of AI-powered search and has recently been positioned again as a leader in The Forrester Wave™: Cognitive Search. To learn more about how your organization can benefit from cognitive search, read the Forrester report. 
Dig Deeper
In a world with sky-high buyer expectations, customers will choose to transact with a company providing a great B2B commerce experience. Learn more in our on-demand demo webinar.
On-demand Demo
AI-Powered Search for B2B Ecommerce