Delivering effortless customer support experiences means giving both your customers and support engineers easy access to the right information at the right time.
Recently, Matt Duster, Director of Global Support and Operations at Brocade, showed how they are doing that, putting themselves on the path to a 40% case deflection rate.
Here are some of the best practices for effortless support that Matt shared during his  presentation:
Make content easily findable
"As your content grows, you need to make it easier and quicker for people to find stuff.''
You want to give your customers a search experience that's intuitive and effortless. By allowing them to filter by product, model, date, source, or whichever category applies to your company, you're helping them sift through 500,000 pieces of content to find the 5 most relevant and valuable ones. If they are authenticated users, personalize the content based on their unique profile.
Recommend relevant content before your customer logs an incident

"

Self-solving at the customer level improves the customer experience.

"
If your customers can't find what they are looking for on your support site, they are likely to log a case. As a customer fills out the form to log an incident and create a new case, he is providing you with context on the issue he's trying to solve. Intelligent search works in the background to understand the customer's context and issue, and then automatically recommends content that might help. This could solve the customer's need and prevent the case from being created. And, helping customers solve problems in this manner improves their overall experience, especially when the resolution is known.
If your customer does end up logging a case, the support engineer solving the case has access to the customer's visit history, and will know which pieces of content the customer already viewed so they don't repeat what didn't help in the first place. Having this level of intelligence is a big improvement from a customer experience standpoint as it provides a consistent experience across your support channels.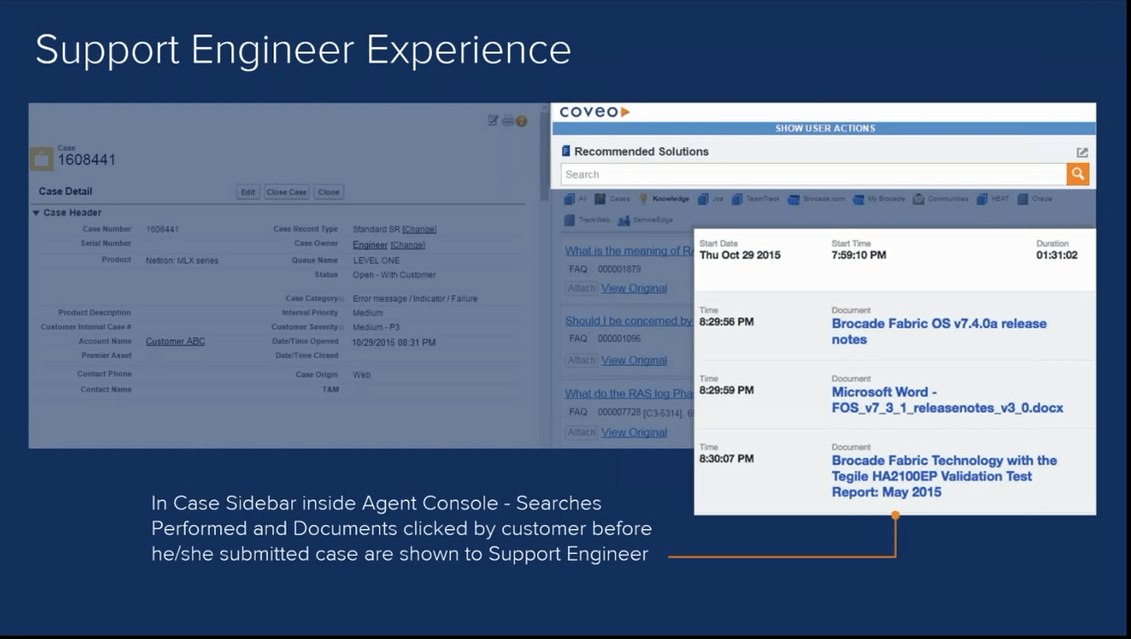 Give proactive recommendations to your support engineers
"We're changing the culture from manual searching to automation"
By integrating intelligent search into Salesforce, all the case-relevant knowledge and customer information can be easily found in one place. But more importantly, support engineers are automatically recommended the most relevant articles and known solutions based on the case details provided by the customer.
Measure success and keep improving
"If you don't have the right data, you don't know what's broken, and you can't fix it."
To really understand what's helping your users succeed at self-service and what's not, it's about putting wet paint on their feet and following their steps along the support experience. This requires analytics that helps you understand who they are, their search history, and the outcome of their session.
Intelligent search analytics has helped Brocade gain rich insights into what their customers need, identify content gaps, and measure customer support outcomes.
Putting the right information in the hands of the customer and support engineer makes the difference between an effortless and a frustrating customer experience. And getting there is not difficult. Watch the excerpt of Brocade's presentation below, for the full details on how they were able to deploy a scalable and intelligent search platform for their support organization within a few months while lowering the total cost of ownership of their support solutions.