At the recent Frost & Sullivan MindXchange in Huntington Beach, California, we spoke with roughly 150 service and support executives, industry thought-leaders and tech companies. Discussions ranged from topics such as talent management, channel strategy, outsourcing approach… 
Oh, and this little thing called artificial intelligence (AI). Perhaps you've heard about it? If not, we hope that you enjoyed your solitude on some mountain, far from civilization and without access to the internet. Welcome back! 
Jokes aside, it was three days where leaders from different companies, ranging from small startups to Fortune 100 giants, were all — to some degree or another — focused on how AI can support their top business objectives for customer service: delivering effortless experiences, supporting growth, and reducing operating costs. 
From the conversations, a few themes emerged:
AI Is Now the Foundation of Good Service Strategy
Let's start by expanding on the biggest topic of conversation; nearly all conference attendees  were actively looking for ways to add or expand AI into all components of their service journey. From website engagement to authenticated customer support portals and conversational chatbots through to improving the agent experience in the contact center. 
Many service organizations we spoke with are just beginning their AI journeys, and therefore focused on creating a more consistent experience for their customers. In this regard, companies should focus first on unifying content repositories (from service, product, marketing sources, etc.) so that customers get the same information to their questions.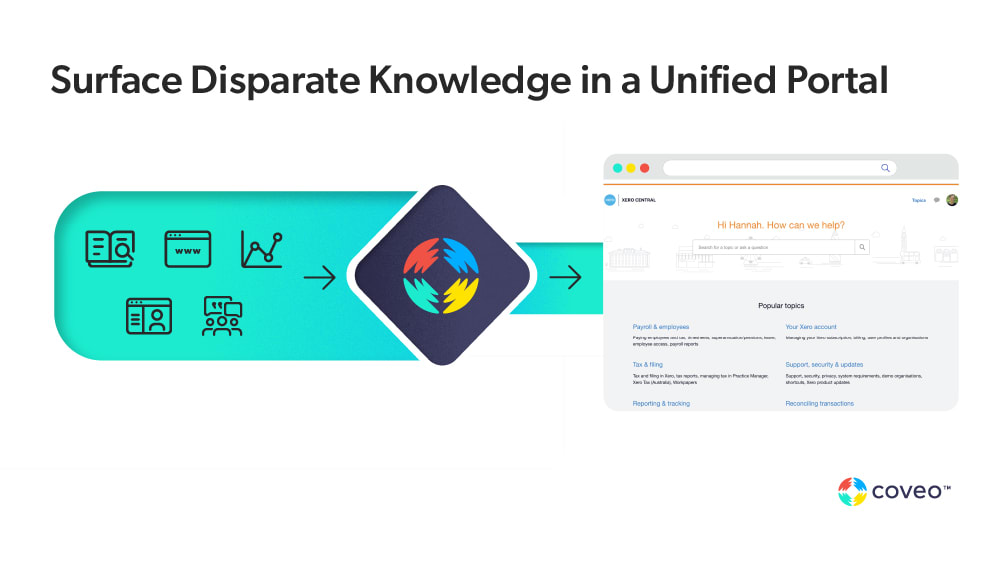 Companies that were more advanced in their AI strategy were focused on improving personalization and identifying where/how generative AI (GenAI) can improve their service offerings. 
No matter where companies were, a common sentiment among leaders was something along the lines of "AI is something we need to collaborate with – not turn over control to or ignore."
And when we effectively collaborate, AI will give us more time. 
Time for agents to actually connect with customers 
Time for customers to learn more about our products/services with intelligent recommendations
Time for everyone to do other things than find resolutions to their problems (Did you know that the average person spends 1.5 months waiting on hold in their lifetime… ooof)
As we discussed the impact AI will have on the main goals for service, I heard leaders expressing a lot of optimism as well as pragmatism:
Improving the Customer Experience: Leaders shared great enthusiasm for behavioral machine learning models' ability to deliver personalization, in particular showing answers that reflect the context of the customers situation (for example, alerting contact center agents to the documents that particular customer has recently accessed) or making recommendations for the next likely question that customer would ask, lowering effort by letting the machines think ahead.

Reducing Operational Cost: This imperative was where many companies were testing or delivering their foundational use cases for AI. Currently, mature AI models can prevent the biggest reason customers defect from self-service: when they cannot find the right information. AI-powered search, as well as GenAI, are going to be game changers in this regard. The search box is rapidly becoming the intent box.

Impact Growth: Utilizing AI as a companion alongside customers and agents for the situations where "they don't know what they don't know" will help to recommend features of your company's products/services customers frequently underappreciate. For example, when a new customer comes onboard, there's a lot they don't know about your company. With machine learning, you can recommend to your newer customers the actions taken by your most loyal customers.
Agents (or CSRs) Are Not Going Away
But the roles that they play in our customers' lives is certainly going to be different. Many of the sessions we attended focused on agent experience — specifically, how to make our frontline's jobs easier. 
While assisted service volume has been falling for many years, many leaders expressed their organizations are not reducing calls or chats as quickly as they'd like. This sentiment is not new, but pressure to deliver has been accelerated by two things:
First, the massive adoption of digital channels we all experienced across the past 3 years. 
And second, the acceleration of innovation brought on by AI. 
Both of these are seen as keys to enabling our agents to truly step into their role as the value creators in our customers' lives, solving the most complex problems while educating customers about ways to get higher personal ROI from simply being a customer.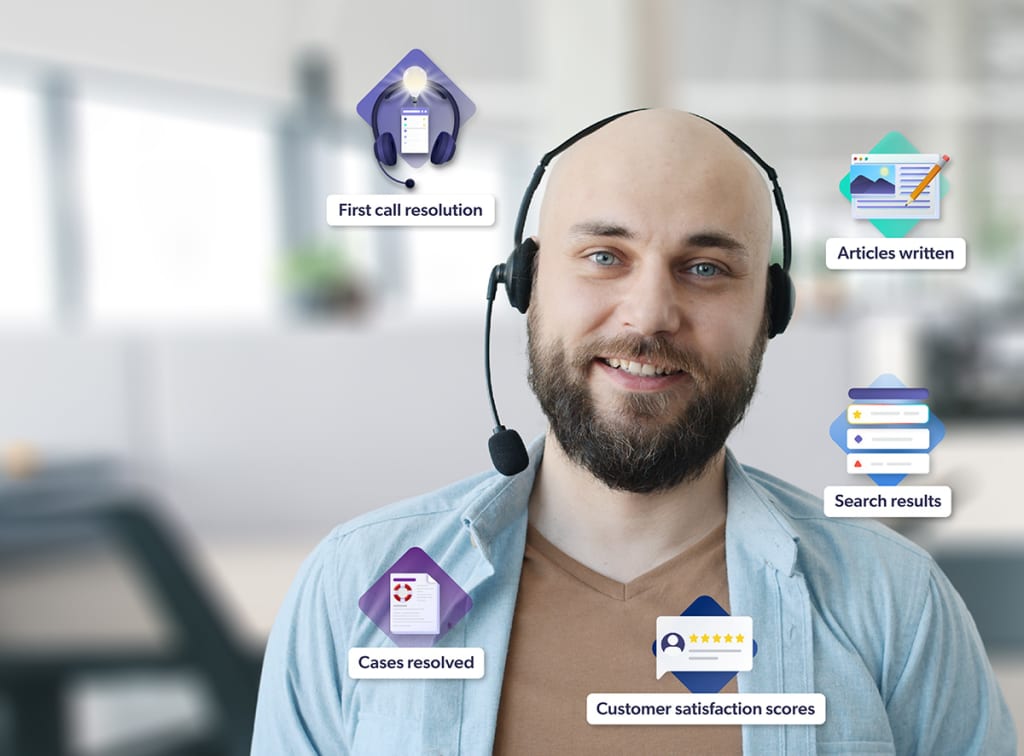 Here are a few ideas for areas that can unlock and expand the value your agents are capable of:
This means that agents need easy-to-use tools which are embedded into the existing workflows and core systems (like CRM or CCaaS). Easy to use means that their tools must utilize AI to replace mundane and repetitive tasks – like knowledge discovery – so they can stay connected with the customer. To thrive in a world where they ARE the experience for customers, agents also need contextual information about that customer, so they can be the thing that connects the dots. One of the biggest things that's missing is knowledge of a customer's prior digital activities. Knowing which of your digital resources the customer was using just before live contact should no longer be a luxury, but a standard in the experience economy.  
This is what we at Coveo call resolution intelligence. Using the contextual clues that customers leave from their interactions with your digital experience, you can better understand and rectify their situation, not just their issues. Delivering resolution intelligence requires companies to use machine learning and deep learning techniques to identify the actions that have been proven successful for other customers. What knowledge, connected and passed throughout their journey answers the customer's question? And what information can you utilize from other situations to head-off the next likely issue? 
Demands on Customer Service Have Never Been Higher
According to Gartner, 38% of Gen Z and Millennial customers will abandon a service issue if they can't resolve it through self-service; not a great foundation for your future customer demographic. 
Customers are becoming more frustrated and less patient with the companies they choose to do business with. They no longer tolerate high-effort and disconnected experiences, and are loudly demanding the self-service experiences companies have been promising to provide for years. 
From our discussions at MindxChange, a number of interesting initiatives are being tested: 
Stop offering generic apologies when customers fail in self-service. Customers are going to run into digital dead-ends. That will happen.  But a true experience failure is when a customer intends to self-serve where the answer is available, but the customer just couldn't find it. Instead of offer apologies that won't come across as genuine, just focus on fixing the problem for your customer (see point #1, AI can be your biggest collaborator here), while acknowledging the context of the situation. Doing this well will require offering agents insights about the customers recent interactions, both digital and past assisted interactions. Many organizations are looking toward GenAI capabilities to help here. Where a generative answer thrives is its lack of emotion — it just gives answers. And that's often what customers want over apologies.

Start viewing customer service as more than a support function. Service is the nexus of digital transformation. It's where customer interactions converge, offering immense insights into customer needs and preferences. One of the easiest ways service can add value to the organization is sharing customer search terms with product, marketing or CX teams; this will help the entire organization be in tune with customer needs. As one of Coveo's large telecom clients recently said "customers don't lie to the search box". Another example is utilizing an AI model for content recommendations – within your agents desktop – that enables the frontline to share advice that enhances a customers ability to utilize your products or services.

Deliver personalization at scale: The future is business to person; but the only way to accomplish individualized experiences at scale is with machine learning. By consistently sharing information — respecting security and access controls — across channels, companies can show a vast number of customers that the company truly "gets them." 
Wrapping Up
While the face of customer service is ever in flux, its goals remain the same: to build a satisfying customer experience that helps a business flourish. 
If you missed us at the event, set up a free consultation with a Coveo AI expert to discuss your brand's unique needs when it comes to achieving the AI-Experience Advantage.