Patchwork. Hodgepodge. Hardly the makings of standout customer experience. Yet these might be the best words to describe many contact center agent's experience while making those customer experiences possible. 
Every day, contact center agents stand on their heads trying to find information in a million different places. Or plodding through subpar tech and IT bottlenecks. They're doing their best piecing together a customer journey to resolve issues coming through a plethora of digital channels. Meanwhile, those wait times swell, and now the customer experience itself is starting to feel a bit … pell-mell.
As common as this cycle might be, there's a solution gaining serious traction. 
Welcome to the no-code contact center.
How the Traditional Full Code Approach Can Stifle Agent Experience
Think about the tools and experiences that make the contact center go 'round. There's contact center software for incoming calls routing and case management. Email, phone, and chat support. Then of course there's knowledge base search, case deflection, and knowledge creation. All in the name of curing customer issues.
Just to name a few, anyway.
Putting it all into a cohesive experience for agents is a challenge. Take these findings from McKinsey's 2022 State of Customer Care Survey: of the 77% that say their organizations have built digital platforms, only 12% are "highly integrated," and unassisted interactions account for only 20% of digital contacts.
For the contact center teams that do develop a cohesive solution using in-house resources, the road can be rough. In 5 Guaranteed Ways Digital Leaders Win With Low Code Search, StarCIO President Isaac Sacolick recalls the in-house development process during his time as CIO and CTO:
It's a lot to account for, from a development and upkeep standpoint. Of course, that's if you can find developers to do the work. The pandemic and Great Resignation has created a developer shortage.
This approach expensive, time consuming, and not scalable. It can also create a few inherent problems that, down the line, put agents in a bad spot. A lack of cohesion, requiring agents to navigate between too many systems and too much data in too many places. It's easy to see how this impacts agent productivity and operational efficiency. Not to mention customer satisfaction in the long term.
Also, everything goes through IT, from setup and configuration, to updates, feature requests, and general improvements. This can overload the IT team and create a bottleneck for the critical enhancements that agents need to do their jobs.
As a result, agents don't feel listened to. As a matter of necessity, they develop their own shortcuts for storing knowledge, automating processes, etc. Important knowledge ends up in unseen silos, or solely in the head of its beholder. Knowledge sharing stagnates. 
The fundamental issues contributing to poor employee experience perpetuate.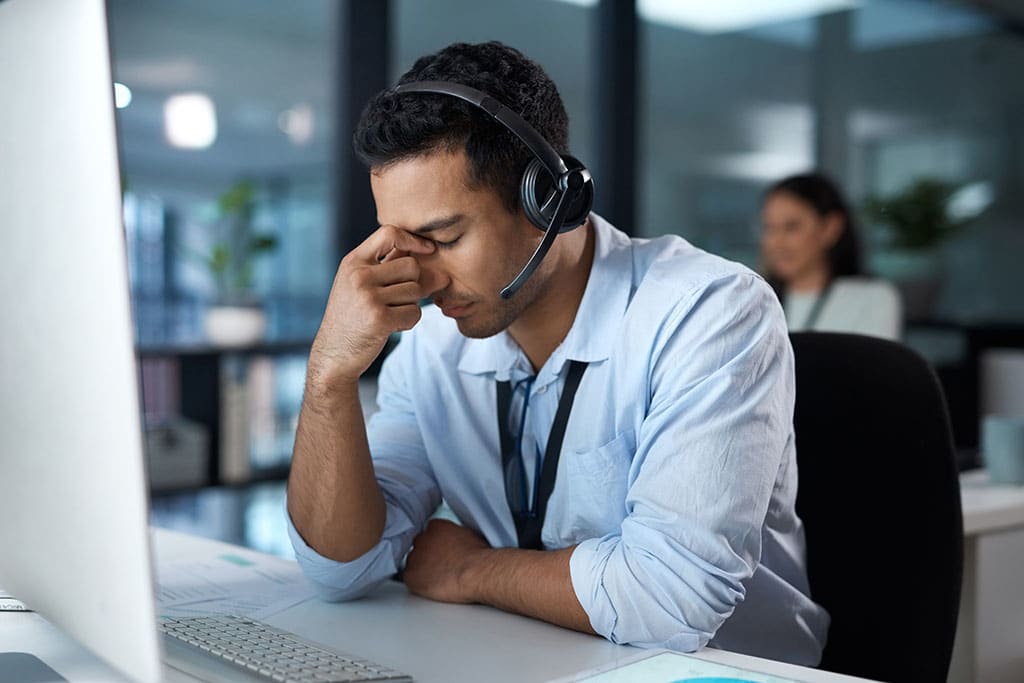 What a No Code Contact Center Looks Like In Practice
In a low code or no code contact center environment, even non-technical users (in popular parlance, called citizen developers) can build the platforms, integrations, and services they need, with minimal to no help needed from developers. This might be a knowledge base, synchronous service chatbot, or agent search interface.
In particular, the need for effective search capabilities spans nearly the entire customer service, from customer-facing applications to what agents see while managing a case. Asking a development team to build and iterate search experiences across web and mobile interfaces, analytics applications, and other systems — over a huge set of documents that's increased and updated daily — is asking a lot.
With low code/no code, features, functionality, and best practices can be turned on and configured by an admin. As such, the team doesn't have to wait to create different experiences that suit the needs of their agents. A tailored search experience in Salesforce Service Cloud, for example. An integrated knowledge management widget within the agent view.
The Benefits of a Low Code/No Code Contact Center
As for the benefits of a no code contact center, there are many. You'll significantly reduce access and implementation time for new features, for one thing. Admins can build the best agent experience for their team without dependencies on shared IT resources, allowing for better reactivity to market and requirements changes. This tends to  take considerable pressure off of IT.
And with AI and machine learning shouldering a lot of the load, automation tends to increase. In what McKinsey calls an "AI-powered care ecosystem," you'll find that approximately 65%-and up to 70% of interactions are automated (McKinsey).
Finally, team sentiment takes a turn for the better, too. Research from Microsoft found that when a team implements a low code or no code platform, work satisfaction can improve 84%, while morale can improve by 80%.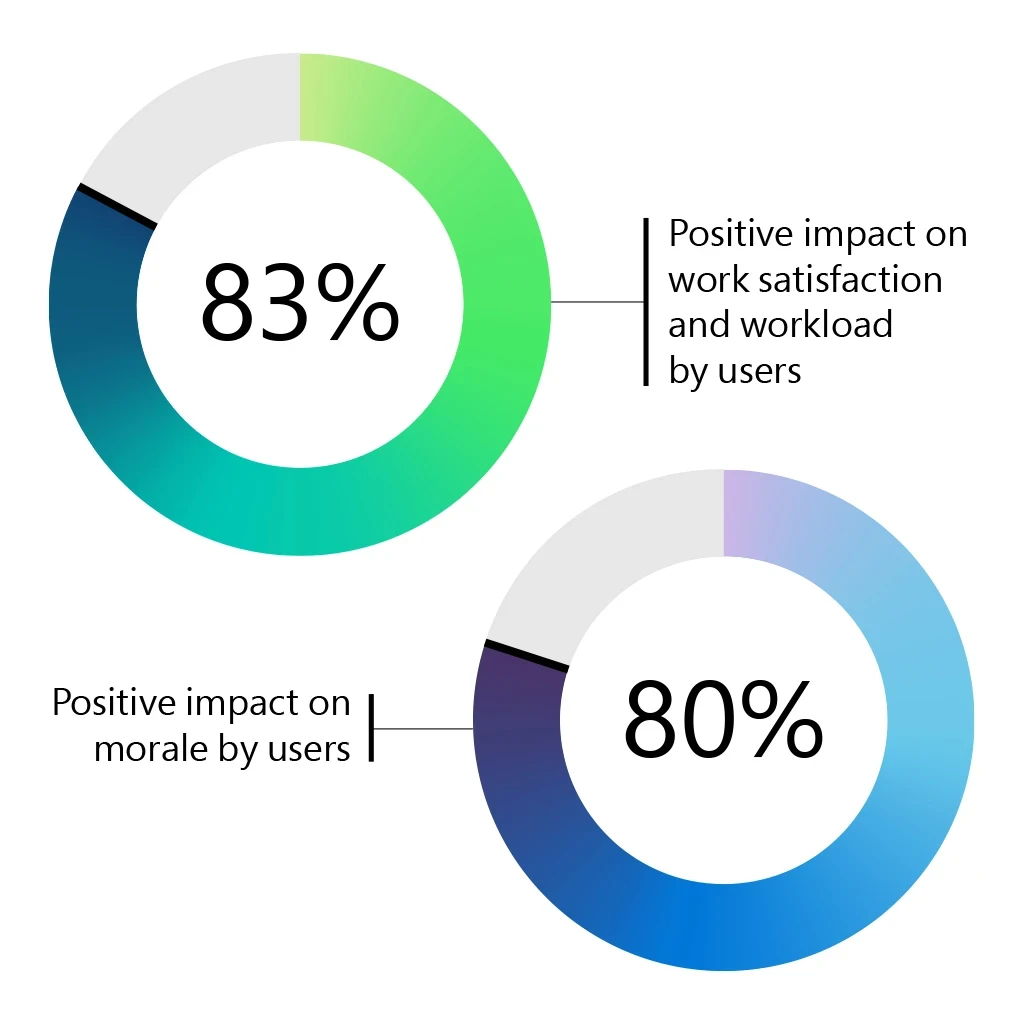 It's amazing what happens when agents don't have to research a solution that another agent has already used to close a similar case. Not surprisingly, agents tend to stick around when their leaders equip them with something simple that helps them do their jobs.
How Coveo Delivers No Code Contact Center Experiences
In How Low Code/No Code Technologies are Revolutionizing Agent Experiences, Bonnie Chase gives us the first step toward a better agent experience: build a foundation for transformative customer service with search, data, and AI.
The foundation is based on five pillars: 
Process to capture and re-use knowledge
Unified access to knowledge
Rich and timely metrics
AI-driven relevance and personalization 
Learning from the behavior of customers and agents to continually improve 
A low or no code platform like Coveo can serve as this foundation, enabling people within the contact center to build the relevant experiences they need. Coveo's Insight Panel for Salesforce is a prime example, serving enterprise-wide knowledge to agents where and when they need it. The panel embeds AI-powered search, recommendations, user history, knowledge capture, and other useful features within the agent's existing view. 
In the past, the Coveo team would roll out most features iteratively to allow contact centers to validate needs before devoting valuable IT resources. With the release of Quantic Insight Panel, contact center teams can switch on and configure whichever features they want from within the Coveo platform. It's quite literally drag and drop, so admins can see what a backend change to the configuration will look like for agents.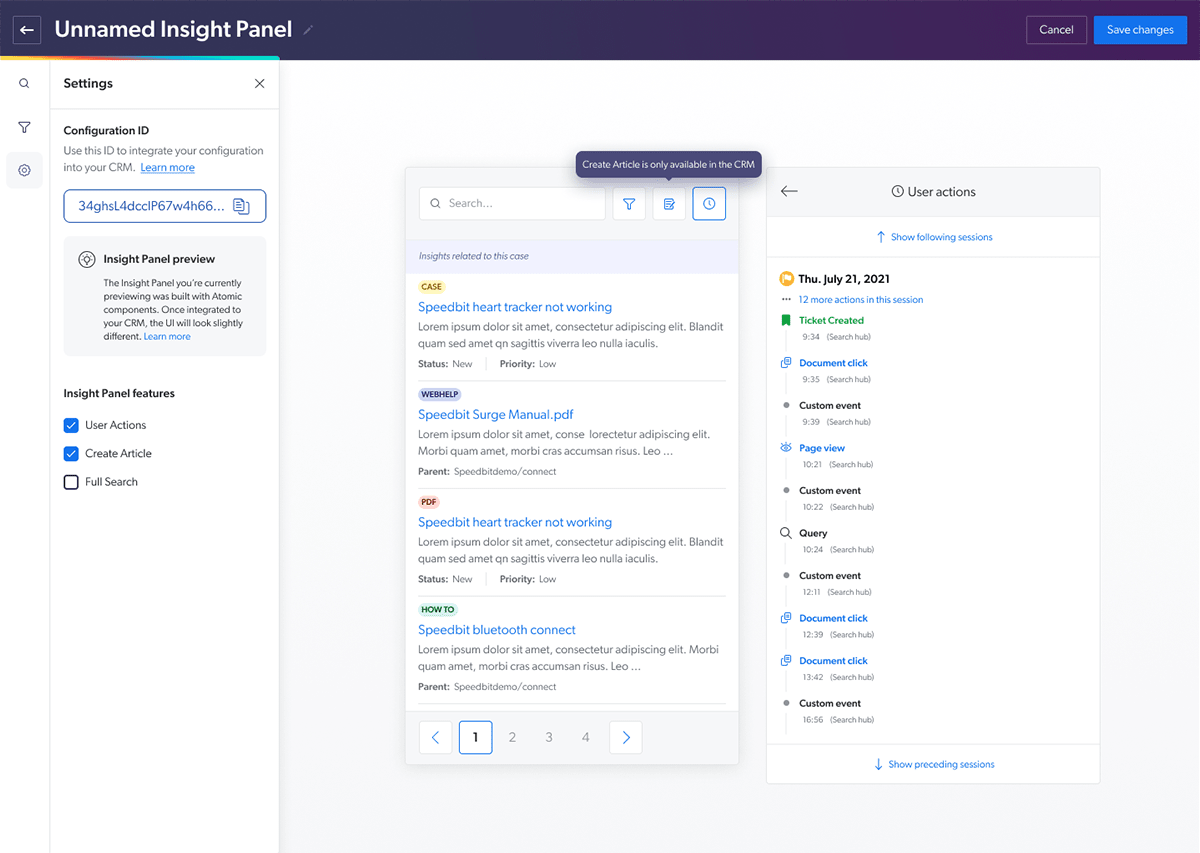 The insight panel is just one application of Coveo's low code/no code approach. The platform offers a large library of pre-built connectors for unifying content, pre-packaged machine learning models, and a suite of reporting tools — easily enabling digital transformation that scales as your business grows. 
Power via No Code in the Contact Center is Power to the People
Here's an interesting tidbit about the Quantic Insight Panel: it was built as a direct result of customer feedback. The Coveo team analyzed hundreds of support requests to refine each step of the user journey. They shadowed agents, used their own documentation to complete processes, and brought all of that feedback into consideration. 
I bring that up because a low code or no code contact center doesn't have to be a top-down edict. While there will naturally be some limitations to what can be customized and how, the idea is to design the platform based on what the people using it actually need — not only so that they can use it better, but that more people, like business users, can use it better.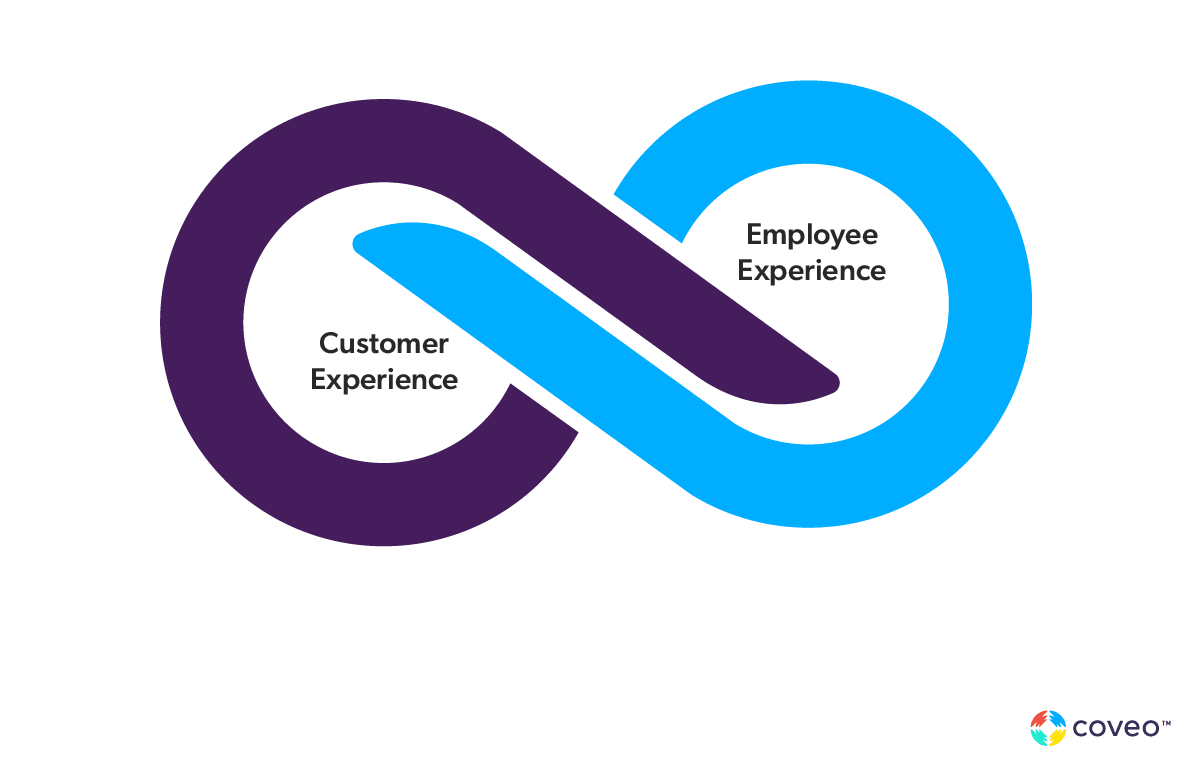 Which brings me back to the webinar I mentioned earlier. There, Dan Gingiss describes customer experience (CX) and employee experience (EX) as an infinity symbol in which CX and EX continue to affect one another. Guess what happens when the agents on that infinity loop are freed of the subpar technology and IT bottlenecks holding them back?
Both sides of the loop reap the benefits.
Listen to the full conversation, on-demand.
Dig Deeper
There are many ways to plug artificial intelligence into the contact center and enhance the agent experience. Get all the details in our ebook, Create an AI-powered Agent Experience in Salesforce, by downloading your copy today.
Most might think of customer service as post-purchase issue troubleshooting, but it can really be much more. Customer service agents are brand ambassadors — learn more about how AI can enable them to help grow your business.