If there's one thing we embrace at Coveo, it's that we can all learn a lot about our customers by taking a close look at their behaviors and actions.
After all, it's those interactions that allow us to meet their ever-elevating expectations in customer service.
When Forrester asked companies about their customers' preferred contact channels, for example, a full 56% responded that digital was the way to go, with 31% opting for fully automated channels and 25% saying they liked assisted service.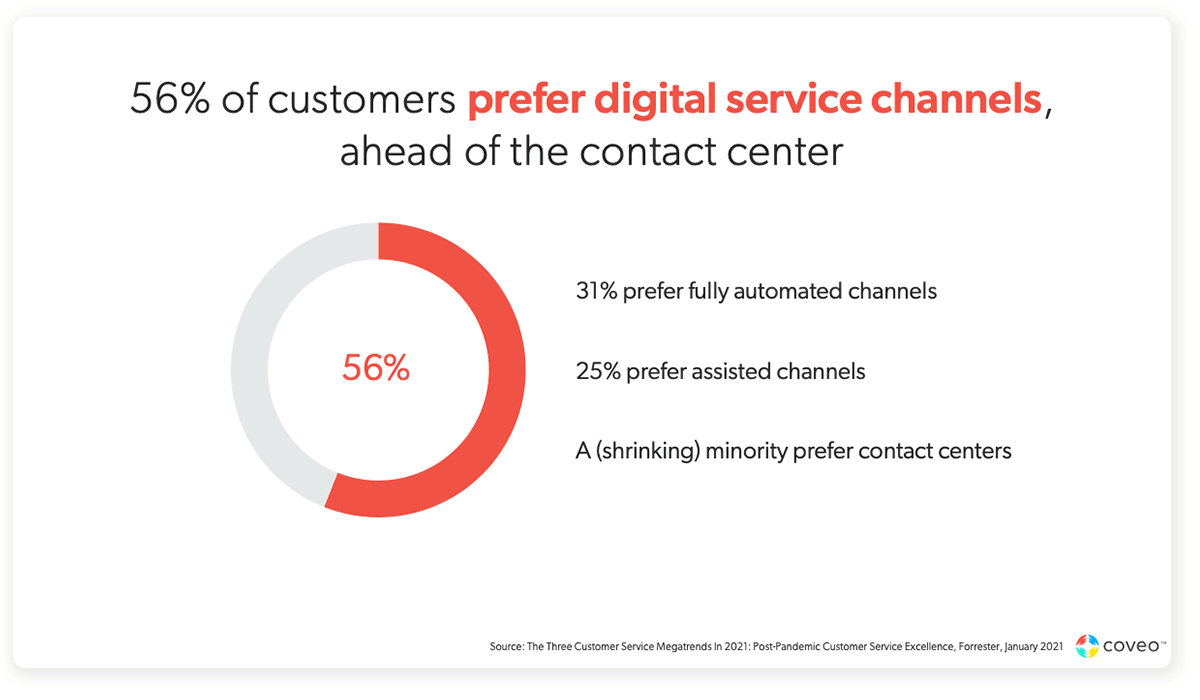 The remaining 44% are still fans of using contact centers—"And it's really a shrinking minority that prefers to deal, if you'd like, in person," Mark Floisand, Coveo's SVP of Product and Industry Marketing, shared at our recent Relevance 360° Week.
But just as our businesses can learn a lot from our customers, so too can we learn a lot from each other when it comes to creating a better, more personalized customer experience.
The Customer Service Trends That Count in 2021
There's a clear trend among companies that lead the pack in great customer service: they put people first. They've renounced the traditional service structures that focus on product lines and reoriented their operations to put the person at the center. They've eschewed a siloed and segmented approach to customer service delivery in favor of one that's relevant, coherent, conversational, and connected from their customers' point of view.
That can be a challenge considering many organizations have grown with product at the center, Floisand said. "So, as they think about the reorientation of putting customers at the heart of this, it's very often an adaptation and a strategic change that a lot of companies have got to do."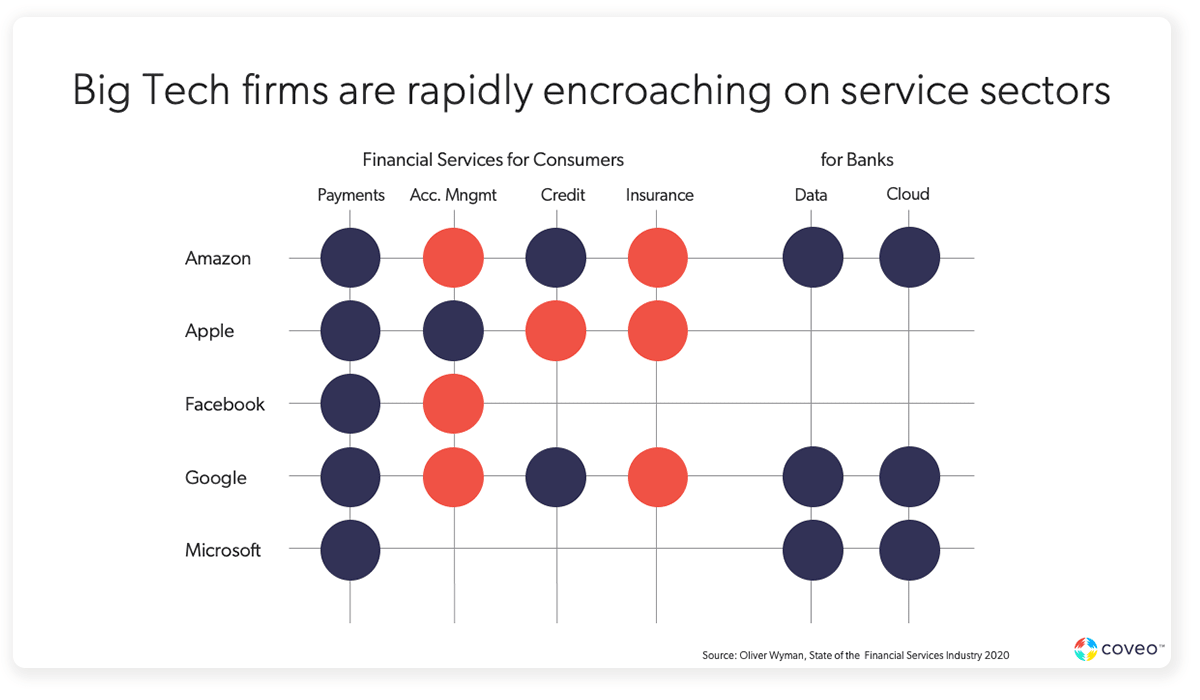 "Got to"? Yes—because this approach isn't just a good idea. It's also a means of survival in a landscape that's becoming increasingly crowded with large tech companies that specialize in serving customers the way they want to be served—with personalization. With companies like Amazon, Apple, Facebook, Google, and Microsoft moving into industries beyond their home base, if you will, it's clearer than ever that competition—and inspiration—can come from anywhere.
Let's look beyond the confines of our own industries and learn from what others are doing to make sure we provide personalized services that are more relevant than ever before.
Insurance: Decluttering the Complex
Sometimes, less is more… even when it comes to buying insurance. From established players like Geico and Progressive to the new entrants like Insurify and Lemonade, "they have really taken a very clean, web-centric approach to engaging with customers," said Floisand.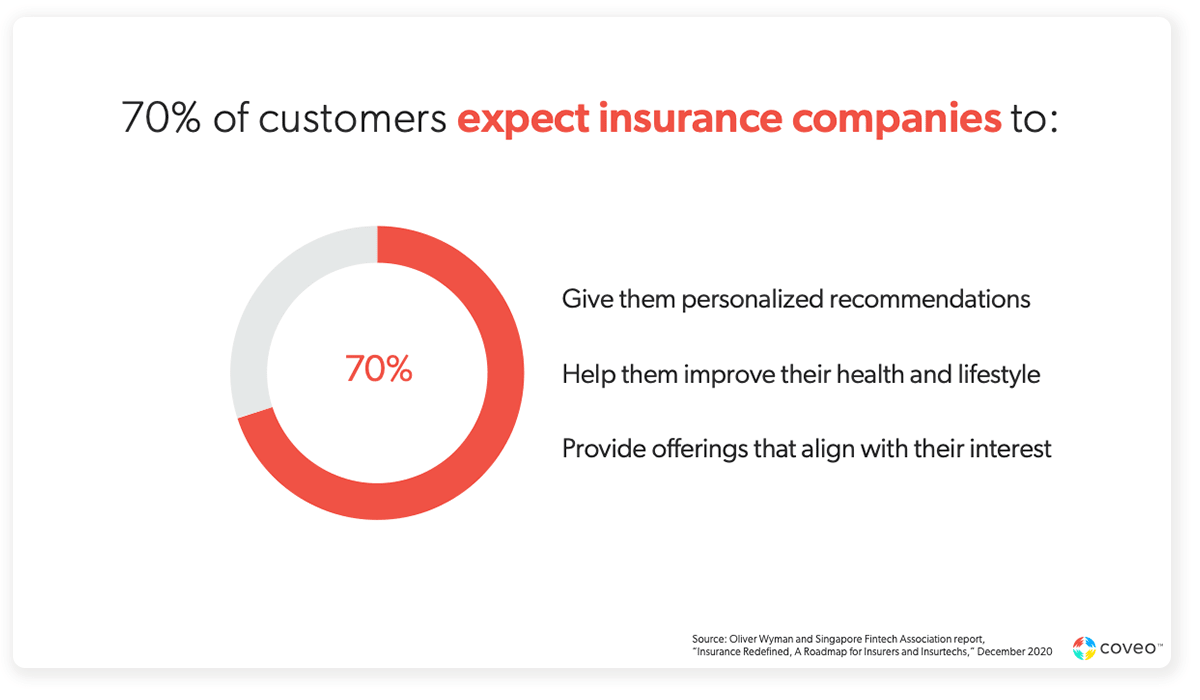 That means taking products that have traditionally lived in their own separate worlds and reorienting them around a customer's preferences. Bundles, for example, are one way to make a variety of customized service offerings available upfront without asking customers to dive into every option on their own to figure out what they need.
"We're seeing this unification of product lines around people—a fundamental rethinking in terms of the digital customer experience to make it, frankly, fun again," said Floisand. "It's not just about coverage—it's actually about looking at your overall lifestyle and understanding where insurance can play and support in a very forthcoming and suggestive way, and hiding the silos, the systems, the complexity that are associated with dealing with these things."
Wealth Management: Tailoring Your Recommendations
What you need from your bank account today may be different from what you need from your bank account tomorrow, or even 10 years down the road. And it'll be different from what your partner, neighbor, family, or friends need.
That's why the most successful contenders in wealth management have invested in the ability to make a personalized experience around individual recommendations for products, service, and content based on who their customers are and what they need right now.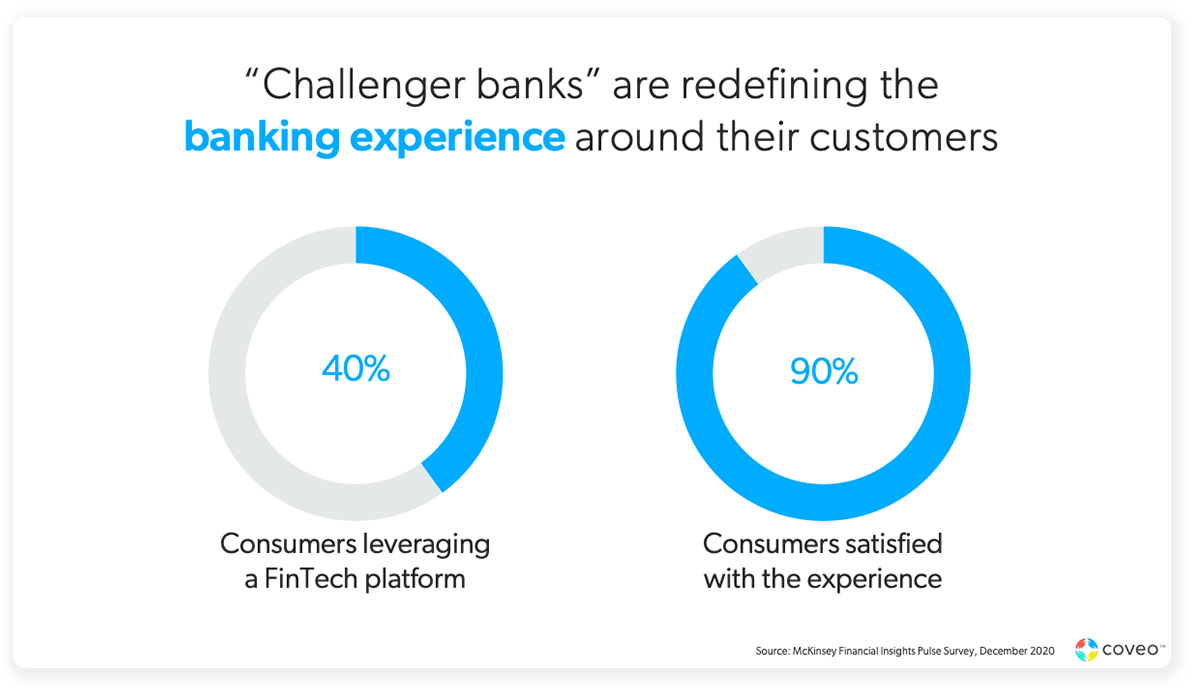 "What we see in wealth management overall is that rethinking of product lines and reorienting those around customers themselves," said Floisand, "making it very easy to cross-sell, upsell and package them, and tailor them based on what they know about us as customers, making those recommendations tailored to us and indeed even to prospective customers."
And those product recommendations can be tailored using customer data already present across organizational systems.
Healthcare: Responding to Emerging Needs
There's no denying the healthcare industry has changed dramatically over the past 18 months—health insurers and providers know this all too well. "There's been an incredible volatility and a high degree of fluctuation in the demands on their time based on, for example, when we've seen waves of infection rates grow," said Floisand.
Keeping up with customer demand during those fluctuations drove more players to think about the best way to deliver personalized customer service. Those who were most successful turned to online solutions with AI-powered analytics and predictions that deliver the right content to the right people-all within a single, unified platform. This can be helpful on both the consumer and customer service agent side.
Whether it's dynamically populating the topics of greatest interest like COVID-19 or connecting members to the right care providers, "the data under the hood is pre-empting and dynamically changing to give people the most relevant answers and most relevant information based on their ever-changing healthcare needs," Floisand said.
Manufacturing: Minimizing Customer Effort
How can your company serve your customers (or customers-to-be) with exactly what they need – without making them jump through hoops to find it? Look no further than the manufacturing industry, where leaders have mastered the art of serving up relevant information almost effortlessly, even for first-time visitors.
Think auto equipment manufacturers that can show you a fully tailored list of parts based on one input: a VIN. Or a computer manufacturer that lets customers facet their search to hone in on categories that matter most. Or a footwear manufacturer that only shows you the running shoes available in your size. And then imagine if all of this data could be carried forward to the next search, purchase, or service interaction.
"The effort is around minimal customer effort," said Floisand. "What you're seeing is a real focus on making it simple for people to find the information they need, and really to be able to leverage that data, both inside and outside of the organization to personalize from the very beginning … whether or not you know that person."
Minimize the Cost-to-Serve Curve
Floisand put forward a challenge to viewers-how to take all of these relevant search examples and holistically combine them into a unified personalized customer service experience.
"Not just channel on channel, not just website, not just mobile app or mobile site, or in the contact center itself," he said. "But how do all of these things join up?"
He put forward the idea of the 'cost-to-serve curve:' whether answering a question about how a product might work, or helping them understand a healthcare issue, what's your company's overall cost to serve a customer? And more importantly, how can personalized care be added to improve that experience?
Because humans are better equipped for one-on-one service for issues requiring a creative response, a unified content index can enable better self-service by helping customers and agents capture, crystallize, and circulate knowledge.
Better self-service leads to a better customer experience, and an overall better, long-lasting relationship. With both existing customer data and new data collected through customer interaction, it's possible to personalize for both a known or anonymous customer.
Are you ready to put your existing content to work across all of your customer service touchpoints?
Dig Deeper
Want to see how specific companies are approaching these trends? Don't miss the full Relevance 360° Week session on Personalized Service Delivery.
And if you're curious about how to deliver personalized service at scale, make sure to read our blog Relevance Delivers Millions of Personalized Experiences.