Health insurance executives understand the importance of relationships. In an industry where the primary commodities are trust, security, and protection, an insurance provider's ability to acquire and retain customers often depends on its ability to build relationships. But what does that really mean in practice?  
It starts with an understanding of what makes members successful. When members interact with their healthcare insurance providers, they signal their needs, wants, and concerns. To an artificial intelligence platform, these signals are data points used to constantly and consistently bring the most relevant information into the channels and experiences that members prefer.
Which is why we're seeing more and more examples of artificial intelligence in healthcare insurance, as executives look to deliver this kind of customer service experience at speed and scale. Yet, artificial intelligence encompasses more than one technology or use case. It can be applied in many ways across a growing number of insurance industry use cases. To truly understand the value of artificial intelligence in healthcare insurance, it needs to be examined in context.
Case Study: Enabling Care Teams at UW Health
How an AI-powered search solution simplified everyday tasks for better health outcomes
How Members Are Getting Value From AI in Healthcare Insurance
It's easy to pigeonhole AI purely for automation. Yet, AI is at its best when empowering and enhancing human intelligence, rather than replacing people outright. Today, leading healthcare insurers use AI to transform their healthcare member service delivery in four important areas: 
Member search
Provider search
Agent enablement
Personalized health recommendations
Let's take a closer look at each.
Use AI To Create Adaptive Search Experiences In Member Portals
We know that health insurance issues can be confusing for members. When people need to make an insurance claim, submit a dispute, or update their policy, they often start with a search within the member portal. If that search experience is robust-if service organizations can get people to the info they need fast-search can also be where the journey finishes. 
This is ideal, as most members don't want to call a contact center if they don't have to. As it turns out, AI can play a central role for insurers looking to deliver that kind of self-service experience. For example:
Automatically filter irrelevant results based on member profile data and past behavior. For instance, you can filter out any search result for a provider not covered by their health plan.
Suggest queries based on characters the customer entered or what they've already clicked on, helping people articulate their query, or generate additional queries they might not have thought of yet.
Present unified search results in a single setting that is actually indexing multiple content databases and sources. This could include information on claims, forms, services, or health videos. 
Finally, intelligent search powered by AI is self-learning and self-tuning. Healthcare insurers can use machine learning and usage analytics data to automatically boost, suggest, recommend, and promote content most likely to answer each member's question at a given moment in time. For the member, this creates a highly optimized experience that feels proactive and personalized. For customer service teams, the level of intelligent automation involved can meet members' expectations for being able to solve a problem faster and help to deflect calls. 
Create Proactive And Personalized Member Self-Service 
Most members  would choose to handle their problems on their own, given the choice. This is especially true for checking the status of a claim that shouldn't require the help of a support agent (but often does). Given this preference for self-service, it's no wonder that 91% of organizations identify web self-service as a relevant investment focus. It's better for members. And it's better for the agents supporting them.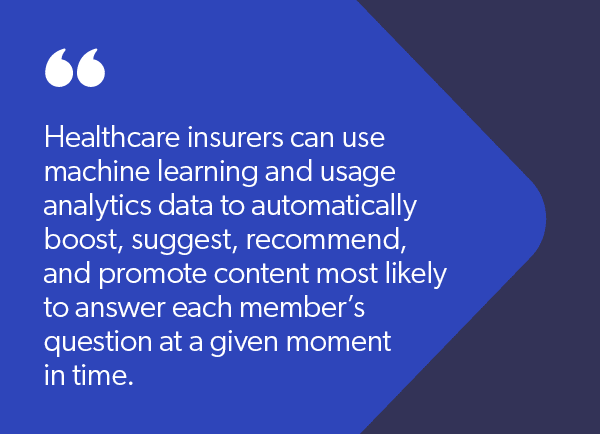 Self-service for members is yet another area of customer experience where applying AI can be a gamechanger for insurers. First and foremost, AI can be used to detect issues before they arise and guide a member to resolution. By leveraging AI, you can proactively surface claims that need additional information for processing. 
This kind of automation can be used to stitch together a highly personalized self-service experience in which content, suggestions, and related content are dynamically populated-from multiple sources-based on who you are. This might include the option to "pick up where you left off" during your last session within the portal or to read an article on how best to submit claims for a vaccine.
AI can also be used to carry this rich context across channels. It ensures that providers only see relevant information, regardless of whether they choose search, provider portal, a chatbot, or some other channel for self-service.
Put Agents In The Best Position To Help Members Quickly
Keeping members waiting is costly, which is why customer satisfaction agents don't have time to spare. Some 56% of agents without AI spend most of their time on mundane tasks. And 51% of those agents waste time toggling between multiple screens to find the info they need to assist customers. 
To address this, agents need to be put in a place to succeed. They need to know what's coming and be provided with the means to handle it. This helps to solve members' issues quickly. And there are a number of ways that AI can be used to assist those assisting customers:  
Summarize insights on content, user actions, and affinities

to put rich information about a member right at the agent's fingertips. Who is the member I'm about to talk to? Have they recently received medical services? If so, what? Do they need to refill a prescription? Do they have manually submitted claims that have yet to be filled?  

Recommend content based on case data and customer journey information.

Use AI to dynamically populate and boost relevant content in real-time, putting agents in the very best position to resolve the case in a couple of clicks.

Adapt content and answers to the right channel, such as call centers, chatbots, or email.

Provide relevant answers to customer queries in the manner most fitting of the channel being used. For example, an individual using a chatbot may receive a link to a document to help them submit a manual claim.
AI—more specifically machine learning and natural language processing—makes it possible to not only automate the generation of these kinds of insights but also stitch them together into a single, cohesive view on the agent's desktop. With this information at hand, agents will always be one step ahead, able to deliver the kind of personalized and proactive service that members have come to expect. 
Make AI-Powered Personalized Health Recommendations
AI offers a lot of promise for insurers to provide personalized recommendations. These recommendations would not just help members be healthier but also improve profit margins for health insurers. One area where we are already seeing insurers act is by feeding data from connected medtech to AI, which analyzes and extracts conclusions. 
A simple example of this is a subsidized fitness tracker. An insurer offers a subsidy for members to purchase fitness trackers, with a caveat that they connect them to the member portal. As the member wears the tracker, they are sharing activity data with the insurer. 

By looking at this data in context with known member information, the health insurer can then offer a personalized recommendation. Maybe they offer a premium discount for those that are healthy and exercise. For those that aren't exercising enough, the AI tailors a "personalized fitness plan" for the member tied with a discount to a local gym to encourage activity. This helps members be more healthy, and the insurance company drives down costs. 
This connected device scenario could be applied to other areas. Someone with severe hypertension has their blood pressure monitor connected to the AI. The AI could notice trends and make recommendations for medication or visits. This could be a great way to deliver superb service to those with chronic conditions like diabetes.  
Explore More Applications of AI in Healthcare
Applied strategically, AI can help guide decision-making, personalize experiences, and unlock valuable data across the enterprise. This data can help providers improve their member portals, while making their health member services experience far more efficient. 
To discover how leading health insurers organizations are successfully applying AI in member portals and customer service—and to learn how you can do the same—be sure to watch How Digital Leaders are Transforming Their Customer Service with AI.