In 2019, insurance software company HealthEdge surveyed 5,000 people and found that 78% of respondents were satisfied with their health insurance providers – except in one area. Consumers struggled to understand communications from their providers. Specifically, they were confused by what was covered – and what costs are associated with that coverage.
Before the Covid-19 pandemic, digital transformation in healthcare was moving at an incremental pace – often taking longer than other consumer industries in adopting advanced, seamless digital customer service experiences. As a regulated industry it's important for a service like health insurance to get digital transformation right. For consumers, though, the inability to get relevant information in a timely manner is frustrating, especially for something as critical as health care.
Covid Strains Health Provider Call Centers
When the pandemic arrived, it brought an overnight change to that digital transformation strategy – and put even more strain on customer service agents to communicate clear and correct information. In-person contact centers were transformed into remote contact centers overnight. And in many cases new ad hoc member touch points and agent-facing technologies were needed to deal with the challenge of lockdowns.
Add in the ever-changing regulatory guidelines for Covid-related coverage, call center burnout, massive consumer frustration with long call center wait times, inability to navigate through arcane insurance jargon – and you have a recipe for an extremely difficult time for health insurance agents.
Nearly 90% of consumers prefer to speak to a live human over an automated interactive voice response (IVR) menu; for members calling in about critical coverage concerns, speaking with a knowledgeable agent can be the difference between a frustrating and a reassuring experience at a trying time.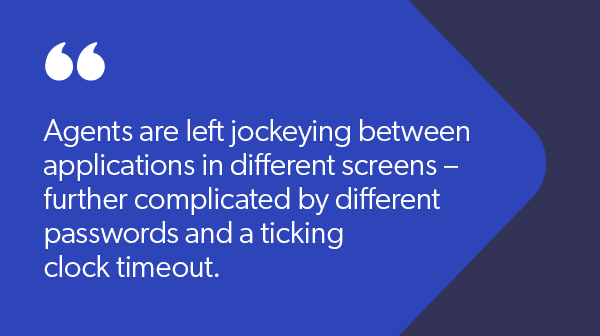 Why Proficiency Matters More than Efficiency
No matter how well-intentioned, customer service reps often found themselves on the short end of the proficiency scale.
Efficiency metrics like first call resolutions and average handle time have always been key indicators of a well-functioning call center. Call center efficiency, however, is a byproduct of agent proficiency; without proficient agents, health insurance companies will struggle to meet those key efficiency metrics.
Proficiency, or making your agents skilled and knowledgeable, is a difficult task. Call centers have incredibly high turnover rates, averaging between 30-45%, and in some cases exceeding 100%. Training agents to become proficient takes time, saps overall productivity, and requires more money to hire, recruit and train replacements.
Lack of Agent Proficiency Is Costing You
Lack of proficiency and knowledge is also a reason why agents can leave in the first place: dealing with frustrated members all day can be exhausting, especially when it feels preventable.
Turns out, feeling proficient at work is important. And in turn, there's plenty of empirical data that shows employee satisfaction correlates to overall customer satisfaction.
According to one insurance provider executive, half of all calls into a call center resulted in a second call. Not only does that foster angry customers – but it also puts unbelievable stress on provider agents.
Integrated Support Tools Are Needed
This means support agents need the right tools on hand to help customers solve problems. Unfortunately, not all the software solutions that are available to agents are integrated. Often they have to access and/or record patient interactions into more than one application.
This is not efficient from a timing perspective. Nor does it help master anything other than confusion for the agent. Consider: members want responses, fast. Agents are left jockeying between applications in different screens – further complicated by different passwords and a ticking clock timeout.
Building an efficient and proficient agent workforce should be a strategic part of the digital transformation roadmap for every health insurance company. In an omnichannel world, the odds are that may mean fewer calls to the contact center, but each call will come with higher member expectations.
Since your average call center agent is not going to be a walking encyclopedia of health insurance knowledge from the day they're hired, the key to creating proficient call center agents is providing the relevant information they need, when they need it, in a unified experience.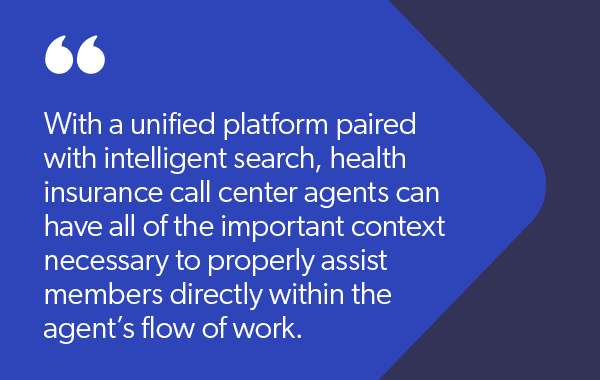 Unifying Systems of Record
Creating a unified knowledge experience is a challenge for many insurers as they undergo rapid digital transformation. Members are now utilizing a variety of in-person, digital, and self-service touch points, while call center agents often are limited to their own siloed systems of information. The lack of available information is often what slows down call times and frustrates members who can't understand why agents don't know what they've already done in their journey.
With a unified platform paired with intelligent search, health insurance call center agents can have all of the important context necessary to properly assist members directly within the agent's flow of work.
By bringing policyholder information, benefits summaries, claim details, electronic health records and member portal analytics into a single view for the agent, they have the knowledge they need to understand the members' health and insurance journey in one glance. Further, this view should include an insight panel that allows the customer service rep to see the path that the patient has taken before they made the call.
Delivering Seamless Self-Service for Members
Agents aren't the only ones who benefit from intelligent, unified search results. With Coveo, the same platform that powers your agent's self-service experience can also power your customers' self-service experience within the member portal and other channels.
Delivering relevant information within the member portal- whether it's about coverage, pricing, or other documentation- to members can help keep call center volume down. In fact, it can reduce live call volume by 20-40%, as long as the experiences aren't negative. As consumers come to expect self-service that's on par or better than other customer service channels, health insurance companies should take this opportunity to create a unified experience across the entire customer journey.
Regardless of the world returning to many pre-pandemic norms where vaccines are prevalent, healthcare agents will continue to play a critical role in the member experience.
Choose Coveo for Modern Member Customer Service
Coveo's intelligent search and recommendations tap into a unified, secure source of truth from all of your key data repositories, including CMS, CRM, Electronic Health Records (EHR), Electronic Medical Records (EMR) and more to provide the right content to the right people, whether it's an agent or a member.
By providing consistent information from channel to channel, from the member portal to the chatbot to the call center, health insurance companies can deliver the best service experience across the entire customer journey. Since our platform delivers personalized content dynamically in real time, member interactions- however they occur- will always be efficient and relevant.
Dig Deeper
What do you do if you are one of the world's largest insurance companies, your search platform is discontinued by the vendor, your Medicare/Medicaid business faces increased competition, and a worldwide pandemic causes massive industry transformation overnight? This was the situation faced by Humana, America's fourth-largest insurer.
Find out how Humana tackled these challenges by adopting a relevance platform.
See how Coveo can unlock the insights your agents need to become proficient and trusted partners for your members' journeys and how that can help you deliver on your key efficiency metrics in the call center.