What do you do if you are one of the world's largest insurance companies, your search platform is discontinued by the vendor, your Medicare/Medicaid business faces increased competition, and a worldwide pandemic causes massive industry transformation overnight? 
This is exactly the situation that Humana, America's fourth-largest insurer, and a member of the Fortune 500, found itself in earlier this year. Thankfully – as shared at the recent Relevance 360 conference – past efforts prepared them to take on the challenges thrown their way. 
A Digital Journey Begins
Unlike some providers that primarily offer employer-based insurance, most of Humana's customers are Medicare and Medicaid. Direct customer relationships mean that customer service and an outstanding digital experience is critical to maintaining and growing Humana's business.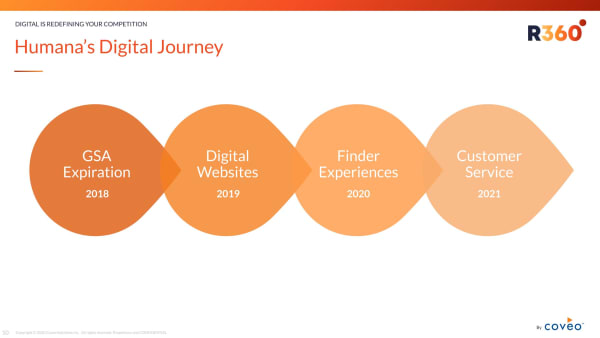 In 2018, Humana looked to replace its Google Search Appliance, which was declared end-of-life. They tested offerings from multiple vendors before settling on a relevance platform. The initial focus of the effort was to improve site search on their web properties. 
Finder Experiences
One of the top three reasons customers come to Humana's website is to find a doctor. Humana leveraged AI-powered relevance in the form of Finder Experiences. These tools allow customers to find doctors, dentists, pharmacies, vision specialists, and other care providers. 
And with the rise of the COVID pandemic, this became an even more critical function. Humana implemented a new finder experience for COVID-19 testing centers "very, very rapidly to meet that acute need back in April," according to Digital Channels Director Bruce Buttles.
Overnight Transition
"The adoption of telehealth is something that we had on our roadmap over like a three to five-year program. And it's almost become ubiquitous overnight," noted Buttles. Before COVID-19, there were about 14,000 telehealth sessions for Medicare recipients per week. Virtually overnight, this accelerated to 600,000 per week. That number is even higher when you include non-medicare customers.
Meanwhile, the US government authorized over 135 new telemedicine services and issued a waiver removing geographic restrictions. The pace of change in both regulations and how customers engage with healthcare has been staggering. 
In order to adapt and make the most of these changes, Humana is doubling its efforts to provide an excellent digital experience and service to its customers and employees alike. In 2021, the focus is to extend their AI-driven search experience into the call center. The goal, according to Buttles, is that "regardless of how our customers interact, they're going to get the same quality responses and answers, whether it's asking a call center rep, or whether they're doing it themselves online."
AI and Machine Learning for A Better Experience
Humana initially layered AI on top of their site search in order to unify three web properties:  Humana.com, HumanaMilitary.com, and MyHumana.com. The project also included data from existing question-answering sections of the site. Implementing this question answering functionality was not as simple as a search box because they have context and branches.
On Humana.com, after the initial rollout, analytics revealed some interesting insights. "The first thing I learned was that no one knows how to spell HIPAA," said Eric Immerman, Practice Director for Perficient, who worked on the project. During the rollout, as part of training the machine learning models, the team added synonyms for common errors like "HIPA." 
Later manual tuning also included the various names for COVID-19.
"Little tuning tweaks like that allowed us to kind of bump that just click-through rate from 50% to about 60%," according to Immerman. After these manual tweaks, the team enabled machine learning, advanced relevancy, and query suggestions. Within three days, the click-through rate shot up to 95%.
Analytics to the Rescue
In late February, as news of the pandemic struck, Humana C-suite executives and digital leaders wanted information to help access and address customer needs. They knew they needed to dig into and come to truly understand customer intent, so the team put up an analytics dashboard for specific search terms and topics. 
Based on this information, Humana understood what customers were looking for and the volume by state. And they used these analytics to help guide their efforts: they gave away over 50 million free face masks.
What's Next
Humana is transitioning from an insurance company to what they refer to as a "healthcare first" company. There is a broad new initiative around creating clinical call centers to provide backline support to doctors, nurses, and clinical workers using the same search and machine learning technologies.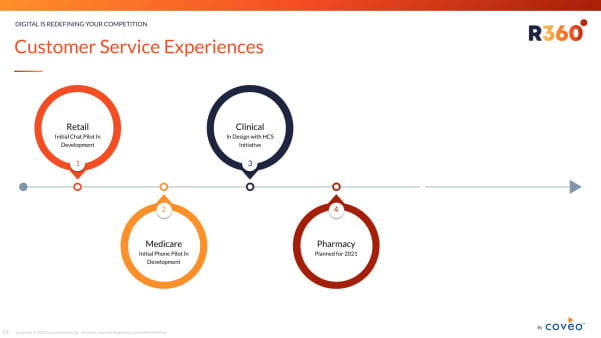 Meanwhile, Humana is rolling out a new commerce platform and Humana Pharmacy, a full-fledged online digital pharmacy. The goal is to offer a natural search experience for customers, call center reps, and clinicians. Think of this as a sort of "Google Ads" experience offering customers suggestions based on their search context. 
Enabling this functionality requires unifying data from across Humana's multiple data sources. To do this with confidence, Humana will continue to utilize the Coveo Relevance Platform and rely upon Coveo's security features.
The Bottom Line
How do you handle competition, a massive overnight industry transition due to a global pandemic?
Humana focused on customer experience using the Coveo Relevance Platform. And as Humana continues to transition, they maintain their focus on bringing together all of their available data and using analytics to understand what customers really need – and need next. 
Dig Deeper
For all the details about Humana's journey to relevance, watch the full Relevance 360 session: Digital is Redefining Your Competition. 
Key to Humana's success was the use of a relevance platform. To learn more about what it is and what it can do for you, read our blog post: Relevance Platforms: The Secret Ingredient for Your Tech Stack.