Have you adopted a search center of excellence yet? Let's look at this a different way.
How many search technologies does your enterprise or business have for finding information?
Many organizations have content management systems (CMS), customer relationship management systems (CRM), customer support tools, ecommerce engines, and collaboration tools (and often multiple platforms in each category) — each with a search capability within their information silos. Adopting new, emerging technologies like generative AI often has the capacity to become another customer touchpoint, but it doesn't have to be – and, really, shouldn't be – another siloed channel. 
This proliferation of search technologies can make finding information more difficult, creates knowledge gaps, and adds significant overhead to your IT staff. It's also likely hurting your top and bottom lines, too.
Here's how a search center of excellence can be an innovation center that drives digital transformation and continuous improvement across your organization.
Proliferation of Search Engines Hurts … Everything
First, it's not hard to imagine why enterprises and large businesses end up with a wide range of search capabilities.
We buy a platform, roll it out to departments, and have little time or budget to find ways to integrate business processes or the employee experience. Different business units in the enterprise implement their own CMS, CRM, ecommerce, and other platforms by justifying their "unique requirements" for selecting them.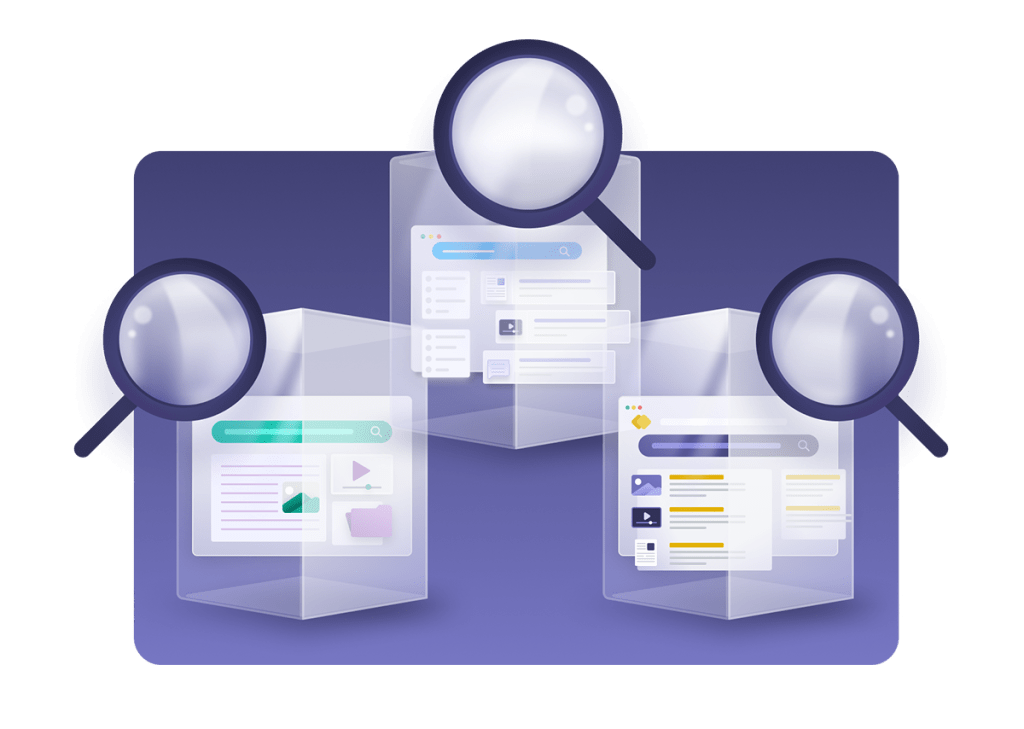 And then there's a whole set of tools plus silo mentality that come in through mergers and acquisitions, often bringing cultural barriers that can stymie efforts to integrate and consolidate them.
Regardless of why it happened, the costs can be very expensive. IT teams struggle to maintain multiple search platforms, some of which will degrade to legacy status. The experience degrades over time as the information they store changes while end-user needs evolve. Further, information becomes Balkanized from stakeholders adding to deeper workforce frustrations or customer complaints.
Insights to Building Search Relevance
Benefits of Building and Leveraging a Unifying Search Platform
So how does this story of multiple platforms and search experiences play out in a large organization?
Eventually, there's a business case to upgrade the search experience in one business area. The team gets excited, selects a platform, implements it, rolls it out, and ideally sunsets one or more legacy platforms.
Unfortunately, leaders and teams often fail to take the next steps and find ways to use the search platform across multiple business processes and use cases. This means that other business areas never take advantage of the search platform's capabilities.
It's also likely that the cycle will repeat itself when other teams justify selecting alternative platforms. This pattern creates a mess of subpar experiences, a garage of IT systems that are hard to maintain, and data silos that are never optimized.
Achieve Search Synergies
Blog: Why Companies Struggle With Enterprise Search: Lack of Dept. Alignment
Poor Search Experiences Are Costly
Sometimes, organizations upgrade the search capabilities in one business area but miss creating a unifying experience that can lead to new sales opportunities and customer satisfaction improvements. One report estimates that poor search experiences cost e-retailers over $300 billion annually in the U.S. alone.
Unifying the search experience leads to fewer abandoned shopping carts, more repeat visits, increases in sales, and brand loyalty. There are opportunities to improve customer search experiences in retail, financial services, tech, and other industries.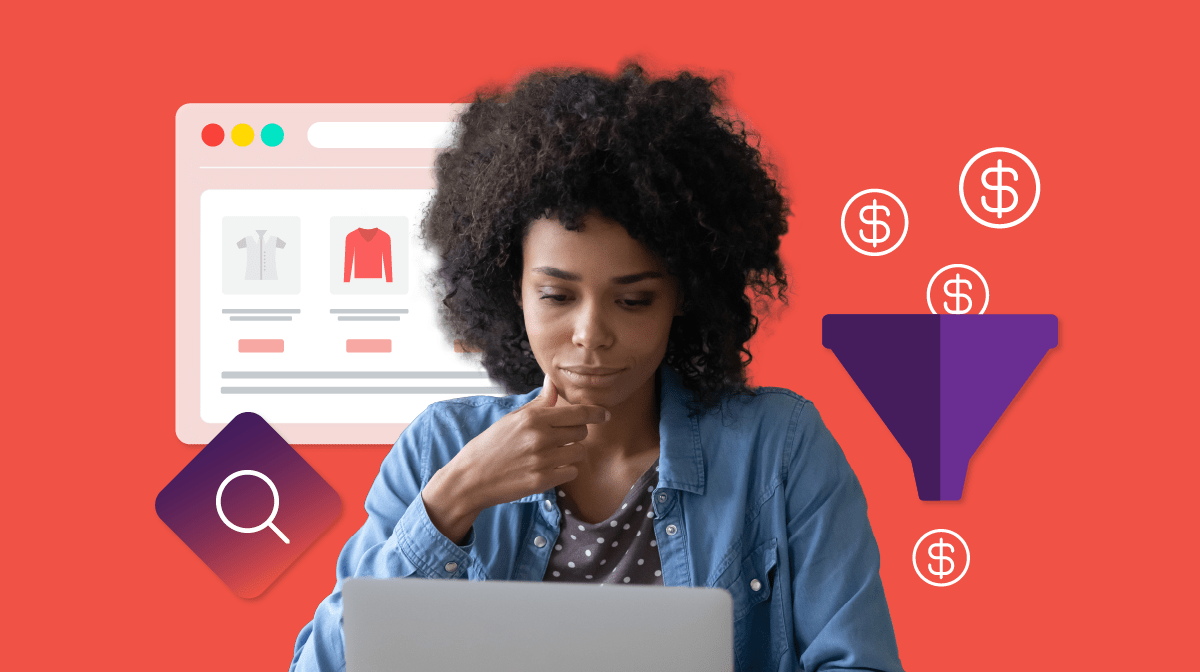 But what about unifying efforts in search in marketing, sales, and customer support functions?
Unifying search across employee experiences helped one ecommerce company improve its employee satisfaction (ESat) scores to more than 60%.
Large businesses should also help employees from drowning in documents stored on different cloud drives and build machine learning-enabled intelligent search capabilities on unstructured data stored in SaaS platforms.
Unifying Experiences With a Search Center of Excellence
The challenges for IT leaders include developing the organizational structure, technology delivery practices, and transformation management methodologies that enable scaling from one intelligent search use case to a unifying experience.
Some organizations focus on a customer experience and fall short of integrating sales, marketing, and customer support business processes. Others succeed in rolling out intelligent search in one business unit, and leaders then get stuck trying to get others to follow.
To break through these barriers, I recommend developing an intelligent search center of excellence with people of different disciplines, practices, and technologies that can guide business units on modernizing to a unified search experience.
You don't want your center of excellence to centralize the planning and implementation of search experiences. Centralizing efforts have shortcomings because the technical implementation experts typically aren't subject matter experts on what customers, employees, or end-users want from a search experience.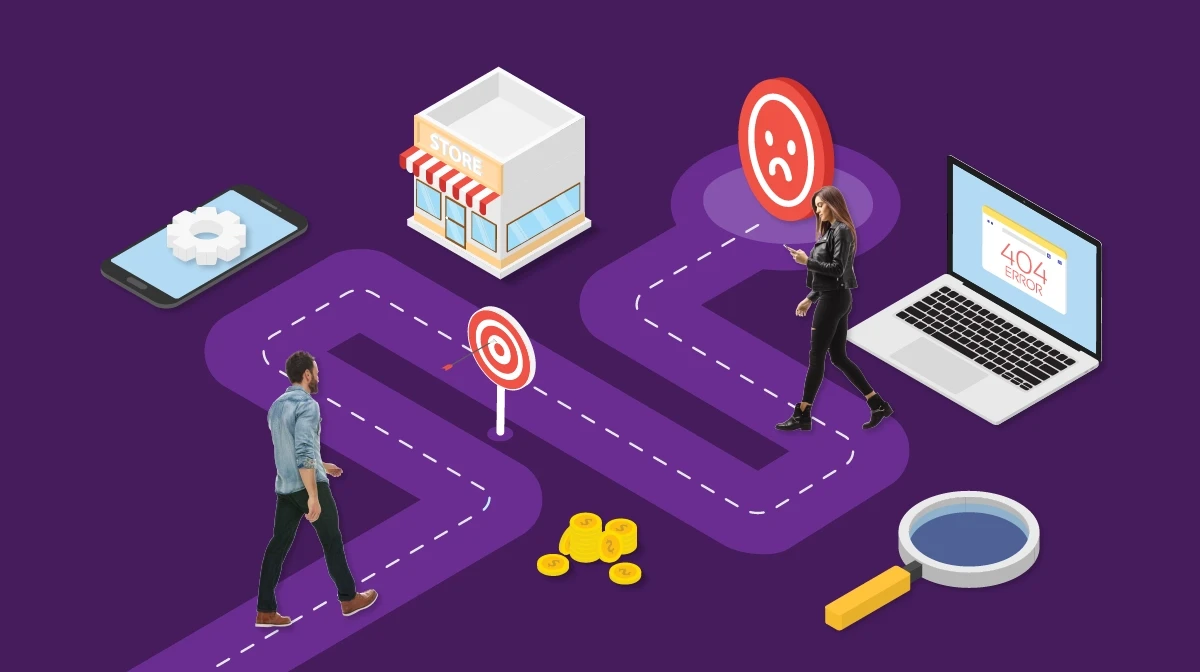 All too often, the nuances that drive delightful experiences get lost in translation between the line of business and centralized technical expertise.
Instead, the COE team should serve as consultants, architects, user experience specialists, data engineers, and generalized experts that guide teams in implementing best practices and creating standards.
A center of excellence then supports implementation teams by:
Helping conceive realistic visions, business cases, roadmaps, and MVPs
Providing infrastructure, documentation, and training to accelerate learning
Developing shareable assets that agile teams can leverage in their implementations
Answering implementation questions and partnering on solution options
Defining naming conventions, testing practices, and other standards that unify implementations
In the best implementations, a COE team is considered expert, accelerator, and partner to business leaders.
Getting Started with a Search Center of Excellence
A center of excellence can be a game-changer. I've worked with leaders who have built them in agile, product management, DevOps, and other areas. They require humble beginnings, expert partnerships, and highly collaborative culture focused on driving business impacts.
To get started, leaders must step up and share their business objectives and vision around delivering excellent customer and employee experiences.
Participants from the business units and departments that have opportunities to unify intelligent search capabilities must focus on their objectives across customers, marketing, sales, and customer support capabilities.
Leaders must then facilitate a conversation around where standards and best practices will be accelerated, improve quality, or create new business opportunities.
This kickoff is critical to successfully launching a center of excellence because aligning objectives and developing partnership agreements on standards enables unification. From there, leaders should charter one or more teams and start by reviewing our center of excellence best practices guides.
Achieve Search Synergies
Free White Paper: Revisit the Importance of Search for Your Enterprise Tech Strategy
---