Search is search, right? Let's rephrase: people are people, right? Except one person differs drastically from the next in so many ways. And because people are the ones doing the searching, delivering what they need also differs.
And if we continue to follow our thought experiment, the answers to those searches could reside in many different places. What sounds like a better search experience to you: going through multiple sources, entering your search query over and over, and assessing whether the search results are the right ones. Or searching in one search bar, where all relevant result are brought to you, regardless of data source, and are ordered automatically according to their relevance to your search term. 
Not a difficult decision, is it? Maybe you need some unified search examples to help illustrate what I'm talking about. 
Unified search creates a single unified search index of different types of content from across multiple data sources — including the option to crawl or push content stored in the cloud or on-prem via connector library or APIs — and ranks the entire corpus in a single user interface, applying relevance across the board. It differs from federated search, which searches across silos, yet presents results according to each silo — making it impossible to rank results across data sources.
In unified search, indexing captures the information the search engine needs to apply relevance ranking rules to all of your content , no matter the source.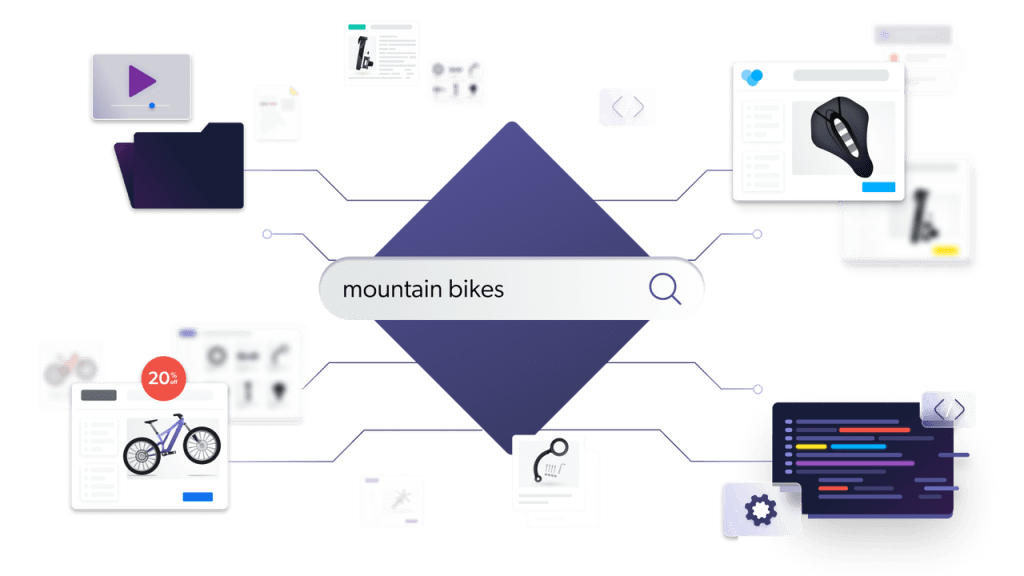 Let's walk through a few unified search examples to illustrate its powerful and positive effects.
Motorola Solutions Personalizes Experience for Every Site User
Through a customer survey, Motorola Solutions discovered that its digital experience failed to meet customers' expectations. Reasons cited included limited search features with irrelevant results, a poor user experience that hindered ecommerce website conversions, and no search results found at all for an astonishing 35% of users.
Motorola Solutions made improving the digital experience of its partners, customers, and prospects its goal by identifying five specific objectives:
Provide a unified and personalized experience to each and every visitor
Enable self-service
Improve conversion rates
Improve customer satisfaction
Automate marketing, ecommerce, and customer support processes
Motorola Solutions used Coveo to build a unified search experience and overcome the problems of multiple data sources, different regional site experiences, and legacy customer support systems. With Coveo, Motorola was able to implement AI-powered search and recommendations without having to first clean up the data.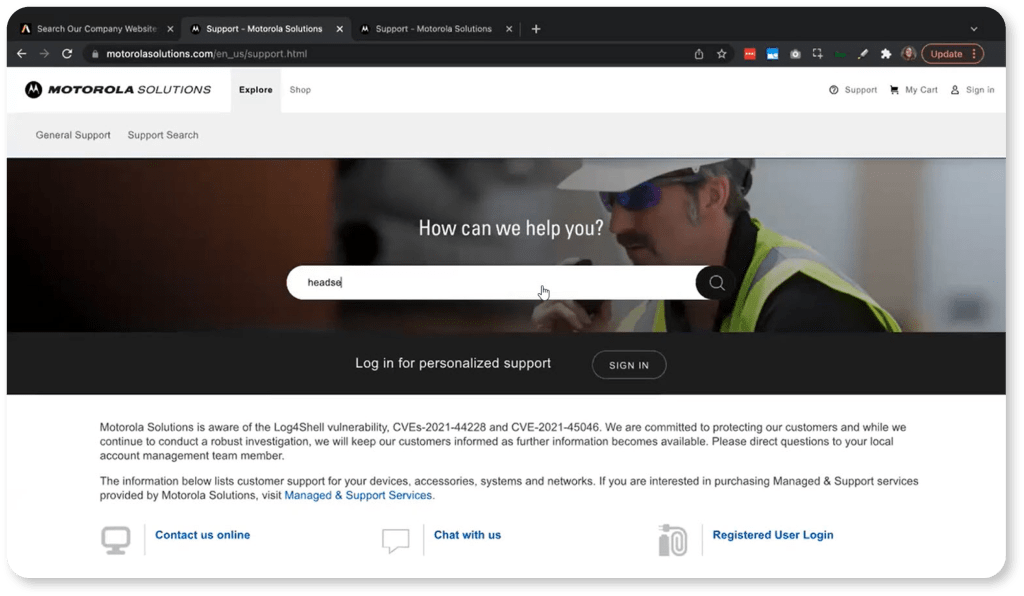 What's more, Motorola Solutions deployed Coveo's indexing solution in only two months, allowing the company to see profound results across all five of its English-language websites.
Dell Improves ESAT With Better Digital Workplace
In 2016, Dell and EMC joined forces in the largest technology merger in history . One of their unifying platforms was the intranet, Inside Dell, but it was the company's lowest-scoring enterprise application for employee satisfaction (ESAT) with an average ESAT score of 23%.
Today, a unified search engine within Inside Dell was key to achieving an integrated experience for 165,000 team members.
Inside Dell includes a diverse set of applications at the core of its team member experiences — Jive Software, ServiceNow, and Workday, to name a few. Each software provides its own experience, but there was no integration among them.It took a shift in perspective for Dell to realize that today's digital workplace must be designed for a flexible, consumer-like computing environment that emphasizes usability and community-oriented collaboration. Deploying Coveo's unified search engine meant combining the intranet and search initiatives together to create a new vision for the digital workplace.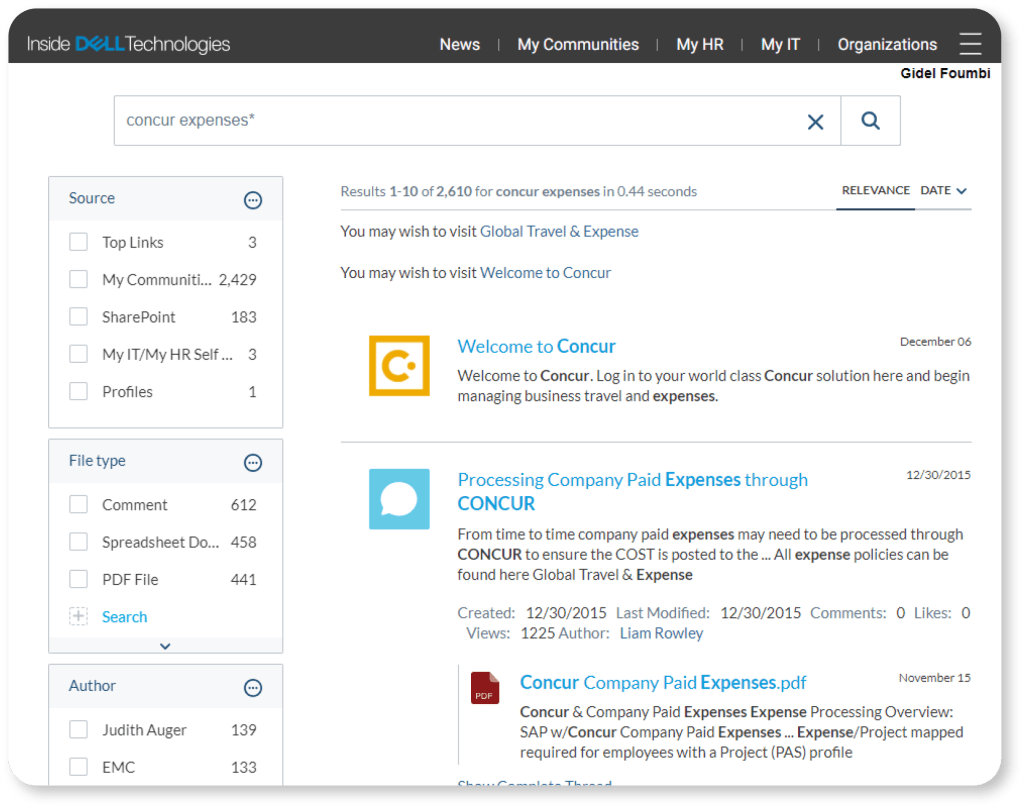 Post re-launch, Inside Dell's ESAT scores climbed to more than 60%, recording the most significant quarterly jump ever by an IT application at Dell. Employees now rely on search (rather than bookmarks) to locate what they need.
Thanks to the unified search engine, a Dell employee doesn't need to know a person's name to find them; all they need to know is the skill they're searching for. Now, search isn't just for content, but for people too.
FleetPride Creates B2C Experience for B2B Ecommerce
FleetPride, the largest independent parts and service provider in the heavy-duty trucking industry, realized that as its business customers did more online shopping in their personal lives, their expectations about B2B commerce would also change. So they decided to bring more B2C-like functionality to their B2B website with the help of unified search.
FleetPride's complex catalog has more than a million SKUs, from an $8 turn signal light to a $17,000 drop-in engine, as well as thousands of facets for different products. It's essential for their customers to find exactly the parts they're looking for and to do it quickly and efficiently. Buying the wrong part — or taking too long to find the right part — could keep a truck off the road longer, and that costs the FleetPride customer money.
FleetPride's search experience was built in the late 1990s and worked well for a small subset of customers who knew exactly what they wanted. But to grow and capture new customers, FleetPride needed to bring its search experiences into the 21st century — and take advantage of the enormous advances in search capability that have occurred since the early days of the web.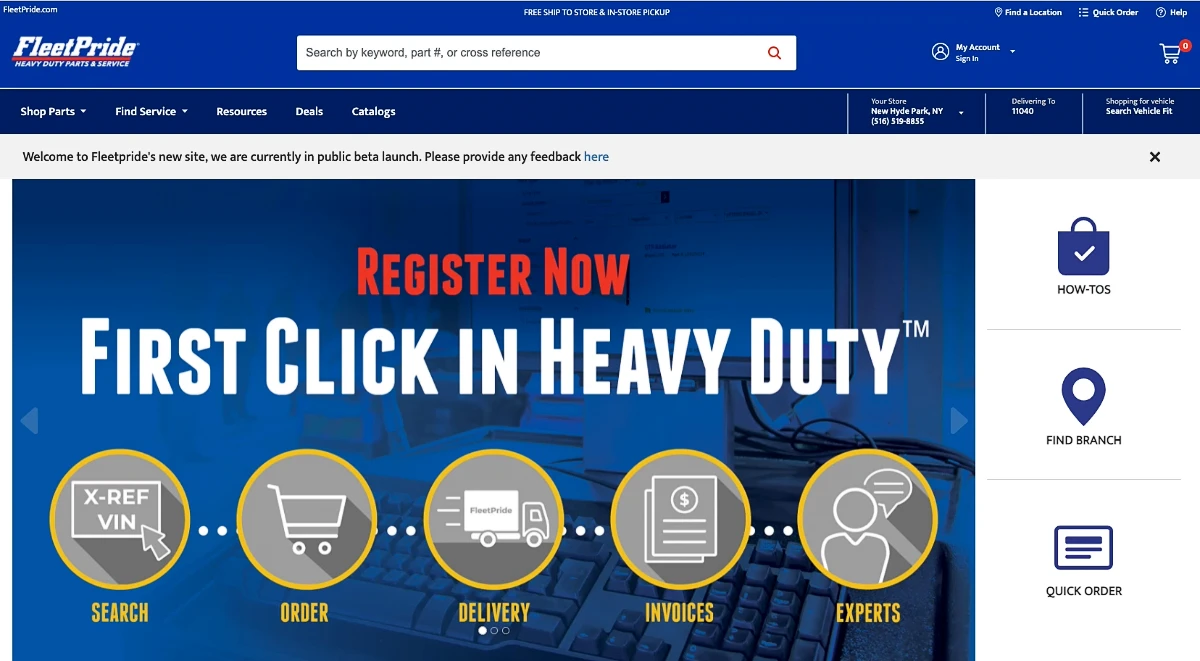 When it comes to B2B ecommerce, unified search can take advantage of the features customers have gotten used to through their B2C ecommerce experiences. For example, FleetPride's revamped ecommerce store uses AI-powered query search suggestions to deliver more relevant search results.
FleetPride's new B2B ecommerce website also has capabilities that are especially useful for business buyers to help them get to the parts they're looking for faster: for example, partial part number match and vehicle identification number lookup. 
However, relevance means showing customers what they're looking for while not overwhelming them with information that's irrelevant to them. And that was particularly important on a B2B website like FleetPride's, where the products have many different facets. During the set up of their unified search engine, the company wanted to make sure that its customers were not hit with a long list of facets related to the complexity of its products as soon as they did an initial search. Instead, it set it up so that dynamic facets appear as they become relevant in the customer's search.
All this was possible to set up thanks to the company's decision to move to a unified search engine.
Unified Search Is Where Your Business Needs To Be 
If you still equate "search" with "search box," think again. In a unified search experience, people now expect every interaction to inform the next across platforms and channels. 
If you're searching on a product documentation page for help on a specific issue, then jump over to the company's website to keep looking, the website's content is tailored to help you solve that specific issue. If you still can't find the answer and contact the call center, the representative will automatically understand the issue that you're trying to solve and will see the relevant content in their knowledge base to help you solve it. 
Today, your customers and employers expect nothing less than that. And the only way you can get there is through unified search.
Dig Deeper
If your site search experience is just an afterthought, think again. Bad search can hurt your conversion rate. See which on-site search metrics you should start paying attention to and learn how to leverage your search experience to boost conversions.