Despite potential synergies, mergers are never easy — and often never achieve the economies of scale that were imagined. They require a marrying of cultures, knowledge, and the processes of two unique firms and all of their employees – at scale. A tricky task without technological help. 
In the case of Ultimate Kronos Group (UKG) — the result of a 2020 merger between software vendors Kronos and Ultimate Software — this meant creating personalized experiences for 12,000 unique individuals (and that's just their employees). If not handled carefully, it creates chaos. Being in the Human Capital Management (HCM) business meant an explicit understanding that humans don't do well in chaos. 
An ideal union, the two HCM software firms had an existing relationship and complementary products that meshed well in the larger scope of the new company vision. But how could they translate this vision into employee and customer day-to-day digital experiences? 
Laying a Foundation for 1:1 Personalization
Kronos already had a market presence as a workforce management cloud solution for tens of thousands of healthcare providers, educational institutions, and government agencies across 100 countries. Ultimate Software managed over 51 million people records in their cloud-based employee experience solutions, including payroll, time, and labor management. 
This merger also created one of the world's largest cloud companies, including $3 billion in revenue and the potential to use 70 years of combined industry experience to establish an even stronger presence in the highly competitive HCM software market. With an expertise in the management of acquiring, retaining, and training employees, could they manage to transition their own employees to a new way of doing things? 
Some time has passed since they first announced their partnership, but in a May 2021 news release, they reported hiring more than 1,300 new people, saw a 32% YOY bookings growth, and even found themselves on the Fortune 100 Great Places to Work list.
With so many moving pieces, one solution their teams credit with helping the day-to-day processes of merger go well was relevant search. Coveo's AI platform reduced much of the back-end work their teams needed to do and created a more seamless experience for both internal stakeholders and customers.
Here are the challenges they faced as they brought two sets of employees and tens of thousands of global customers along for the transition, and how Coveo solutions remained a go-to offering to keep the merger going smoothly.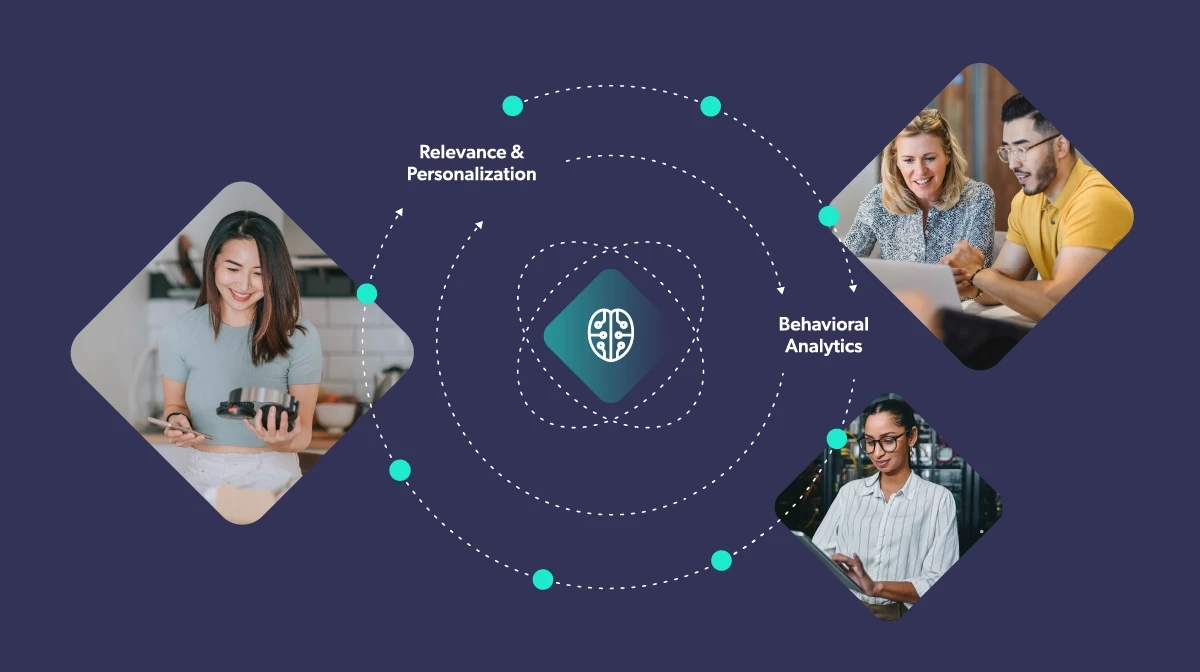 4 M&A Challenges UKG Addressed With AI-Powered Search
Challenge #1: Bringing All Usable Data Together
Melding resources is not easy. Aside from all of the legal and personnel transitions that needed to happen, UKG had three massive repositories of data that were already indexed and considered for search. (It's worth noting that Kronos was already using Coveo, and so many of these processes had been built and running for some time.)
UKG now had data coming from more repositories than ever before, all with different metadata tags that needed to work together under one roof. As the teams looked for solutions, they determined that keeping Coveo as the "roof" for that house made the most sense.
"The challenge is now the house will have a lot more rooms, but the roof will sit on the entire house. Instead of mapping things and trying to understand what we do on the back end, and what goes through Coveo, we can just manipulate and not touch each piece of content. 

That's been a huge benefit. We found there are many things we can adjust at the Coveo level and not touch the records — because there are tens of thousands of those."

Molly Lance, program manager, Knowledge
Even something as simple as an article, written by a particular author or for a specific industry audience, had to be recategorized under the new system. Manually changing the metadata just wasn't efficient – or feasible. 
Coveo's AI-powered relevance platform made that less of a people-intensive task, and helped get everything switched over in a timely manner during the first weeks and months of the merger.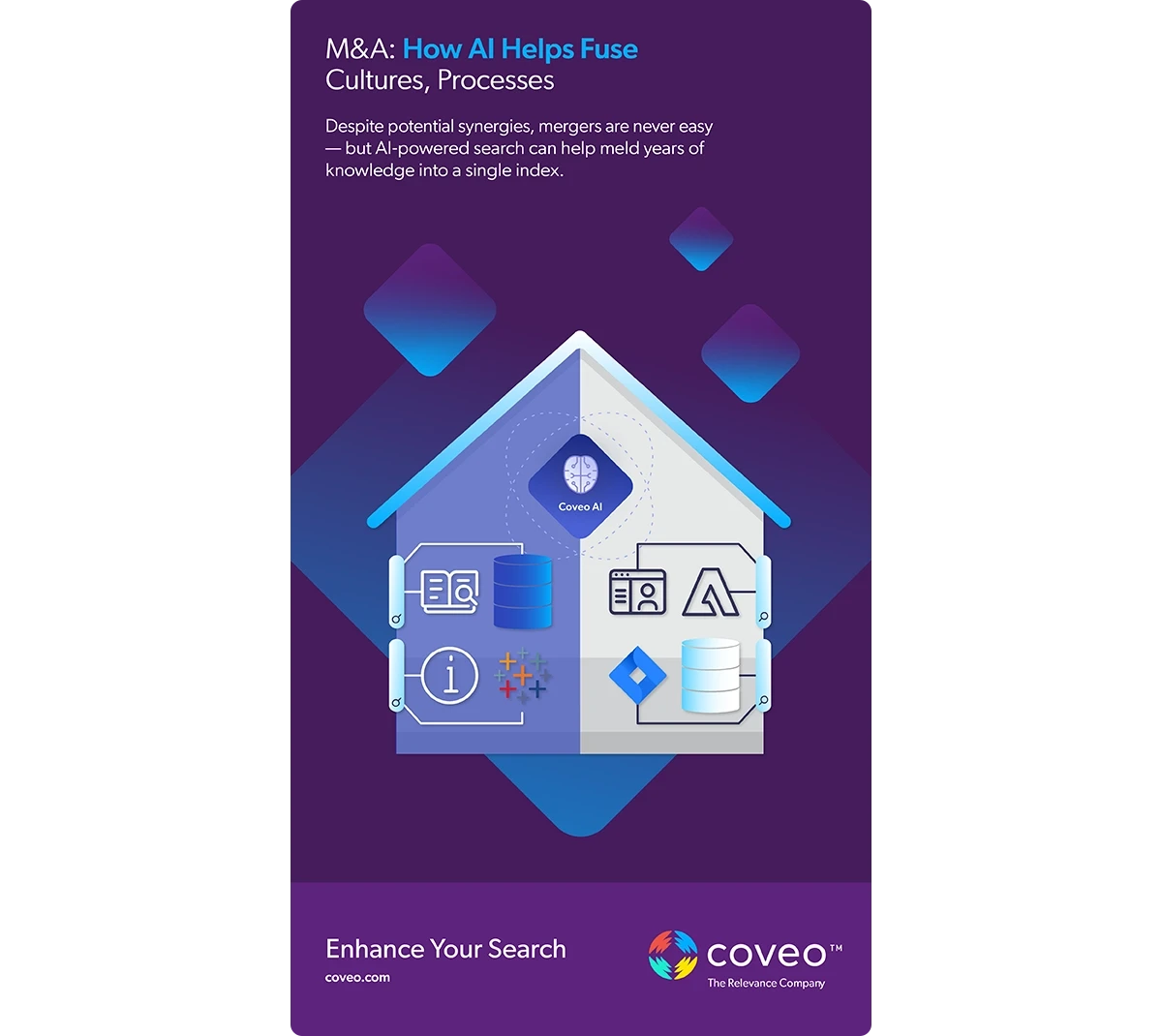 Challenge #2: Shifting Product Names to New Branding Guidelines
Another common challenge for mergers is the branding of solutions. What happens when a customer group from one company needs to find a complementary offering in the new company? 
While UKG worked to rename and rebrand products and assets under the merger, customers and teams were still searching for solutions under the names they knew. Even internal resources, some under various file formats, needed updating.
"Everywhere our company name would have to be adjusted in content. We had a simple back-end tool, but we had all these product names everywhere, and some teams didn't have the resources to update. 

We had a mix of content with old names and some with new names, and customers would search and be looking for the old name or new name. We wanted consistency no matter what they searched for."

Molly Lance, program manager, Knowledge
Looking at the UKG website now, you may never know which of their services and solutions were originally a Kronos offering and which were an Ultimate Software offering. 
Older customers, however, can still find the answers they need when searching for phrases they knew from their time as standalone Kronos or Ultimate Software customers. Switching everything over took time, but even after changes were made, customers would continue to search under the terms with which they were most familiar. 
Coveo empowered UKG to harness machine learning to figure out quickly that if users searched for A, UKG should provide them with B. UKG's teams didn't have to worry about content not appearing based on a misused or out-of-date search term.
Challenge #3: Anticipating Search Needs
That's not the only opportunity UKG had to meet users where they were at. The machine learning aspect of Coveo provided UKG's teams with search term data, giving them an accurate, current picture of the things customers were hoping to find. 
In many cases, these search queries would catch and learn the voice of the customer before UKG's teams did, even alerting them to new trends or issues that weren't yet on their radar. New developments, such as legislation, often came to light through user search, giving UKG's teams the heads-up that they should be proactively looking into these issues.
UKG could also use the data to continue tweaking search terms to match user language, something that's continually evolving, anyway.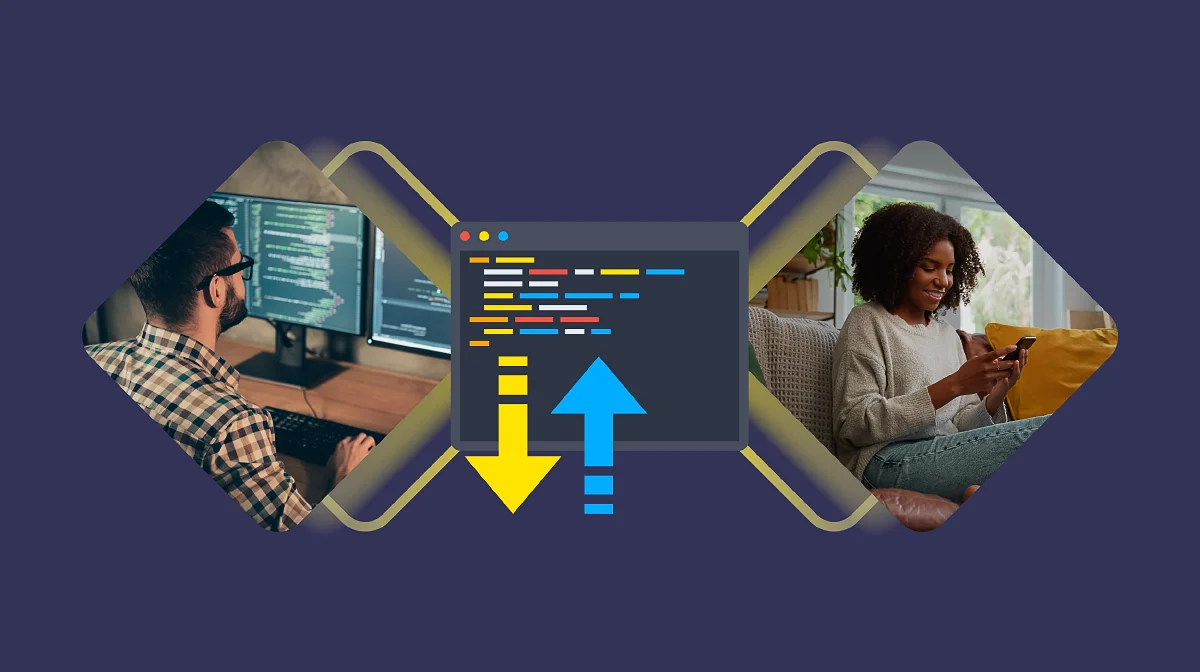 Challenge #4: Learning to Trust the Machine 
It's common for people to have reservations about AI, since it's such a black box concept that you can't really see working from the outside. 
UKG admits that it initially had concerns about how quickly and accurately the ML functions could work. Like most companies, the teams really knew their customers and were doing things every day to anticipate needs and meet them. 
The big question with Coveo's place in the merger was, "Will machine learning really do the work faster than human teams?"
In this case, the answer was, "yes."
"We thought we could teach it faster than it could learn on its own. We did A/B testing to see which customer group is happier with their search results. 

Hands down, the machine learning did much better than we did intervening."

Molly Lance, program manager, Knowledge
UKG used its own testing to see the results. When Coveo was put on autopilot and allowed to do the work, it would learn faster than if their human teams tried to manipulate results based on their own understanding.
They were able to use their program manager in a more useful way, creating dashboards and using actionable data instead of tinkering with the search. The program manager can use their expertise to spot and report trends, as well as communicate opportunities to decision-makers – a much more valuable use of time.
The Merged House That AI-Powered Search Built 
UKG tracked their data throughout the merger and beyond. The numbers supported what they saw as a seamless user experience and continually improved search:
For knowledge and self-service, they saw an upward trend in customers who searched for solutions and ultimately created no cases.
Their search click-through trended up, as well.
In total, their machine learning-powered self-service  saw 1,076 cases deflected — a potential savings of $135,000.
"We couldn't do business the way we do business without Coveo. We would need employees to gather the data and put it in Excel and spend hours with it. 

Coveo's data is empowering from right within the dashboard, which is beneficial to our self-service team."

Molly Lance, program manager, Knowledge
Missed the event? We've got you covered. Check out the on-demand webinar for the full discussion. 
Listen in for the full discussion
Webinar: Demystifying AI-Powered Search in Customer Support with UKG