Do more, but with less — this is the common refrain for CIOs headed into 2023 tasked with strategizing their organization's enterprise transformation efforts. 
Between lasting inflation, a looming recession, and ongoing workforce issues, you need a rational approach. Not a silver bullet, by any means, but a step in the right direction; start by unifying the existing enterprise digital technology between departments using AI search.
In Coveo's 2023 Tech Report on Enterprise Search & AI, 84% of respondents reported that their organizations see search as critical to driving digital business transformation. And with 80% of businesses pivoting innovation resources to resiliency, your organization can tap data and knowledge not used to its fullest potential. What's more, AI search offers machine learning models that suggest information, relieving employees and customers of tedious sifting and making room for the creativity that leads to innovation.
Let's dig into three reasons how AI search can help CIOs achieve business goals during an economic downturn — putting you on the right foot to take the lead when the inevitable upturn arrives. 
Need this blog to go? Download a free copy at the link below.
Download a free copy
3 Reasons to Make AI Search Your Enterprise Standard
1. Meet the Dual CIO Mandate
While Covid-19 pushed organizations to accelerate digital years ahead of schedule, those same organizations are tapping the brakes on resources CIOs previously had to draw upon. When digital transformation was a live or die imperative, hiring occurred at break-neck speeds — now tech companies are implementing hiring freezes or even laying off the employees they thought would be essential to their growth. 
Without staff to develop, build, and implement the digital technology to realize an enterprise transformation roadmap such as cloud migration, rationalization, and consolidation needs that meet customer expectations, CIOs must balance supporting growth with less resources than they had previously. And even with those job cuts, they must reduce cost-to-serve — a dual CIO mandate of growing while improving efficiency. How can CIOs accomplish both in tandem? 
This is where AI search — especially cloud search — comes in.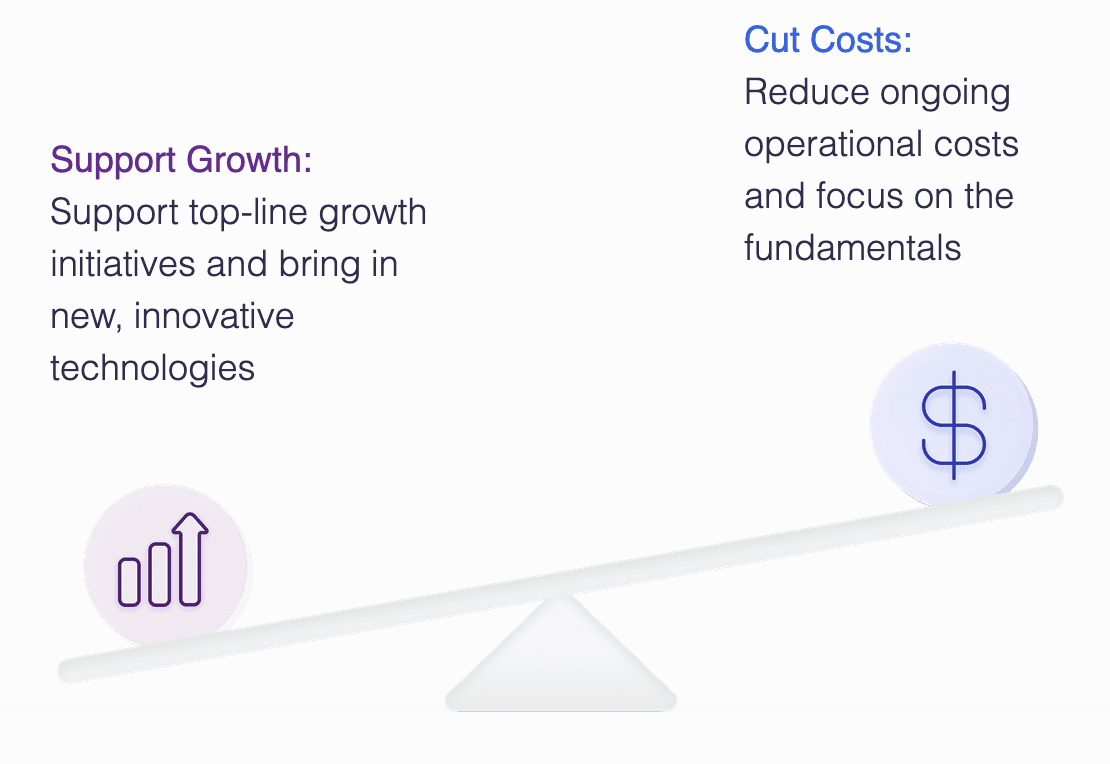 How AI Search Can Help
Through intelligent self-service, you can implement a fundamental change that reduces the cost-to-serve on your web properties (think customer community, self-help portal, and so many other places) and shrink the demand on your call center. 
AI-powered recommendations that understand not only what a customer wants but will want next can serve up long-tail content that they may not have thought of. This works similarly for employees, enabling business-critical knowledge management directly in their flow-of-work. Headless UI frameworks enable your organization to connect into your existing systems rather than having to throw the baby out with the bathwater. 
You put relevant information in users' hands, whether customers or employees — supporting reduced staff with on-tap knowledge, and serving customers with far less effort than before. 
And when it comes to growth imperatives, this is especially important for the nearly 40% of customers who say they will not do business with a company that fails to offer a personalized experience — which there's no easy way to do without machine aid in the digital age. 
Real-world example: 
When customers arrive on your digital presence, there's an expectation that you know who they are. No one understands this better than Salesforce, which taps the power of Coveo's Relevance Cloud™ to propel the most relevant content to the top of their search result pages.
They implement AI search for both customers and employees. For the latter, 75% of support techs lean on AI recommendations to get their work done faster.
"Personalization is a hugely important part of our journey … Do we understand the context of this user? Where are they coming from? Where are they in their journey? What are the kinds of things they need? What are the kinds of things they're trying to accomplish?" said Madhav Thattai, VP, Strategy & Operations at Salesforce. "And make sure we are tailoring our capabilities, whether it's on digital, or the human assisted side.
"With some of our recent changes, including the improvements we've made partnering with Coveo, we've seen a huge drop in the number of abandons as customers are engaging with our content and thinking about, do they now want to go submit a case? Do they now want to move into assisted support? So that's been a really positive result."
2. Balance Competing Objectives to Meet Interoperability Needs
As business process transformation went into overdrive during the pandemic, another reason why companies are slowing these efforts is to evaluate the outcome of those sometimes panic-induced decisions. This is leading many to carefully scrutinize how they can optimize legacy and modern applications for operational efficiency, which could be (or may need to be) consolidated, and how they can move forward to innovate. 
What they're finding is that while each application is well-suited for the unique purpose for which it was chosen, they may not necessarily play nicely together. Knowledge and data are locked up between systems, and when it comes to transferring information from one party to the next, spreadsheets are still often the go-to.
This manual process has obvious problems, but the biggest of which may be having visibility into not just the information itself — but how audiences are using that information.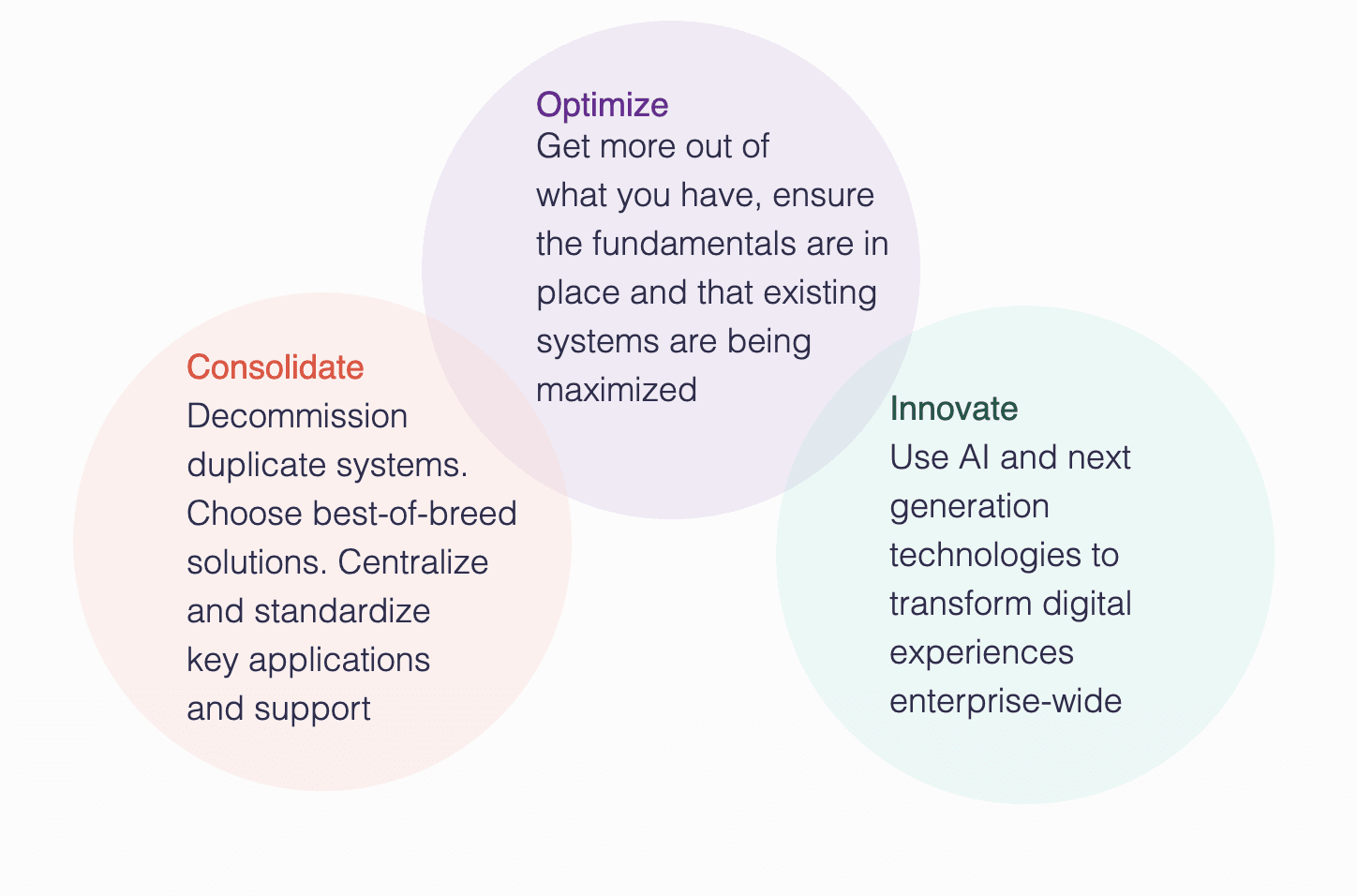 And in addition, keeping that information solely in the hands of those who need to know becomes complicated when permissions and rules vary across systems. 
How AI Search Can Help
Optimize existing systems by unlocking siloed content and surfacing it with AI to make it available to users, wherever they're searching. With integrations and out-of-the-box connectors to popular enterprise applications including Salesforce, SAP, and SharePoint, extend use, connectivity, and interoperability between systems — and leverage robust analytics which give you a birds' eye view of user journeys; all while reducing development time, costs, and technical debt. 
Consolidate and decommission the ineffective, legacy, duplicate search that exists in each of enterprise applications and replace it with best-of-breed AI-powered search and recommendations that drive consistent, accurate, and relevant content and product discovery experiences. Choosing a partner that offers early binding security as part of their indexing process not only makes your digital presence more secure, it's also faster since it builds permissions directly into the index.
Innovate by using AI to amplify key information resources, whether that's suggesting online products for purchase, business strategy documents or contracts, service or support articles, or role-specific knowledge needed to keep employees proficient in their roles. 
Real-world example: 
Customer-centricity might be a buzzword, but Dell is leveraging AI search to truly put the customer at the heart of everything they do. This necessitates a holistic view of the user experience for both internal and external users — so they started with their employees. 
"What became apparent as we were trying to stitch together all these different best-of-breed point solutions was that our content was really locked in these silos underneath each of the application stacks," said Will Hudson, VP of Enterprise Data Strategy, Customer and Marketing IT, Dell. "And what our users wanted, both internal and external customers, was the relevance that comes from unlocking the content out of all of those silos. There wasn't an easy way to do it until we found Coveo. 
"Coveo was so easy to use; we said this was really easy to deploy on this app — how hard would it be on this one over here? And the answer is that it's been really easy for us. Search is the feature that provides relevance across all of our platforms," Hudson continued.
Dell improved their employee satisfaction score threefold after implementation.  
"We started with the internal employee experience, but then we grew it out into the customer experience as well."
3. Leverage Out-of-the-Box AI Custom Built for the Enterprise
Innovation is born from the intellectual capital of a company's employees. Where does artificial intelligence fit into that picture? By underscoring the reuse portion of the knowledge management process — relieving users from digging through mole hills to find what they need by giving it to them, often proactively.
If you needed a sign that AI has evolved past the hype stage and into reality, ChatGPT might be it. This chatbot built on top of a large language model (LLM) has taken the world by storm — with some impressive price tags attached. Cost has long been a barrier to AI adoption, but that's clearly changing. 
Add ChatGPT and Say Done?
Does this mean add ChatGPT to your tech stack and call it a day? Complexity is still a huge challenge when it comes to getting AI to do what you want it to do. Yet, according to a recent MIT survey of 600 CIOs and other technology leaders, only 6% or less said they're not using AI today. This means 94% have applied AI within core enterprise functions and use cases. 
AI can be applied to a myriad of use cases, but it doesn't mean that you need a team of data scientists and machine learning experts to make it happen (although it obviously helps). There are tools on the market — Solr and Elastic, to name two — that provide a wealth of customization options, but with that comes the responsibility of maintenance, latency, and uninterrupted uptime. 
Perhaps this is why almost half of businesses and decision-makers seek out partners to implement AI critical to their business operations, according to Forrester. 
How AI Search Can Help
Partnering with a vendor means you're partnering with an expert — someone who understands the ins and outs of the search business, and takes risk off of your shoulders. Collaborating with a company with a decade of scientific research under their belt can give you and your organization the peace of mind that you're getting exactly what you need, without the costly mistakes incurred by others. 
With Coveo, you don't have to spend years and millions to catch up to AI industry standards.
Quickly establish an AI practice with out-of-the-box machine learning models that have already been fine-tuned to work with specific enterprise use cases like customer support and service, ecommerce, and the digital workplace.
Take advantage of over 250+ R&D resources and 10 years of AI, analytics, scientific research, and expertise including monitoring and testing the use of LLMs for efficiency and performance. 
Amplify your team's skills with hands-on experience by applying seven out-of-the-box machine learning models that leverage your enterprise content and information. 
Real-world example:
When the pandemic changed the workplace overnight by shifting employees from in-office to work-from-home, Adobe knew they needed to create a unified workplace that didn't distract their workforce from important tasks. 
To achieve this, Adobe focused on search and knowledge as the foundational pillars for their digital workplace. As a result, they transitioned smoothly during covid and even saved 83,000 hours of productivity time for employees. 
Rosanna Stephens, Product Management Lead, Workplace Search and Knowledge, Adobe, quoted an HR specialist who described the transition. "This would have been so much worse, and maybe not even possible, if we didn't focus on knowledge before this." 
Ready to Leverage AI Search to Achieve Key Business Goals?
The above is only the starting point to how Coveo's AI search can help your business. Have questions or want to get a unique walkthrough as to how AI search can transform your business? Book a demo today. 
Book a demo today
Ready to make Coveo your enterprise-wide standard?