Is it cliché to say the digital age is now? Slapping a website together is no longer enough to create a digital presence that entices conversions. Doing that means you're missing out on a goldmine of crucial behavioral data and customer interactions, which inform analytics that help grow your business.
Unfortunately, too many don't realize that the crux of those valuable data sources is site search.
If you're using Adobe Experience Manager to build and maintain your site content, you're in luck. Pairing Adobe's powerful hybrid CMS with Coveo's AI search engine means you can offer robust, relevant AEM search, effortlessly customized to different visitors.
Coveo interprets your website's data, sorts through your AEM content, and delivers relevant results to anybody who visits your website — matching specifically to their intent. For a large website, even the tiniest improvement in the number of conversions has an impact on revenue. 
Here are 15 tips that marketers and website administrators can use to improve their AEM search and boost conversion rates.
Site Search is More Than Just a Box
Search has become much more than simple navigation. It's a backbone for all your content sources — and users that search show intent. Econsultancy found that due to the higher level of intent, site search bar users convert at a rate of five to six times higher than their counterparts not using a search engine. Making it easier for your visitors to find what they're looking for by improving your Adobe search is a surefire way to increase conversion rates.
Search the actual content, not just metadata. If someone searched coveoblog.wpengine.com for "search user experience best practices," just searching metadata like a meta description may not put this blog post on the first page for results. There's some valuable content in here for that search term! This is why it's not just metadata that needs to be indexed by your search solution. Take advantage of AEM's indexing tools and Coveo's machine learning AI to offer more relevant results to site visitors.
Save time and energy with machine learning. With the help of machine learning, you don't have to manually program every rule into your system anymore. Let go of old scripts and let machine learning algorithms take the initiative to understand and serve up better search results to your users. AI can even be used to interpret the behavioral data of everyone who visits your site. Determine your user's context and intent to deliver them hyper-targeted content!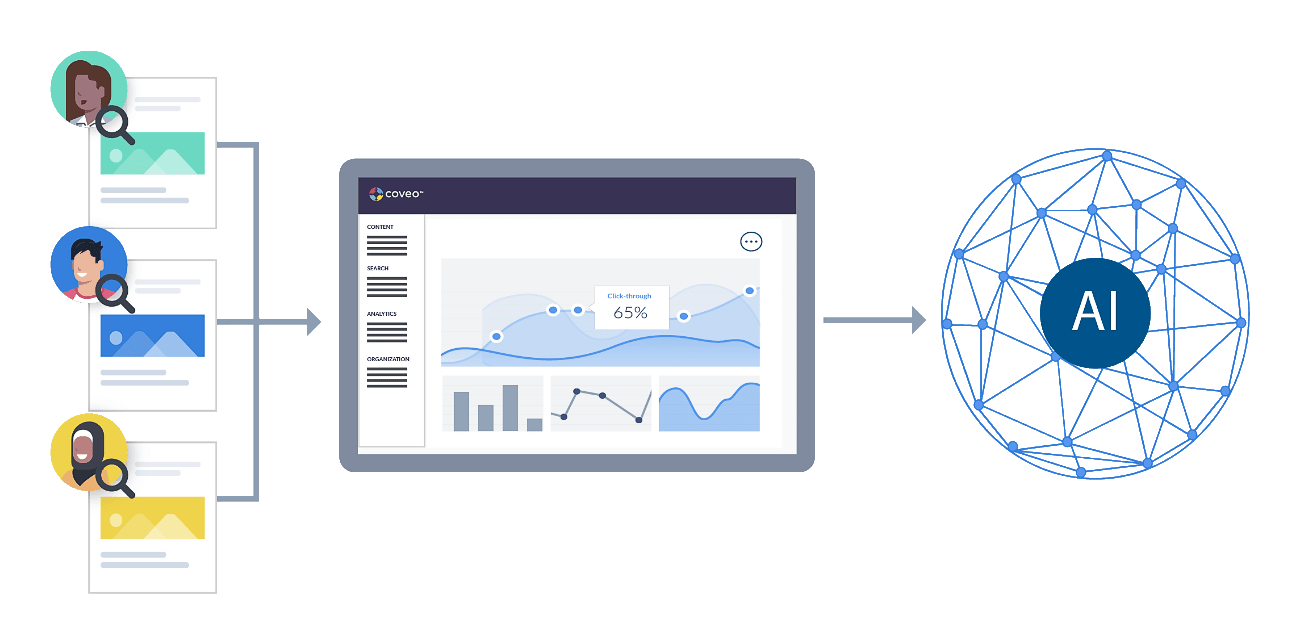 Communicate With Your Customers
Use your customer's language. Talk to a sample of your customers to find out how they view your products and services. Then position your message accordingly, and consider using natural language processing. Coveo can also handle synonym detection autonomously, making it easier for your customers to find what they're looking for.
Experiment with language around the search box. AEM sites are easy to edit, without needing an in-depth knowledge of coding. Testing small language changes can make a big difference in search bar usage and conversion rates. Try swapping terms like 'Go,' 'Find,' or using a magnifying glass icon to see what your audience prefers.
Capitalize on users' context to narrow and boost results. Context matters. If your visitor is on mobile, how they came to your website, the previous pages they looked at – all of these metrics need to feed into the search results page the visitor's search query returns.
Consider Your Search Experience
Build an intuitive user experience with analytics. With Coveo and Adobe Analytics available on your AEM dashboard, you can easily determine what your visitors are looking for and what kind of content they respond to the best. Analytics can also help you determine knowledge gaps and other kinds of missing content on your site.
Help your users with suggestions. Users don't know what they don't know. Thanks to external search engines, they are comfortable with – and even anticipate — a search box with autocomplete query suggestions. Help direct them on their journey!
Let users organize results. Filters and facets make it easier for a web user to narrow down what they need. Don't provide too many; it can quickly get overwhelming. Faceted search should not outnumber the list of results. Consider facets by content type (blog post, website, customer portal, etc.), or by product line as a start.
Don't let users get to a "dead end" of no results on your website. "No results" is a clear invitation to go over to an external search solution; i.e., your competitor. Avoid losing your users by finding other ways to engage them on your results pages, like providing internal links to a "contact us" email address, FAQ page, or the customer service line.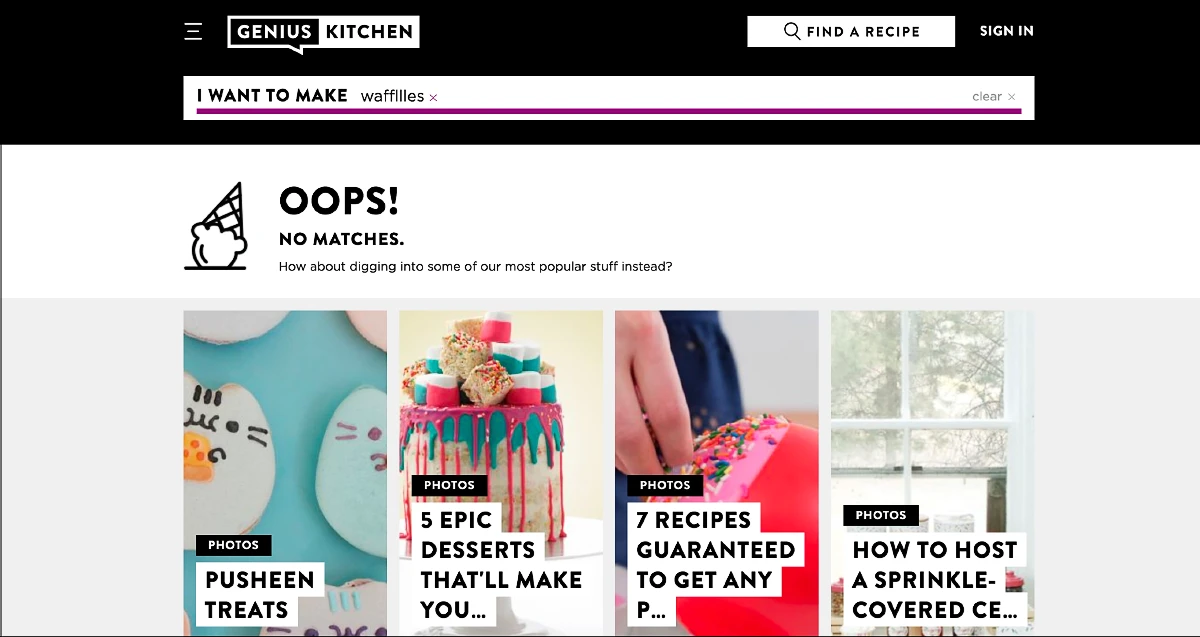 Design With Your Customer In Mind
Place your search box where a user can find it. AEM sites are easy to customize. Make your search box at least 25 characters wide and put it in an obvious spot on the page. You can also A/B test the placement to see users prefer one over the other, which you can tell through an uptick in usage.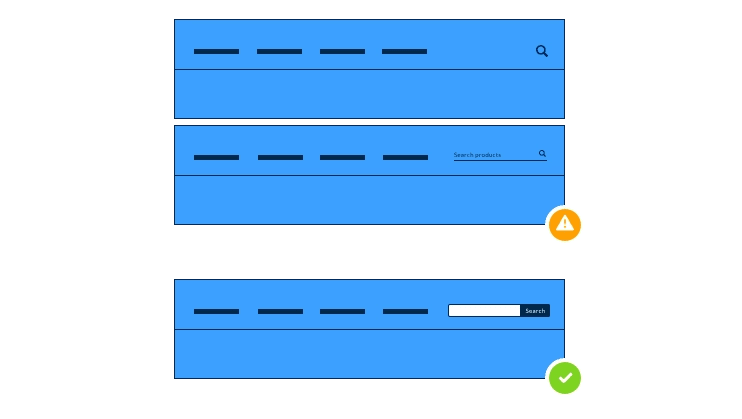 Make your search result pages visually interesting. It's a shame when beautifully designed websites lead to a bland, text-only search console. Invest just as much time in making your search result pages visual by including small previews and images.
Don't forget mobile. Your website needs to be optimized for mobile, and so do your search results pages. It's important to go beyond just having a functional search box for mobile app users: make changes that correspond with having a small screen space, such as limiting the number of facets or the character count of result descriptions. Adobe AEM offers quick and easy customization for mobile pages. With such a user-friendly interface, there's absolutely no reason to neglect your mobile customers!
What Isn't Measured Isn't Managed
Create a roadmap for how your site search experience will evolve with your website. Digital marketing is a fast-paced world, just as customers' expectations are constantly evolving. Social media, blog posts and Google ads are transforming the marketing landscape. Don't let your AEM site roadmap live in a silo separate from your search engine management. Strategize how your search solution capabilities can continually enhance the website user experience.
Leverage search activity in your content strategy. Your search engine queries are your visitors telling you directly what they're interested in from your site. Listen to your website visitor. Looking at the queries that return no results or results with low click-through rates is a great place to start building your content strategy and also feeds your keyword research.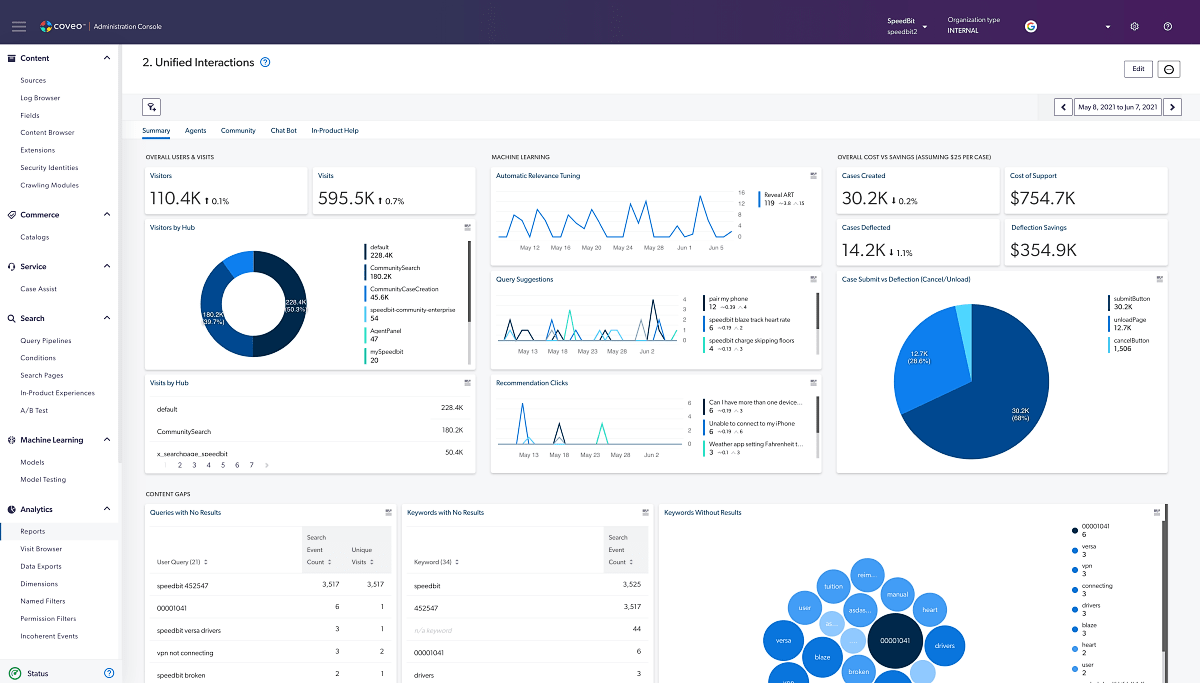 Track, track, track. Just like your website, increasing the conversion rate from site search is an ongoing process. Make it a habit to track the impact of every search function change on the total number of conversions with Coveo and Adobe analytics.
Take Your AEM Search to The Next Level
These tactics just scratch the surface of what goes into creating an unforgettable customer experience, improving your AEM site search and increasing your conversion rate. 
You don't need to go about it all on your own – we're here to help. If you'd like to get a free site assessment, reach out! Our search experts are always on speed dial.
Or if you're ready to start optimizing your site search, learn more about how Coveo delivers relevant search experiences in commerce, service, and more.