Cloud computing is the new black — or it has been for more than a decade. With the introduction of Sitecore Experience Manager Cloud (Sitecore XM Cloud) at the end of last year, many businesses are caught up in deciding whether they'll migrate or try dating around with new content management system (CMS) options. 
Does this sound like your business?
Delivering a consistent, compelling customer experience often comes down to more than just where or how you store your content — it's also about content delivery. Whether you decide to stay with Sitecore's industry-leading CMS and digital experience platform (DXP), keep in mind that content that can answer customer questions is typically stored in multiple repositories throughout your enterprise. If you're one of the many businesses grappling with multiple CMS platforms, CRMs, knowledge bases, and other data storage, it's important to consider how that information is made available to your customers. 
Will Sitecore search be enough?
Agnostic for more than the last decade, the Coveo Relevance Cloud™ ensures our customers get the latest in digital experience technology, frameworks, and architecture. But don't just take our word for it — Gartner, Forrester, and InfoTech have all named us digital leaders. 
For nearly two decades, Coveo for Sitecore has been instrumental in delivering relevant content and experiences for over 200 Sitecore customers. One of those customers is the Project Management Institute (PMI), the leading professional organization for project management. 
Tapping into Customer Needs with Their Own Words
Founded in 1969, PMI empowers people to make ideas a reality. This not-for-profit, for-purpose organization provides new skills and ways of working to millions of changemakers in more than 200 countries around the world.
"We could see the organic traffic coming into the site," says Anna Neill, taxonomist at PMI. "We had no idea what folks were clicking on, what keywords they were using, etc. We just didn't have that data tracking. 
"We really wanted to know what the customer language and needs were."
To connect information across seven search hubs for roughly 500,000 monthly searches, PMI leveraged Coveo for Sitecore for an omnichannel customer experience — in no less than 200 languages, too.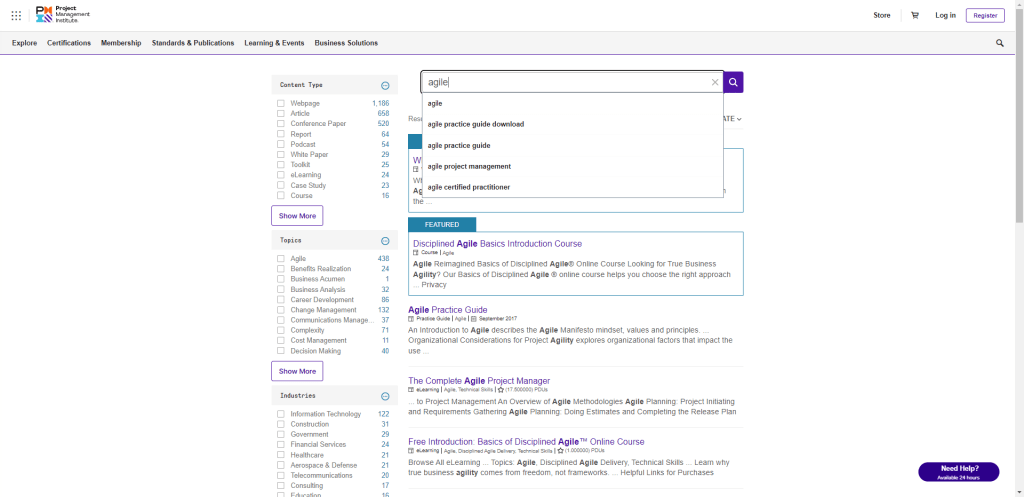 "Over the last three years, we've been able to deliver a seamless customer experience that's easily changed," Neill says of the partnership. "It's just more responsive than an in-house solution that might constantly break or is clunky. Coveo just makes it smooth and seamless."
With Coveo for Sitecore, PMI reduced their content gap to consistently less than 1% over two years. And PMI is taking advantage of Coveo's machine learning (ML) models, with 76% of website clicks on links suggested by Coveo's Automatic Relevance Tuning machine learning (ML) model. This means less manual content management work for PMI's site managers; backed up by robust analytics, they can focus on what's next for their business and their customers. 
Extend and Amplify Sitecore Experience Manager Cloud — with Coveo
A great digital experience is seamless, consistent, and — most of all — effortless, regardless of who your end user audience is. Sitecore XM cloud's capabilities for simplified content creation and management, including its API-based Sitecore Experience Edge service for delivery across channels, is a fantastic starting point for building a personalized experience for every customer. 
But what about content that can answer customer questions that lives in Salesforce, Slack, Confluence, or SharePoint? What if your experience needs to support employees as well as external users? Or, to look at it another way — what if your user experience could support multiple audiences in a unified way, without re-platforming content and data?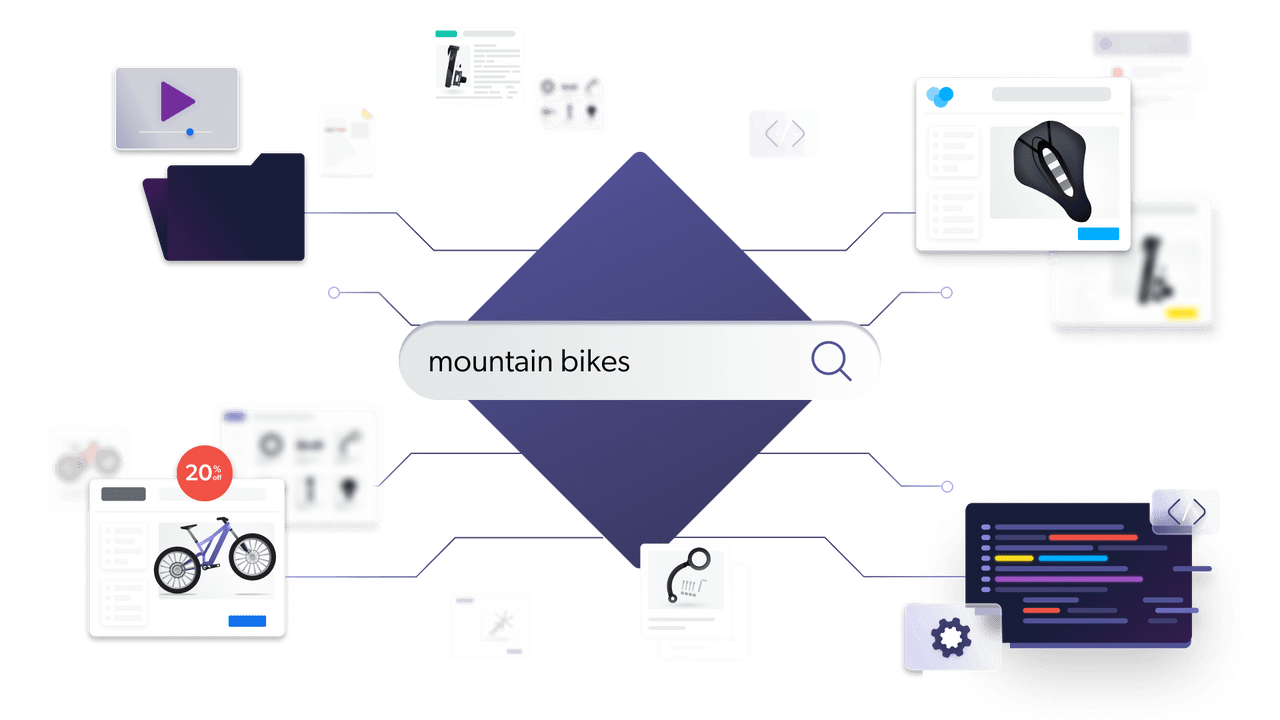 The Power of Sitecore and Coveo, Combined
This is where Sitecore's XM Cloud project and Coveo work magic. Their composable DXP can be the foundation that Coveo helps extend, to create a higher level of embedded personalization that grows views, conversions, and, most importantly of all, customers. 
Coveo's functionalities help businesses build upon Sitecore's powerful content editor foundation, with: 
Rapid Deployment and Adaptability: Coveo for Sitecore's out-of-the-box features let businesses quickly deploy next generation experiences. The Coveo Relevance Cloud™  extends to various CMS platforms, front-end frameworks, and cloud-based platforms.
Broad Connectivity and Indexing: With powerful indexing comes great content delivery — Coveo's 50+ connectors and integrations extend its reach to popular enterprise applications like Salesforce, Slack, SAP, Confluence, and SharePoint. Companies can achieve the promise of a unified workplace, consistent omnichannel experience for customers, and even the tempting total experience — all from a unified index. 
Secure Indexing Support: Documents are indexed with access controls, ensuring that data protection remains uncompromised. A user searching for or being recommended content will only see documents and information they have permissions to view. 
Customizable Search Interfaces: Coveo empowers developers with pro-code and low-code options to create highly customizable or easy-to-create search interfaces. This flexibility accommodates a range of needs, including API-driven, headless, pre-built, composable, and reusable solutions.
Personalization and Content Recommendations: Every user is unique, and deserves to be treated as such. Deliver unparalleled personalization with Coveo's AI-powered suggestions and recommendations. Plus, AI takes the burden off martech teams when it comes to the curation of onsite search content, product, and information.
AI-Driven Results: The Coveo Relevance Cloud (TM) Platform has 11 out-of-the-box machine learning models that help throughout your digital customer experience. Each is purpose-built to help users find and discover what they need, using various search techniques such as lexical, semantic, and conversational approaches, including our generative answering model.
Comprehensive Analytics: Glean insights and reveal customer language with Coveo's rich dashboard reports for actionable insights into customer intent, journeys, content gaps, visits, and click-through rates. Its integration with platforms like Snowflake opens doors for enhanced data processing.
Scalability for Complex Projects Across Enterprise: As a cloud-native, enterprise-grade solution, Coveo is designed to scale and support a wide range of projects. Its multi-site support, multi-language capabilities, and global infrastructure create a robust foundation for diverse use cases — generating more value by expanding beyond search.
From On-Prem Content Management to the Cloud
Coveo's long history with Sitecore ensures your transition to the cloud isn't just smooth, but also enriched with enhanced performance and capabilities. 
Take a look:
Making Modernization Easy: Sitecore customers can migrate to the cloud with ease, leveraging Coveo's support for Sitecore XM Cloud. Modernization involves a simple swap of content sources and migration to Coveo's performant Atomic and headless libraries.
IT Flexibility and Business Agility: Coveo's vast library of connectors makes mixed media content from a variety of sources external to Sitecore accessible within Sitecore interfaces, building a foundation for your business to optimize content use and reach.
Preserving Core Logic: Core logic stored within your Coveo cloud – Query Pipeline rules, your business logic, rankings and message triggers – remain unchanged during the migration, ensuring existing features and capabilities are seamlessly integrated with the cloud-based architecture.
Universal Platform and Website Features: While the native Coveo for Sitecore integration is still widely used by customers not yet using the XM Cloud environment, Coveo's universal platform and website capabilities remain essential for businesses.
Better Performance with Atomic Libraries: Coveo's Atomic and Headless Libraries lead to faster page speeds, better performance, and a future-proof website infrastructure.
Ongoing Investment: Coveo is dedicated to supporting our existing Coveo for Sitecore integration's with continuous performance improvements and bug fixes. In addition, our platform-based and CMS-agnostic approach  will continue to support the Sitecore XM Cloud and ecosystem. 
We're Ready to Get You Ready for the Cloud
Regardless of your choice of CMS, Coveo supercharges your enterprise architecture, unlocking new avenues of growth and engagement. Coveo and Sitecore's partnership exemplifies the power of collaboration in delivering unparalleled digital experiences. 
With a history of innovation and an eye towards the cloud-native future, Coveo's capabilities are poised to redefine how users interact with enterprise content. As Sitecore's transition to the cloud unfolds, Coveo remains a steadfast ally, helping businesses amplify their tech stack to deliver unrivaled digital experiences. Contact us today to discuss your next digital transformation.
Also tune in to our upcoming webinar on transforming your website into a growth engine with AI.
Upcoming Events
5 Ways to Transform Your Site into a Growth Engine with AI
Dig Deeper
We surveyed 4,000 site users to learn where most digital experiences fail. Here's what you need to know about the entire customer journey — from the perspective of your site visitors.
Relevant Reading
Free Report: Is Your Digital Experience Generating Growth or Ghosts?