The unprecedented levels of growth that ecommerce saw in the past few years are unlikely to be repeated.
People are venturing out to stores, and anticipating contraction, and marketing budgets for customer acquisition have been slashed.
With retailers handcuffed from spending on online channels such as PPC, search engine marketing, and social media to generate traffic, how can they still meet their ambitious 2023 ecommerce sales targets?
Optimize to improve your ecommerce conversion rate. In 2023, retailers have to shift their focus to Conversion Rate Optimization(CRO) to get the most revenue out of each website visitor.
What Is Conversion Rate Optimization (CRO)?
Conversion rate is the catchall term for getting a site visitor to take a desired action in your quest to get them into the conversion funnel. A business trying to get a visitor to download a white paper will have a different conversion rate than a retailer trying to get a visitor through the checkout process. So what counts as a good conversion rate varies by type of goal, industry, and a host of other factors.
Conversion rate optimization then is improving the odds (by a statistical significance) that people will take your desired actions.
Unfortunately, conversion metrics in retail tend to be lower than ideal and even more importantly – they don't seem to be improving. For example, the average conversion rate of ecommerce sites globally was 2.17% in the third quarter of 2020 – down from 2.37% the previous year.
That bad news for the industry can translate to a great opportunity for you. If you're wondering how, recent research conducted by RSR and sponsored by Coveo sheds some light on this.
The majority of brands revealed that personalization efforts, relevant product recommendations, and enhanced product search & discovery are critical to delivering winning online shopping experiences. What this means for retailers is that these three metrics can be critical in helping you improve your average eCommerce conversion rate.
10 Ecommerce Conversion Rate Optimization Tips to Help You Surpass Your Sales Targets for 2023
In this blog post, we will take you through 10 ecommerce conversion rate optimization tips (plus a secret tip). By following them, you'll be able to leverage highly critical eCommerce capabilities and get the most out of your website traffic. Make your cash registers ring faster than ever, and go beyond your ambitious 2023 eCommerce sales target!
1. Mitigate supply chain disruptions  
Recent data from Adobe shows that stockouts, also known as out-of-stocks, were up 250% compared to pre-pandemic levels. Online shoppers are definitely feeling the impact of ongoing supply chain constraints, as stockouts are a frustrating user experience. But this translates into lost sales for retailers and can also damage their brand.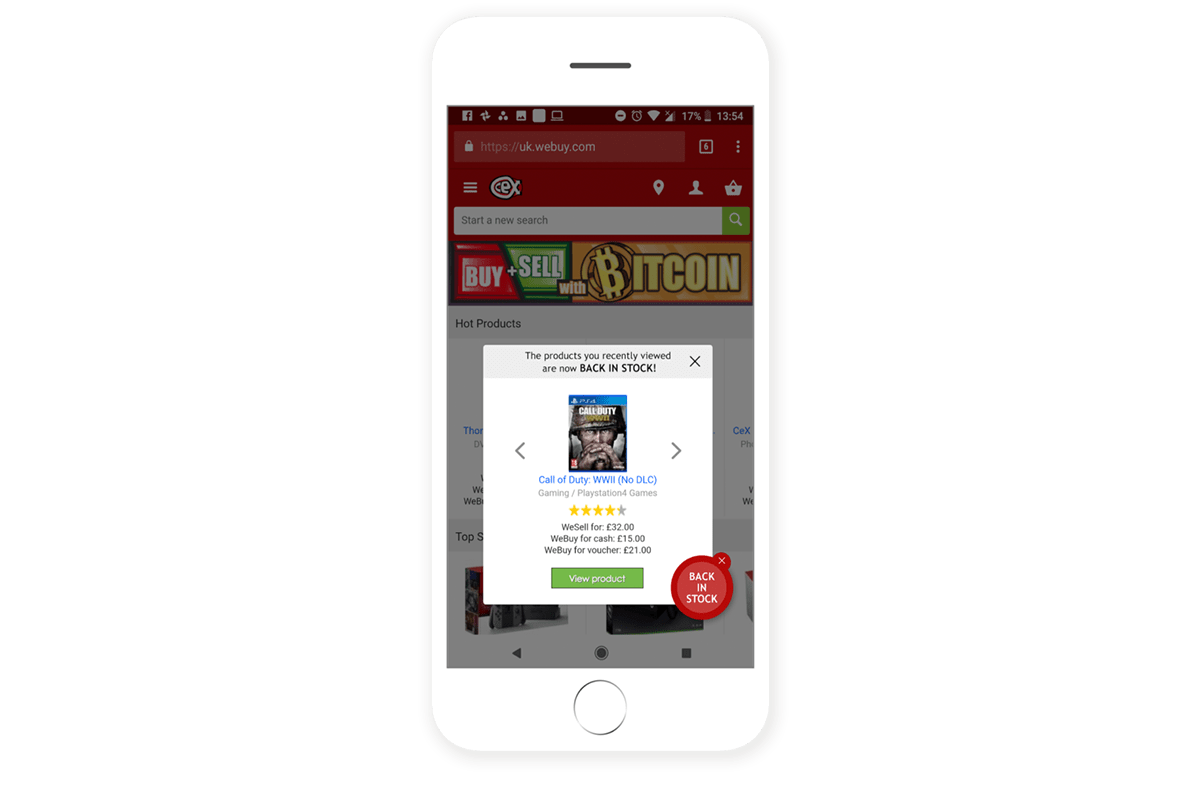 'Back-in-stock' notifications are a great way of fulfilling customer wishes and encouraging loyalty. While it is hard to predict when the supply chain crisis will stop, there are a few tactics you can use to at least mitigate the crisis.
A potential customer can receive notifications of items they are interested in and which are back in stock while navigating through an ecommerce website. Alternatively – through seamless integration between Coveo and your email service provider, shoppers will be automatically nudged to the product page when the item is available to shop. (See how CeX is using this tool ).
2. Tempt your customers with flexible returns
Retailers face a dilemma. On the one hand, they fear they have to offer flexible, generous return policies to increase the 'conversion metric'. But at the same time, they fear that those policies could lead to even higher product returns, thus eroding their margins.
Interestingly, however, recent research from IMRG shows that extending the returns period to remove friction does not necessarily increase the number of returns nor significantly extend the returns window. In light of this, retailers should consider displaying and promoting their flexible policies throughout the site. This will remove extra layers of friction and anxiety, making shoppers more likely to convert.
Research from Baymard highlights that return information should be available all across the online store, for example, via the site header, in the web copy on the product page (yet, 43% of sites don't), or sitewide search results (yet, 14% don't).
Remember, however, that shoppers can skip banners as they're scanning pages, meaning that they may miss the free returns information if it's only placed in a banner. Make it easy for your shoppers to find information about product returns. Using a personalization platform such as Coveo, it is possible to easily provide site-wide messages and banners to display such information.
3. Fix your search troubles 
Ecommerce giants have proven to shoppers that buying online can be frictionless – well, in some cases , perhaps even too easy. This puts a lot of pressure on retailers to provide an exceptional user experience – right to the end of the checkout process. The truth, however, is that most retailers still have websites that don't even let their shoppers find the exact product they are looking for, let alone purchase it.
As online retailers famously say, 'If they can't find it, they can't buy it'. Well, that means addressing search troubles is critical to increasing conversions. If you don't know exactly how to get your search troubles fixed, don't worry, as we've prepared a list of questions and elements to consider when conducting a well-designed, site search audit.
4. Future proof your online store for sustainable ecommerce
The push for sustainable and ethical ecommerce will significantly impact retail. Consumers continue to choose to shop with brands whose values and ethics mirror theirs. According to a recent report by IBM, nearly 60% of consumers surveyed are willing to change their shopping habits to reduce environmental impact.
As sustainability is now an increasingly important requirement for consumers, it should come as no surprise that platforms such as Zalando and Farfetch have started to offer consumers the ability to filter their own personal sustainable values while purchasing.
Want to buy a brand because they are reducing water usage? Those choices can be made more explicit in any retail online shop, allowing consumers to use their own purchasing power to boost the more sustainable brands.
Product badging is a great tool for drawing attention to items that meet a searcher's unique intent. Search categories and facets can help searchers find what they're looking for faster.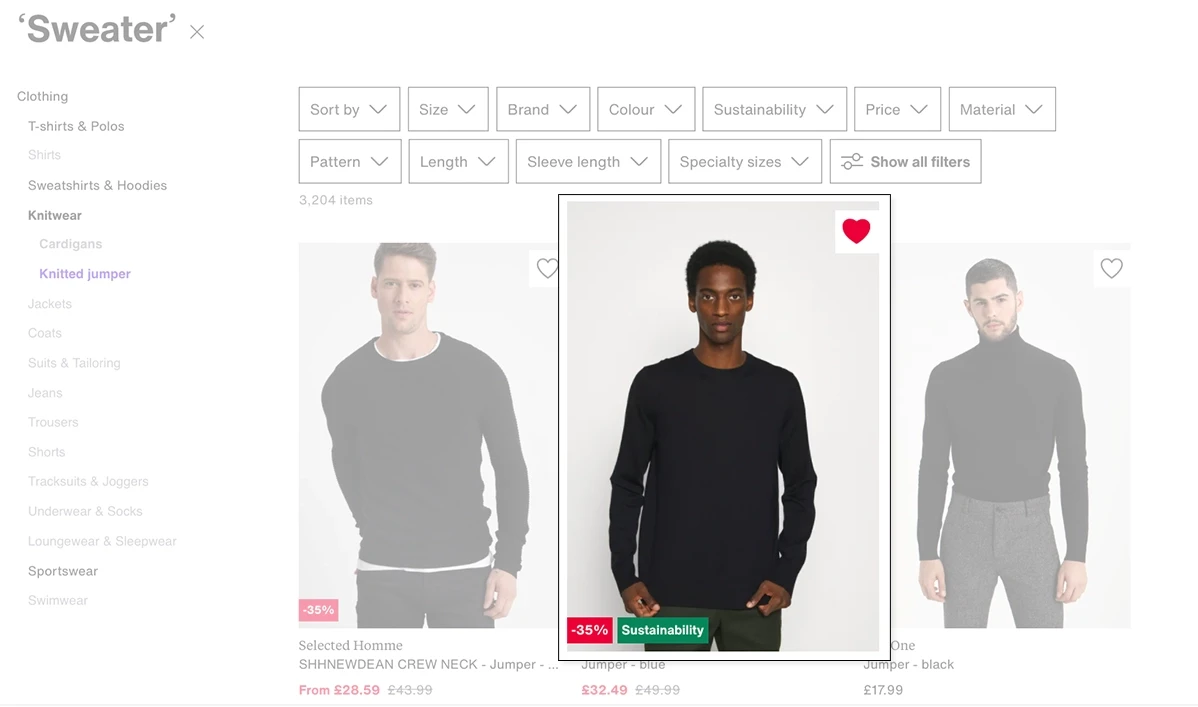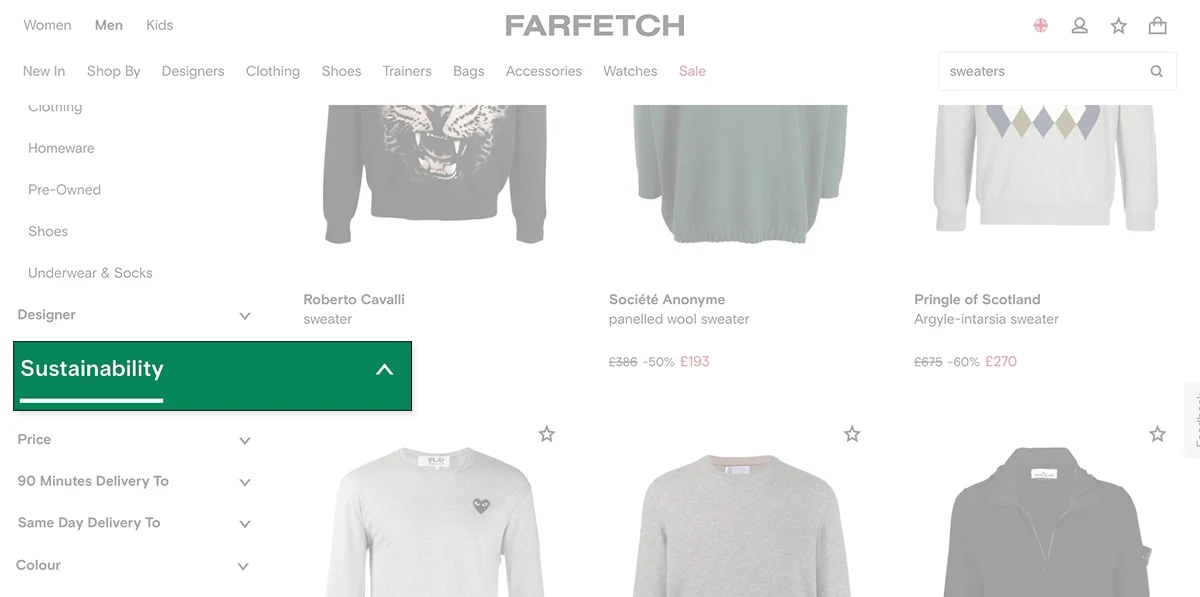 Ecommerce leaders have started to convey strong sustainability statements in all their website copy and social media outreach. Platforms like Coveo make it easy to display specific sustainability badges to boost sustainable products to the top of the recommended or returned list of products – or add sustainability facets. 
5. Ask your customers 
Leading websites and applications such as YouTube or Quora know that asking users for explicit feedback can provide highly valuable information to improve the overall experience. As the example below shows, Quora asks users to leave feedback to tailor questions and content.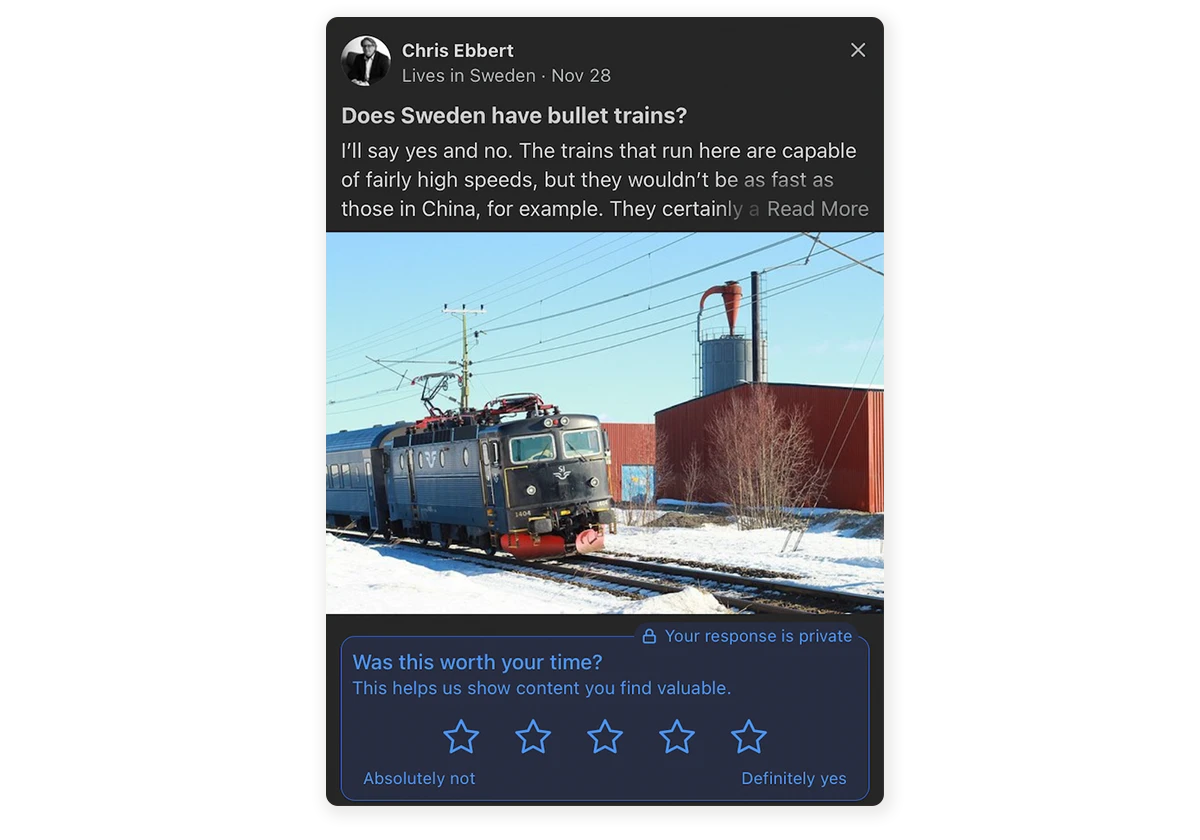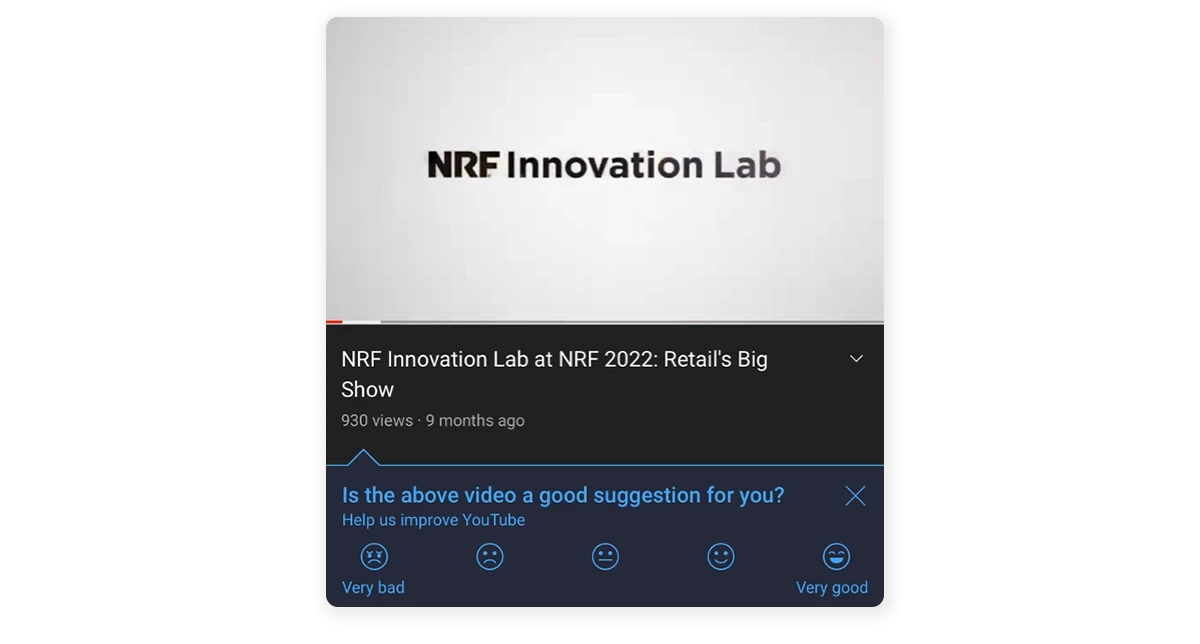 Retailers should also consider this tactic. Collecting explicit feedback from your customers can be a critical arrow in retailers' quiver when it comes to delivering the highly personalized experiences customers demand while respecting their privacy. 
In the context of ecommerce, a particularly interesting type of explicit feedback is often referred to as zero-party data. This category introduced by Forrester research refers to explicit data that you, as a customer, intentionally and proactively share with companies. 
Leading platforms such as Coveo will help you collect this kind of data easily. For instance, the Visitor Pulse feature (shown below) acts like an online concierge that explicitly asks visitors about their preferences or purpose for coming to site, so you can then provide the most relevant experiences for them. 
This functionality makes it possible for you to harness the power of explicit data (knowing exactly what your customers want) with real-time automated audience creation/segmentation and dynamic product badging campaigns.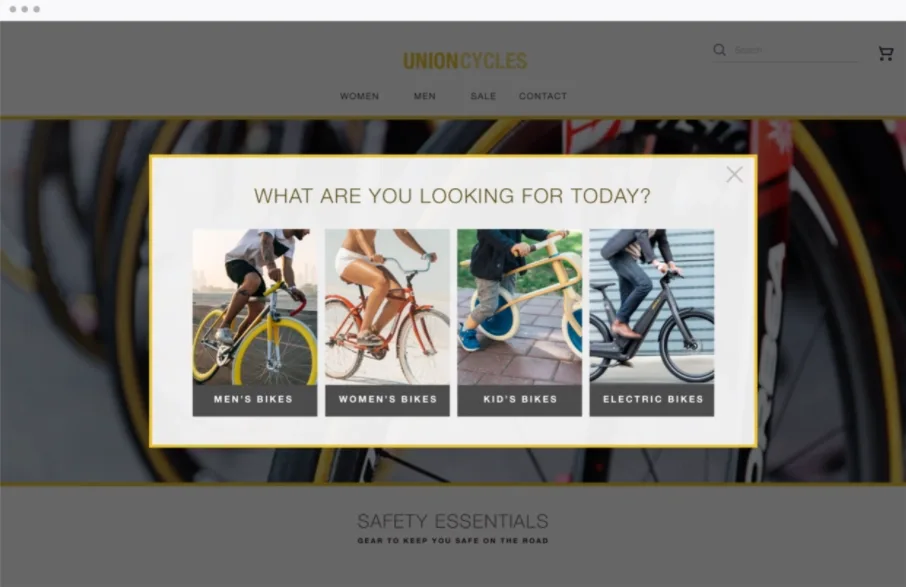 Read Crocus' success story to find out more about how to leverage surveys to deliver more relevant experiences.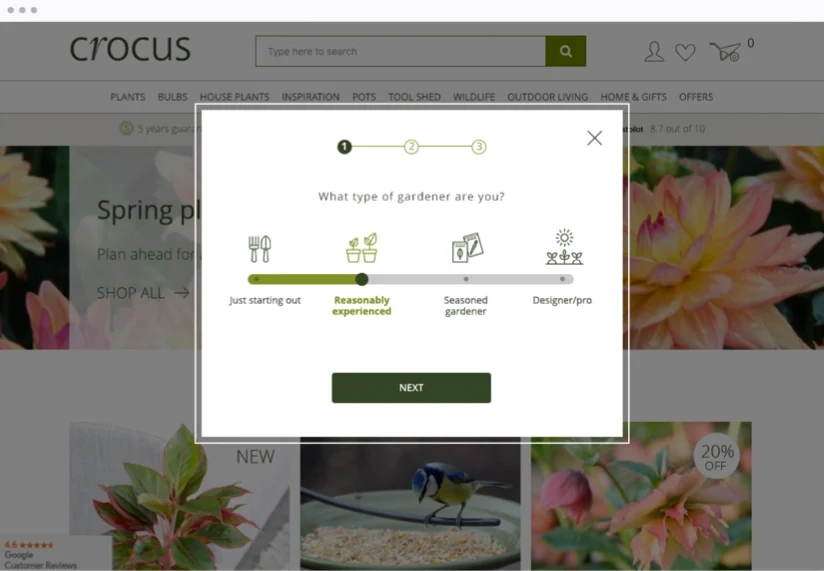 6. Leave no cart behind
Retailers can optimize their stores and conversion rates by tackling cart abandonment. The average shopping cart abandonment rate is at a staggering 70%, which directly translates into missed revenue opportunities for retailers. 
While there are several interesting tactics to try and prevent abandonment, marketing efforts should not neglect the importance of the post-abandonment phase. In particular, retailers should make sure they can leverage emails to reclaim abandoning customers.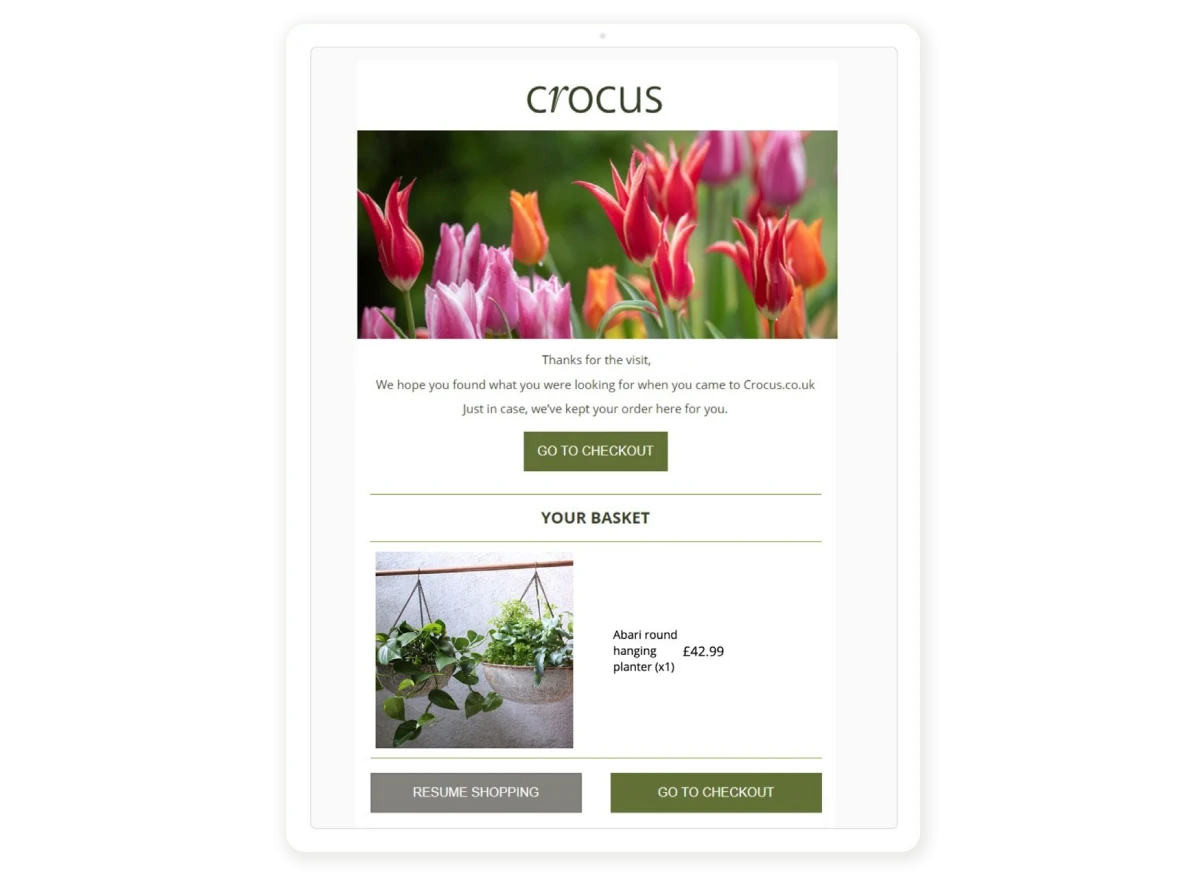 By using cart recovery emails, marketers can remind shoppers that they haven't completed their purchases and give them an easy way to pick up where they left off – and boost conversion metrics.
To streamline the customer journey, consider populating a link that takes them to the exact stage they were at before they left. If you're looking for an example, look at Coveo's customer Crocus, which sends their shoppers emails to re-engage and nudge them to complete their purchase.
7. Leverage the wisdom of the crowd to boost conversions
Consumers are faced with an increasing number of decisions when shopping online. These decisions involve, for example, whether to trust (or not) product reviews or recommendations, or whether to complete a purchase — or continue looking instead for more competitive prices elsewhere. 
The complexity of today's shopper decision journey provides retailers with a range of opportunities to steer insights about customers' behavior and decision-making to drive higher conversion and satisfaction.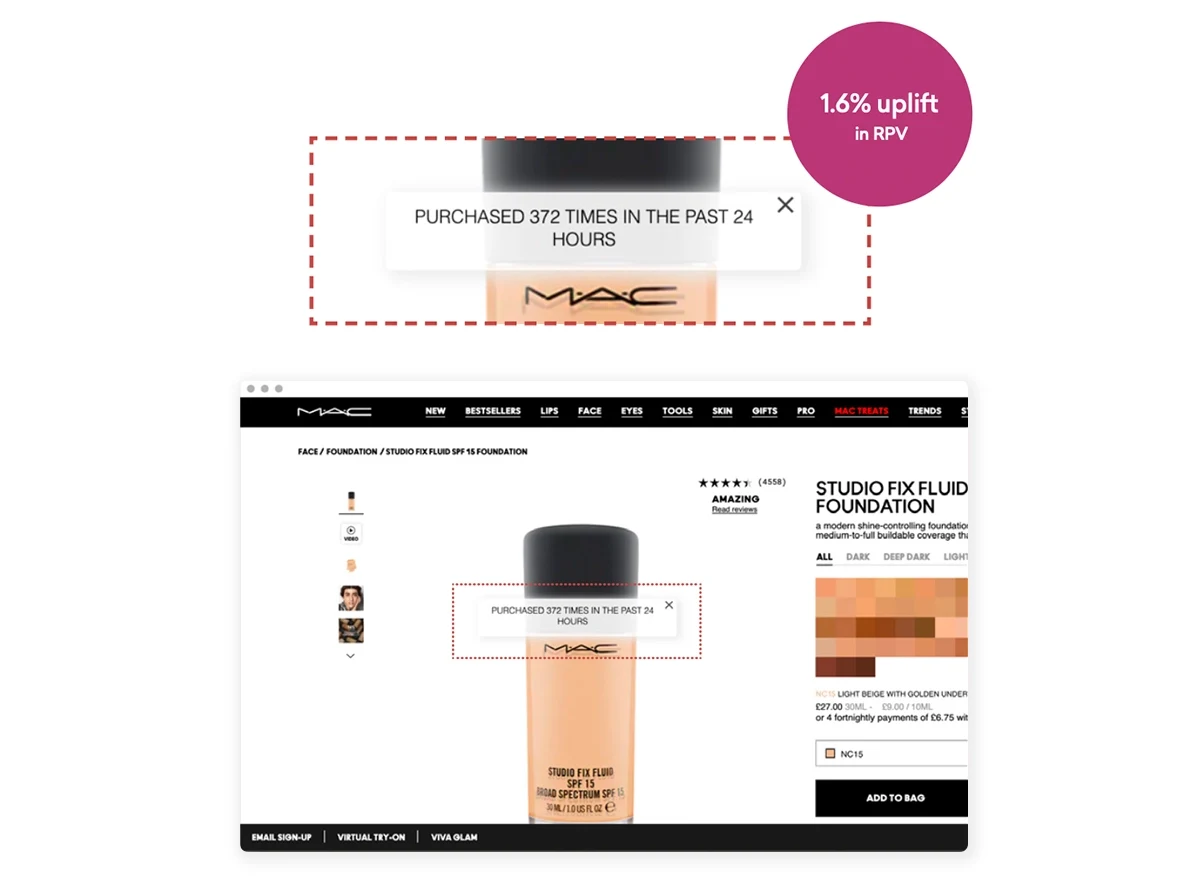 There are a plethora of behavioral insights that can be analyzed and tested, from choice overload to scarcity and social proof.
For instance, in the example above, we can see how a leading brand such as Mac has been using Coveo for social proofing. 
Social proof is one of Coveo's programmatic experiences that draws on the power of social influence to drive sales by creating reassurance. It is based on the idea that consumers are more likely to purchase a product that others have already purchased — known as the bandwagon effect.
8. Personalize your customer experience 
Thanks to online pioneers, such as Amazon, customers have grown to expect, crave and demand personalized experiences: a survey by Epsilon and GBH Insights found that the vast majority of respondents (80%) want personalization from retailers. 
Interestingly, however, advertising has replaced product recommendations and personalization on Amazon and other retailers' websites. They are no longer trying to guide product discovery, letting ads instead lead the journey. 
This means that as companies reclaim their brands from marketplaces, there's an opportunity for retailers to drive differentiation through compelling personalization. Retailers should prioritize offering highly personalized product recommendations.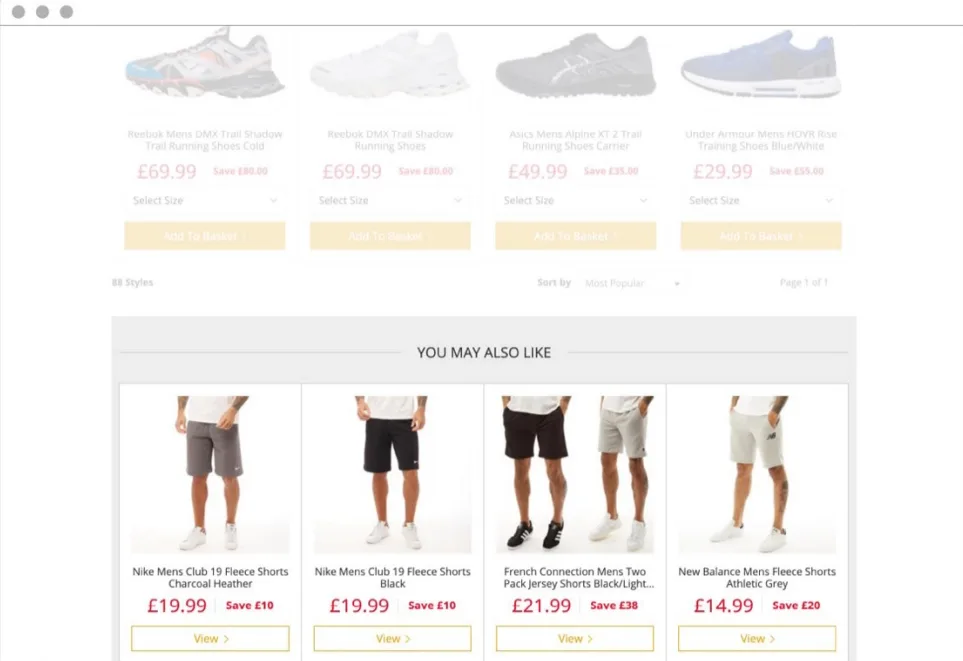 For instance, by using a platform such as Coveo, retailers can combine advanced deep learning capabilities with a real-time data pipeline (every single interaction is used as a data point that immediately influences the content shown) to provide a highly relevant experience to shoppers.
To find out more about how retailers can leverage ML to deliver relevant, personalized recommendations, read this success story from Coveo customer MandM.  
9. Manage shrinking attention spans
Customer journeys have evolved and consumer attention spans are getting increasingly short. This decrease results from a number of factors, such as the increase in smartphone use and shift to mobile content consumption. Google coined the term micro-moment for any time a consumer grabs the nearest device to do or buy something, look something up, or go somewhere. In these moments, consumers prioritize immediacy and relevance. 
The rise of micro-moments and shrinking attention spans mean your shoppers may simply get distracted by something else and leave your site without converting. This also makes the case for tracking not only macro conversions but also micro-conversions, which is a step toward the ultimate conversion. For instance, add-to-cart or newsletter subscriptions can be critical micro conversions.
How do you connect with consumers who don't just have a shorter attention span, but also a narrower engagement span? 
eCommerce teams only have 1-2 page views to engage visitors – to grab their attention, be relevant, or they've gone and moved on to the next best thing or a competitor site. Being relevant is the only way to successfully compete and win shoppers' attention.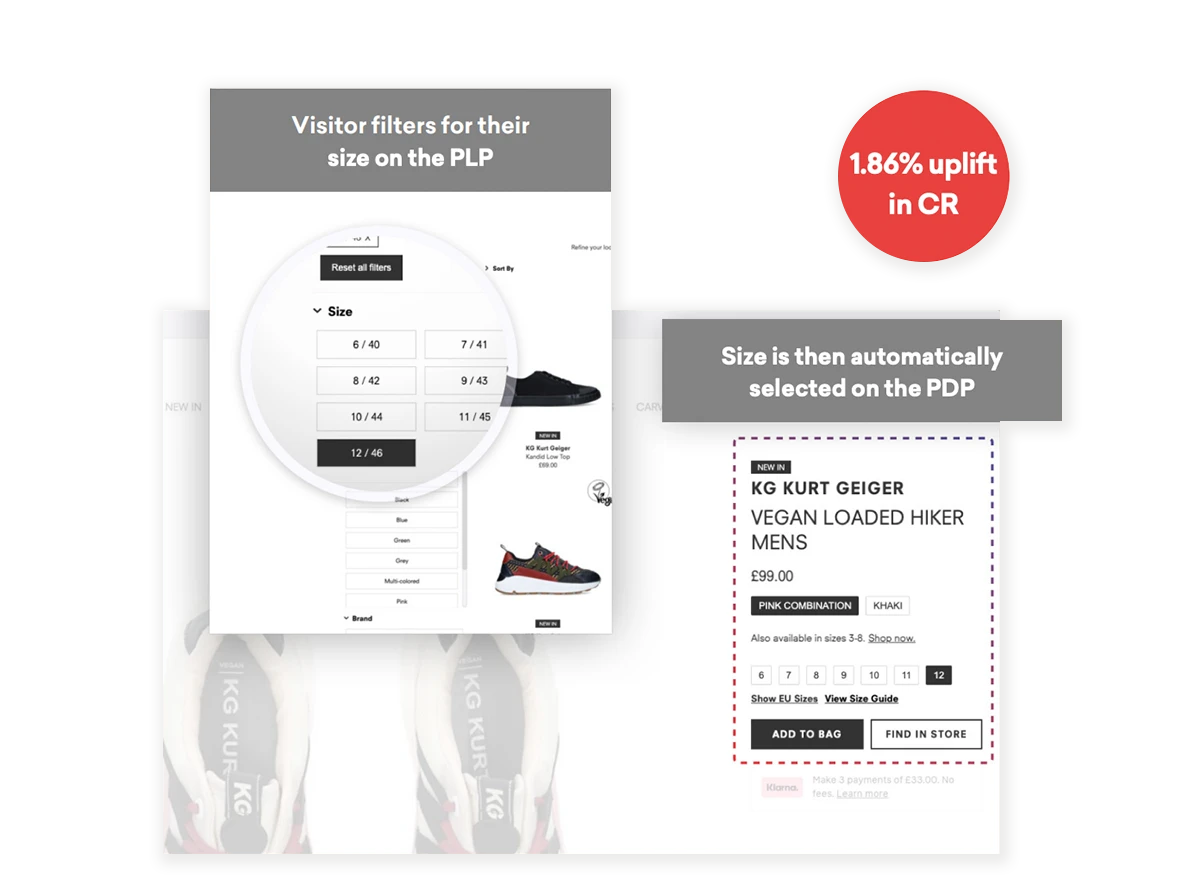 So, at a time in which customer intent can change in a heartbeat, it is critical to understand shoppers' behavior based upon every single click and customer data point and to serve relevant experiences tailored to such intent. 
For instance, in the example to the left we can see how Coveo customer Kurt Geiger enabled more seamless visitor journeys by deploying a 'Save Size Selection' experience. 
Customers who filter for their size on the Product Listing Page (PLP) and then navigate to a Product Detail Page (PDP) within the same category, will automatically see their size pre-selected for them, making it as easy as possible for them to purchase the product of interest. 
10. Optimize for omnichannel
The buzz term 'omnichannel' is hardly new. However, a worldwide pandemic put added pressure on companies that hadn't already adopted a digital marketing strategy to supplement their brick-and-mortar stores with an eCommerce store or some such digital-first alternative.
While CI&T's annual "Connected Retail Report" shows that leading retailers have made substantial progress to master omnichannel retail, most retailers are still lagging.  
So, what can you do to close the gap and hit your 2022 target? There are a number of capabilities necessary to thrive in omnichannel retail, with one of the critical being facets and filters. 
First, retailers should ensure that their faceted search capabilities are mobile-friendly. Today's customers are not just already omnichannel, but smartphones have completely changed their behavior and expectations. Retailers simply cannot afford to ignore mobile anymore.
Originally designed for desktops, translating the experience onto a mobile device is difficult, as it's hard to show both the filters and the results on a small screen. Personalization vendors such as Coveo have developed solutions to address the problem. By using AI and displaying only a handful of filters that are known to be optimal for the user, retailers can offer better mobile experiences.
But there are other reasons why facets and filters are crucial when it comes to omnichannel. Retailers should ensure that shoppers can filter search results according to availability at the eCommerce store they choose. As we have seen, out-of-stock items can become a major point of frustration for shoppers.
Retailers must offer a store locator (or store finder) functionality to display physical outlets' stock availability in real-time and display fulfillment options as filters. For example, Coveo customer Caleres allows shoppers to easily select the most relevant store to identify whether a particular item is available.

Read this blog to learn more about how merchandising teams at Caleres have successfully used and easily managed facets and filters to embrace hybrid shopping options such as curbside pickup. 
Secret Tip: AB Testing: Always Be Testing
Add any or all of the aforementioned tips to your conversion optimization strategy to meet your 2022 target. We conclude however with a bonus tip that every retail marketer should try and keep in mind.
Digital giants such as Google, Facebook, and Amazon have gotten to where they are by listening to their customers through rigorous data collection and user testing. But all retail companies should regularly conduct A/B tests and show different versions of their landing page to different sets of potential customers. This is critical to understanding how to drive a higher conversion rate, as well as generally determine how and what to tweak to create a given outcome.
You should apply A/B testing to a broad range of site elements and experiences. But while the increasing adoption of A/B testing capabilities makes it easier to embrace this culture of experimentation, it is critical to keep in mind that A/B testing can help only when it follows well-established, rigorous, scientific practices.
Don't worry, though, as you can follow the guidelines we've prepared for you to ensure you can avoid mistakes.
Download your copy
The Ultimate Guide to Conversion Rate Optimization for Ecommerce