The business world is full of buzzwords and jargon. However, while commonplace, these buzzwords are usually not well-defined – and this causes these terms to lose substantive meaning. Employee experience is one of these buzzwords. 
Everyone understands what an employee experience is – in a general sense. It is an employee's perception of their company, at a moment in time, and it is inherently a function of how good a company is at managing employee needs.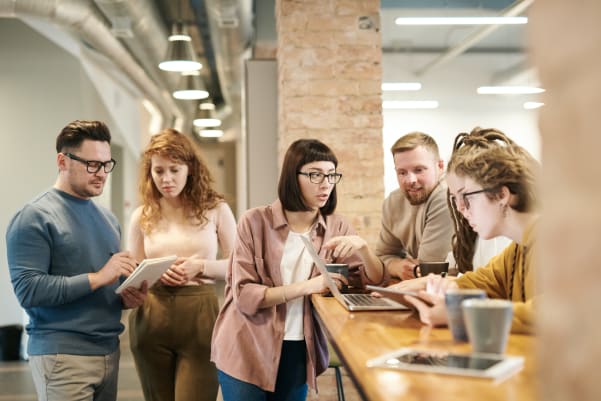 Ultimately, the purpose of this blog is to provide some perspective on the role IT plays in shaping and improving employee experience. However, given the ambiguity of the term, we will first discuss what employee experienceactually means.
What is Employee Experience? 
Let's start by defining employee experience. According to ServiceNow, a leading IT service tech company and a Coveo partner, employee experience is "the sum of all the pieces of work" and "companies must approach it [employee experience] with an effective, comprehensive strategy." 
Learn more about the tech behind a seamless employee experience
Read: 4 Features You Need to Power an Intelligent Workplace
We view employee experience in a similar fashion. We believe that every interaction an employee has with their organization – from the moment they join –  plays a critical role in shaping their overall perception. 
Because there are also other related terms used along with employee experience including employee engagement and employee enablement, it is important that we create a way to understand the relationship between them all. The formula shown below illustrates the relationship between employee engagement, enablement, empowerment and experience: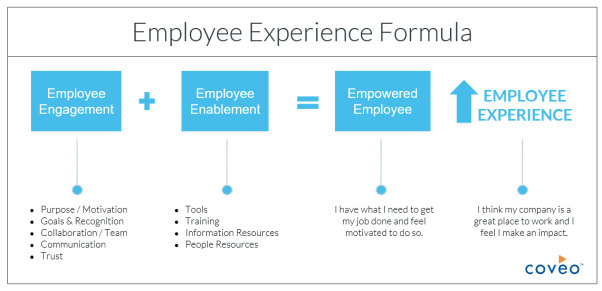 Promoting employee engagement is centered around giving employees purpose, motivation, opportunities for collaboration as well as maintaining communication and establishing trust. 
Employee enablement on the other hand, is all about ensuring that employees have the tools and resources they need to do their jobs. 
When the two are actively fostered by organizations, employees feel empowered at work, and ultimately rate their employee experience as excellent through forms such as an employee satisfaction (ESAT) survey.
While organizations may not be able to control employee perceptions, there are common technological or digital workplace areas in which companies invest to help shape employee experience. These common and key digital workplace areas include the intranet, employee self-service, departmental needs, and finally, the internal help desk: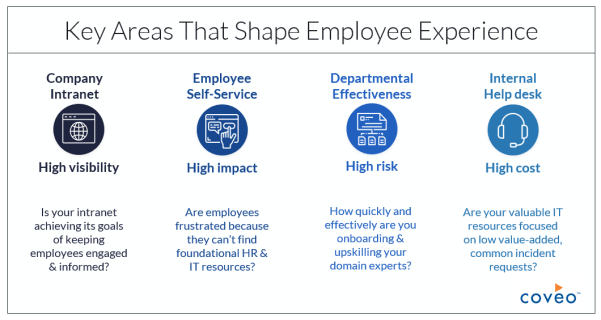 It's important for organizations, as well as digital workplace and IT leaders to consider all of the key areas listed above, determine their priorities, and invest where it is needed the most. 
Why Invest in Employee Experience? 
Investments in employee experience, and the workplace more generally, are often seen as soft investments that don't yield a great return. This simply isn't true. 
An HBR article authored by Jacob Morgan detailed a study that was run to understand why the millions of dollars spent on employee engagement did not yield positive outcomes. The study identified three areas that matter most to employees: physical, technological, and cultural. The study revealed that organizations that invested in all three areas had more than four times the average profit and two times the average revenue as those who didn't, and those organizations also saw greater growth in stock prices.  
While striking the right balance between physical, technological, and cultural factors can be difficult, what's more important is that leaders see the value of investing in employees – period.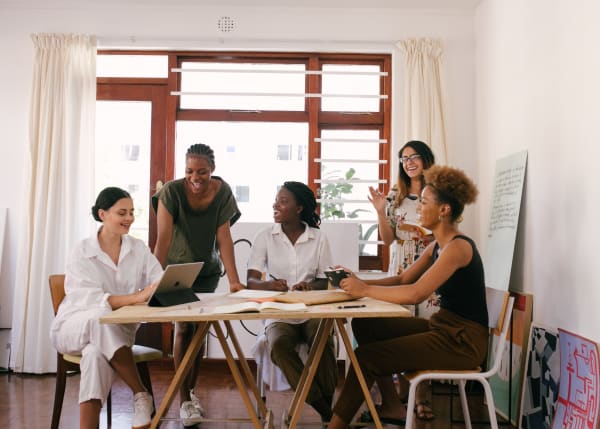 A recent article from Forbes highlighted six reasons why investing in employee experience yields positive results: 
More productivity:

EX leaders' staff put out 95% effort when left to their own devices, while EX laggards' workers put out just 55%

Less turnover:

40% less employee turnover than their competitors

Higher stock performance:

EX leaders

beat out the average S&P by 122%
It is important to note that investments in the workplace and employees translate to greater customer satisfaction as well. In the same Forbes article, MIT was quoted as saying, "businesses in the top quartile on employee experience have double the customer loyalty of those companies in the bottom quartile". 
How IT Can Improve Employee Experience
So, what is the role of IT in shaping and improving the overall employee experience? Well, IT is at the core of every company, and it is responsible for applications and connectivity across the enterprise. And with that responsibility comes overarching visibility. 
The responsibilities held by today's IT leaders are growing ever-more complex due to the constant advancement in technologies such as AI and cloud computing. IT leaders and IT Service Management (ITSM) professionals are balancing a myriad of applications, as well as supporting on-premises systems, cloud-based applications, and an ever growing list of devices – such as laptops, tablets, mobile devices, and more. Every organization, regardless of size, requires a set of software and hardware systems to keep their teams operational – and it is largely up to ITSM leaders to keep these systems up and running to support the business. 
While a significant number of ITSM leader responsibilities are centered around maintaining systems, they must also serve the business. In other words, they are also responsible for ensuring that individual employees are enabled to be productive. As you can imagine, balancing both system uptime needs and individual employee needs represents two differing skill sets. 
On the system side, there is a need to be technical, process, and change management-oriented.
On the employee side, there is a need to be service-oriented, patient, and creative in problem solving. 
Balancing both sides of the equation is no easy task and represents an opportunity for IT and ITSM leaders to use innovative technologies to augment their team's capacity – namely to help employees get up and running on their own. This area, called employee self-service, enables employees to find the right knowledge and information resources on their own, through the use of intelligent and intuitive employee portals, employee service centers, and even chatbots. 
Learn more about the tech behind a seamless employee experience
Read: 4 Features You Need to Power an Intelligent Workplace
When it comes to employees and the employee lifecycle process, there are repeatable workflows as well as common needs & requests that all employees have. This where IT and ITSM professionals can really enter to transform employee experience. 
Rather than struggle to maintain an outdated, costly, and static communicative process – from employee to service desk, and then service desk back to employees – progressive IT and ITSM leaders are building intuitive and dynamic ITSM portals that proactively guide employees to the right knowledge resources. And they are using artificial intelligence to proactively guide help desk agents to the content that'll help solve the incident at hand. This frees up agents to focus on more pressing matters and strategic endeavors. 
Because of their very nature as semi-custodians of the enterprise, IT and ITSM leaders are well positioned to lead digital workplace transformations. And by adopting and implementing AI and smart technologies, they'll be able to deliver seamless employee experiences, one department at a time.
Dig Deeper
To learn more about the tech capabilities required to deliver a seamless employee experience, read "4 Features You Need to Power an Intelligent Workplace.
Curious how to boost your employee experiences inside of ServiceNow? Check out our ebook, which details how to reduce portal fatigue, create personalized experiences, and capture intelligence to drive improvements. 
And if you're looking to deliver more relevant employee, agent and self-service experiences with AI-powered search and recommendations directly inside ServiceNow, check out Coveo for ServiceNow today!