Our last article dove into how AI-powered search can help banks deliver effortless customer service.
To channel our inner Captain Obvious, great customer service is more important for financial services companies than ever before. In a Coveo-sponsored survey, a staggering 96% of respondents say a negative service experience affects whether they would buy from that company again. And while that isn't a complete shock, we also found that many financial institutions struggle to create compelling experiences with search relevance. 
In fact, 99% of self-identified financial services tech professionals struggled with providing relevant answers to customers' queries. It's no wonder that research firm Gartner found that, while the majority of customers attempt to self-serve, 44% fail to resolve their query, largely due to site navigation. 
In other words, the solution to the customer's problem was available — they just couldn't find it.
This is why financial services organizations need an AI-powered enterprise search platform that unifies content into a single index, processes behavioral data, and uses that information to serve personalized recommendations. 
Since there are many kinds of these solutions on the market, how do you decide which is best? We'll outline eight essential features that you need to look for when choosing a search platform.
1. Unify Content with Crawling Modules and Custom Connectors
Crawling modules are a requirement for indexing the content you want to make searchable. And financial services have a ton of enterprise knowledge and customer data at their disposal – just locked up in home grown or legacy systems that don't allow them to use it to its full potential. 
Financial services have long remained staunchly tied to on-prem systems and content repositories, while the rest of the world has moved to the cost-saving, performance-improving cloud. In 2019, 70% reported that their cloud projects were only at the initial, or trial and testing, stage. 
Yet most if not all enterprise search engines today (and most of the systems and tools your employees are using) are cloud-based. Since security is paramount in the financial industry, it's likely that your policies don't allow an inbound port in your firewall to access on-prem content. With this in mind, you'll want to look for an enterprise search platform that offers a crawling module that can run outside of the platform, behind the firewall, and integrate with your customers' environment. A crawler designed like this can pull content from on-prem systems and it to the search index, without raising any red flags when it comes to security.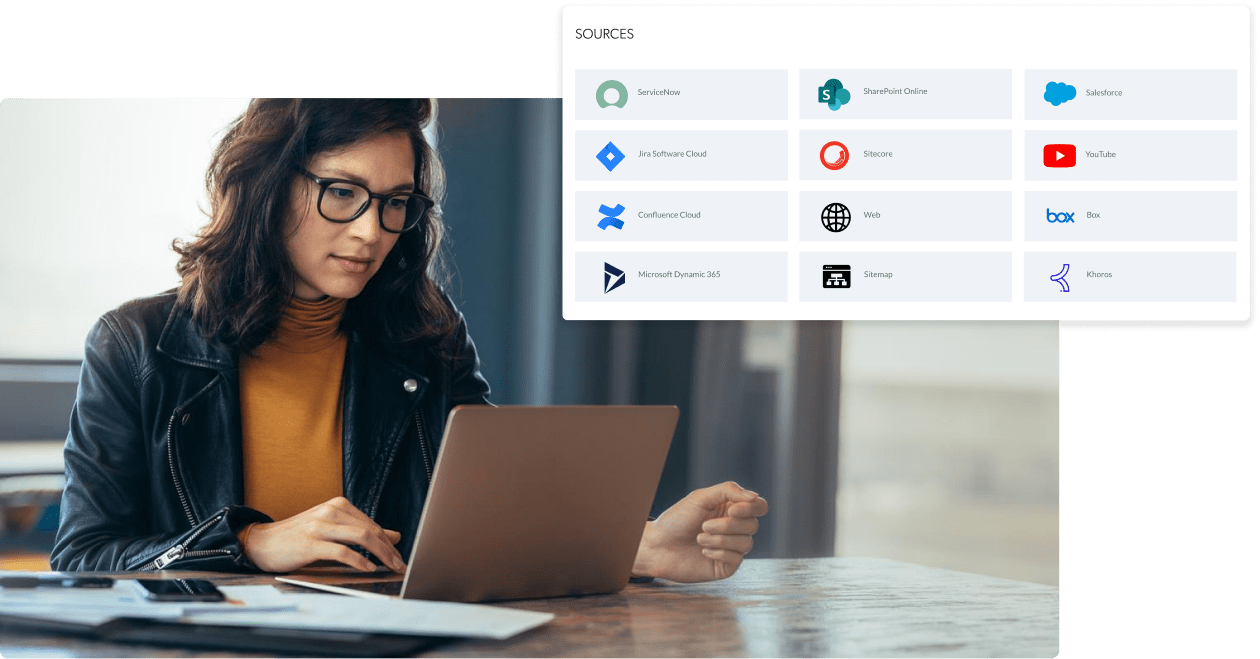 You'll also want a platform that offers a software development kit to build custom connectors. You've worked hard to collect all of that information on and about your customers throughout the years — don't let any of it go to waste! 
2. Know What's Ranking and Why with Ranking Rules Management
Cut out the (content) middle man and put the information you know your customers are looking for front and center with featured results and rules management. Traditional search returns those 10 blue links. While search has evolved beyond just that, the idea of getting the right content in front of searchers is still the primary goal. 
It's critical that the enterprise search vendor you select offers not just the ability to do one or the other, but to combine both in one place. Having a clear view of the rules surrounding search results ranking is key to effective results (and experience) management.
Remember that 96% stat from our introduction? Well, one way to quickly create a poor customer experience is by making it difficult to find the information needed. Another survey we conducted revealed that two of the biggest digital experience issues were website navigation (32%) and search deficiencies (29%).
Indexing huge volumes of content to make answers findable is only the first step — you need to make content discovery easy. 
In addition to the full visibility of the various factors influencing your ranking, the platform should provide enough flexibility when it comes to activation timing. While you will certainly need permanent sets of rules for standard use, like groups, you may also wish to have timed sets of rules for specific promotions, such as campaigns.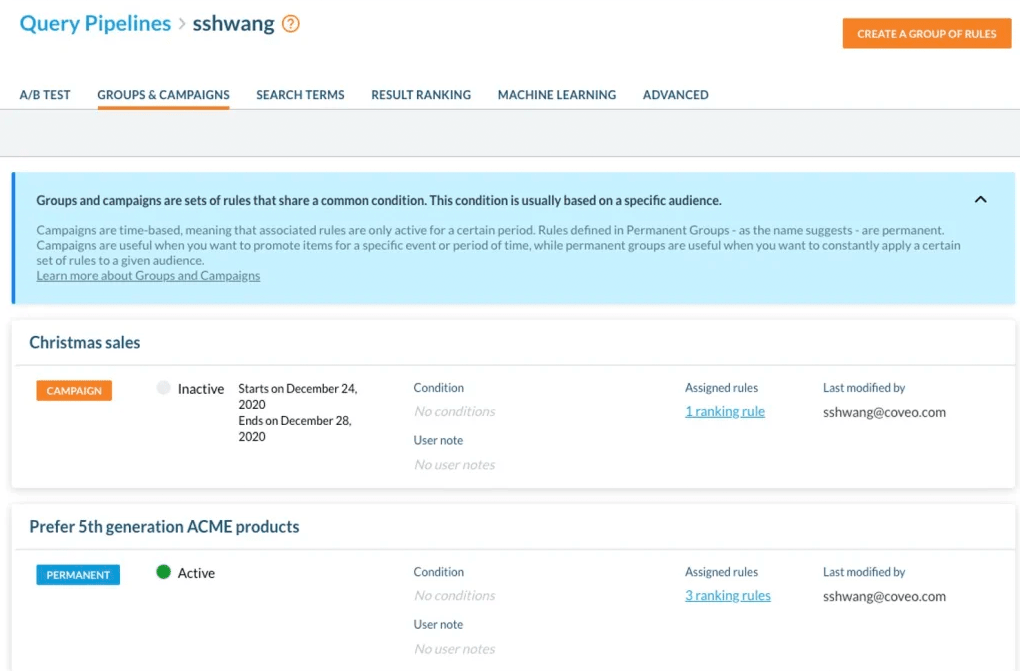 An effective enterprise search platform will give you the ability to create and manage both permanent rules and timed sets of rules from a central location.
3. Let Customers Shape Their Experience with Dynamic Facets
Chances are that the volume of data at your disposal has been growing exponentially for the last few years. Not surprisingly, the Enterprise Metadata Management Market is projected to be worth $15.1 billion by 2026. The problem is that proliferation of metadata in your index is making it more difficult for your customers to find what they need.
Facets let customers refine their search experience, empowering them to shape their experience as they go. Traditionally, metadata was used to map static facets into a user's interface — but that limits their potential usefulness. For example, "currency type" won't help if the customer has already specified 'dollar' in the query itself. 
Customizing facets to the individual user can be powerful in helping them cut through the noise to find what they need, but they can also be difficult to manage: What values should you show, in what order should you present those values, where should you pre-filter?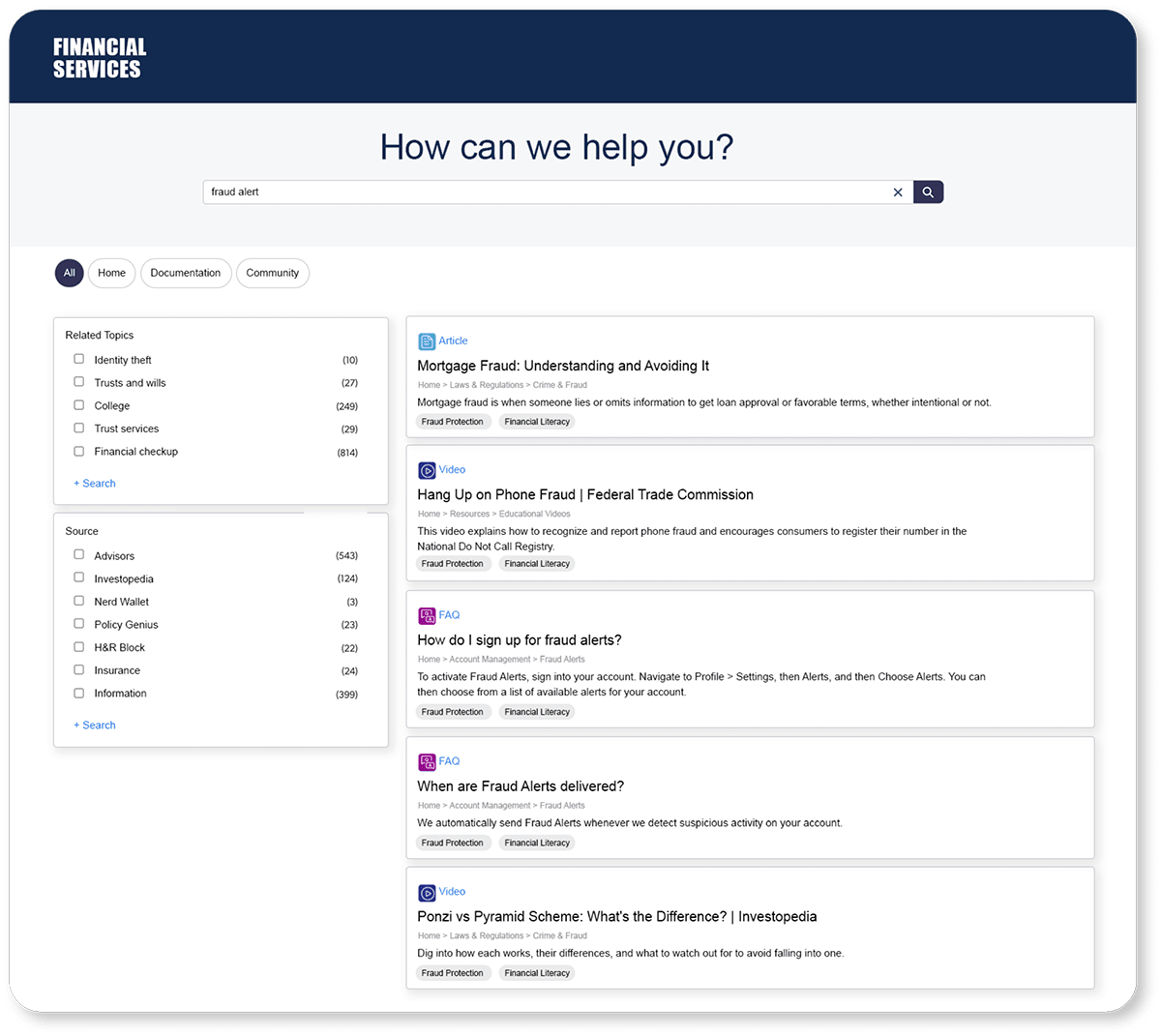 That's why the enterprise search platform you choose should come with dynamic facets powered by AI. AI can not only answer all of the above questions but also act upon those answers without any intervention. By feeding usage data to machine learning algorithms, you are teaching them to recognize what the most appropriate facets are, as well as what values should be used and in what order. 
4. Serve Answers Faster with Smart Snippets
In just a few short years, the world at large went from searching on large screens at home to pocket-sized ones all over the globe. Layer onto that the fact that 27% of the global population is asking questions via Alexa and Siri, and now your search has to meet a whole new set of parameters.  
Instead of typing keywords into a box ("best restaurants in downtown Montreal"), we ask a question using a full sentence ("what's a good restaurant nearby?"). Today's queries are increasingly conversational and are expressed as actual questions verbally. That's great for the user, but bad news for the machine as computers are much better at understanding keywords than natural language.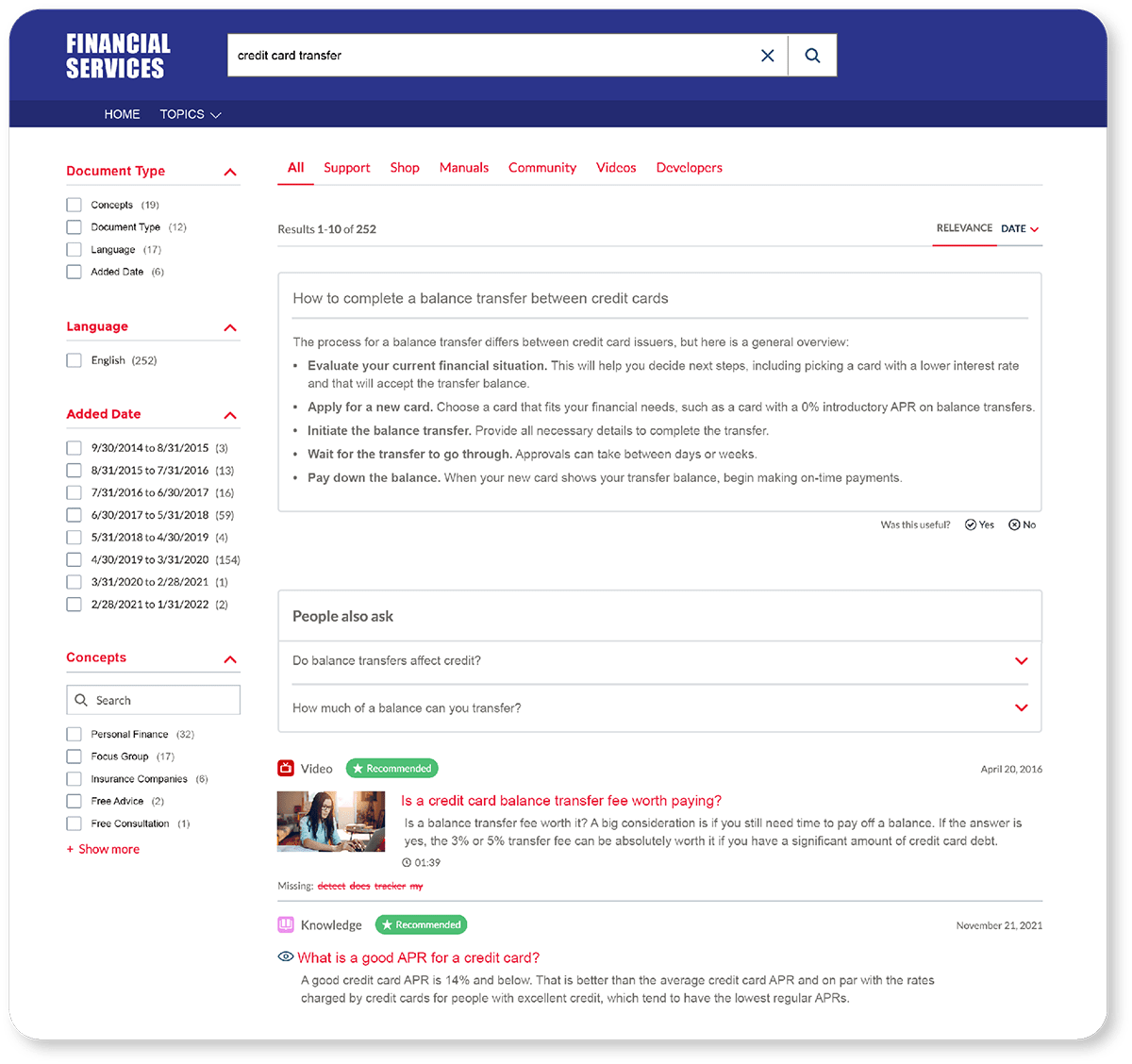 Your enterprise search platform must extract the most relevant answer so that your customers don't have to manually sift through results. This creates a far more effortless user experience, and helps to prevent customers from costly channel switching. In other words, if they have to go searching through a lengthy document for one paragraph, they'll just call and have your rep find it for them. That's not a good use of anyone's time or money.
Smart snippets is a feature that can do just that. It grants you the ability to extract a relevant answer from a list returned by the index and throw it to the top of the search results list – no manual intervention required. 
5. Offer Personalized Recommendations
In today's world, customers expect personalization in all digital interactions. For financial services, this can look like offering products and services that meet customers at their individual life stage. A new set of parents will be focused on a different set of priorities than a middle aged couple approaching retirement. 
Personalized recommendations effectively enable you to guide your customers by the hand to what they need – whether content or products. This is a particularly sensitive issue for financial services organizations. In the past decade, many banks relied on growing share of wallet to achieve growth in a slow economy. 
But introducing additional products and services to customers without taking their needs into account leads to weakened trust. After all, sending continuous messages offering a mortgage to a customer when they already have one elsewhere, or presenting a customer a generalized credit offer and then denying the application doesn't show that you understand your customer. It's hardly surprising that, as of today, only 33% of customers trust their bank to provide them with unbiased advice.
When assessing AI-powered enterprise search platforms, look for one with an advanced recommender system that isn't confined to history-based recommendations, but can also recommend products and services:
Based on product associations.
Driven by in-session actions. 
With the above information, your search platform anticipates what the user needs currently — and next. It's also able to provide personalized recommendations even to first-time visitors.
6. Maintain Flexibility with Headless UI Components
Traditional Javascript UI frameworks have proven to be highly useful for front-end developers. 
However, with the rise of multichannel marketing and the proliferation of digital touchpoints, they have become quite limiting. Developers want greater flexibility and control when it comes to design. 
Headless UI components can grant you this flexibility. If your organization has a strong UX team, with specific guidelines for how search UI should look and feel, you want to ensure that the relevance platform you adopt has a robust library of components that can be recreated in any UI framework. 
This allows your business to be flexible, without impacting the end-user experience (i.e., it'll feel the same, but provide more relevant results).
7. Achieve Speedy Builds & Receive Advanced Notice of Critical Updates
FSIs are rarely able to allocate the developer resources to customer service/experience that they'd like, so they must rely on providers to help with innovation. Building custom components is valuable, but moving from ideation to creation to integration to rule building to configuration can take a really long time. And long build times ultimately slow down the development process. 
To speed up build times, look for an enterprise search platform that comes with:
An accelerator to build custom components
A means to unify multiple code bases using different stacks with one build process
A collection of crowd-sourced components to help turbocharge implementations 
Today's enterprise search platforms are cloud-based, so updates to improve performance and underlying logic are released frequently and take effect instantly. This can (and likely will) have an impact on your business operations — and by extension your customers. 
Given the above, it's important to go with a provider that not only gives you advanced notice of changes that are going to happen within the platform but also the ability to jump into a sandbox and test drive those changes before they are actually applied.

In the tech space, new features (and customer demands) arise frequently. In response, SaaS providers are constantly innovating to help you stay ahead of the competition. Choose an enterprise search vendor that works with your company to be better every day! 
8. Compliant with Data Protection Regulations
The General Data Protection Regulation (GDPR) created new, legally-mandated compliances that must be met by both EU-based organizations and organizations that supply a good or service to the EU. And the regulations surrounding the geographical storage of data are constantly changing.
The best way to deal with the uncertainty is to ensure that you have the ability to collect, process, and store your data in whatever country you conduct business. A relevance platform should offer you the ability to choose the region in which your data is stored – and offer a comprehensive list of regions from which to pick. 
Dig Deeper 
To learn more about these critical features, and how they can jump start intelligent search in your financial services organization, be sure to download a copy of our Buyers Guide for Enterprise Search Platforms.
Download your copy today
Ebook: Buyers Guide for Enterprise Search Platforms
Or get a free assessment of your current offering to learn how Coveo can help you realize the full value of your extensive proprietary client data.