By now, you've heard about the Great Resignation. Employees are flocking to greener pastures, and Banking & Finance is no exception. In fact, it has one of the highest turnover rates of all industries  at 18.6%.
All that voluntary employee exodus is expected to cost global banks between $250 and $500 million in annual replacement costs — each.
What can financial services institutions (FSIs) do to retain talent? Well, you've witnessed the future of remote work first hand — especially in the financial services industry, where a hybrid or fully remote employee experience is now quite common. 
As it turns out, most financial service professionals want to keep it that way — they prefer the remote digital employee experience. At least according to a recent remote work survey from Vidyard, which found that 96% of financial services professionals would take less pay to keep remote work permanently. 
Here are some of their takes on working remotely:
88% think they're more successful working from home
82% think the overall productivity at their organization has increased
35% admit to "successfully leading a work meeting while sitting in the bathroom"
The bathroom!
The potential of remote work certainly seems limitless. But 86% of respondents to the same Vidyard study also fear that permanent remote work "would result in missed opportunities and perks at the office." Which leaves many leaders in financial services firms wondering if completely working remotely really is the future of the digital workplace. 
What's the longevity of remote and/or hybrid work for the financial services industry? And what kind of digital transformation must leaders in human resources and IT undertake to retain and support remote employees in a WFH model?
Common Barriers to a Better Digital Employee Experience
Let's set aside the debate around permanent WFH for a moment. No matter which side of the fence you're on, at least some of your employees likely work from home. Supporting employee engagement, curbing burnout, and preparing for the new future of work requires an understanding of what remote employees actually need.
At a high level, office workers still struggle to find relevant information in times of need. According to research from our 2022 Workplace Relevance Report, employees feel buried by corporate clutter. This lack of timely access to reliable information manifests in a few notable ways:
Employees Are Spending Even More Time Looking for Information
Our report revealed that the average employee now spends 3.6 hours every day searching for information at work — a number that has increased one hour per day in just a single year. At an organization with 5,000 employees, that could annually equate to more than 4.5 million hours of time wasted just looking for information.
This creates bad employee experiences. The costs to employee engagement and employee productivity are significant. Overall, 81% of respondents report being unable to find information in critical moments. 
But what does the struggle to find info actually look like in practice? 
Context switching: 60% of employees have to search within four or more data sources every day
Source overload: 54% have too many knowledge sources and digital tools to sift through
Bad search technology: 43% blame ineffective search tech and/or intranet
Poor training and visibility: 50% don't even know where to start looking
Customer Experience Suffers as a Result
For financial services workers, specifically, this lack of access to relevant information can have intense ripple effects — and not just on the digital employee experience. 
We know, for example, that banks and wealth management companies that can personalize customer service stand to generate 40% more revenue than those that don't. But how can they deliver on this promise when their own employees waste hours every day just looking for information? 
And if they can't, what happens to all of that revenue potential?What's more, more than 76 million Americans have, or are planning to open, a digital-only bank account. U.S. banks closed 5% of their physical locations in recent years. It's not just financial services organizations moving to a 100% remote workforce — it's also the customers those professionals serve on a daily basis.
Meeting the demand for full-service digital experience
Ebook: Blueprint for Personalized Search in Banking & Wealth Management
What Financial Services Professionals Are Really Telling Us
While it might very well be the solution, a respondent to the Vidyard survey — or to our own 2022 digital workplace relevance survey — is unlikely to tell you they need unified search and AI-powered relevance. Rather, the data suggests they'll tell you about their need for simplicity, seamlessness, and reliability. A digital workspace that enables and empowers remote workers.
Order amid the chaos, if you will.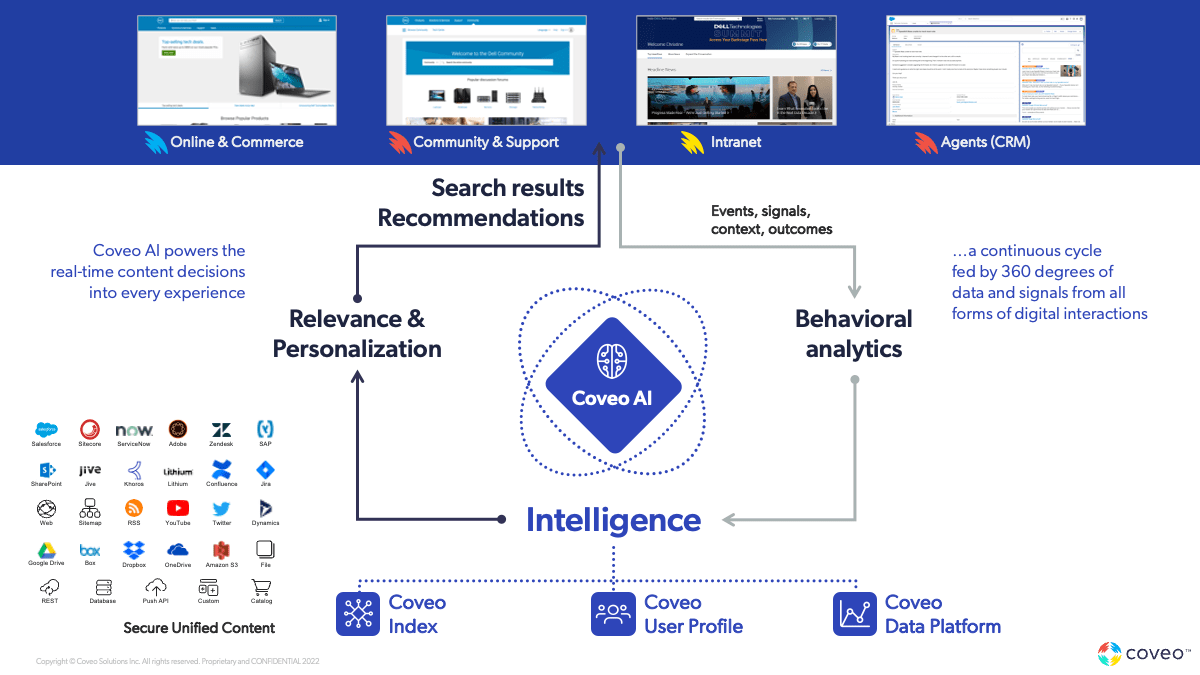 They want one place to go for information when the need arises, instead of four. And they want to have zero questions about whether or not that information is accurate or up to date. Ideally, that experience is made available to them wherever and whenever they need it — across all touchpoints that comprise the digital employee experience.
To create a great digital employee experience, human resource stakeholders, information technology, and other business units will need to find ways to deliver this kind of relevance at scale. 
That's where the need for innovative technology comes in, of which intuitive and personalized search has proven to be a most practical solution. 
After all, the search bar will never bat an eye when you come to it for a quick answer-even if you're simultaneously conducting a work meeting during a house showing (as 36% of respondents to the Vidyard study claim to have done).
At least, a good one won't.
Learn more about how Coveo is your one-stop-shop for AI-powered search across all financial service touchpoints.
Dig Deeper
Do you know the four steps that go into delivering a truly AI-powered employee experience? Get the skinny in our ebook:
Tips and best practices
Ebook: Guide to Delivering AI-Powered Employee Experiences
Wondering how to build a solid business case for AI-powered experiences in financial services? Check out our webinar on just this topic, where you'll get a step-by-step approach to building a persuasive argument for investing in more intelligent, personalized search experiences for your employees, clients, and brokers.
On-demand webinar
Building a Solid Business Case for AI-Powered Experiences in Financial Services
---