In the market for a commerce personalization engine? Make sure you have everything you need to ask the right question and make an informed decision for your company with a fine-tuned request for proposal (RFP). An RFP document outlines and describes a project for which businesses are seeking a desired IT solution from a prospective vendor.
Personalization is key to a great customer experience, engendering greater emotional engagement by showing customers more of what they want, when they need it. Effective customization can have a remarkable effect on an ecommerce site's conversion rates while also boosting loyalty and customer lifetime value. With 78% of US online adults having chosen, recommended, or paid more for a brand using personalized digital experiences or services, the potential payoff of personalization is clear. 
However, delivering relevant, individualized experiences is easier said than done. In fact, 39% of shoppers don't find the products that brands recommend to them online useful. 
To help you establish clear requirements, better assess what's on the market, and find what best fits your business, we've created a customizable personalization RFP template for you.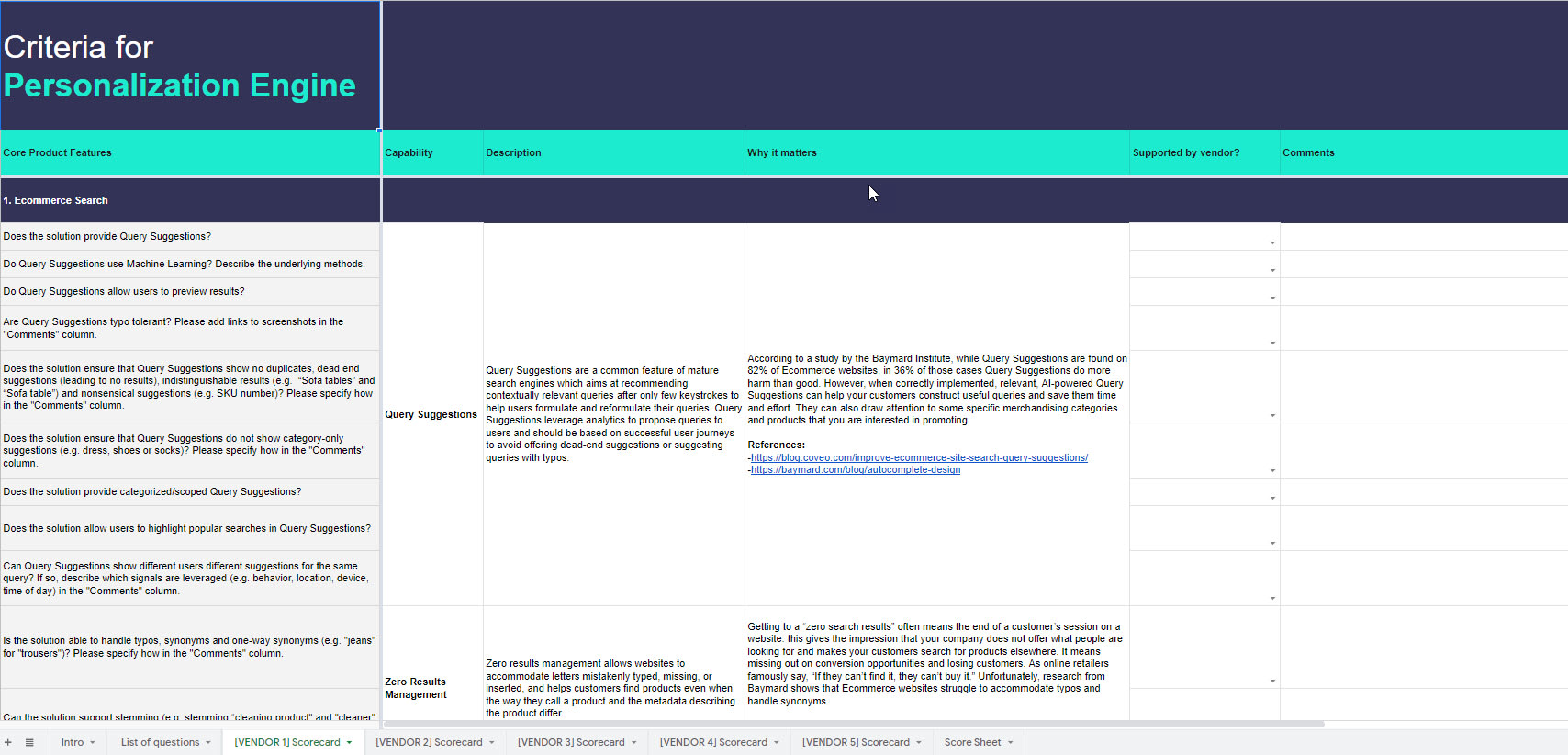 Download your free copy today
We'll also provide nine considerations for assessing personalization engines. In line with leading industry analysts, we define personalization engines as 'technology solutions that help identify and create the most relevant experiences for a visitor by incorporating multiple types of analytics and analyzing multiple types of customer data.'
Following our tips will allow IT and business leaders to streamline the RFP process, and find the right partner.
1. Purchase Search and Personalization from One Vendor 
When preparing your RFP, don't forget to ask questions about the potential vendor's search capabilities. 
Until recently, it was relatively common to purchase commerce search and ecommerce personalization from separate vendors. Luckily, digital leaders are now starting to realize that this would lead to fractured customer journeys and experiences. They're now acknowledging the connection between search and personalization — and are realizing they should have purchased both from the same technology partner.
Personalization that truly drives tangible business outcomes in ecommerce requires the ability to understand products as well as you understand people. Buying search and personalization from the same vendor means you can leverage search signals to improve the customer experience by serving more relevant content throughout their entire journey on your website.  
It also makes it easier to increase the relevance of the commerce search experiences you provide. With 30% of ecommerce visitors using on-site search and converting between five to six times higher than non-site search visitors, saying that search is an important touchpoint is an understatement. And given how important a touchpoint it is, you should  inject powerful personalization capabilities into your search too, showing different query suggestions and search results based on the shopper's profile, interests, and preferences. 
2. Not All Content Recommendations Are Created Equal 
We've come a long way from the collaborative filtering that Amazon used so successfully. Personalized experience today can harness the power of deep learning to deliver the most relevant recommendations to shoppers. 
Yet research from the Baymard Institute shows that most websites still struggle to deliver relevant recommendations. For instance, 52% of sites present cross-sells that are either completely irrelevant or based only on what other customers bought. Providing relevant recommendations isn't straightforward — for instance, complementary and similar items must satisfy different logical relations. Delivering personalized recommendations is challenging when users are new or visit a website rarely.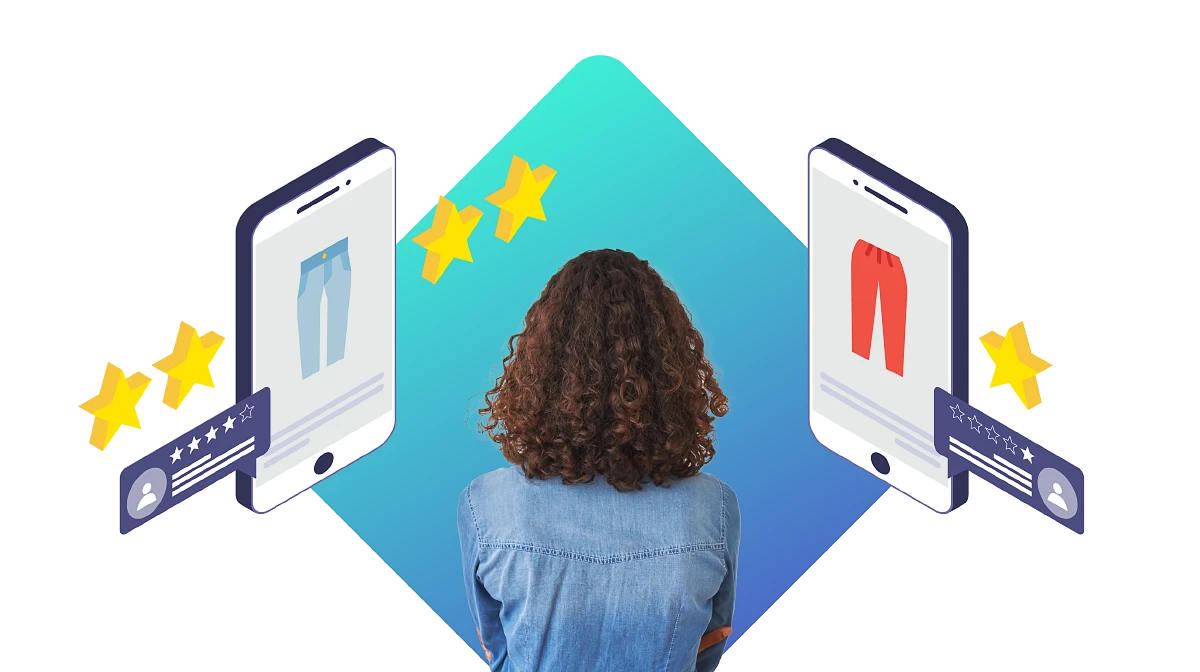 Best-in-breed technology vendors offer ways to tackle even the thorniest challenges such as user cold start scenarios) leveraging artificial intelligence (AI) and machine learning (ML) to provide the most relevant, accurate and personalized recommendations. So, don't forget to ask vendors about the technology that underlies their recommendations and how they address these obstacles.
Further, don't forget to ask about vendors' ability to offer content recommendations as well. Traditionally, many in ecommerce felt that content distracts and dilutes business goals; i.e., conversions. The truth is, content can enhance customer acquisition, decision-making, and conversions, depending on where that customer is in their buying journey.
3. Power Couple: Personalization Meets Merchandising
Merchandising offers perfect opportunities to create a next-level shopping experience. Whether banners, notifications, or badges, content should always be relevant to and helpful for your shoppers. 
Your chances of conversion skyrocket when you give customers experiences that are relevant to them as individuals. So, when outlining RFP requirements for personalization engines, ask whether the vendor allows you to display custom promotions and messages, as well as personalized badges and overlays.   
Remember that the best merchandising practices and tactics are often rooted in behavioral science and deep understanding of shopper psychology. So, make sure the vendor provides you with the right tools to tap into your shoppers' mindset and intent to deliver tailored experiences that convert. 
For instance, badges based on behavioral principles like social proof or scarcity can be extremely powerful and effective. Moreover, exit-intent technology can be leveraged to provide tailored, effective messages and offers that keep your customers on your website and prevent abandonment.
4. Unleash the Real Power of Data 
Collecting granular data from across your site and systems is critical to delivering relevant, tailored experiences that engage your customers. Yet, most vendors struggle to do so with their current ecommerce platform and technology.
So, when you are preparing your RFP, make sure to ask vendors about their capabilities to collect structured, event-based data from across your site for targeted personalization and detailed analysis.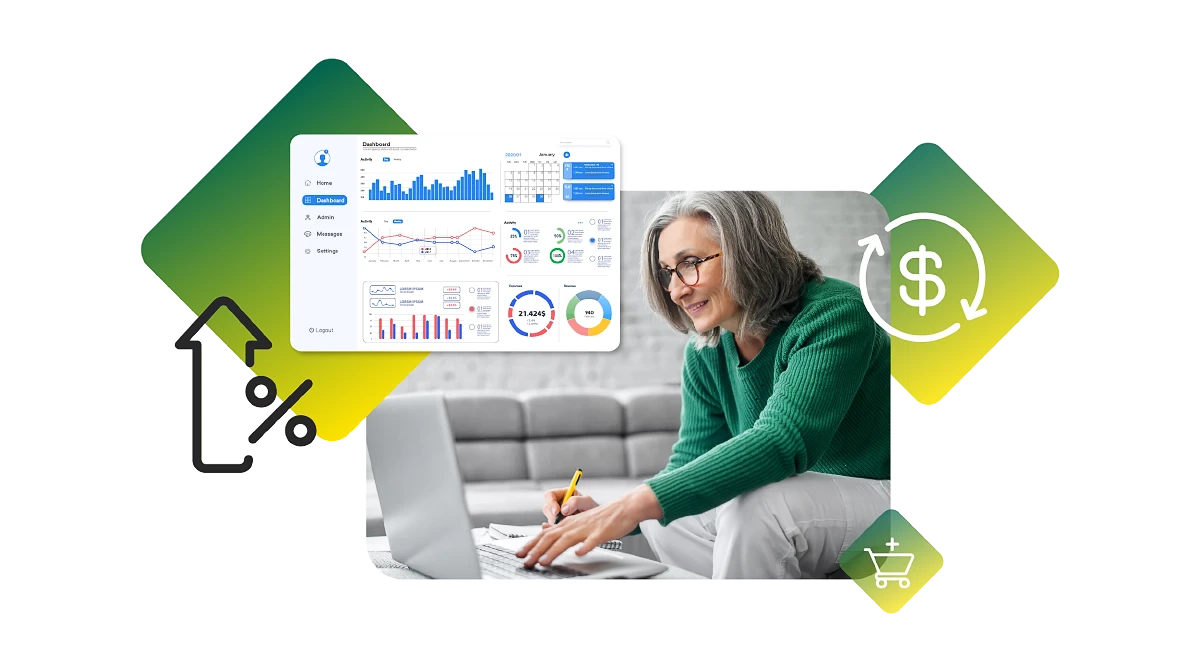 You should also ask vendors whether they allow you to collect qualitative customer insight from visitor feedback and surveys. These capabilities have become increasingly important. Shoppers want their experiences to be highly personalized, but don't want to give up personal data at the expense of privacy invasion. Welcome to the personalization vs privacy paradox. 
So, on top of the ability to leverage first-party data to understand in-session behavior, retailers should also leverage surveys and other powerful tools to capture and leverage so-called zero-party data to deliver personalized experiences that convert. This category introduced by Forrester research refers to explicit data that you, as a customer, intentionally and proactively share with companies.
5. Harness the Full Power of Analytics
Getting a personalization engine up and running is step one. Step two is dissecting data from your customers' interactions, so that you can create impactful experiences. An ecommerce personalization engine should provide you with the means to not just curate those experiences, but measure their results.
Your personalization engine should show how visitors in a segment interact with your brand, including looking at their locations, device types, and number of sessions. You also want your engine to keep track of how different visitor segments express their interests, whether that's via direct feedback or lists of popular products and categories.
But bear in mind that today's customer journeys are growing increasingly complex. While you may want to use a curation engine to create consistent, tailored experiences across a multiplicity of touchpoints (think omnichannel personalization), deciphering performance and user behavior when dealing with convoluted journeys is a big task. 
So, when selecting the questions to include in your RFP, ask vendors how their analytics solutions handles this challenge and provide insights on behavior across multiple touchpoints. Keep in mind here that best-in-class solutions move beyond simplistic last-touch and first-touch attribution models that assign 100% of the credit for a conversion to a single customer journey touchpoint.
In addition, verify whether vendors offer easy-to-use dashboards that can provide ecommerce teams with a clear overview of key financial and website KPIs at any time. 
Keep in mind that a holistic approach is important when it comes to ecommerce KPIs. A personalization engine should report and display performance based on several key metrics. For instance, while you want to boost your Conversion Rate, measuring KPIs in isolation can be misleading and even have the opposite impact of what you were aiming for. You may see your Average Order Value increasing, only to find that the Conversion Rate is tanking. Or alternatively, during some campaigns, you may have increases in Conversion Rate due to some promotions and discounts, which are accompanied by a decrease in  Average Order Value.
Metrics simply show symptoms; different symptoms become visible through different metrics.  
6. Always Be Testing
Digital giants such as Google, Amazon or Netflix have gotten to where they are by listening to their customers through rigorous data collection and A/B testing. But conducting systematic, rigorous A/B testing is not straightforward. 
Best in breed personalization vendors effectively balance user friendliness and scientific rigor, for instance by making it easy to experiment with large enough samples and to schedule tests to ensure random testing and avoid day-of-the-week effects.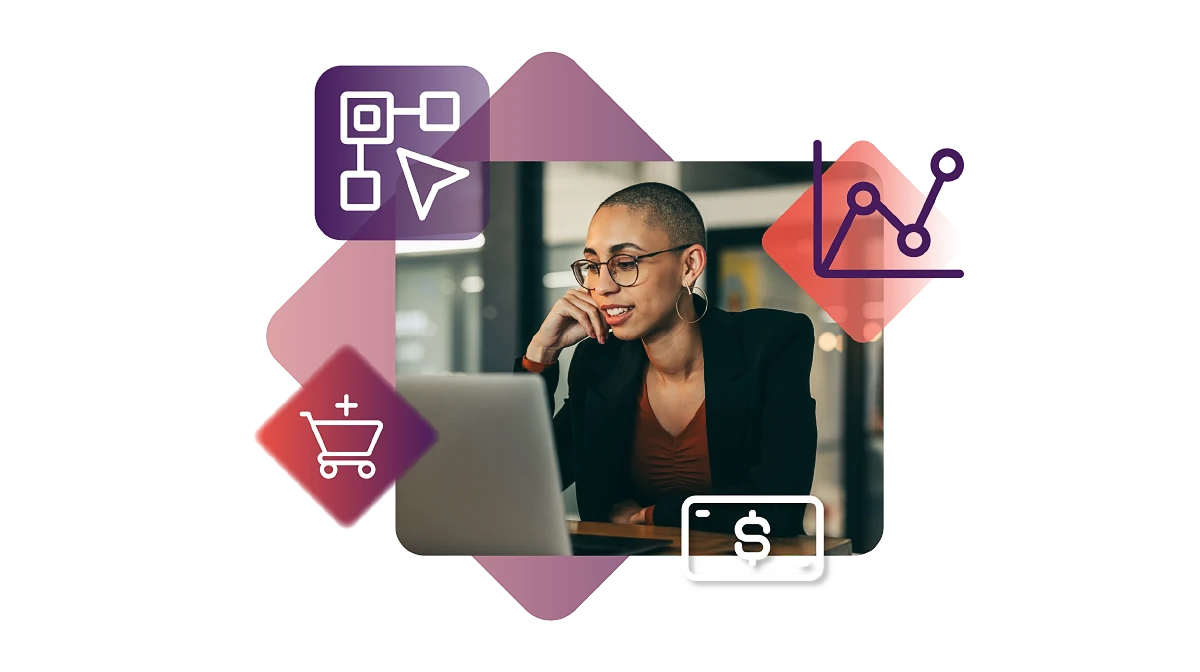 However, to ensure conclusions are trustworthy, it's critical that personalization engines also report on the experimental results' statistical significance. This is important because it gives you confidence that the changes you make to your website or app actually have a positive impact on your conversion rate and other metrics.
Your metrics and numbers can fluctuate wildly from day to day, and statistical analysis provides a sound mathematical foundation for making business decisions and eliminating false positives. 
7. Validate and Understand Vendors' AI Claims
Most vendors tout AI capabilities, but not all AI is created equal. Buyers should thus look for best-in-breed vendors with a track record of innovation as they are likely to consistently release new features and develop critical capabilities to help thrive in the ever-evolving ecommerce world.
So, don't forget to ask vendors about their IP strategy and to show you evidence of peer reviewed research or patents. For example, personalization vendors such as Coveo constantly publish research alongside Netflix, YouTube, and other tech giants.
However, there's more that needs to be asked. For instance, make sure to ask about the model optimization techniques used to improve the performance of machine learning models. Further, bear in mind that AI and ML should not be reduced to deep learning, as there are different approaches and techniques available. It's important to understand what AI/ML capabilities vendors are offering and how these approaches are appropriate for the use cases at hand. 
8. Assess Enterprise Readiness 
Enterprise readiness involves elements from scalability to security requirements.  Core competencies of a modern enterprise platform allow you to change provisioned resources according to fluctuations in demand and to deploy the product in different regions. Best-in-class solutions help you avoid resource under- and overuse, while maintaining quality. They also reduce latency, improve performance, and ensure compliance no matter where in the world a user is located. 
So, in compiling your RFP document, ask whether the solution addresses special initiatives like Black Friday peak events. Ask vendors to define their scalability approaches.
Moreover, since personalization engines that are secure by design must be compliant with many norms, certifications, and regulations, include questions about the vendors' certifications. Similarly, try and understand vendors' capabilities and approaches to secure customer data at all layers. In particular, ask how solutions logically partition, encrypt, and safeguard data to mitigate the risk of data breach and support compliance.
9. Look at the Product — But Don't Overlook the Company
While it's obviously critical to try and understand products, it would be a mistake not to include questions about the company as well. For instance, to address uncertainties, buyers should choose vendors that demonstrate acuity in innovation, competence, and ethics when pursuing technologies for personalization. Include company overview questions that investigate their product vision and planned enhancements as well. As shown by research from Gartner, commitments to innovation matter highly: an enterprise is 2.7 times more likely to be a top-performing organization when it increases innovation funding.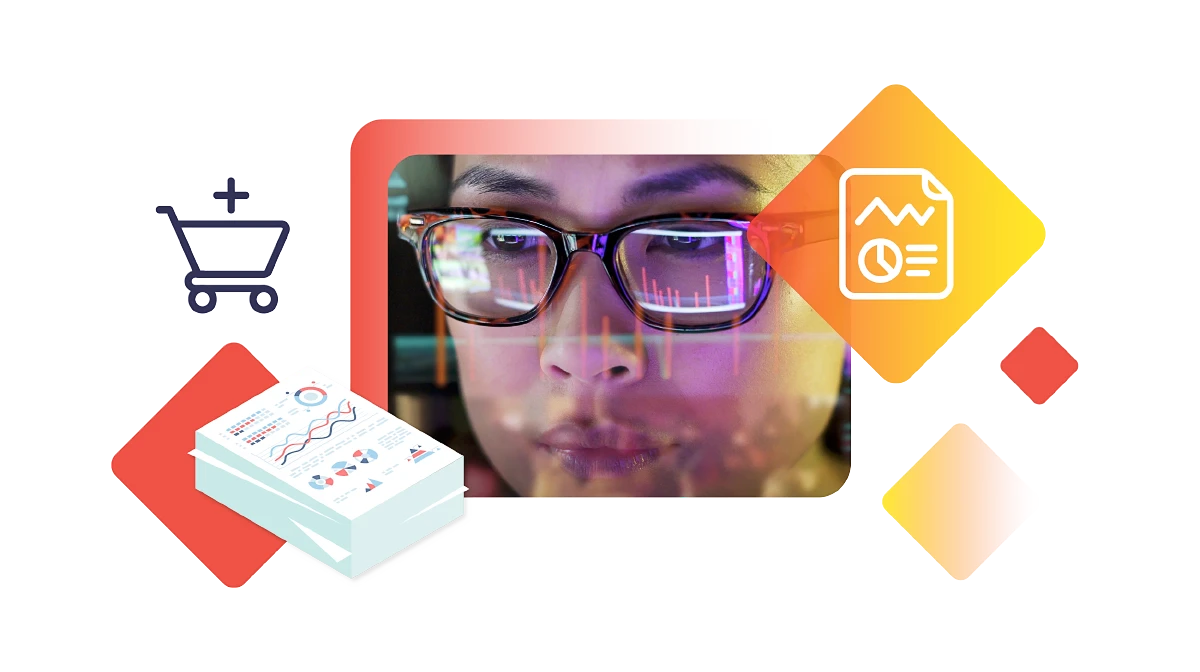 Further, to minimize the risk of vendor failure and obsolescence, reviewing vendors' income statements can be of utmost importance. For instance, selecting a publicly traded company might be a preferable choice for those looking for a partner with greater access to financial resources to invest in innovation. Keep in mind that there are tangible and undesirable results for ineffectively managing risk: namely threatened business profitability and sustainability, financial loss, violated contracts and reputation impact. 
10. Download Your RFP Template and Vendor Scorecard
If you've read up until this point, you've probably noted the critical questions and capabilities your RFP document should ask. However, because designing an RFP is both a delicate and difficult process, we've created a downloadable RFP tool for you. 
Use this RFP template as a starting point to easily compare the basic functionalities of personalization engines. With it, you'll handily identify competitive differentiators between them, as well as enhanced functionality that can help your business stand out.
The spreadsheet contains a list of 200 questions (tab 1) to ask relevant enterprise-class vendors as part of your company's selection process. Of course, feel free to add, edit, or remove any queries to customize the template to your specific ecommerce project.
Vendors can specify whether they satisfy a specific requirement in the "Supported by vendor?" column and provide further information in the "Comments" column. Once vendors have shared their answers, you can simply paste them in their "Vendor Scorecard." 
The spreadsheet automatically assigns scores based on the options selected by the vendor. The last tab is a "Score Sheet" to easily compare weighted scores, strengths, and weaknesses to identify the vendor and solution that best suit your ecommerce project. As before, change the weights assigned to different capabilities as required by your project.
Download your free copy today
Ecommerce Personalization Engine Vendor RFP Template