Last week I joined my colleague Ciro Greco, Director of AI, and our friends at DigitalCommerce360 to give a webinar to ponder the question "why is personalization so hard to get right?" We also presented a new approach to B2C personalization and customer experience in a world of rising customer expectations. You can watch the full webinar here, but in the meantime, here's a summary on what we covered during our presentation.
Already an AI expert? Dig deeper:
Clothes in Space: Real-time personalization in less than 100 lines of code
Why Personalization is a Challenge
I often remind my peers in marketing and tech that personalization, as a concept, is nothing new. It's certainly been around since the beginnings of commerce. And more recently with techniques and tools such as segmentation and predictive analytics. But it's always been a challenge to get right. I'm not talking about a Sherlock Holmes-like ability to determine every little detail about you and what you're trying to do by just looking at your hoodie for a few seconds. Yet targeting every website visitor directly with their wants, needs and desires across every touchpoint that a brand has with them continues to be an imperative.
During our webinar we asked our attendees what they felt the top challenge with personalization is today. Here's how they graciously responded:
Customer data (34%)

Lack of ROI (21%)

Product data (11%)

Privacy concerns (5%)

Other (29%)
This confirms research that has been done as well as anecdotes I have heard directly from marketers that making sense of and figuring out how to activate the customer data they have is a major challenge for them, in particular those with B2C/D2C commerce operations. 
Connecting those personalized experiences to revenue or other business objectives is another on-going challenge. Gartner reports that despite investing close to 15% of their marketing budget on personalization, nearly ⅔ of marketing leaders are seeing an ambiguous or no return on them. Even more worrying, more than 6 in 10 survey respondents reported that personalization is a standard of service – yet only 3 percent of brands are able to deliver full omnichannel personalization. We have some catching up to do, don't we?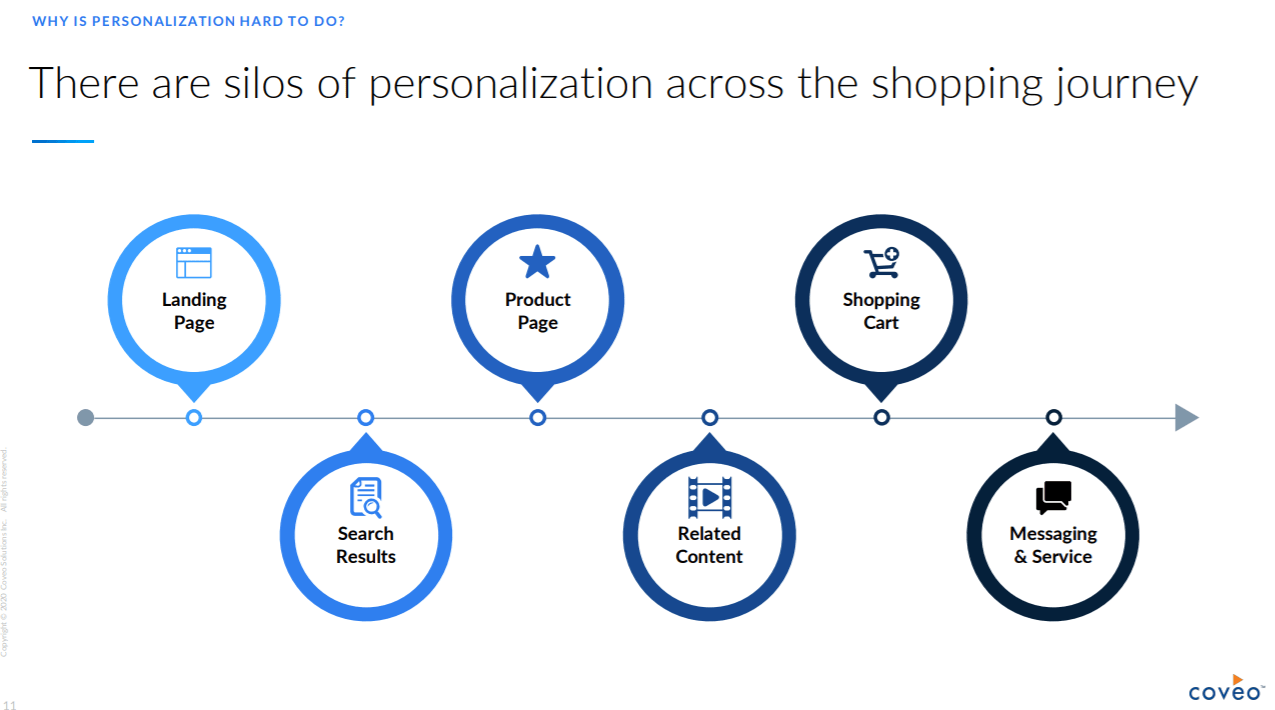 Another aspect that makes this so challenging is that, to your customers, each of the touchpoints they have with your brand should be a singular experience. To consumers, your product is or includes your website, your online store, your online help, your customer service team, and beyond. Failing to carry data signals and experiences intelligently from one silo to the next is disappointing for your customers – but we know is complicated for most businesses to achieve.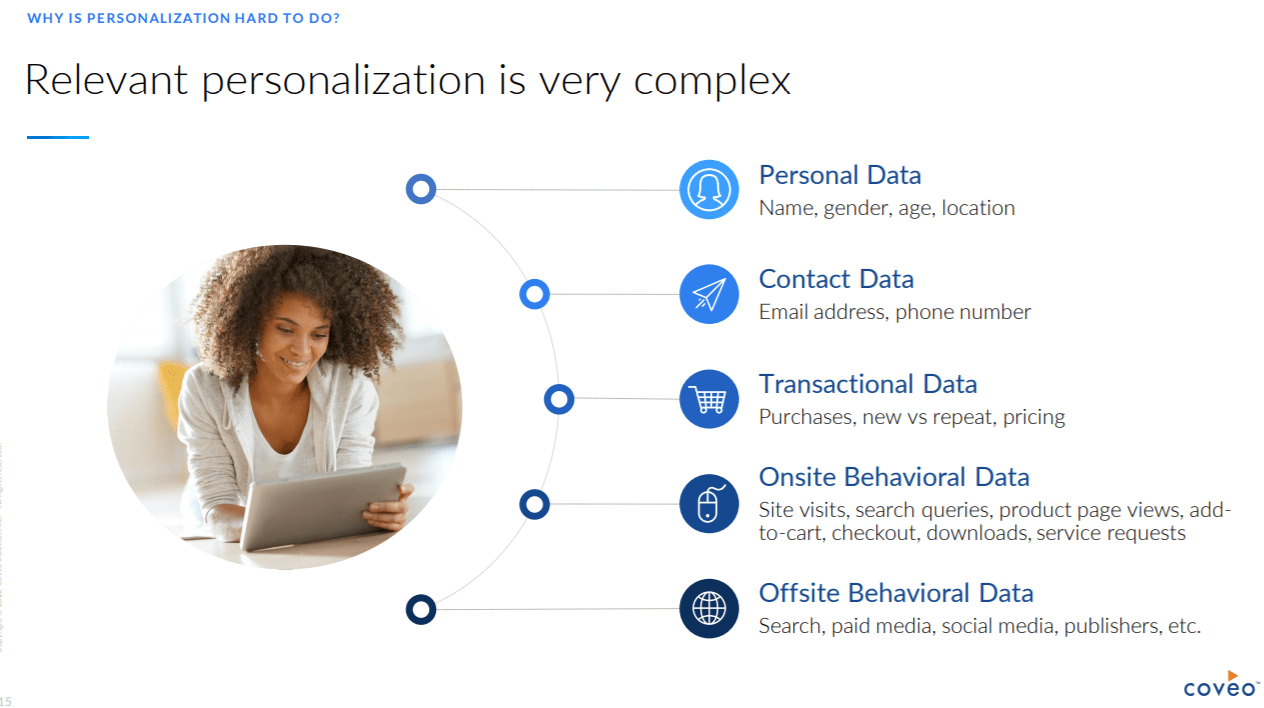 But is anyone doing this well? Digital leaders that have mastered personalization are running on massive amounts of data from regular, recurring users, and using it to their business benefit with their own technology. But the number of retailers and brands that have access to data like this, and have the resources to act on it, is very small. The user data that most businesses can collect is fragmented and incomplete. For example, most of the website visitors don't log in as they do on sites like Amazon, and may not make purchases with the same brand all that often. 
So what can these organizations do? There is a way…
Tune in to our podcast, The Ecom Edge!
A New Approach for Personalization
As part of the webinar Ciro postulated that it's still possible to address customer needs in a reactive and real-time way. By using the data you do have, personalization can be possible and frictionless.
For example, while searching for running shoes, it may be hard to understand based on one search query what the shopper really wants. However, the sequence of products viewed in this search provides important insights.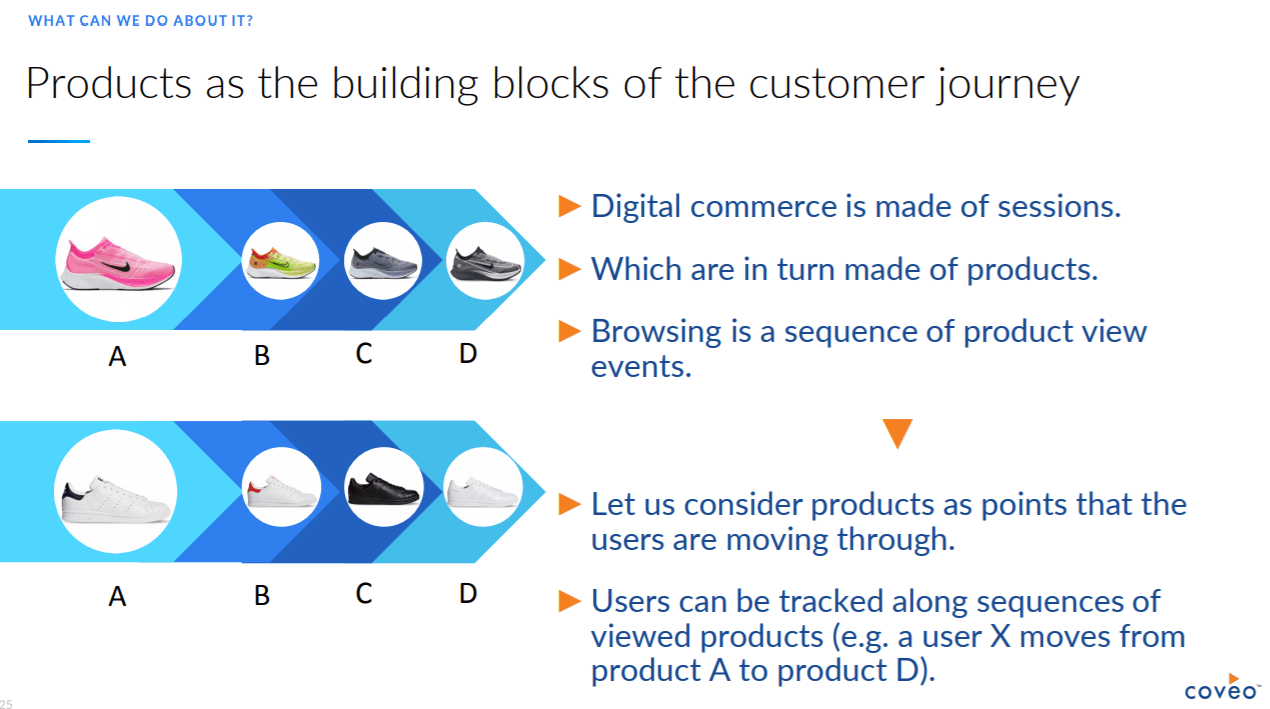 Think of the customer journey as a path made of different steps of customer behavior, and the steps are the different products viewed. Now, every retailer has access to more data, even with just cookie tracking of your target audience. 
If you start thinking of product data as a "space" of user interactions with products, two products that are similar will be closer in the space.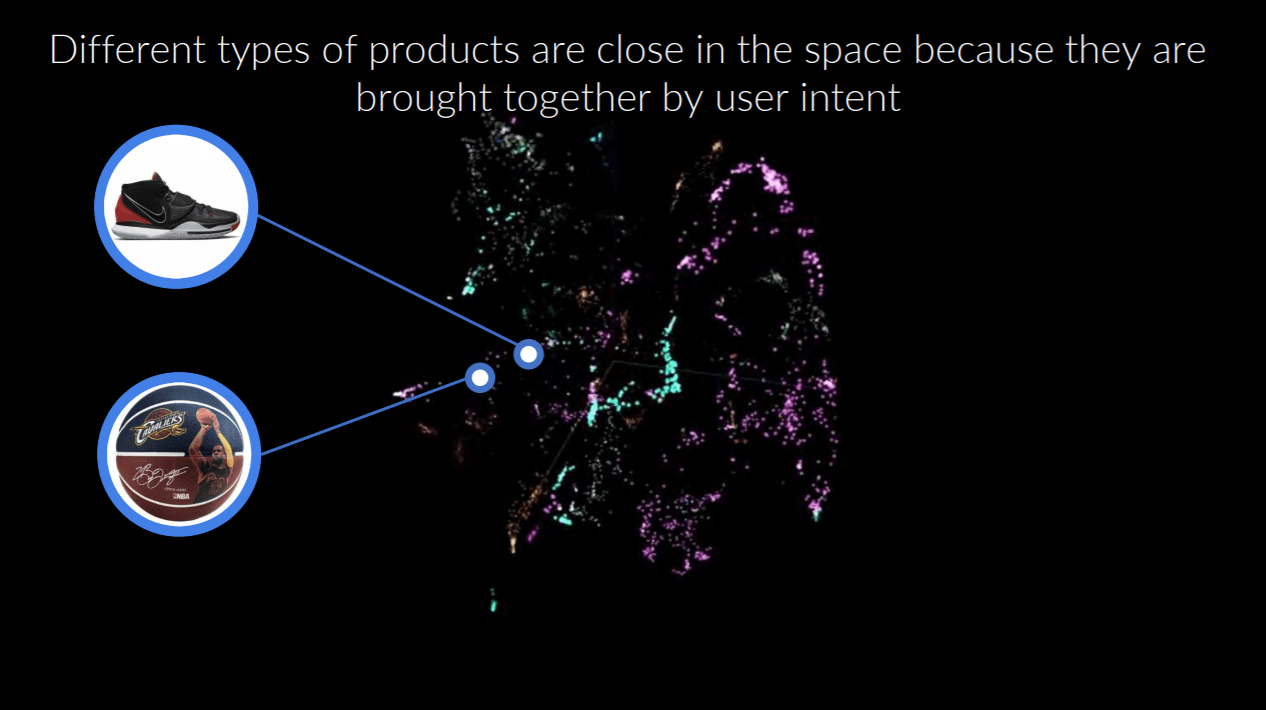 The intention of the users around the running shoes are different from the intentions of users with the casual sneaker. And these intentions may not be represented in the catalog. A basketball and a pair of basketball shoes are more related by user intent in this "space." As users browse more through the "space" while viewing products, the user intent can be deciphered and the road to conversion or discovery of additional products can be paved with less data than might otherwise be needed.
Are you ready to dig into the geeky details?
Clothes in Space: Real-time personalization in less than 100 lines of code
Considerations for Revolutionizing Your Approach to Personalization
#1 Ask questions about data early. Don't wait until later in your decision-making process. The foundation of any personalization house is data, and you may already have what you need. Here are the three questions to ask:
What data do I have now? 

What data can I get?

Where can this data be applied and activated?
#2 Consider the context of your personalized experiences. Look at the user journey and your objectives. Don't be too blind to the needs of either while building your experiences. AI and machine learning can help to build these experiences by automatically applying insights to create the right product recommendations for your customer and your business. While not able to replace that helpful in-store rep that can answer every question (the holy grail of personalized experiences), it can mimic it. 
Lastly, we asked webinar attendees how they think AI will help their business. They responded:
Automate and scale manual tasks (37%)

Optimize complex business problems (34%)

Help me make sense of data (29%)

I can't spell AI (0%)
AI is best able to automate and scale tasks that have been traditionally done manually – like defining buyer persona segments and rules for personalization – but the optimization of complex business problems is where the opportunity lies. We were glad to see you agree. And that you do know how to sell "AI."
The moral of the story: With the proper tech capabilities and strategy to match, achieving meaningful personalization isn't nearly as difficult as you might believe.
Dig Deeper
If you want to learn more about the technical details behind out AI team's approach to personalization, check out Clothes in Space: Real-time personalization in less than 100 lines of code.
And if technical details aren't your thing, we have plenty of other information about personalized Ecommerce experiences prepared just for you.