Employees are returning to physical offices after more than a year of Zoom meetings and the nine-to-five grind stretching into more of an all-day-and-night grind. This return is prompting both companies and employees to re-evaluate what post-pandemic work should look like. For companies, one of the main concerns is providing a work experience that keeps employees engaged and, well, in the job.
Prior to the Covid-19 pandemic, millennials were notorious for their fickle attachment to their workplace. A recent Gallup survey found that "60% of millennials say they are open to a different job opportunity—15 percentage points higher than the percentage of non-millennial workers who say the same." That same survey also found that, when it comes to millennial employee engagement "only about three in 10 are emotionally and behaviorally connected to their job and company."
Pandemic fatigue has led to significant levels of burnout as work-life balance fell apart while working from home. That increased stress level—the sense of constant anxiety and frustration with work—is only fueling employee disengagement. The issue, however, isn't a lack of millennial loyalty. According to Olga Khazan, writing in The Atlantic, "burnout is a problem created by the workplace, and changes to the workplace are the best way to fix it."
So, as companies try to help workers not flame out—which is not only bad for the employees but costly for employers—the question becomes where can an organization create meaningful changes in the employee experience after the pandemic?
While many might initially gravitate towards developing a company culture like Google or Facebook, it may not be as easy trucking in nap pods and ping pong tables. Luckily, there are other ways to avert covid fatigue and build employee mental wellbeing.
Upgrading Remote Work Benefits Everyone
The remote work experience became more important than ever during the pandemic. Without the face-to-face interaction normally available in a physical office, digital became the only work experience for many workers. This increased stress levels and mental health issues skyrocketed throughout the year.
Deloitte defines the digital workplace as "all the technologies people use to get work done in today's workplace—both the ones in operation and the ones yet to be implemented. It ranges from your HR applications and core business applications to email, instant messaging, and enterprise social media tools and virtual meeting tools."
Addressing digital workplace fatigue—the common tools, information, and channels available to all employees—is the rising tide that raises all ships. Changes to company culture can provide a boost to morale and make employees more proficient—if they're engaged in the first place. And in the work-from-home world, office culture doesn't have the draw it once did. But helping all of your workers do their jobs better by addressing fatigue in the digital employee workplace is going to pay dividends in the short and long term.
A good digital workplace experience is shown to provide a return on investment in multiple ways:
It's easier to attract talent if they can work away from the office;
Employees are more productive when they're virtually connected;
Employees are more satisfied with their jobs;
Employee engagement and retention increase.
As more of the employee experience has become defined by the digital—including new channels like chatbots and video conferencing—the number of technologies and sources of information employees have to contend with have exploded. Employees have to learn and use multiple types of messaging apps (Slack, email, etc.), productivity apps, collaboration apps (wikis, Zoom fatigue), communication apps (portals, intranets, blogs), business applications (ERPs, CRMs, payroll), and more. That's a hugely increased mental load.
The result of this proliferation of information sources is that workers are being slowed down by the fragmented experience. In fact, in a recent survey we conducted, we found "workers surveyed spend an average of 2.5 hours a day searching for information, in part because 41% of the information provided to them is irrelevant to their job role."
No amount of free food in the break room or video game consoles can make employees forget that when they're trying to do their job, they're hampered by a poor digital workplace experience. Day after day of frustrating, irrelevant experiences are wearing on your employees, whether they're in the office or working from home. We found in that same survey that "when workers don't have the information they're looking for, employees feel less confident (47%) and engaged (42%) in their work. In the worst-case scenario, 16% of employees surveyed say not being able to find the information they need has them ready to quit their jobs."
Transforming the digital workplace experience starts with removing the barriers that hold your workers back from doing what they need to do.
Delivering a World-Class Digital Employee Experience
When Dell Technologies saw how unloved and underused their intranet, Inside Dell, was, they decided it was time to deliver a new vision for their digital workplace experience. When they relaunched Inside Dell, they aimed for it to be flexible, autonomous, and community-oriented to support their 165,000 worldwide employees. With Coveo, Inside Dell became the go-to place for everything employees needed to know—from how to file an expense report to finding someone in the directory. By providing a more relevant digital workplace experience, Dell Inside's ESAT scores jumped 23% in one quarter alone.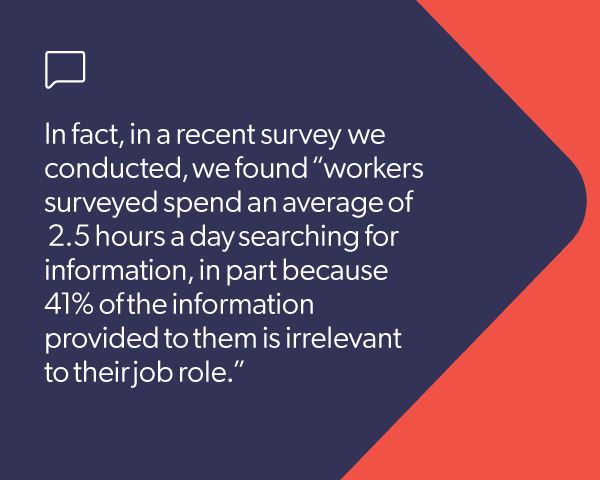 The story of Dell highlights many aspects of a world-class digital workplace experience. First, you need to unify everything-in this case, through an intranet. But an intranet is only as good as the ability for workers to surface relevant content through the search function. That's why having a relevance platform like Coveo acting as the unifying layer between all of the disparate systems is critical.
Allowing employees to self-serve lets them find answers on their own time, without waiting for others. Advances in artificial intelligence are ensuring that your employees are only getting the most relevant, personalized content and recommendations. And, when you enable employees to self-serve, you're reducing the number of inquiries that bog down HR, IT, and other teams, allowing them to focus on more challenging questions and tackling strategic initiatives.
With all of this employee activity and engagement happening in one place, you're also giving your help desk team the insights they need into the employee journey. The help desk can see where employees have tried to find answers already and, with AI-powered knowledge recommendations populated directly in their help desk console, quickly deliver the content the worker needs.
Unifying the Digital Workplace For Burnout Prevention
By focusing on providing a relevant digital workplace, companies can find measurable changes in the employee experience that, in the post-pandemic world, are important markers for monitoring employee burnout.
First, employees will be getting more time to work on what they need to do, instead of spending time looking for answers. With AI-powered search providing only the most relevant content based on the individual employee, they're not getting bogged down by content for other departments or systems.
Secondly, removing knowledge barriers makes it easier to stay engaged and reduces their stress level. With deep insights from usage analytics, it's easier than ever to see where the gaps are in the employee experience and to fine-tune the areas that are leading to frustration and, potentially, burnout.
When you roll these two things up, you have a powerful tool to help combat worker burnout. Not only are you helping employees work more efficiently—so they're not spending over a quarter of their day not doing their job while looking for information—but you're helping to bring the employee closer to the rest of the organization, no matter where they're working from.
Dig Deeper
Create a world-class digital workplace experience with the help of Coveo and see how you can create the best experience for all of your employees. Whether the future for your organization is working from home, heading back to the office, or somewhere in-between, a relevant and unified digital workplace will help support it all.