I am so excited to share that yet again, the strength of our platform and the value it provides to our customers has been recognized by another independent research firm. We were named a leader, receiving the highest score possible in The Forrester Wave™: Cognitive Search, Q3 2021.
Independent Research Firm Report
The Forrester Wave: Journey Orchestration Platforms, Q2 2020
This is our first time being part of this report category. Our vision for years has gone way beyond search and recommendations, in that we are focused on unifying customer and employee journeys using AI and data to inject relevance across all channels. This has been reflected by the innovation and successes we've had collaborating with our customers, some of which are the most forward-thinking brands in the world. They rely on us as the intelligence behind every one of their customers' digital journeys, in real time, and we're thrilled to be recognized in a report that, in our opinion, reflects that. 
We believe that this report is an acknowledgement that our platform enables companies to compete and win in today's experience economy powered by data and AI. It is not enough to be digital to be relevant amongst giants; tech-first leaders use data and AI to create personal and predictive experiences, and this is what people now expect. Over the past decade, Coveo has democratized the platform that allows every company to compete, enabling their commerce, websites, service and workforce experiences to deliver on these relevance expectations. "The [Coveo] platform is a good fit for firms looking to unify data to transform digital experiences, employee experiences and increase self-service and content relevancy,"  the report says. [1]
What Is Journey Orchestration?
"Journey orchestration vendors help firms use real-time data at the individual customer level to analyze current behavior (journey discovery) and predict and adjust future behavior in the moment (journey decisioning). These tools provide an integrated, actionable, and real-time view of the customer across marketing, product, and customer service journeys," the report says. [2]
This is critical for businesses today, and the need for digital transformation has been accelerated  by the COVID-19 crisis. People want product recommendations like Amazon, intuitive search experiences like Google, content delivery like Netflix, ease of use of apps like Uber and Lyft, and the list goes on. In a survey of 3,000 online shoppers, more than 6 in 10 reported that personalization is a "standard of service" and a separate survey found that 57 percent of customers said they would switch brands for a better online experience.
A Leader in Cognitive Search Comes to Journey Orchestration
In recognizing us as a a leader in their The Forrester WaveTM: Cognitive Search, Coveo received the highest score in the Current Offering category. Coveo also scored among the highest scores in the Data criterion, and received the highest scores possible in the Development, Operations, Performance, Enablement and Market Awareness criteria.  
From the beginning with keyword-based search to cloud to AI, our company and customers have consistently evolved ahead of the market needs for digital experiences. 
And it is because of those very roots in enterprise search that we are the only vendor to truly deliver on the promise of journey orchestration. While other platforms have roots in data analytics and marketing automation, the Coveo Experience Intelligence Platform's history of search enables our platform to truly deliver intelligent experiences.
Our Experience Intelligence platform is able to understand the micro-signals of intent and context in each moment of interaction, across systems of engagement. The strengths that we brought to AI-powered search – understanding the meaning behind every query with machine learning, connecting content across the journey with a single index, and more – set us apart from other vendors.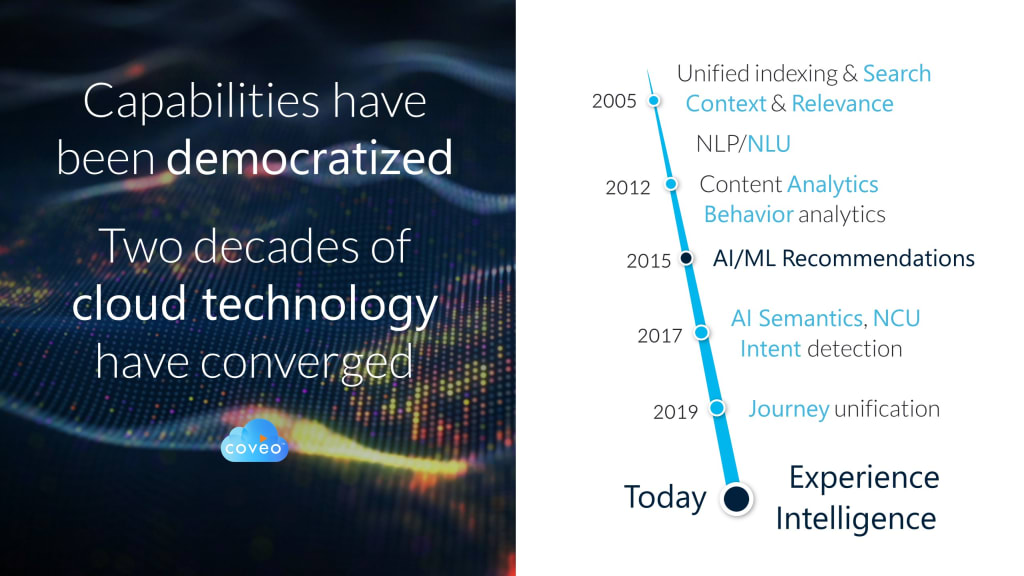 What Sets the Coveo Experience Intelligence Platform Apart
The next Fortune 500 will be dominated by the companies that are shifting their approach by investing now in delivering intelligent experiences. 
The pre-defined linear journey, peppered with personalized marketing messages, will not prepare organizations to win in today's experience economy. Customers define their own journey now.
Enterprises need to offer an experience that goes beyond digital using a new category of technology that I've named "Experience Intelligence," or the ability to rapidly and securely stitch together data and content and apply AI to create relevant, unified and valuable experiences. Consumers expect every digital experience to be relevant to them every step of the way, unified across every channel of engagement – and those experiences need to bring value to both consumers and suppliers. That is what tech-first leaders like Netflix, Amazon, Wayfair, Airbnb, Spotify and others have built and how they have elevated people's expectations and the new competitive normal. That technology is now available on-tap for every other company who wants to participate. 
Using machine learning, enterprises can understand user context and intent to recommend the knowledge content or product that the user needs to make every interaction frictionless and seamless. The key is stitching together data and using AI on the sum total of interactions data. Organizations can quickly see real value from their AI investments, and how it creates a strategic opportunity to leverage all their data silos.
Our Customers Are Experience Intelligence Leaders
We're seeing amazing results from our customers' investments in creating intelligent experiences across commerce, service and the workplace.
It's clearer than ever before that we are now in a new phase of the economy, moving from digital to experience, driven by the unlimited possibilities of data and AI – and won by the companies that understand that fundamental shift. 
Ready to get started? Request a demo of our platform today.
Independent Research Firm Report
The Forrester Wave: Journey Orchestration Platforms, Q2 2020
[1] The Forrester Wave™: Journey Orchestration Platforms, Q2 2020, Forrester Research Inc., June 15, 2020.
[2] The Forrester Wave™: Journey Orchestration Platforms, Q2 2020, Forrester Research Inc., June 15, 2020.