If you're looking for a philosophical, view-from-thirty-thousand-feet take on enterprise digital transformation, this isn't it. Nor does this post have anything to do with artificial intelligence(AI) or Salesforce Einstein AI for that matter.
Instead, my task is to show you how solutions use machine learning models to aid digital transformation – specifically for enterprises running Salesforce CRM.
Give Your Enterprise a Backbone Built on Search Intelligence
We're all familiar with the ubiquity of Salesforce. For more than 150,000 companies, Salesforce is a beating heart of sorts—a widely used tool through which all kinds of data flows in and out. What's missing for no small portion of these companies, however, is a backbone to support that heartbeat.
What I mean by backbone is a smart system that connects all those disparate sources of data together. Your enterprise resource planning (ERP) solution, knowledge base, website, and customer community—these are all sources of data and content. 
Some organizations even bring in conversational content from sources like Slack.
The first step toward bringing your enterprise content and, by extension, your enterprise itself into Salesforce is to connect and harmonize data from all of these disparate sources.
How Intelligent Search Works and the Experiences it Enables
You can achieve this kind of data integration and unification with an enterprise intelligent search solution. These solutions, Coveo for Salesforce among them, apply machine learning algorithms to capture and activate data from a variety of sources (including Salesforce data) to enhance search experiences within different Salesforce interfaces.
This creates a unified, intelligent search experience for people using:
This creates a unified, intelligent search experience for people using: 
Service Cloud
Sales Cloud
Experience Cloud
Commerce Cloud
What this results in is – endless opportunities for accurate content discovery and a connected workplace. At a high level, enterprises can use intelligent search to provide democratized access to a complete and comprehensive picture of available knowledge, user behavior, etc. These capabilities can evoke new insights that can help improve customer experience and take business to the next level.
Empower Agents Beyond "Customer Last Viewed" and KB Search
In practice, intelligent search improves a variety of on-the-ground experiences. It can bring more contextually relevant info to an agent's screen, for one. In this scenario, AI automatically considers not just case data, but past interactions with other business units, things that worked before for similar customer profiles, and more – using predictive analytics to decide which content to display.
Intelligent search can support the kind of collaboration needed to introduce an Intelligent Swarming℠* framework, as well. One example is the increasing number of companies opting to index chat messages from other support and sales agents. No need to step away and tap the Tier 1 on the shoulder when you can see their chats about a similar issue right there in your search results. 
Build Harmonious B2B Ecommerce Experiences
Within the context of ecommerce, we've seen enterprises apply intelligent search to large catalogs (with tens of millions of SKUs and variants) to account for complex customer entitlements running into hundreds of thousands of buying groups. 
Again, it all starts with the ability to harmonize and standardize data from a variety of sources, something an enterprise intelligence search platform is particularly well suited to do.
How Coveo for Salesforce Does it In Practice
Much of this capability depends on really good search experiences and on-point recommendations "in the moment of need." Coveo for Salesforce delivers on both prerequisites across orgs in two simple steps: 
Index many different enterprise content sources
Apply AI to extend that content into Salesforce channels via intelligent search experiences
Of course, this isn't a linear process. It's happening constantly across channels, continuously adapting and improving as new content sources are added or updated. The following graphic captures the framework well: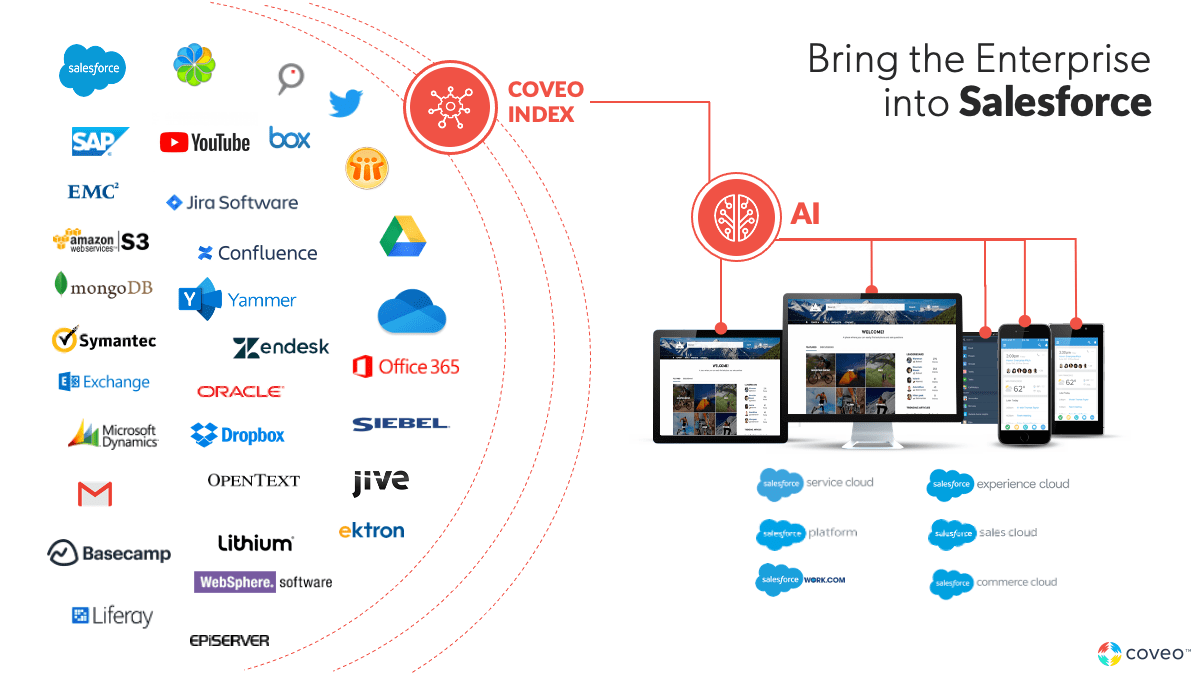 When enterprises integrate AI-powered search and content recommendations into Salesforce Service, Sales, Community, and B2B Commerce Cloud in this fashion, they essentially turn Salesforce into a single window into all enterprise content—and for all users. 
As to the nuts and bolts, that framework includes:
A cloud-based, self-learning, unified search experience for salespeople, support agents, merchandisers—anyone
50+ secure connections to several enterprise systems, including email, fileshare, revenue management—the list goes on
A richer, customizable search UI backed by Coveo Search Usage Analytics
SOC, HIPAA cloud, and ISO compliance
AI and machine learning capabilities complementary to Einstein
Use Case 1: Service & Experience Cloud
A global technology firm recently used Coveo for Salesforce to plug content from multiple Salesforce organizations, websites, and even YouTube channels into both its Experience Cloud and Service Cloud experiences. Thanks to a series of smart algorithms and connectors, the firm saw a 5x improvement in self-service success in their Salesforce Lightning Community . When surveyed by customer service agents, more than 80% of customers were satisfied with the ability of the new search experience to make useful content recommendations.
Use Case 2: B2B Commerce Cloud
Reliable search is an essential part of B2B ecommerce experiences. One ecommerce implementation consultancy relies on Coveo for Salesforce to bring new levels of complexity to search, recommendations, and personalization to its clients' B2B ecommerce experiences.
AI-powered recommendations allow merchandisers to focus on more strategic activities versus time-intensive data maintenance, which has proven to have a significant effect on revenue generation. 
For one of those clients, customers are seeing double-digit increases in cross-sells and upsells, not to mention the impact that predictive merchandising has on generating revenue from any potential customer.
Could Your Salesforce Platform Use a Lift?
First, the bad news: not enough enterprises are making full use of all of the company knowledge and data already at their disposal. The good news is that more enterprises are catching on to the tremendous business case for weaving intelligent search throughout their Salesforce channels and orgs.
What they're finding is that connecting disparate sources of information together at the enterprise scale is a job for intelligent search powered by AI. You might call it giving your all-important Salesforce deployment some backbone. You might call it a serious competitive advantage.
Either way, bringing your enterprise content into Salesforce the intelligent way can provide some serious bottom-line lift.
Dig Deeper
Wondering what else you can do to enhance your agents' experience inside Salesforce? Check out our tips and insights in our ebook, Create an AI-Powered Agent Experience inside Salesforce.
*Intelligent Swarming℠ is a service mark of the Consortium for Service Innovation™.