Immersive customer experiences directly impact businesses' bottom line by making personalization a two-way process. The key? Doing so efficiently.
Traditionally, a personalized shopping experience meant showing users content that was similar to what they were looking at. You know the drill: you look for a drill — and all you see are drills.

Assuming you are not a collector of such items, you would probably want recommendations that are more relevant to your needs. With artificial intelligence (AI) businesses can recommend products that are personalized to an individual's customer journey.
This approach can increase profits and limit losses, said Louis Têtu, CEO, Coveo, during a recent Relevance 360 session. Further, those that do adopt AI- and data-driven technology will have a competitive edge over those that do not. "We believe that AI will be a tsunami," Têtu predicted, "perhaps even bigger — or at least as profound as the internet transformation."
Of course, the concern for most companies wishing to adopt AI has been cost. Têtu points out that Amazon, for instance — which has defined customer expectations with its adoption of AI & other new technologies — still has concerns about profitability. As it sells items near cost, it's P&L has been subsidized by $35 billion in advertising.
Why Is It Important For Brands to Deliver An  Immersive Customer Experience?
Whether you're competing against retail behemoths or trying to help your employees find the information they need, the ability to deliver very coherent customer journeys — which move beyond personalization to memorable experiences that are also prescriptive and can anticipate user needs — is paramount to success.
"Personalized data and AI are shaping the digital experience economy," Têtu said. Since 70% of consumers expect personalization, "we think that every business wants to compete in the experience economy."
How Can Brands Deliver An Immersive Customer Experience?
To do that they need to do two things: serve all of their audiences in the way that these audiences expect (and oftentimes that means as an audience of one) and keep an eye on the costs of creating those experiences because "personalization alone, at all costs, is not a winning strategy."
Têtu framed this in the context of a customer service journey. Growing a consumer base means a corresponding growth in customer support needs and the costs to provide them. Building profitable customer relationships requires keeping the support cost curve as flat as possible — while growing revenue,  customer satisfaction, and ultimately brand loyalty.
AI enables the ability to answer the individual needs of a large number of customers concurrently through digital channels, where customers can self-serve. Digital transformation is an important prerequisite to scalability.
"Self-service is where you can truly deliver prescriptive answers that help customers solve issues," Têtu said. "The beauty of self-service is that I can reach a lot of people at scale at a very low cost." Data shows that self-service drives up customer satisfaction and brand loyalty. Most people also prefer self-service.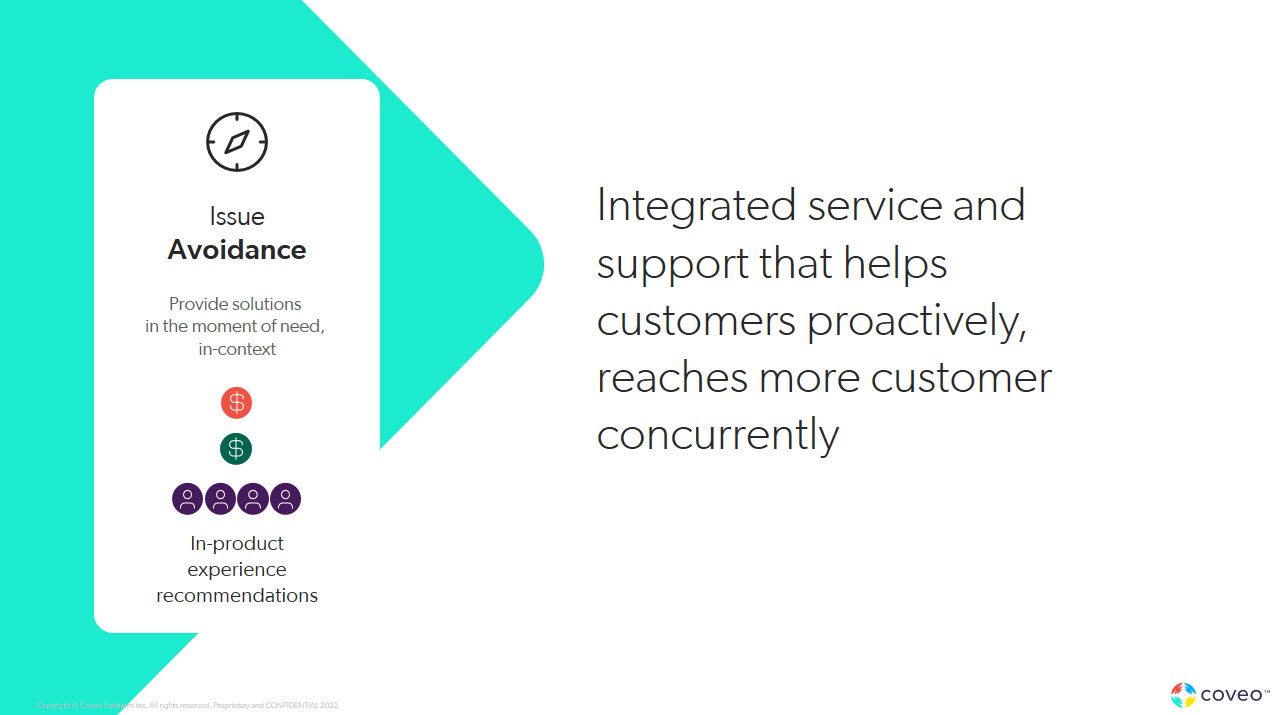 The linchpin is answering a customer's specific question before it becomes a costly case submission and reaches an agent. AI can identify the issue and solutions /ai-customer-service/case-assist" target="_blank">proactively solutions /ai-customer-service/case-assist" target="_blank">suggest solutions either before or during the case submission process, resulting in case deflection.
If the customer can't answer their question through self-service, AI can make the agent more proficient by giving the agent customer -support-needs-insight-panels/" target="_blank">specific customer information so that the agent can access the related article immediately.
Field service benefits in the same way — putting the right information at an agent's fingertips so that they can address issues correctly and efficiently. Doing so also provides opportunities for agents to upsell within service sessions by giving them the information they need to offer the right product to each individual customer.AI provides solutions at the moment of need, whether through chatbots , agents, or in-app . It also helps anticipate issues and predict potential problems before they happen.
Is the "experience economy" a valid concept, and where is it headed?
Tune in to our podcast, The Ecom Edge!
How Zoom Elevates Customer Experience With Coveo
Jeff Harling, head of digital support at Zoom Video Communications, echoed Têtu's thoughts on the role of AI in customer service.
Harling has been in customer experience for almost 20 years and joined Zoom in late 2020. He came aboard to help Zoom create a better customer service experience, something that hadn't been a focus before the pandemic put it front and center.
"Imagine a support organization that's used to dealing with a certain level of interaction from their users and that number of interactions going up 100 times," Harling said. "We're with our customers in every aspect of their lives," including births, weddings, graduations, and everything in between.
Suddenly, those customers were looking for responsiveness from Zoom "that is second to none," Harling said. They wanted a low-effort, simplistic, straightforward way to talk with loved ones, collaborate with colleagues, teach, learn, and interact in everyday life.
"If the user experience is the body, and the content is the blood through the bloodstream, then a platform like Coveo is the central nervous system for us,"

Jeff Harling, head of digital support at Zoom Video Communications
That, they received, and now, with Coveo's help, they're also getting a great customer experience.
Harling built "an amazing experience" for people to visit that is mobile device and tablet friendly, and built around robust content. It's topped off with Coveo's intelligent search across the entire experience.
"If the user experience is the body, and the content is the blood through the bloodstream, then a platform like Coveo is the central nervous system for us," Harling said. They're using AI to expand the chat box and become search centric. "We were not search-centric before," Harling said. "With Coveo's help, that's much, much easier. Content is much easier to find."
Looking ahead, Harling said the next stage is making the experience so personalized that it wraps around the customer. "How do we take all the detailed information we have and use it to make memorable experiences that anticipates who they are, what audience segments they're part of, what geographic locations they're from, and build a predictive model around them?" he said.
His advice to anyone starting a new customer service project is to figure out where they want to be and how to get there before starting the project. "You need to understand what direction you're heading, and understand your customer base, the users that you're supporting, your partners, etc. and plan for the end state."
Harling's taking his own advice. "Customer service is an opportunity to bring customers into a space, understand the challenges that they're going through, and be able to define or infer opportunities from that and convert them." He wants to innovate in such a way that customers enjoy their service experiences and almost look forward to it.
Data Helps Businesses Choose How to Serve Customers
Personalization is at the epicenter of this kind of experience conversation, and businesses can benefit, too — not just by increasing sales, but by deciding how they want to serve customers.
Consider the current state of retail personalization, which is "a war for efficiency,'" Têtu said.
Ecommerce profit is on razor thin margins.
It's easier than ever to buy on price alone, so prices have to be low for comparison shopping.
Boost and bury merchandising rules don't scale because they're manual, and manual cannot compete with Amazon.
Recommendation tools promote highest clicked items, which tend to be those with the deepest discounts.
Returns erode margins even further, with a 10.6% industry average and paying shipping both ways.
Personalization tools don't account for margins — the best personalized offers may be your worst.
Personalization isn't just about the customer; it's also about your business. Understanding customer behavior can change how retailers present content to shoppers.
For example, knowing that a shopper often returns items can change what you choose to show that customer. Or, if a customer likes to buy online and pickup in store, you may benefit from promoting overstocked items. But you surely don't want to show them out-of-stock items first. Some customers may be lured by deep discounts, while others may be more attracted by exclusive invitations.
And it's all built on parsing and understanding data.
How Can Brands Benefit From Providing Immersive Customer Experiences?
A new layer of software called a system of intelligence can help you better parse and understand data, Têtu explained. These systems sit between your systems of record and systems of engagement. They agilely consolidate data from the record layer and signals from the customer engagement layer. Then they return the right set of decisions that drive personalization to the engagement layer.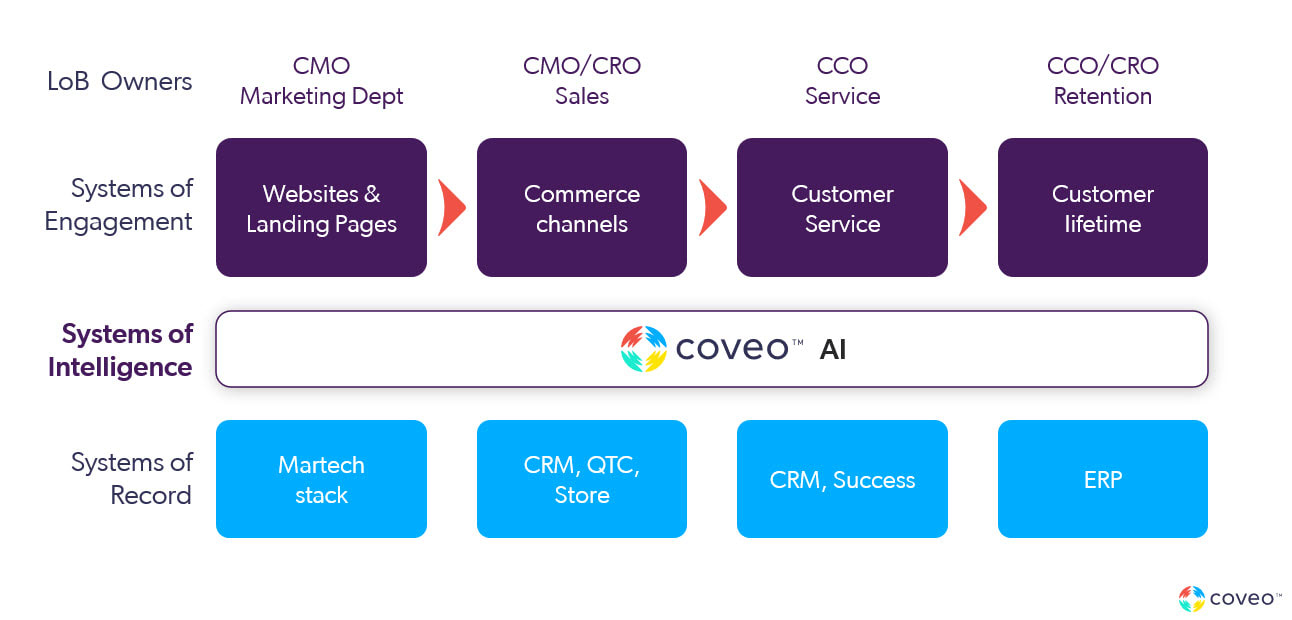 The result is a personalization platform that understands the entire customer lifecycle at a price that improves P&L and results in:
Higher shopping conversion. 
Lift in ticket – AOV lift with upsells typically 10%. 
AI-driven merchandizing scales across the entire catalog. 
Multiple AI-driven personalization techniques including profile, behavior, product vector, to solve for low data. 
Margins factors into models, recommend the products you make money on. 
Lower returns – lower ranking of high return items, better customer self-service for usage education.
A personalization platform like Coveo with off-the-shelf AI, helps businesses give customers what they want by delivering 1:1 experiences that drive value in terms of visitor satisfaction while promoting self-services and proficiency. It provides the immersive digital experience you want and also considers metrics, costs, revenue, efficiency and long term customer value.
Get the full presentation, on demand.
Listen to the conversation
Webinar: Building Profitable Customer Relationships Through Relevance
Dig Deeper
Marketers are spending nearly 15% of their budget on personalization — yet almost two-thirds report they have less-than-stellar results. Download your copy of the whitepaper today.
How can retailers use customer experience to compete with digital giants like Amazon? Tune in to Episode 3: Co-exist or compete with Amazon? of our podcast, The Ecom Edge!