Enabling intelligent self-service and support for every company on the Salesforce platform
Companies need AI to scale.
Netflix and Amazon have revolutionized the customer self-service experience by leveraging AI. As you're surely experiencing, your customers are now expecting the same caliber of service they've grown accustomed to with these great brands, and want a relevant and personalized experience from your brand as well.
Leading companies like Logitech, Adobe, and GoPro have been using AI-Powered Search from Coveo on top of the Salesforce platform to deliver those same personalized experiences, in order to boost self-service success and drive relevant experiences in their customer support interactions, in a scalable way.
The thing is, these customer expectations, and the need to deliver relevance, are not solely for big brands anymore. Companies of all sizes, industries and complexities benefit when they  empowering customers to do more on their own, with less effort. As companies grow, so does their customer base, and the need to scale support delivery so costs don't go through the roof. Luckily for you, the capabilities required to deliver on those expectations are now accessible to everyone.
Why AI Matters.
Artificial Intelligence is a term that is commonly used when discussing Usage Analytics and Machine Learning (ML). Before taking a deeper dive into how they're driving significant business results, let's get clear on what they are. In a recent Forbes article, Big Data Expert, Bernard Marr, offered simple definitions:
"Artificial Intelligence is the broader concept of machines being able to carry out tasks in a way that we would consider "smart".
Machine Learning is a current application of AI based around the idea that we should really just be able to give machines access to data and let them learn for themselves."
As you can imagine, the smarter machines get, the better they can serve your customers. The more your customers can do on the their own, the happier they'll be, and the least costly it will be for you to serve them. Companies are using the Salesforce platform and leveraging AI-powered search to better meet the growing needs and demands of their customers.
Why Machine Learning on top of Salesforce?
According to a Walker study, by the year 2020 customer experience will overtake price and product as the key brand differentiator, and the customer experience begins with search. Forget remaining competitive, your organization needs a strong customer community to stay alive – and now is the time to up your search game.
Search is how your users interact with your brand to find what they need. Contrary to popular belief, search has expanded well beyond the search box and with the power of AI, it is more intelligent and indispensable than ever before. Adding Machine Learning on top of the Salesforce search experience enables you to learn from all your customer search interactions, in order to make every self-service journey more relevant.
Demo
Coveo – AI-Powered Search for Salesforce
Your Salesforce Community, App or Service Console can benefit from AI-powered search in the following ways:
Rich User Interface (UI). Making the search experience swift and intuitive is critical in order to connect customers and employees with answers. That means offering facets and filters to find what they need faster, creating result thumbnails that allow customers to easily understand what the content is, and offering quick views so items are pre-viewable without having to leave the site.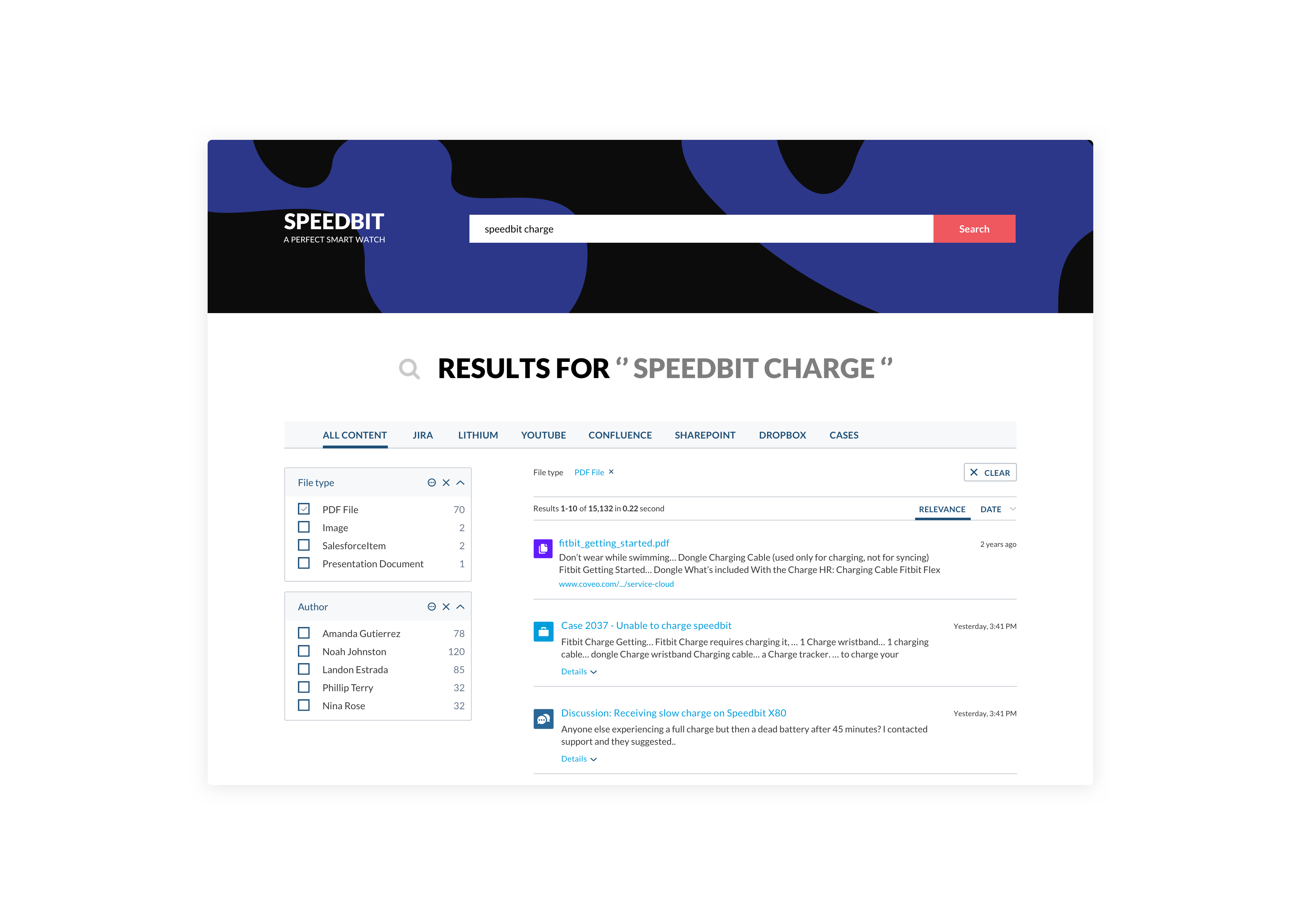 Machine Learning. In order to deliver relevant and personalized experiences, you need to learn from what is making users successful based on their profile and behaviour, and apply it to other users with similar paths. The only way to do this at scale, for each and every one of your users –  across all your content – is through machine learning.
Unified Search. Multiple disparate sources and systems are the unfortunate reality for most organizations. Self-service content may exist but it's impossible for your customers to find. AI-powered search enables you to unify your search experience from your support site and allows them to find the best, most relevant answer, wherever it resides. This goes beyond federated search by providing a single, unified self-service hub enables an effortless and intuitive experience.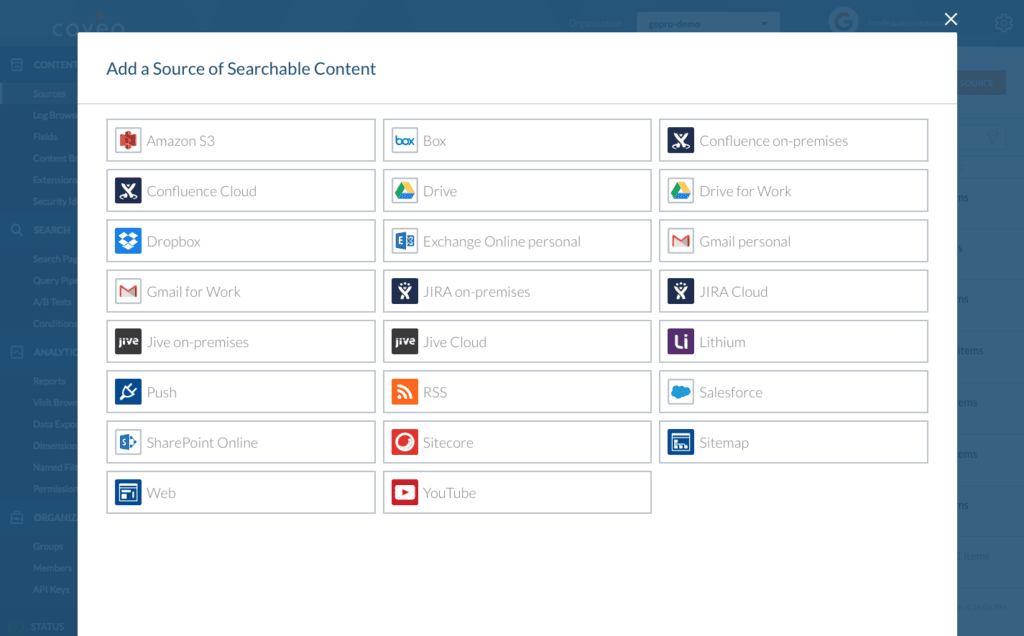 Search Usage Analytics. Your customers leave clues every time they search through their queries, behaviors and outcomes. Understanding what they are searching for and not finding are critical insights that will enable you to continuously improve your content based on what your customers really need. In-depth search usage analytics allow you to understand content gaps, self-service and case deflection success rates, and search success metrics like click through rates and click ranks.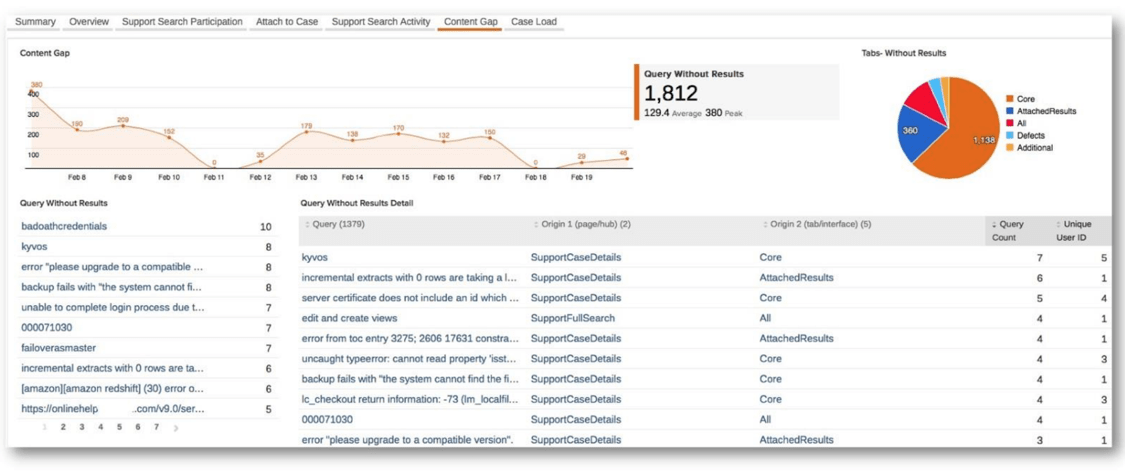 With a complete, newly released Family of Products, Coveo now enables every company running their customer service and community activities on the Salesforce platform to leverage AI-powered search in their Service Cloud support engineer console, Salesforce Community or custom App. Regardless of your business size, complexity, industry or budget, there's now an AI-powered search solution available to fit your needs. No budget? No problem, our Coveo for Salesforce Free Edition offers a rich user interface, machine learning capabilities and analytics at no cost.
Once you see the real-time benefits of AI-powered search, there's a good chance you'll want more. We've thought ahead and built the Coveo for Salesforce Family of Products on the same cloud-based platform with Coveo Machine Learning at its core. This allows all Free Editions to seamlessly move up to Pro and Enterprise Editions with no business disruptions or IT headaches.
Demo
Coveo – AI-Powered Search for Salesforce
Lowering your customers' effort and equipping your support leaders and community managers with data to excel at their job has never been easier. Now it's up to you to pick the Coveo for Salesforce edition that best suits your needs!