Businesses are changing the way they approach support with Intelligent Customer Service
There is a new, better way, for support organizations to provide the tools customers need to self-serve, while simultaneously transforming the efficiency of the enterprise service function. It's called Intelligent Customer Service.
There are two ways to improve the revenue of an organization: increase revenue or decrease costs. Intelligent Customer Service can help with both, which is why it is being adopted by leading companies like Salesforce, Logitech, and Adobe. Here are 6 ways Intelligent Customer Service helps deliver better self-service and support experiences, while being a more cost-effective solution:
Customers are empowered to do more on their own
Customers want access to information about your products and services independently and conveniently. By giving them swift access to the best available knowledge to answer their questions, you help them solve more issues on their own. Intelligent Search helps you deliver those successful self-service experiences by surfacing the most relevant content from across your company's knowledge ecosystem, and securely delivers it to your customers' fingertips based on their individual context. Furthermore, by adding usage analytics on top of your self-service tools, you can have complete line of sight into user behavior, helping you identify content gaps and understand where they struggle.
Fewer calls into the contact center
By helping customers resolve more issues through your support portal, you reduce the amount of calls being routed to your support engineers. The result for this shift is twofold: your customers are happier because they don't have to call you, and it takes the easy, repeatable calls out of your contact center. According to TSIA, phone and email support are each well over 100x more expensive per incident than web self-service, while chat costs over 30x more. Read more about that here. Below is an estimation model of the ROI of case deflection, based on an assumed cost of  100$ per case for assisted support and 4$ cost per self-service resolution.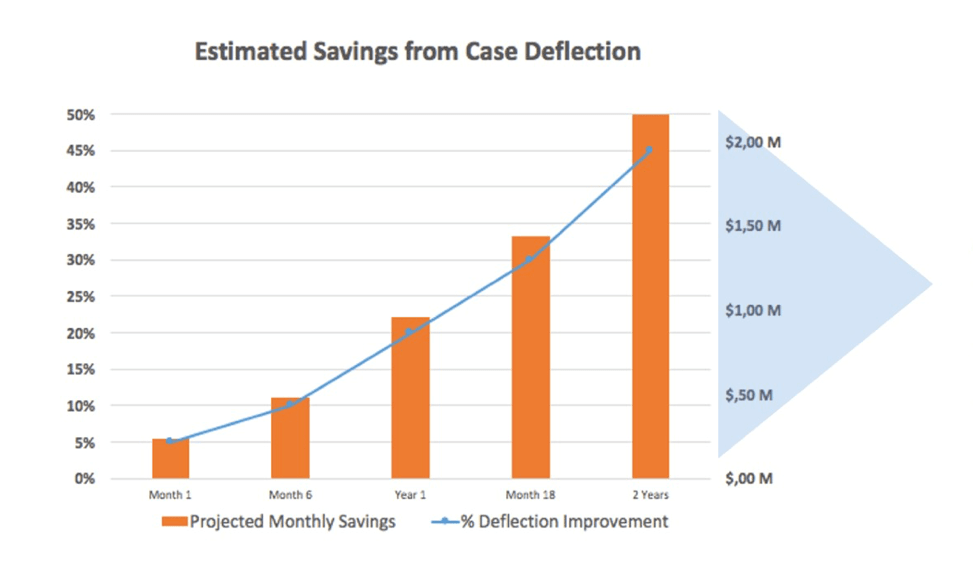 One of the ways intelligent self-service boosts case deflection is by continuously adapting and evolving through machine learning. Machine learning is an analytics-based service that tracks your users' search activity as well as your diverse content, and uses it to always recommend the best, most relevant answers and information. It continuously evolves in real-time based on the interactions of other users with the self-service site. To know more about Coveo's machine learning capabilities, click here.
Agents are more engaged, proficient and happy
Call center attrition is one of the top concerns of support leaders. With annual attrition rates averaging 35%, being able to ramp up new support engineers faster, and keep them longer, can have a major impact of your support organization. Intelligent Customer Service can help on these two fronts. First, it reduces the time to proficiency of your support engineers by proactively recommending case-resolving content and relevant experts based on the details of the case-at-hand right in the case console. With this accessibility, your support engineers can quickly understand if the incident they are working on is truly new and if any information exists in the knowledgebase or elsewhere in the company which could help solve the issue. This greatly reduces the time needed for newcomers to be able to find information, and even understand where to search for it. Secondly, by boosting self-service success on the support portal, you are taking the easy, repeatable calls out of the contact center, and leaving your agents with the more engaging ones that leaves them feeling useful and accomplished.
Increased operational scalability
By diminishing the amount of calls into the contact center and by empowering agents to be more proficient, intelligent customer service helps you scale operations without adding resources or increasing your support organization's budget. In a recent video case study, Brocade, a leading provider of networking solutions, shared how they increased operational scalability and boosted their case deflection rate to 40%, while lowering the total cost of ownership of their contact center solutions.
Delivers consistent omni-channel experiences
Letting engineers swiftly search all of the applications and databases where case-resolving content may reside: SharePoint, Jira, Confluence, Dropbox, Lithium, etc., and giving them a consolidated view of the customer, will allow them to deliver consistent experiences. For example, if a customer starts to self-serve on your support portal and then calls your contact center because the content they consulted did not solve their issue, it is a loss of time both for the agent and for the customer to point them to the same content.
Improved customer satisfaction
It is crucial to adhere to the preferences of your customers when it comes to customer service as great service is the cornerstone of customer loyalty. Your customers want to self-serve, as seen with an overwhelming majority of both B2C and B2B customers reporting their preference to web self-service compared to other support channels in TSIA's survey, State of Unassisted Support. Remember that when it comes to customer support, effort correlates to dissatisfaction.
Want to know more about empowering your team and your customers through Intelligent Customer Service? Download our ebook, the Guide to Mastering Intelligent Customer Service, to further explore the shift in today's customer expectations, the increasingly popular self-service approach and our best practices for implement an Intelligent Customer Service system.
complementary EBOOK
Guide to Mastering Intelligent Customer Service