Last week, our CEO Louis Tetu held a live webinar with Jim Roth, EVP, Customer Support at Salesforce, on how companies need to deal with the immediate impact of the COVID-19 crisis, and plan for the long-term future. 
You can watch the replay here – and find out how to use technology to adapt to these changes by watching our next webinar, "Meeting the Digital Demand with Data and AI," with Coveo CTO, President and Co-Founder Laurent Simoneau.
To begin, Louis laid out our current reality and how our world has changed in the last 14 days. More than 1.5 billion people have been ordered to stay home and a significant number are attempting to work and study from home. In-person stores are shuttered and contact centers on the front lines of customer support are now overwhelmed. Adapting to cope immediately requires a framework for prioritization. He shared the one that has guided the Coveo leadership team's decisions over the last few weeks: 
Protect our employees
Help & serve our clients
Help our partners prepare
Contribute socially
Protect our shareholders' assets
For the near future, people now need to do much more on their own, without being able to walk into a store, swivel a chair to a colleague or call up a contact center. Digital transformation will accelerate at a rate faster than ever before. "No organization wishes to be less digital right now," he explained. Everyone, every business needs to adapt faster to a virtualized world. 
"Online is now the ONLY channel." – @CoveoLouis #DigitalLeadership

— Coveo (@coveo) April 2, 2020
This major disruption will catalyze the obsolescence of non-digital business models, as well as accelerate the timeline for digital projects.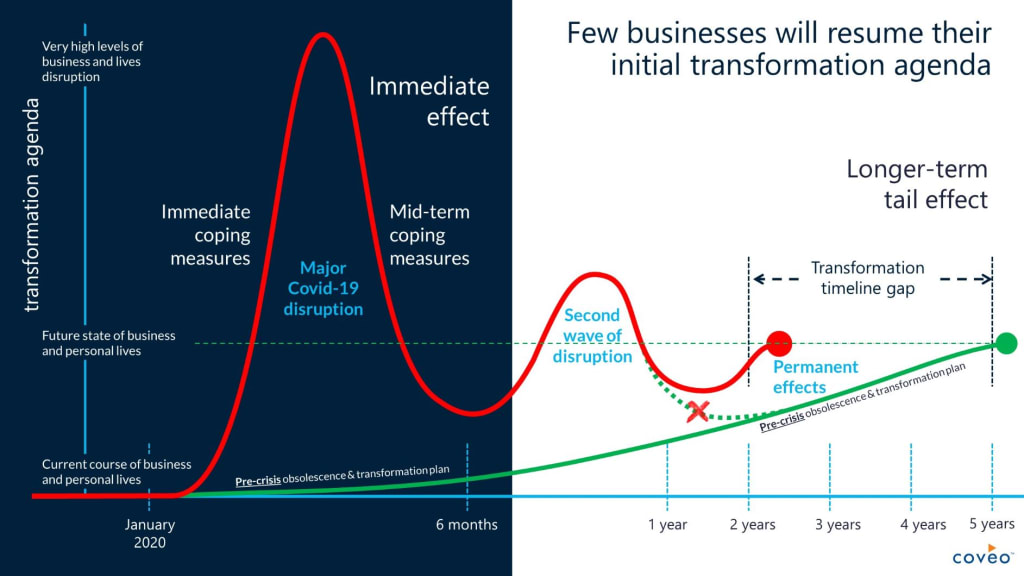 The next "new normal" will be defined by customers, employees and partners doing more on their own, and businesses using data and AI to help them succeed. Businesses will focus on delivering intelligent experiences that provide an effortless path to fulfill the buyer's intent, and maximize business profitability. The businesses that will succeed are those that deliver experiences that are:
Relevant

for people at moments that matter to them

Unified

across every channel of engagement

Valuable

for the business
With data and AI, it's possible – and now necessary to compete in the experience economy.
"Intelligent experiences are the new normal. The world will not go back." – @CoveoLouis #DigitalLeadership pic.twitter.com/1GbMoSWHWK

— Coveo (@coveo) April 2, 2020
Next, Louis interviewed Jim Roth, EVP of Customer Support at Salesforce, about how his organization responded to the crisis. "Our first step was to make sure our people were okay," he explained. "Then we moved into looking at business continuity and what that means during this crisis." He shared that their team moved more than 2,600 employees into remote work over 16 days.
"On March 7 of this year we had 216 members of our #customersupport organization working from home already. By March 23, we had 2800. So we ramped almost 2600 people in 16 days." – @jimroth from @salesforce #DigitalLeadership

— Coveo (@coveo) April 2, 2020
"There were some hurdles there but just huge kudos to the entire Salesforce team our IT team, our HR team and our support team to make that happen," Jim shared. "We're completely work from home, which we never could have contemplated a few months ago."
Jim shared that their team is typically hearing from three different groups of customers: first, the medical provider and healthcare organizations that are seeing stress on their systems and need to increase capacity immediately. The second group are the customers that have seen rapid increases in demand and need to adjust their business strategy, such a restaurant or grocery store suddenly grappling with how to handle curbside or delivery operations. The third group are those that have less urgent needs, but realize that flexibility to respond in these situations depends on digital technology.
"Flexibility and digital go hand-in hand," Jim explained. He also elaborated how this need for flexibility translates to the retail space as well. "While retail stores may not be open or you avoid them during popular times, an online store is open 24/7."
Jim and Louis also discussed how data being stuck in silos inhibits the ability of companies to really understand the journey that their customers are on. "The real value to unlocking data is to really understand what it means in the context of your customers – as individual people," Jim shared.
The trick is really to figure out how you connect your data silos and have one source of truth because that's when you can really move from persona to person, that's when you really deliver these truly personal experiences. – @jimroth #DigitalLeadership

— Coveo (@coveo) April 2, 2020
Getting to this ideal journey requires understanding what data exists and how AI can help. While Louis and Jim shared the importance of embracing the future and these technology, Coveo CTO, President and Co-Founder Laurent Simoneau built on their conversation with an explanation of how to use data and AI strategically to adjust to our digital future. Check out our next webinar, "Meeting the Digital Demand with Data and AI", to get his perspective on the role of data and AI. 
And for those of you that would prefer to read all about meeting the digital demand, find your way over to our next blog post.