Last week, Laurent Simoneau (Coveo CTO, President, and Co-founder) held the second live webinar in an ongoing series of sessions dedicated to bringing you cutting-edge thought leadership in these uncertain times. This session in particular was focused on how you can harness data and AI to cope with present business challenges and thrive in the future by meeting the digital demand that has arisen and will endure. 
Watch the replay to learn more. And to all the commerce-minded folks out there, be sure check out our next webinar, "The eCommerce Imperative: An Action Plan", where eCommerce experts share an outside-in perspective on how to adapt your commerce strategy and accelerate your eCommerce transformation with data and AI. 
Laurent kicked things off by telling a story with which we have all become very familiar. 1.5 billion people are currently under orders to stay home. As a result, the entire world's buying habits, service demands, and working patterns have been fundamentally shifted to digital, increasing the digital demand on your businesses – across all areas.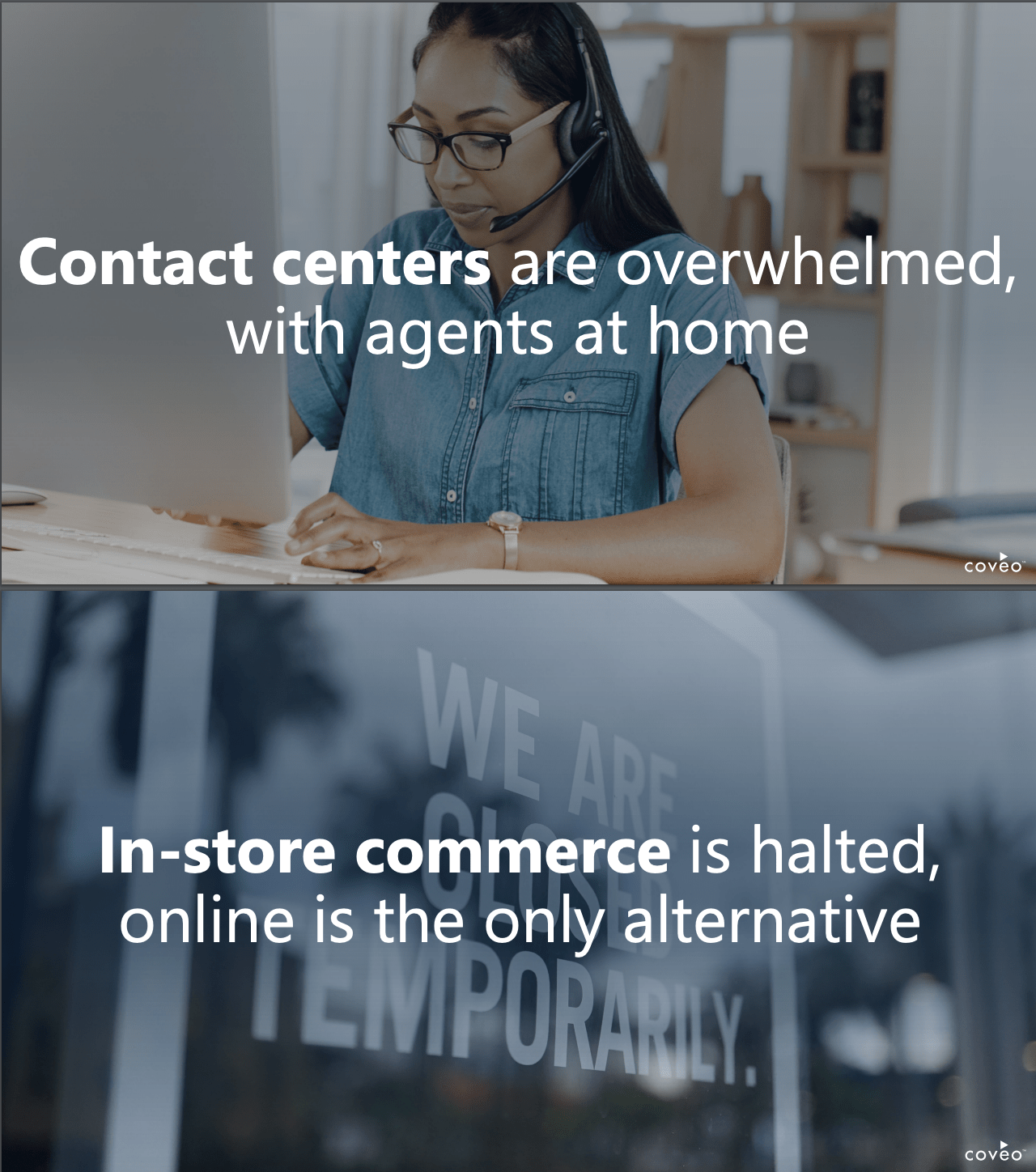 This new digital reality is immensely challenging – a sobering fact that has become abundantly clear to us all. But, what can you do about it?
Laurent took on this question by first acknowledging that the disruption stemming from this crisis has accelerated business model obsolescence, thereby accelerating the transformation agenda. You need to invest faster with the aim of transforming more rapidly in order to deal with the newfound challenges of today and tomorrow. And those investments must be made with specific goals in mind: 
Help customers with next-level self-service

Help agents serve customers better and faster 

Enable employees to be more proficient and efficient on their own 

Deliver personalized commerce experiences to your customers
In revealing the objectives that should be top of mind, Laurent then laid out actionable next steps you can take in order to achieve them. The future awaits you, so let's begin: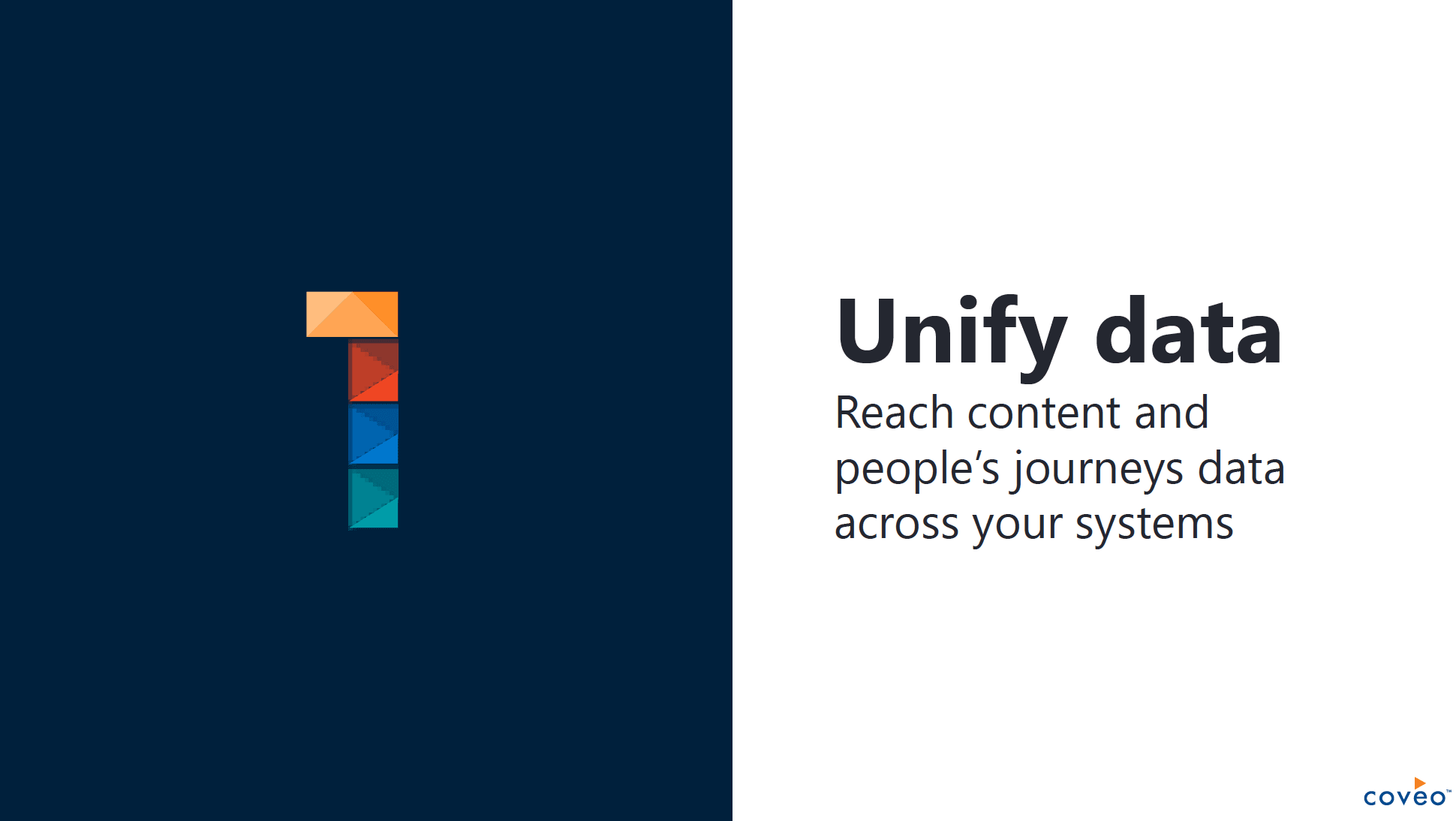 You serve your customers across a variety of touchpoints: website portals, customer self-service, commerce, mobile apps, contact centers and more. This means you have a wealth of behavioral data at your fingertips that can be used to make search and recommendations better. However, if it remains in silos, that wealth is being wasted. By unifying content and behavioral data from across the customer journey, such as clicks, queries, and page views, you can build a holistic customer profile and improve relevance as a result.  
The Coveo User Profile Service gathers all of this behavioral data and uses it to not only understand a single website user but also categorize that user and their session based on different dimensions. So if you have two different users typing exactly the same thing, they may receive entirely different results in real time depending on their specific context and intent.  
"Users can categorized into different clusters, which can be rebalanced automatically with #AI." #digitaldemand pic.twitter.com/fwnR57288w

— Coveo (@coveo) April 9, 2020
Gathering all these signals builds the foundation for relevance, and, by then applying ML and AI, that relevance can be further transformed to give rise to true personalization.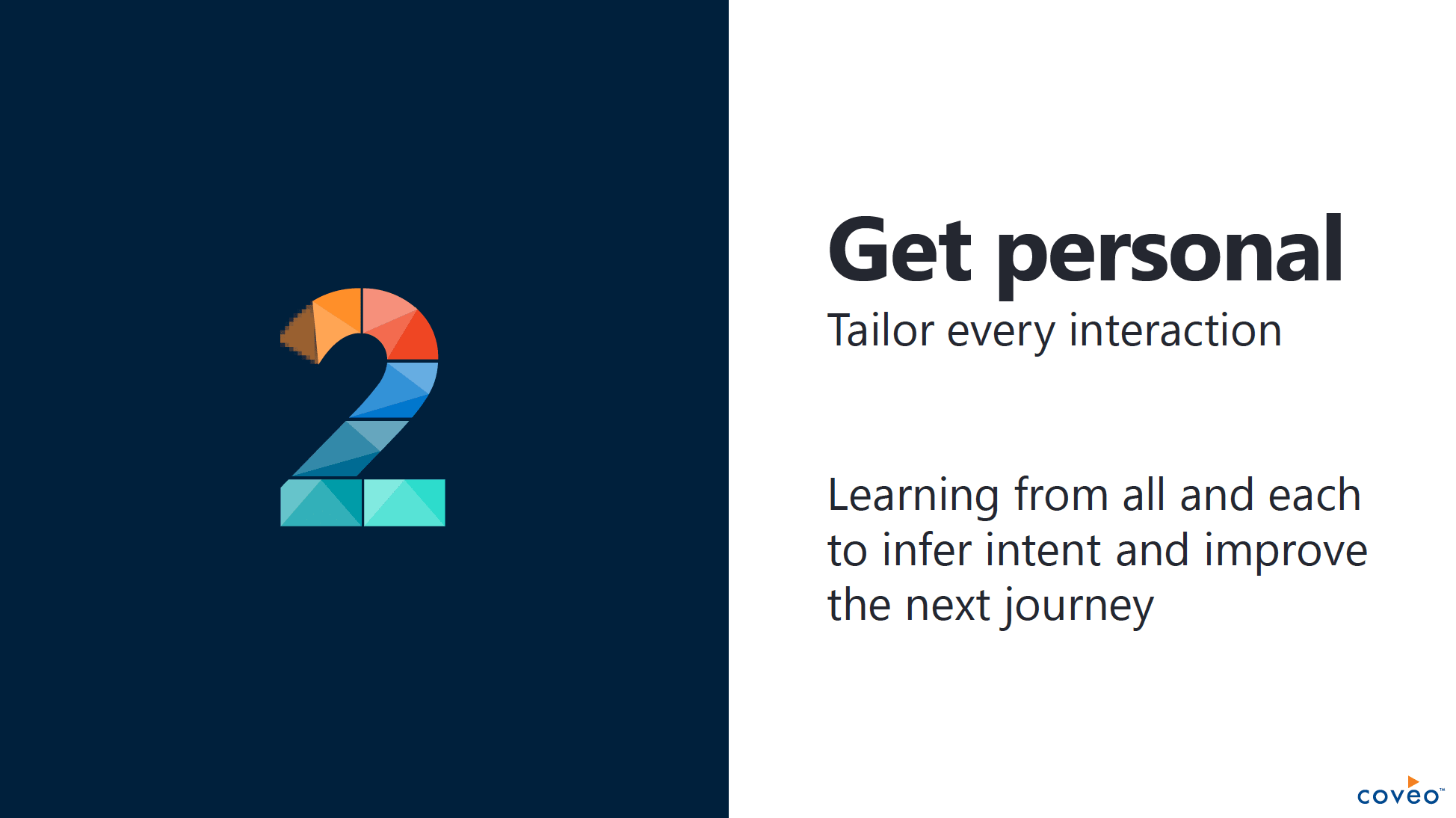 Users expect a Google-like experience when searching. They expect that they will be understood no matter how they search and that the exact information, content, or product they need will be surfaced first as a result. It's very difficult to be perfect on this – even powerhouses like Google can't get it right all the time. However, it's really important to be able to do this because if you have the answer, you don't want your customers to have to to scroll through a list of results to find what they need. 
Coveo AI and ML makes it possible to surface the most relevant information as a knowledge excerpt in the list of results for an individual user. Coveo can also be embedded inside an application itself to surface that information in the flow of work for all of your users and employees – our service friends have experienced great success with this. 
On the commerce side of things, we are introducing a new concept based on the same processes: Personalization as you go.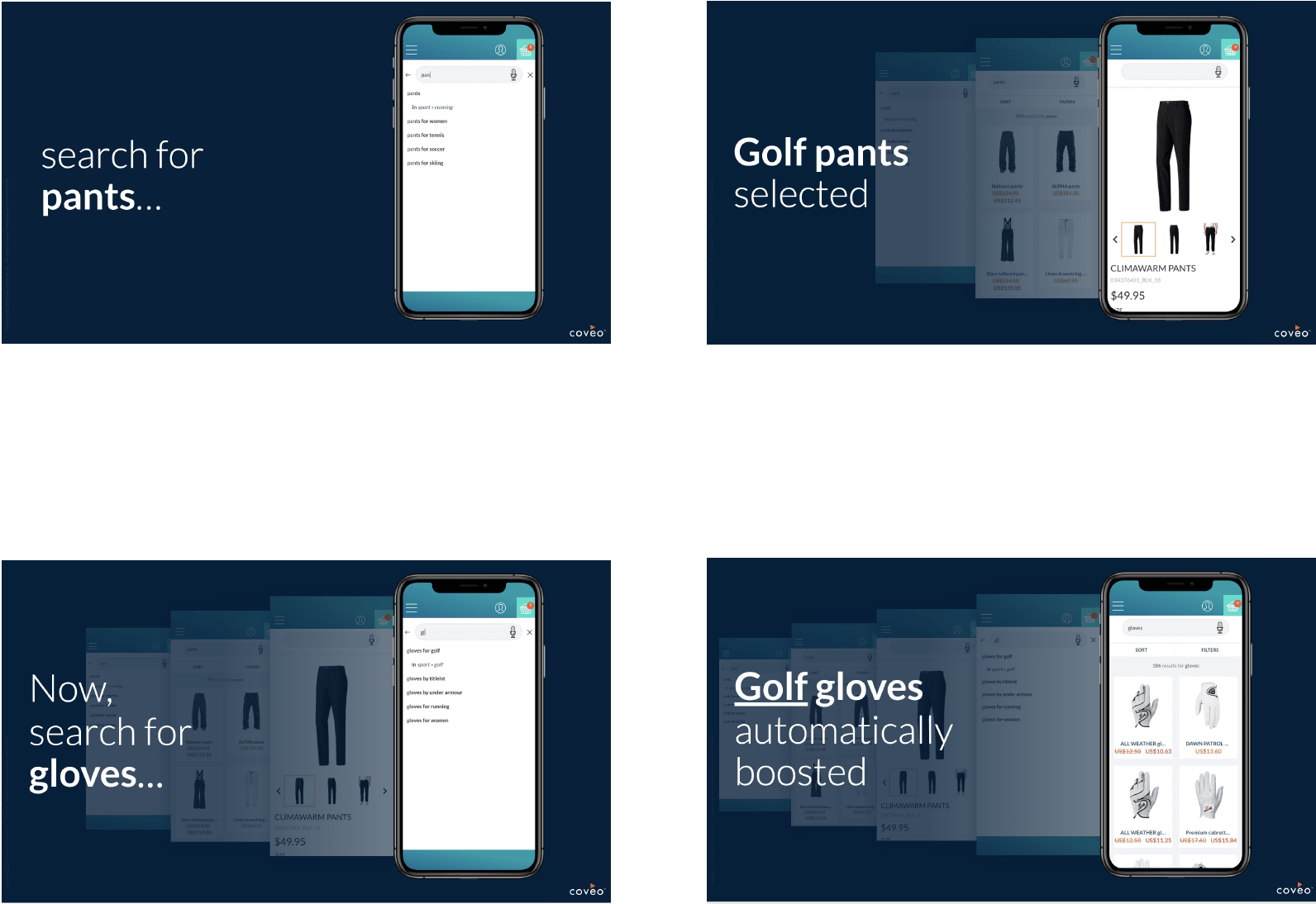 By using AI and ML to process product catalog information and behavioral data on the site together, you can automatically derive different product themes and dimensions, cluster products accordingly, and determine exactly which product is likely to be interesting for an individual user in real time based on all session activity up to that point.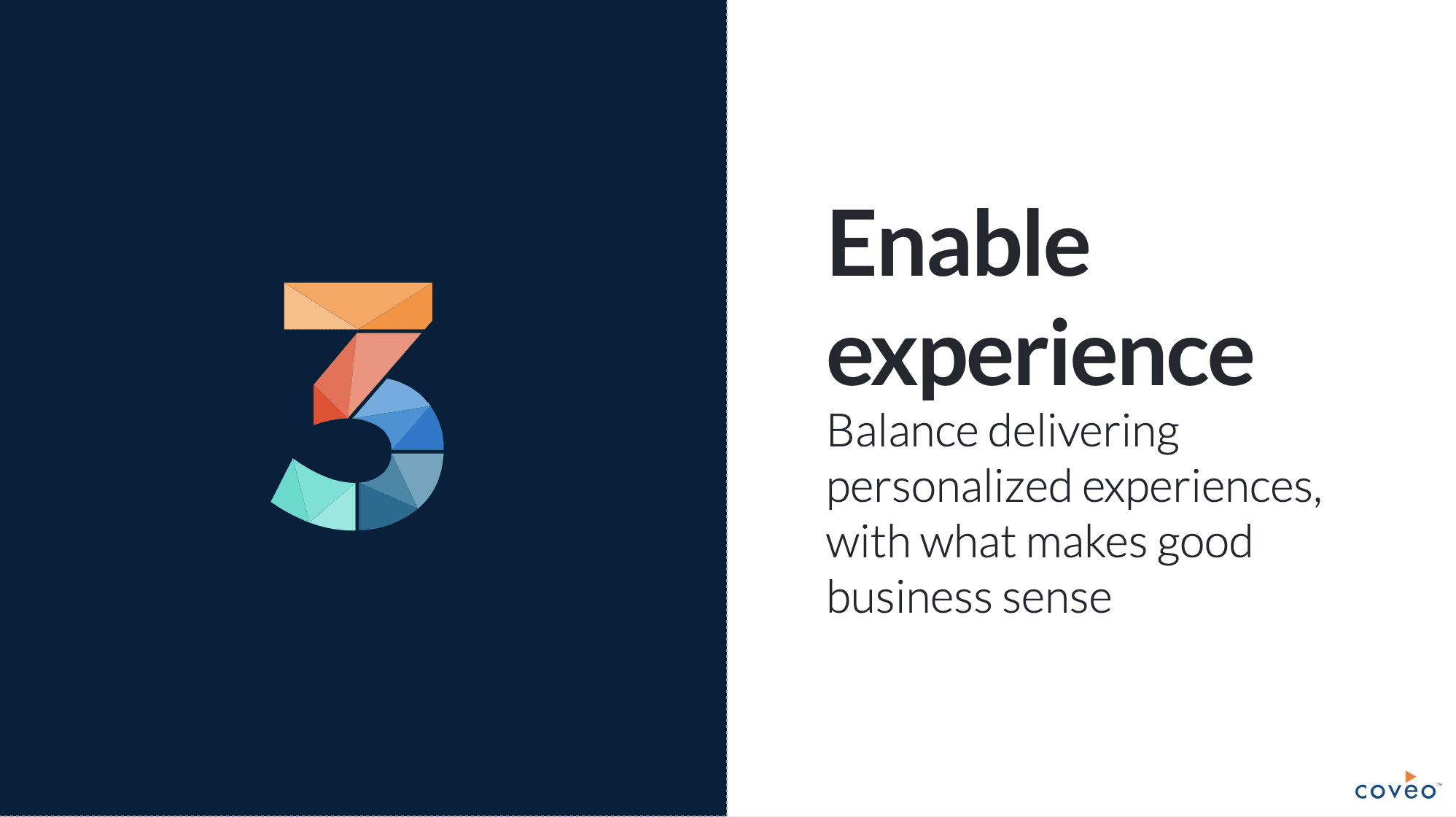 The last step to success in today's new digital reality is enabling the experience. Customer satisfaction is important, but if in achieving that, you're not optimizing for business value, the experience you create will not lead to long-term success for your business. A truly exceptional experience meets both your customers' goals and those of your business. 
The Coveo Experience Intelligence Platform empowers you to build experiences that take all factors into account and optimize for each. When it comes to websites and commerce, the platform allows you to deliver experiences and recommendations that convert profitably. When it comes to service, workplace, and knowledge, it allows you to deliver predictive, self-service, rich content experiences that empower people with the knowledge they need to gain proficiency. 
"Coveo releases between 600 and 1,000 times per quarter in a transparent fashion with zero downtime." 💪 #digitaldemand pic.twitter.com/afOZLz5nJr

— Coveo (@coveo) April 9, 2020
The Coveo EIP is what will help you become the experience intelligence hero that you need to be in these uncertain times. It is the tool that will allow you to unify data, get personal, enable the experience, and ultimately accelerate your digital transformation so that you can meet the challenges that have surfaced and will remain in a new normal that is far more digital than the one we had before. 
To find out more about what this new normal looks like in the world of commerce and how eCommerce experts are adapting their strategies as a result, be sure to view our next webinar, "The eCommerce Imperative: An Action Plan", and read all about the eCommerce Imperative in our next blog post.