Gartner, Inc. just released its first 2017 Gartner Magic Quadrant for Insight Engines. We're honored, and humbled, as  Coveo™ has been positioned furthest in the Leader Quadrant for Completeness of Vision and Ability to Execute. We owe this recognition firstly to our customers who have chosen Coveo – we thank you for your trust and commitment to our solutions and our platform, and believing in our science. To our partners, for embracing the integration of Coveo into your solutions. And to our Coveo team, for your incredible passion, integrity and immutable collaboration.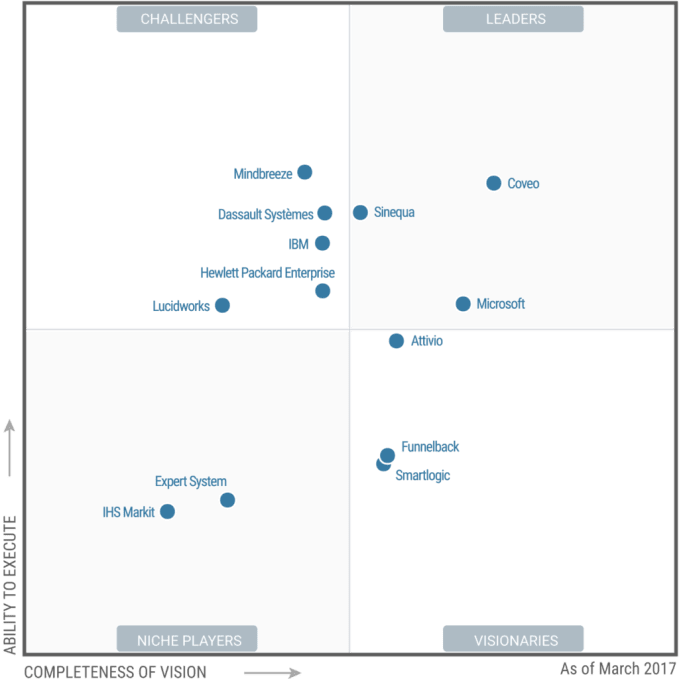 Highly regarded by technology buyers, Gartner defines the Magic Quadrant as the "culmination of research in a specific market, giving you a wide-angle view of the competitors in a specific market." The Gartner Magic Quadrant for Insight Engines is an evolution from the previous Magic Quadrant for Enterprise Search, in which Coveo had been a Leader since 2014.
This evolution reflects the changing IT landscape towards AI: machine learning and predictive analytics are being harnessed across applications and markets. We believe Coveo's continued focus on AI-powered search enables our customers to deliver relevant information and personalization at scale, which has helped us maintain that market leadership.
The Power of Insights
With this evolution, Gartner notes: "Insight engines apply relevancy methods to describe, discover, organize and analyze data. This allows existing or synthesized information to be delivered proactively or interactively, and in the context of digital workers, customers or constituents at timely business moments."1
Our view is that this meaningful change mirrors consumers' need for relevance, whether they are customers, employees, dealers or partners, and is the fundamental purpose of Coveo AI-powered search.
Innovative companies are already seeing the value of insight engines, through automatically suggesting and recommending the most relevant information to anyone that interacts their business. By harnessing the data of every customer, partner, or employee's digital journey, Coveo-enabled companies are able to recommend content that has already proven to improve business results and outcomes, at scale, one-to-one, in context.
Instead of just waiting for customers or employees to type a query into the search box, they are applying machine learning and usage analytics of users' online behavior to create tailored and personalized content recommendations when they need it, oftentimes before they even know they need it. On the back end, the usage analytics also provide a powerful view into the content and knowledge that users are searching for, but are not able to find, as well as content performance from consumption and outcomes.
With these insights, companies are able to make data-driven decisions that reflect the wants and needs of their customers, partners, dealers, and employees.
The Future of Relevance
The most successful companies will be those that can thrive in the areas of innovation, business agility, and experience personalization; without relevance powered by analytics and machine learning, it's simply not possible.
Being relevant is the high bar companies must clear to meet and beat customer expectations. For example, digital assistants like Alexa, Cortana, and Siri are judged solely on how well they can provide relevant answers to each customer; getting it right offers the promise of being central to customers' connected lives, making switching to another brand just too difficult. Online communities drive brand loyalty by customer becoming invested in a community and its contributions, but their survival depends on the ability to surface the right topics and experts to each user.
Coveo has made it our mission to obsessively focus on delivering relevance at scale, driving a personalized content experience for each user in every situation. We have invested heavily in AI-powered Search that harnesses the power of machine learning and usage analytics. The outcomes are knowledge and content tailored to the user's context and exact needs, and for the administrators, the user-driven insights they need to understand their content gaps and performance, and what people need to drive more success.
Internally, relevant content for employees in the workplace helps them do more by becoming more proficient –  one Fortune 50 Healthcare company decreased the time for new hires to become proficient with highly technical and complex support calls from two years to two months. This raises the bar for the intranet which has to become broader reaching information everywhere, but also more personal, more proactive and more relevant to every employee's task.
Externally, relevant content for customers helps them buy more and self-serve to become more proficient about products and services – a leading Hi-Tech firm increased self-service engagement by 50%; another drove 39% call deflection. Companies now focus on personalizing the experience everywhere across digital and assisted channels, and not only it makes huge economical sense but they don't have a choice – and content relevance is also at the core of that strategy.
We are entirely committed to helping companies deliver relevance at scale and see results like these, as such, we have established a benchmarking model: The Coveo Relevance Maturity Model™.
The model charts a path to relevance, understanding how to move from being reactive to becoming truly Predictive with every customer and employee experience.
Reactive.

Users request content from one or multiple data sources. Relevance is limited, only found in basic keyword matching.
Responsive.

Relevance becomes personal for each user, from providing unified and ranked results from multiple data sources to empowering users to navigate, filter and rank results with facets or categories.
Proactive

. Relevance is contextual, taking user's context into account. Implicit and explicit contextual factors help to weight results in real time.
Predictive.

Relevance is predictable; the most relevant information and content is anticipated, suggested and recommended to users, using artificial intelligence and machine learning on usage analytics; where the sumtotal of interactions and outcomes brings the next level of intelligence.
With this model, companies can assess their relevance maturity and start taking steps to progress and become leaders in their own right.
In summary, we're working hard on our solutions, our platform, and our processes, to enable our customers to achieve Relevance Maturity. We believe our placement in the Gartner Magic Quadrant for Insight Engines is an encouraging nod that we're heading in the right direction for our customers. I would like to again thank our customers, our partners and our amazing Coveo team: AI-powered search continues to drive employee proficiency and optimize online engagement, transforming digital workplaces and marketplaces. We're honored to be a part of it.
To learn more, access the latest copy of the Gartner Magic Quadrant for Insight Engines.
Download your copy today
Report: Gartner Magic Quadrant for Insight Engines
1. Gartner Magic Quadrant for Insight Engines, Whit Andrews, Guido De Simoni, Jim Murphy, Stephen Emmott, 20 March 2017.↩