The consumer landscape is changing. Whether on the road and in need of directions or at your desk trying to find information from last week's meeting, you expect the services you engage with to deliver the most relevant information at the moment you need it.
Companies are beginning to think like consumers and are realizing that relevance is the currency of our times. Chances are you'd have a hard time finding companies that claim they don't want to be relevant. You'd likely have just as hard of a time finding companies that understand the true value of relevance on a structural level – and have clear action plan to make it a reality.
This is how The Coveo Relevance Maturity™ Model can help.
Recognizing the Need for a Relevance Maturity Model
Maturity models are helpful in laying the groundwork for an action plan as they offer external benchmarks based on best practices. They are used to help organizations recognize where they are, identify where they want to go, and offer precise recommendations on how to improve. A relevance maturity model can be seen as a set of structured levels that describe how well the systems, people, and processes of an organization can meet and beat customer and employee expectations.
The Coveo Relevance Maturity Model™ (CRMM™) gives organizations a better understanding of where they rank in relevance today and where they can be—with the proper people, processes, and technology in place. Coveo CMO, Sheila Morin, describes the CRMM™ as "A continuum over which relevance maturity can be developed, moving incrementally from one level to the next."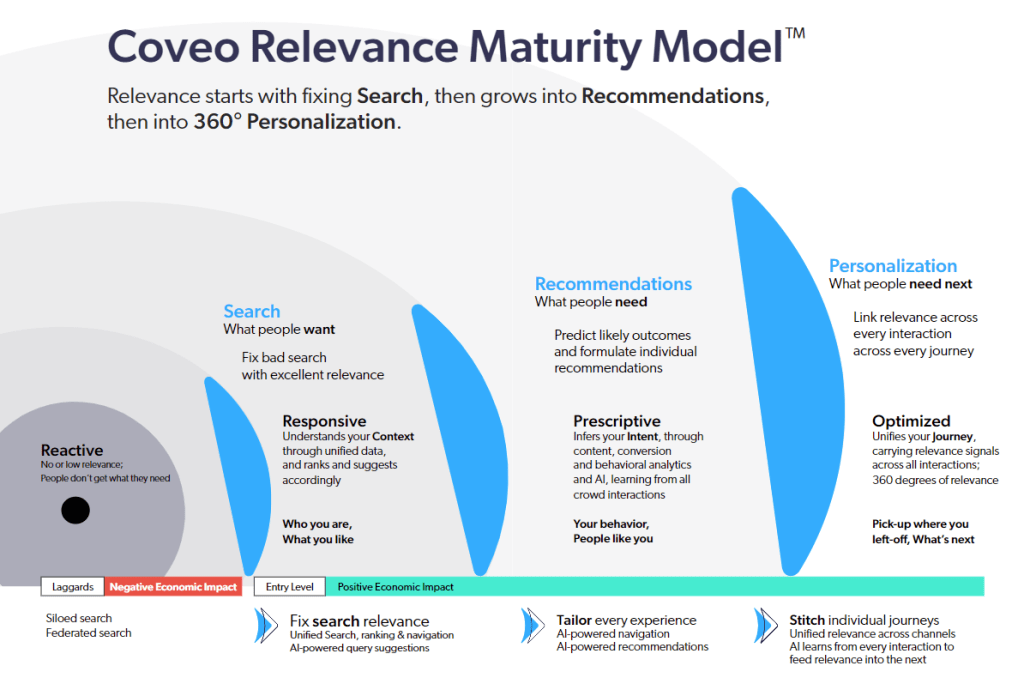 Get your white paper today
Read: Understanding Coveo's Relevance Maturity Model
Getting from Reactive to Optimized
As shown above, organizations with siloed and federated search are reactive. In the CRMM™, these are referred to as Relevance Laggards. Laggards typically fall short of consumer expectations and actually have a negative economic impact on the organization. Organizations at this level should aim to at least become more responsive to their user's needs by fixing search, to start with.
The levels are defined as follows:
REACTIVE
A reactive search experience is poor. It's more work than it needs to be. In terms of relevance maturity, companies offering reactive experiences are laggards, and are certainly losing ground to their competitors.
Siloed search: Information lives in separate silos and needs to be pursued and evaluated by the person searching. Lots of work, poor results.
Federated search: One search that spans silos, but the results are still not ranked against each other and the person searching has to do the work of determining relevance.
Digital experiences like websites, intranets, chatbots, and so on are static, offering one universal experience for everyone — one-size-fits-nobody.
No tailoring for the individual who is interacting with the experience.
RESPONSIVE
In a responsive search experience, a user can ask a question and easily get a complete set of rich answers that are tailored and ranked just for them.
Give people what's helpful to them.
Make search easy: One place to search, with useful features like query auto-completion and query suggestions.
The experience considers who you are and what you like.
The experience considers what has worked for other people like you in the past.
Results are unified and ranked against each other, based on relevance.
PRESCRIPTIVE
While search gives people what they ask for, recommendations give people what they need. With search, you can't be helpful until someone experiences a need or pain and asks for help. With recommendations, you're not waiting for them to experience a pain point or have a question. You're getting ahead of it, predicting what they might need even if the person doesn't yet know they need it.
Prescribe what people need.
Predict outcomes and formulate individual recommendations.
Tailor every experience, including AI-powered navigation.
OPTIMIZED
Unified search connects experiences over multiple channels, which ensures each interaction picks up where the last one left off. Artificial intelligence continues to learn from user behavior, ensuring each experience is constantly improving.
Prescribe what people need next.
Link relevance across every interaction of the journey.
Pick up where you left off, across every channel and platform.
By assessing where your organization ranks on the relevance maturity scale, you can see what your next step should be.
Increasing the relevance of your company's collective knowledge will enable your organization to provide the necessary information to its customers and employees to make the policy, purchase and process decisions needed to improve.
Dig Deeper
To take a deeper dive into each step of the maturity model and to see how you can help your organization progress throughout all three levels, ultimately becoming more relevant to internal and external audiences alike, download our white paper, Understanding Coveo's Relevance Maturity Model.
Get your white paper today
Read: Understanding Coveo's Relevance Maturity Model