How quickly would you drop a brand if you received negative customer service?
Just to give you an idea of how the importance: in a survey of 4,000 consumers across two continents, we found that 96% of respondents say a negative customer service experience affects whether they would buy from that company again. 
COVID-19 has forever changed the way customers interact with businesses, moving a bulk of those interactions online. Industries like retail banking that traditionally relied on in-person interactions to build customer loyalty had trouble adjusting. In fact, Salesforce reports that, to keep up during the pandemic, many finserv institutions reshuffled priorities at the expense of customer experience.
Their survey of 2,800 global leaders in FSI reveals that improving customer experiences fell from number one priority in late 2019 to number five during the crisis. That same survey revealed that 68% of customers say COVID elevated their expectations of companies' digital capabilities, and 59% raised their expectations around customer service. Yet only 27% said that the financial services industry is fully customer-centric.
That was then. In its Digital Trends for 2022, Salesforce found customer patience has worn thin. Consumers expect financial services institutions (FSIs) to provide experiences that are easy, transparent, and show concern for both their financial health and security.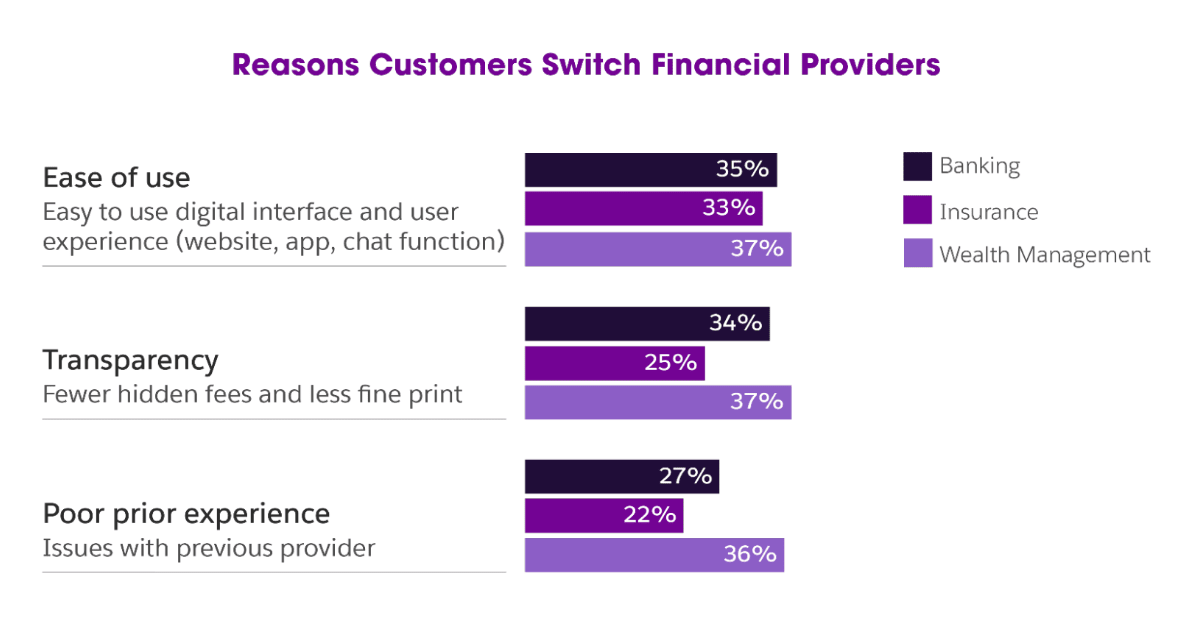 Salesforce points to a solution: intelligent automation is key in improving customer service and achieving growth. By implementing artificial intelligence (AI) in key areas – such as search, recommendations, and personalization – banks can achieve relevance.
Customers Expect Intelligent Support Experiences
Great search is the backbone of excellent customer service. Among the multitude of digital channels now available to perform banking actions, most searchers will start their journey to an answer there. And if the search is robust enough, it's also where they can end that jo, instead of placing a call to your customer care center or submitting a case for an issue that's been long resolved.
In a survey of 100 self-identified financial services enterprise search tech professionals, 85% of banks say that the importance of search has increased over the past year, with 93% even increasing their investment. But just 16% of companies believe they are excelling in search.

AI bridges that gap between customer expectations and reality when it comes to search. 
Here are a few things that AI-powered search can help you achieve:
Automatically filter irrelevant results based on the customer profile and past behavior. For example, if this particular customer doesn't have a loan, it won't offer them any related results.
Offer query suggestions or content recommendations based on user actions. This accomplishes two things: first, it helps people articulate their query without having to type it all. Second, it can generate additional query suggestions they might not have thought of yet (or at all).
Unlike federated search, intelligent search that operates from a unified index centralizes multiple content databases and sources at the same time, combining and ranking search results in a single setting.
With deep learning, an AI-powered search platform can support natural language queries – whether on chatbots or through the search bar.
Finally, AI-powered search is self-tuning; meaning that it only gets better with every interaction as more customer behavior data becomes available. Machine learning and usage analytics data are used to automatically boost, suggest, recommend, and promote the content that's most relevant to each customer at any given time.
This personalizes the user experience for both sides of the customer service coin. Customers receive the highly coveted personalized experience.  On the flip side, your bank customer service representative (CSR) team is alleviated from the tedium of answering the same issue over and over — and are placed on their front foot now that they're handling the hardest issues that haven't yet been resolved.
Exceptional Customer Service, Proactive And Personalized
According to Gartner, 70% of customers prefer to use self service tools — yet only 9% can fully resolve their problem. This is especially frustrating when customers are looking for answers to simple issues that shouldn't require the help of a CSR but often do.
AI can be used to detect issues before they arise and guide a customer to resolution. By sifting through customer data, search queries, and content clicks, for example, you can reveal an oft-searched underlying issue. If it could be addressed with existing content, why can't searchers find that content? Or, perhaps that content doesn't exist — meaning you should remedy that!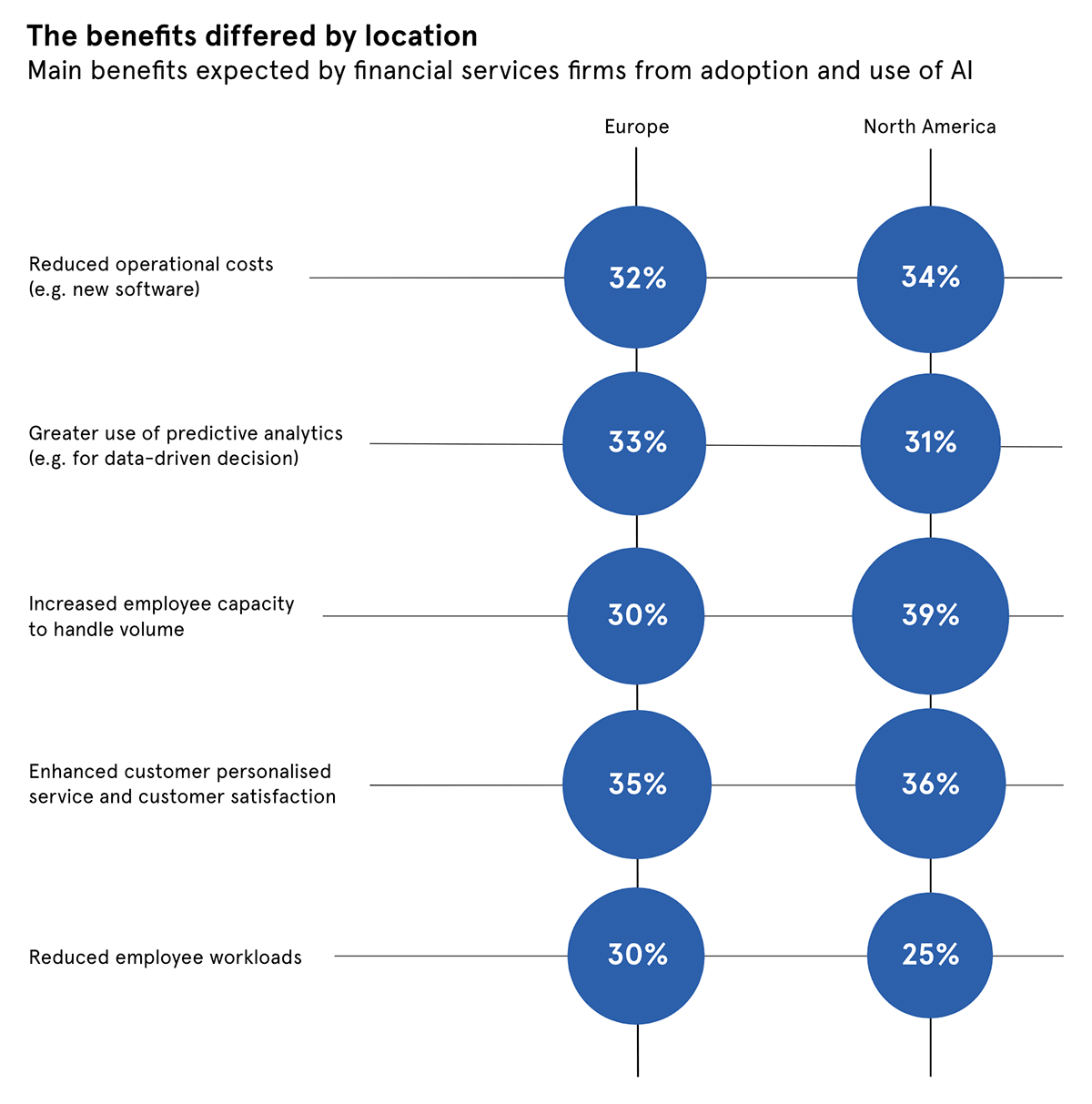 More broadly, AI can be used to stitch together a highly personalized self-service experience in which content, suggestions, and recommendations are dynamically populated — from multiple sources — based on personal information about your customers. Think about signing into a banking portal and being greeted with not just a list of your recent transactions, but content around savings and rewards programs that help you get the most out of every dollar.
AI also makes sure that this rich context is synchronized across channels, and that customers only see relevant information, regardless of whether they choose search, a chatbot, or some other channel for self service.
For a quick assessment of your self-service strategy, we have developed a handy checklist to help you identify areas of improvement.
Empower CSR Proficiency and Drive Customer Satisfaction
Your CSRs are the face of the company. When you're investing in agent experience and making their job easier, you're directly investing in customer experience.
Here are a number of specific ways that AI can be used to assist your customer service center:  
Empowers agents by putting rich information about each customer right at their fingertips. They know who they're talking to, what content they've already seen or searched for, and what kind of affinities their past behavior indicates. 
Dynamically populate and boost relevant content in real time, enabling CSRs to recommend content based on case data and customer journey information.
Adapt content to the right channel (such as call center, support chat, or email) enabling CSRs to provide a relevant answer to a user query in a manner most suited to the particular channel being used.
Let's expand on that last bullet. 
A relevance platform that operates off of a unified index serves content to visitors, regardless of channel. One customer using a chatbot may receive a list of relevant support documents meant to answer their question. Over on your support site, a different customer receives a list of relevant search results. The system pulls the answers from the same pool – but the unified index allows for relevant rankings – no matter the data source. Kiss confusion goodbye.
Most importantly, it's possible to extract and surface the most relevant portion of either set of results to the top — in the form of an informational snippet — to directly answer their question. And if either of those customers switches channels, the information is available everywhere. This keeps their journeys consistent.
Turn Customer Support into Customer Insight
Beyond the ability to ensure a unified, low-effort customer journey for every user, AI makes it easy to measure its ROI and understand the effect of improved customer service on business growth. In addition, it helps you easily identify trends, and potentially reveal any gaps or room for improvement. 
Today 76% of customers would drop a brand after just three negative service experiences (up from 73% last year), and 12% of customers would drop a brand after just one negative service experience.
But unlike a few years ago, if your customers are unhappy you might never know it. It's becoming more and more common for customers to simply leave a company without any prior indication of dissatisfaction — no phone or email complaint, survey response, or social media mention.
AI helps you avoid that by giving you insights that you can act on to deal with potential issues before they arise. For example, a content manager can easily find out which high-volume keywords don't return any results. And a service manager or contact center director can monitor how many cases were submitted or deflected in the past month, as well as the dollar value associated with each. 
Bringing this kind of data together from across a broad customer journey, with many different service channels, is possible only with the help of AI 
Meet Customer Expectations Across Digital Channels
Excellent customer service means going beyond responding to what people need and developing the ability to anticipate what might they need next.
AI lets you unify content and financial products in a single index, bringing customer service in banking to the next level. Ideally, your customers will be able to solve their problems themselves with just a few clicks. If not, it's easy for them to reach out to you through their channel of choice.
And once they do, the system will know your customer so well that no time is wasted on trying to understand their problem: the solution will simply present itself. Not just that: the system will be able to know what the customer needs next.
When your CSR doesn't have to spend time asking the customer questions about their background and the nature of the problem, then this time can be spent instead by offering further relevant products and services that this particular customer is likely to want.
Now, this is how you deliver an exceptional customer experience that brings true business growth.
Dig Deeper
If you want to impress your CFO and prove that investing in customer experience (CX) technology was really worth it, show them these ​​customer experience ROI formulas. Then take them to see our webinar on how digital leaders across industries are transforming their customer service with AI.
Finally, when you're ready to try out the smarter way to scale great outcomes and enhance your contact centers with AI-powered customer self-service, go ahead and sign up for a Coveo trial.
---