We're thrilled to see that Gartner recently recognized our partner Sitecore as a leader in its Magic Quadrant for Web Content Management for the fifth consecutive year. Take a look at the quadrant below and you'll see that Sitecore is also furthest along the completeness of vision axis among 17 other leading WCM providers.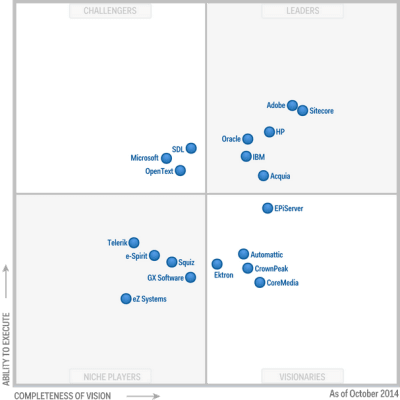 Gartner took into account many factors to determine this year's Magic Quadrant, such as a provider's ability to drive market transformation, preparedness for the future with a clear vision, and a thorough appreciation of the broader context of digital business. Gartner also singled out Sitecore's high level of customer satisfaction as a particular strength.

We agree with Gartner's evaluation that Sitecore has a leading vision in the WCM industry. Through our work together, we continue to see that the company provides so much more than a way for marketers to simply publish web content; instead, Sitecore helps its customers think about how to make their overall digital strategies more effective and personalized through its Sitecore® Experience Platform.
Download the report to learn more about Gartner's evaluation of Sitecore and other WCM providers. To learn how marketers can use Sitecore and Coveo's leading website search solutions that fully integrate with the Sitecore® Experience Database™, take a look at what Coveo for Sitecore has to offer for superior personalized website experiences.
We're proud to have Sitecore as a strategic partner, and congratulate them on this well-deserved recognition!