Five times a Leader.  
Coveo has once again been named a Leader in another independent research report – which we believe is further recognition of the impact Coveo is having on the world of AI-driven insights, through search, recommendations, and personalization. Or as we think of it: being relevant at every digital interaction — at scale.
Insights for Choosing The Right Platform
Ebook: Buyers Guide for Enterprise Search Platforms
In our opinion, being a Leader in insight engines means being a leader in helping companies unlock the value of information, knowledge, and product resources. These typically reside in multiple, siloed systems across the enterprise — resulting in subpar digital experiences for key stakeholders. 
Relevance has become the essence of how people judge digital experiences. The information and insights presented to them need to be relevant to the task at hand – whether they are shopping or browsing, troubleshooting or just figuring out how to do their jobs better.   
Coveo has focused our Coveo Relevance Cloud™ platform on helping enterprises innovate upon existing tech stacks, therefore extending the value of such systems. We also bring in cutting-edge capabilities, including machine learning, natural language processing, and composable capabilities so that companies can provide relevant and continuous digital experiences that deliver on business outcomes.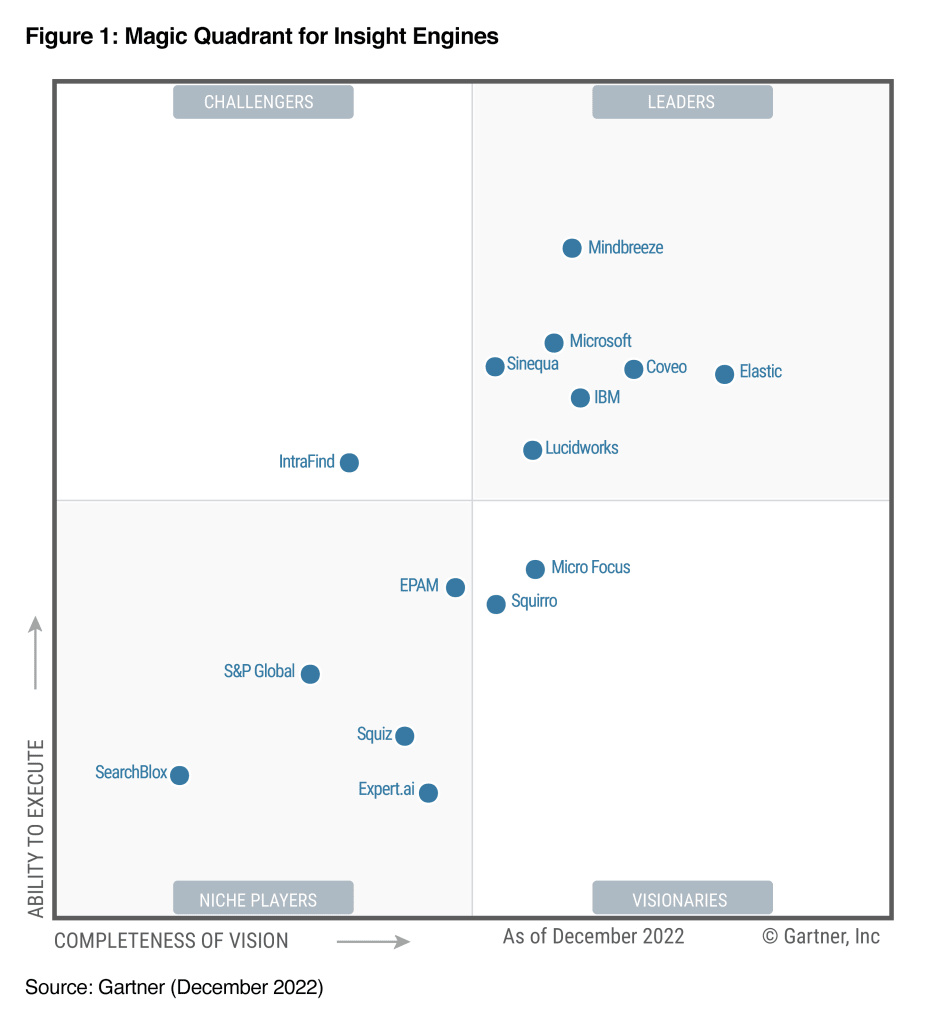 Achieving Relevance Maturity
To unlock critical information, knowledge, and product resources for our customers' key stakeholders, we leverage three main insight engine capabilities: smart search, proactive recommendations, and real-time personalization. 
The first step in creating relevant digital experiences, smart search, taps into existing systems and content resources to index and apply rules that enable customers or employees to find the right information. Smart search is powered  with rich analytics and machine learning that learns from every search interaction  to understand intent.  
Once it understands intent, recommendations proactively suggest content, products, or resources based on a user's journey. This means they find what they need faster, culminating in less user journey friction. 
Finally, that journey is stitched together, through every individualized interaction, to tailor a highly-personalized experience from purchase to support.  
Leading brands today are characterized by their relevance: in the eyes of the shopper, customer, or employee. And enterprises everywhere are coming to terms with the reality that not only do digital experiences matter, but relevant digital experiences matter more:
Brands are realizing that, to solve their shopping conversion problem, they must be relevant: people only buy what's tailored to them, not what's generically served up through some manual merchandising rules that miss the mark on being pertinent to each shopper. Brands are also realizing that they need control over product recommendations. Coveo allows merchandisers to factor in inventory, margin, and even return data to create personalization that meets customers' business goals.

Manufacturers and hi-tech companies with technical support are realizing that, with relevance, self-service support systems can actually drive revenue. When tech-savvy end customers are satisfied, their loyalty grows— which increases overall customer lifetime value.

Lastly, the top companies to work for understand that employees must be given the right information and knowledge to support their proficiency. Smart search with rich analytics empower IT and digital workplace teams to resolve knowledge gaps and keep the workforce productive and upskilled.
World-class insight engines have the potential to equip enterprises everywhere with relevant digital experiences, across sites. By applying out-of-the box unified search and AI capabilities to your content, applications, and sites, they become smarter. Coveo brings together a visitor's clickstream, product usage data, sales interactions, service data, and more, with real-time analysis and comparison of that unique visitor's behavior with millions of others. 
Every interaction across marketing, sales, and service can now be informed with and driven by data. Service agents can now proactively support customers by instantly accessing the information that matches their context, history, and behavior, making every interaction as effective as possible. And this extends to the entire service journey, from within the product itself to online self-service and contact centers. 
This is what insight engines deliver: relevant and continuous digital experiences that convert, maximize customers' lifetime value, and empower employees with knowledge. 
Building a Search Center of Excellence
Coveo is committed to building native connectors to leading platforms, and developing standardized, composable frameworks to integrate into practically any customer- or employee-facing user interface. Our customers have realized that a single relevance cloud platform can extend to solve vexing data, content, product, and knowledge problems across the enterprise. The more broadly Coveo Relevance Cloud™ is deployed, the better it gets, using interaction data from multiple customer touchpoints to make each subsequent interaction more relevant than the last.  
For businesses, AI is a massive economic opportunity, expected to contribute a $15.7 trillion increase to GDP worldwide by 2030. Today's organizations can put their data, content, product, and knowledge resources to work. And, using AI, predict in real-time what their customers and employees really want and need from their digital experiences, as well as what they need next. Every person brings their own context and intent. With AI, it's possible to deliver experiences that fit their unique context and intent to meet and exceed their expectations. 
What We Believe the 2022 GartnerⓇ Magic Quadrant™ for Insight Engines Means for You
We believe that the time to invest in insight engines is now.  
The world's leading and most innovative organizations are using insight engines to create meaningful experiences with data. But so many formats (structured and unstructured) in so many sources have made this a perennial challenge. You don't need one more search installation. You need a unified search platform — fortified with out-of-the-box machine learning models that can solve different problems.
And while third-party data is going away, our operationalization of first-party data provides even greater relevance. This inspires customers to provide self-reporting (i.e., zero-party) data to further personalize the experience. This dovetails with a Coveo report that shows a majority of consumers are willing to provide their information – if it's being used to personalize their experience. When you invest in an insight engine, you can meet their expectations and see higher ROI from all of your platforms.  
We believe if you're not using an AI-powered insight engine, you're behind. Just look at what our customers are finding. Coveo Relevance360 was an inspiring showcase of customer achievement. It was also a peek into the future on how they're planning to use Coveo as their digital transformation keystone.
Our customers shared how insight engines played a role in critical business areas, from saving millions by increasing case deflection to ushering in a new era of digital transformation. Their results include:  
A major software provider saved nearly $2 million per month in support costs after implementing 

Coveo

.

 

A financial services company generated more than $1.5 million by using their 

Coveo

 Usage Analytics to create a data-driven content strategy and internal search campaign.

 
Insights for Choosing The Right Platform
Ebook: Buyers Guide for Enterprise Search Platforms
Gartner Disclaimer 
Gartner does not endorse any vendor, product or service depicted in its research publications, and does not advise technology users to select only those vendors with the highest ratings or other designation. Gartner research publications consist of the opinions of Gartner's research organization and should not be construed as statements of fact. Gartner disclaims all warranties, expressed or implied, with respect to this research, including any warranties of merchantability or fitness for a particular purpose. 
GARTNER is a registered trademark and service mark of Gartner and Magic Quadrant is a registered trademark of Gartner, Inc. and/or its affiliates in the U.S. and internationally and are used herein with permission. All rights reserved. This graphic was published by Gartner, Inc. as part of a larger research document and should be evaluated in the context of the entire document. The Gartner document is available upon request here.
Gartner, Magic Quadrant for Insight Engines, Stephen Emmott, Anthony Mullen, David Pidsley, Tim Nelms, 12 December 2022.