As more and more business moves online, customer expectations around digital experiences are increasing, too. According toBrendan Witcher of Forrester, a leading expert on digital business, a site visitor today is looking forindividualization. They don't want to be treated as part of asegment. Instead, they want an experience that's highly tailored to them and relevant to what they need at that moment.
Individualization is so important to consumers that they're willing to pay more for it,research by Coveo has found. In Coveo's survey, 43% of respondents said they would pay more if they could find what they were looking for in just a few clicks.

But companies are having trouble reaping the benefits of individualization. According toGartner, 61% say they're either getting no results or ambiguous results from their investments in delivering personalized experiences. So what can they do to change that?
Going Beyond Customer History
We tend to think about individualization in terms of how much a site knows about a customer. And, yes, having information such as a shopper's order history, can help create relevant experiences. But it's not the complete solution. For one thing, on most sites, themajority of visitors don't have any previous shopping history. Only 5% to 25% of B2C site visitors are recurring.
And then there's the fact that a shopper can want very different things on different visits to an online retailer. One regular site visitor might typically buy household staples and office supplies. But on this visit, they want to treat themselves to a new TV. There's nothing in their purchase history that would help give them a personalized and relevant experience today.
For both the known and unknown site visitors, though, relevance comes down to the same question: Can your site figure out what they want right now and help them find it quickly? If not, they are likely headed off your site to check out the competition.
The good news is that it doesn't take an army of engineers (or mind readers) to suss out your customers' intentions and help them have an individualized experience on your website. Today, AI is available off-the-shelf and works behind the scenes to make every interaction more relevant to each individual visitor.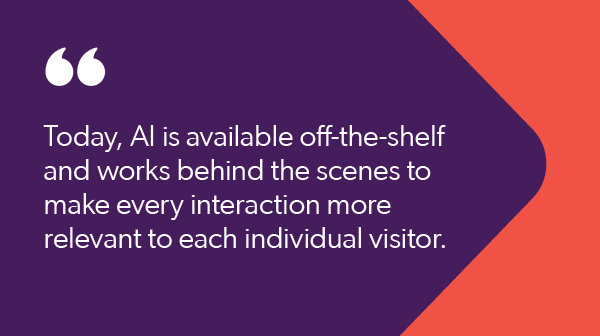 Learning How Customers Really Search
One way that AI can increase relevance is by closing the gap between what a customer really wants and what they type into a search box. Let's say that a customer visits the website of a wine & spirits merchant to place a curbside order. They type the name of one of their favorite libations into the search bar: Crystal Head Vodka.
Their intention is, well, crystal clear. But not all searches are so straightforward. We've all gotten used to websites figuring out our typos and misspellings. So if the customer types in "Chrystal Head Vodka" or "Cristal Head Vodka," they're still going to find the product they want.
But what happens if the customer's query is even harder to interpret than a misspelling? For example, our customer who wants to purchase Crystal Head Vodka has misremembered the name as "Skull Vodka" (a natural mistake, given the brand's striking, skull-shaped bottles). And that's what they type into the search bar — the name of a brand that doesn't exist.
That's what was happening on the website of a Coveo client, Dale Traxler, senior director of Alliances & Channels at Coveo, said during an interview for "Lessons for Tomorrow" podcast hosted byAmericaneagle.com. 
The platform learned from the behaviors of people who searched for "Skull Vodka" – what they clicked on, what they didn't, what they ultimately purchased. Based on what it learned, the site now returns Crystal Head products when someone uses the search term "Skull Vodka."
"That's a good example of how we can learn from prior behaviors – without having explicit information about a customer," Traxler said.
Through AI, this learning about customer intent happens quickly and automatically. "We don't have to manually add it every time or sit and dig through the data," podcast host Tim Ahlenius, vice president for strategic initiatives at Americaneagle.com, said. "It just brings a new level of speed to the way that we can optimize our sites."
Anticipating the Journey 
AI can do more than solve the mystery of a search term that's hard to interpret. It can also make digital experiences more relevant by anticipating what a visitor might want to do next. The visitor can then accomplish their goals on the site more quickly and efficiently.
One of the most familiar examples of this is how websites offer recommendations for additional purchase based on the item in a customer's cart. Done well, recommendations are a win-win for customers and merchants. The retailer increases cart size. And the customer saves time by being able to quickly add everything they need to their cart without additional searches.
AI helps ensure those recommendations are useful. But there are also other ways it can help shoppers accomplish their goals faster. Traxler gave the example of a customer who's looking for a machine part on a B2B website. But, as it turns out, the part has been discontinued. If the customer is left to start a new search at this point, their shopping experience doesn't feel very personalized or relevant.
But, with AI, the website can give a customer better options than starting from scratch. Through past interactions, the platform can learn what other customers who searched for the discontinued part ultimately ended up buying and then recommend those items to new customers. The website could even learn to recommend a piece of content that explains another way to fix the problem that was causing them to seek the discontinued part.
Look for 'Off-the-shelf' AI for Greater DX]
Honing In on Relevant Information
AI is also getting better and better at helping site visitors accomplish what they want to do faster. One recent area of improvement is refining search results to pinpoint exactly what the searcher needs.
What does that look like? Let's say a visitor is searching the website of a business that has complex products — such as insurance or financial services. That visitor has a question, perhaps about the homeowners policy or college savings plan they're considering.
To answer that question, the search engine has to index lots of different content types. The information the visitor is searching for might live in a document, a PDF, a video or in some other form. So that content has to be searchable. 
Coveo is now taking that a step farther by extracting the information that's relevant to the searcher from a larger document or other piece of content. "A technology like Coveo can simply take that data and break it into relevant chunks," Jonathan Price, Americaneagle.com's Sitecore and Coveo practice director, said during the podcast.
"When people type in a search term, they're expecting a relevant result. Instead of throwing a large piece of content at them, a technology like Coveo, and Coveo very specifically," he adds, "can provide a recommendation on where users should be looking within that piece of specific content. So it's not only that we're returning relevant results, we're returning more relevant results within that larger piece."
The Future of Intention and Individualization
Of course, ecommerce is changing. And the increased adoption of online shopping during the coronavirus pandemic has only accelerated the pace of that change. Advancements like voice search and chatbots will reshape the online shopping experience. But the ultimate measure of success for any new tools remains the same. They still must learn customers' intentions and help them reach their goals quickly and conveniently. Helping them do so is the next big challenge for retailers.
Currently, voice search is mostly "very linear," Traxler said. The user says a specific phrase and gets a specific response. But the tools are getting smarter. "So I can ask a question without exactly using the words that have been programmed," he said. "We can start to interpret a query – just like we do with typing."
And, just as with typed queries, this happens through the application of AI. With every interaction, the platform learns more about what customers really want, even if they don't use the "right" language to describe it. For the shopper, the experience becomes more like interacting with a human sales associate who can narrow down what a shopper is looking for or even suggest "what you really need is this."
For much more about search, relevance and individualization, listen to the full conversation with Traxler, Ahlenius and Price on the "Lessons for Tomorrow" podcast (available on Spotify, Google Podcasts, Apple Podcasts, Stitcher, and more) on May 27.