After working at Coveo for the last six months, I must say that it is the best place to conduct machine learning experimentation and develop concrete AI solutions for businesses. Coveo is a responsive and self-learning organization, where connectivity, collaboration, and encouragement are at the heart of what we do.
As a product manager, with brilliant and highly skilled engineers forming the machine learning team, I am involved in the ongoing development and management of model pipelines. Our industrialized, well-oiled process allows hundreds of organizations to achieve real-world results from AI. They can achieve these results in a simple, user-friendly way, without having to manage complexity, bring in data scientists, or build heavy infrastructure to prepare data, train, or serve models at scale. It brings our customers a lot of value! 
As a cloud-based relevance platform supporting many organizations, we have a unique ability to learn from and use indexed content as well as a vast and diverse amount of historical and live analytics. These datasets let us experiment and deliver models in a continuous improvement workflow for our clients. We get to work closely with and be inspired by what's being developed by the AI scientific community, such as BERT.
Before we dive into a concrete example of what we do with AI, let's look at how Coveo enables a dynamic, collaborative, and innovative environment.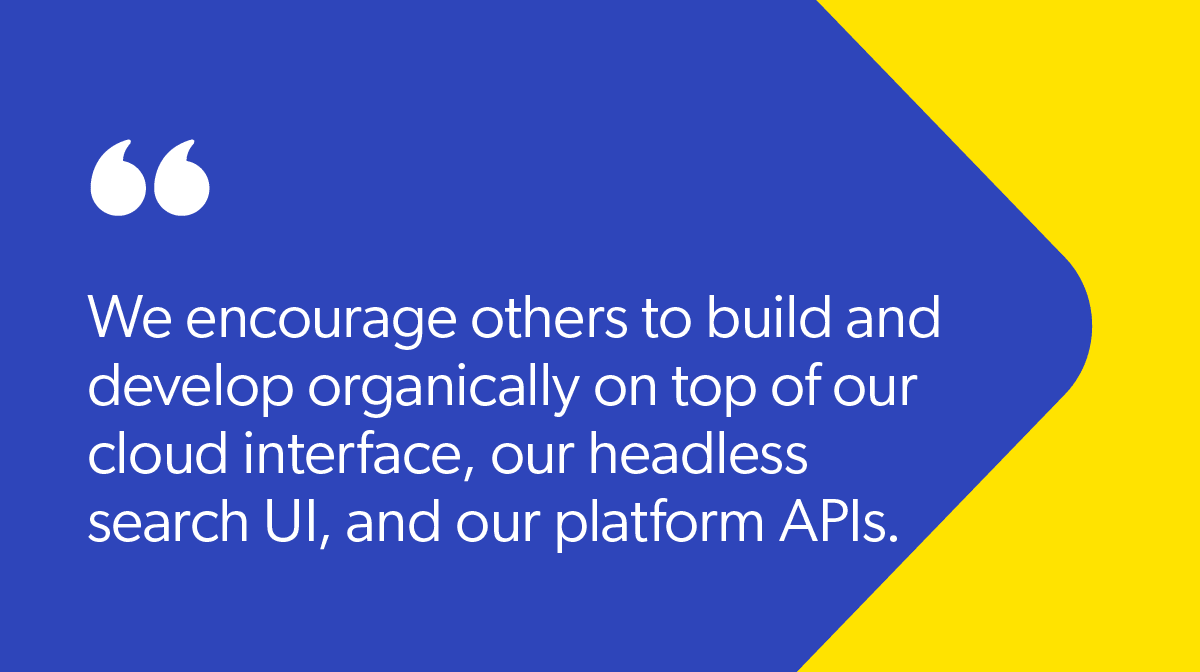 Relevance is Our Purpose
Everyone is aligned to the key concept of "relevance." Not only do we help external organizations become more relevant, but each of our day-to-day internal actions, tasks, and activities must be relevant to Coveo as a whole. From everyone to the CEO, relevance is our purpose.
With this clear vision, we improve every day by learning and building in a very agile, lean, and user-centric way. This cannot be faked and the results speak for themselves. Since its inception, we have been growing traffic on the Coveo platform, tackling a diversified number of business use cases (with new partners to boot!), and continuously looking for ways to scale our capacities.
I have personally experienced this, even while working remotely after joining the company. The open-mindedness and work ethic of my colleagues and peers has been felt throughout Zoom, Slack, Confluence, and Jira, and is facilitated by their vast knowledge, skills, and dedication. We make and learn together. We think by doing.
Our product portfolio is the result of constant experimentation, mainly in the fields of machine learning and natural language processing (NLP). We encourage others to build and develop organically on top of our cloud interface, our headless search UI, and our platform APIs.
In short, this is the perfect place to build tangible, real-world, and impactful AI.
Our AI Models
Over the years, we have developed several machine learning models:
Advanced Relevance Tuning, to optimize search results based on a user's search history
Query Suggestion, to suggest similar queries to a user based on what they type in the search bar and what they have searched and clicked on in the past
Event/Product Recommendation, to present contents or products that matches a user's intent based on what they have viewed on a given site
Let's discuss more advanced and recent examples. Using Coveo's deep learning infrastructure, the NLP team was able to develop two state-of-the-art models in just a few months. These models are already being used by our customers.
Our Case Classification model was developed using the latest transformer-based deep learning NLP models. This model now draws meaning from text in a very accurate and precise way, taking into account common vocabulary, contextual nuances, and key concepts of the case description. Deep understanding of text in a case description allows it to precisely classify a support case.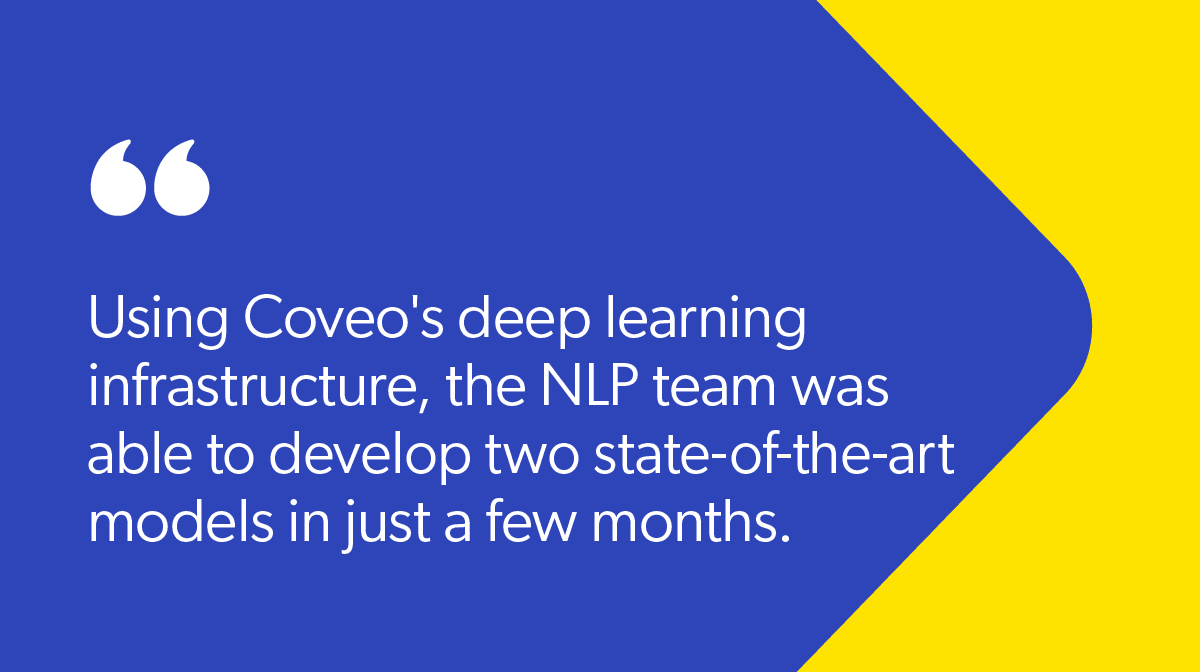 We have also debuted Question Answering, also referred to as "Smart Snippets." This model extracts content snippets from within documents to instantly answer customer queries directly on search pages. It also learns and suggests other relevant questions and topics that can be answered by indexed content. More precisely, the model parses document structures (like HTML) and recognizes section headers within content as questions and answers. We then leverage GloVe and Word2Vec (augmented by a few extra custom features) to convert both section headers and user query text into embeddings. These embeddings are then used to retrieve the right snippet of content for the query. And that's without mentioning the innovations we make like Query2Prod2Vec for eCommerce.
Leverage Data Efficiently
To address relevance challenges for our customers, Coveo uses machine learning and deep learning NLP models to leverage the data in a very efficient way. This allows us to offer advanced information retrieval services that are constantly and automatically optimized and personalized, such as:
Search results ranking, 
Recommendations, 
Case description understanding (classification and document suggestions), 
Question answering 
And many more. 
All these models are fully integrated within the Coveo Relevance Cloud to greatly improve the end user experience for our customers.
In the end, it's all about relevance.
Interested in contributing to our mission: relevancy? We are always looking for new colleagues, join the Coveolife!