If you're involved with marketing ops for a Salesforce shop, you might be familiar with Salesforce Interaction Studio. It's a robust customer data platform (CDP) that enables personalized customer experience and marketing engagements in a variety of ways.
It's also decidedly not a relevance platform. That's no slight; while both pull data from multiple data silos, these two platforms differ in a few important ways. Both have their pros and cons, depending on the business problem you need to solve for. To help you evaluate which is best for your needs, here's our look at the differences between customer data platforms and relevance platforms.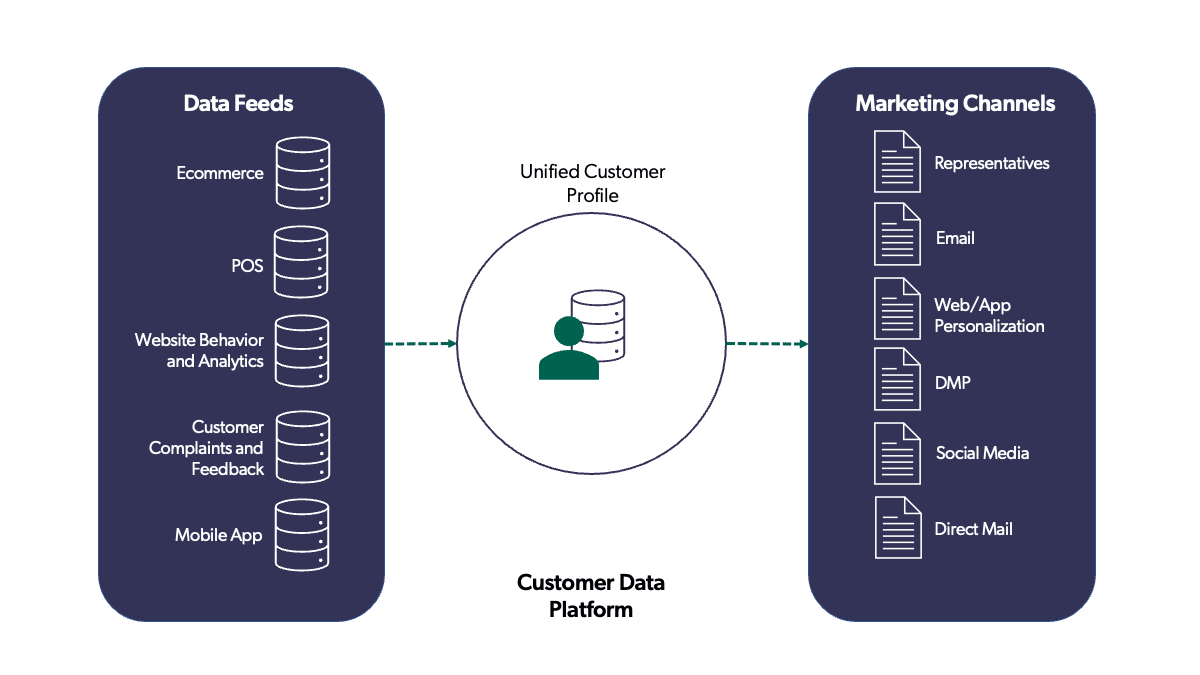 Definition of a Customer Data Platform
A CDP is one type of system for customer data management. More specifically, a CDP aggregates data signals (such as behavioral data and first-party data) and transactions for a given customer across all their interactions into a customer profile, also called a "Unified Customer Profile (UCP)."  Commonly known CDPs include Salesforce Interaction Studio, Adobe Real-Time Customer Data Platform, and Dynamics 365 Customer Insights.
How Relevant Is Your Organization?
The Coveo Customer Service Relevance Maturity Model
How Customer Data Platforms Are Used
In the case of Salesforce Interaction Studio, which is part of Salesforce Marketing Cloud, the platform uses these different customer behavior signals to drive a more personalized customer journey across marketing campaigns and channels. One common use case is to trigger different experiences for customers whose interactions put them into certain segments. 
To use a generalized example, if a customer's interactions with our social media channels, paid ads, and website put them into our tech ecommerce segment, we can automatically ensure a personalized experience tailored around tech ecommerce.
In this regard, customer data platforms can be quite useful for driving customer engagement.
Advantages & Disadvantages of CDPs
For a marketing team and their tech stack, a CDP can be of advantage in a few important ways:
Rely on a Unified Customer Profile that brings in data from many sources (360-degree view)
Find and create new audiences
Unlock campaign optimizations that improve ROI  
Integrate CDP with other sales and marketing systems
In terms of disadvantages, we've seen teams run into a few obstacles: 
Designed primarily for Marketing solutions (e.g., Salesforce Marketing Cloud) 
Identity resolution can be difficult or inadequate
Data protection can be an issue
Expensive 
What's a Relevance Platform?
On the other hand, you'll find relevance platforms at work in customer support and self-service environments. In Relevance Platforms: The Secret Ingredient for Your Tech Stack, we get a tidy definition of what a relevance platform really does:
A Relevance platform brings together the content you have with the way that people interact with that content. In slightly more technical terms, it looks at ranking algorithms to match a search query or search term to the most relevant search result.
By providing personalized search and recommendations in every channel, both agents and the customers they support will find it far easier to get answers. Agents, for their part, can quickly get recommended solutions generated by powerful machine learning algorithms, without leaving the agent interface. 
That same unified search experience can tailor results in various customer self-service channels, too, such as communities, knowledge bases, and within products themselves.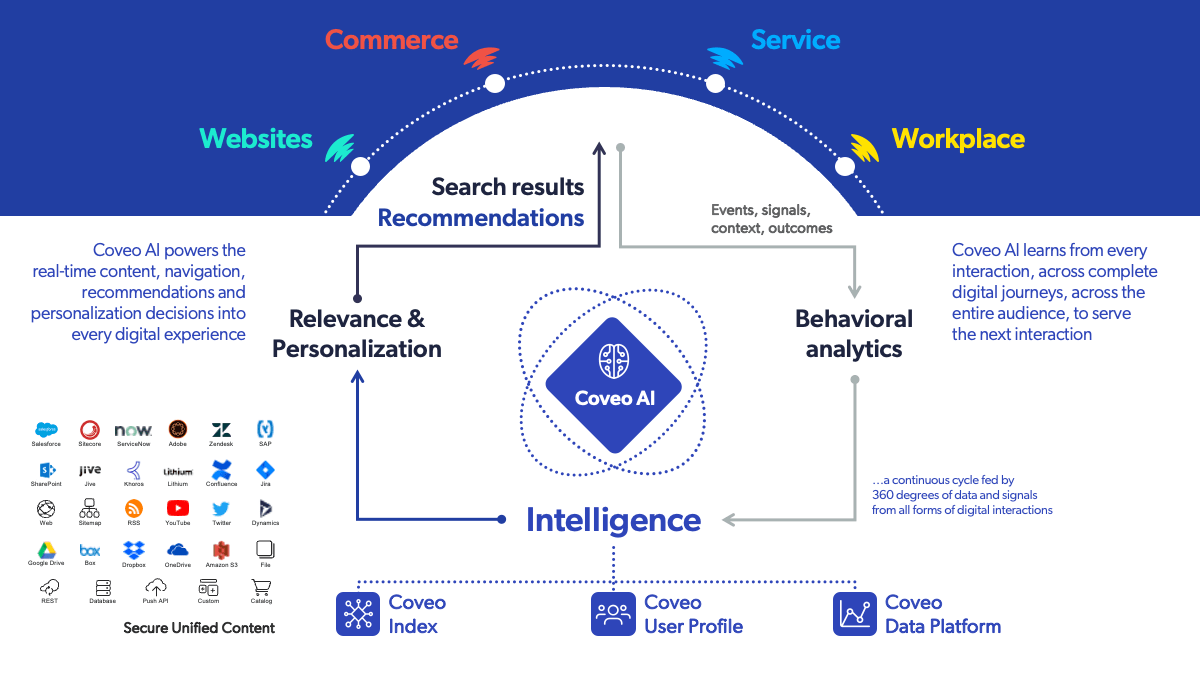 There's a couple key advantages and features of relevance platforms that I'd like to point out:
Securely index any content source into a single unified search index (100+ types and 55+ sources, in the case of Coveo integrations)
Feed usage data to machine learning algorithms that determine the best queries, results, facets, etc.
Extract and display the most relevant answer and other similar answers
Anticipate what an unknown visitor needs based on product associations and in-session actions
Integrate personalized search and recommendations into any customer, partner, or employee applications
Store data in the region of your choice
How Relevance Platforms Are Applied in the Real World
While we make the distinction between web and marketing use cases (CDP) and customer support and self-service (relevance platform), the latter is rather expansive in terms of real-world applications. For example: 
Educational Consulting & Policy Research. Mathematica replaced an old enterprise search function with Coveo Insight Engine to deliver relevant and personalized experiences to its website visitors and to its employees on the Intranet. Read the Mathematica Case Study.
B2B Ecommerce. FleetPride built a Coveo search experience that ensures customers cut through millions of SKUs to get the exact truck part they're looking for, including partial part number match and VIN lookup. Read more in FleetPride: Raising the Bar for B2B Ecommerce Platform Search.
Healthcare. People want frictionless and successful experiences when they go online to look for a healthcare provider. In alignment with its insistence on excellent customer experience, Humana enlisted a relevance platform to better guide these healthcare journeys.
When It Comes to Choosing the Right Solution, Context Is Everything
If it seems like the sheer volume of solution categories, vendors, and technologies is expanding exponentially, you're absolutely right. Both a CDP and a relevance platform can be quite effective at personalizing end-user experiences. 
If your goal is to personalize your marketing campaigns and channels, then consider a CDP. But if your goal is getting the right content to the right person, then a relevance engine would be more effective.
It's the when, where, and how that makes the real distinction.
Dig Deeper
Wondering how your customer experience stacks up? Check out our Customer Service Relevance Maturity Model for insights on empowering your agents' proficiency, putting the right content in front of the right person at the right time, and much more.