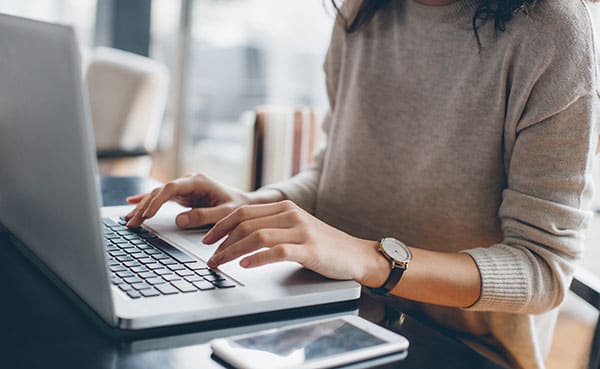 The workplace in this "Roaring 20s" decade is anything but tame and complacent. The modern workplace flies at the speed of thought, bombarded with all types of information overload. Sifting through it all to make sense to the recipient has become a Herculean challenge.
And if that wasn't enough, we had to deal with a deadly global pandemic that kept many workplaces closed and employees out of work. For those fortunate enough to work remotely, a new lexicon emerged—Zoom meetings.
Workplaces are beginning to see the light at the end of the tunnel, with safety mandates lifting and businesses allowing their employees to return (at least on a staggered basis) to conduct their work as before: among co-workers, with coffee or tea mug in hand.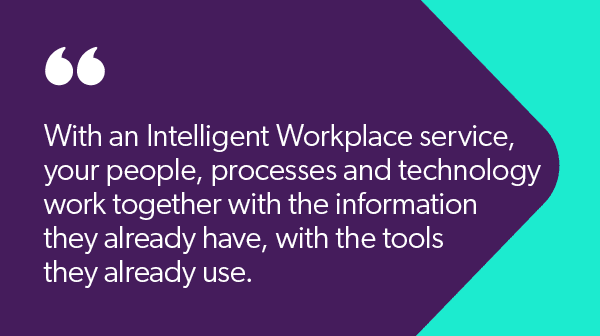 But those employees have changed. They have survived a year of having to figure it out—often with kids underfoot, and spouses in the next room on their own Zooms. They aren't coming back as complacent as before. And if you want to retain them, you need to think of rebooting your efforts around the Intelligent Workplace.
How Artificial Intelligence Impacts Employee Experience
Before the covid 19 pandemic, it might have been (marginally) acceptable to have valuable and useful knowledge in a variety of platforms. However, this hampered productivity and proficiency. Employees now want synthesized knowledge that addresses their specific needs for the specific project at hand.
An example is your local automobile dealership. Employees deciding which models of new and used vehicles they should inventory for the 2021-2022 season could analyze the data the old-fashioned way by manually checking Motortrends to determine which vehicles are seen as the best and fastest sellers.
Or they could evaluate the knowledge that could be found at the stroke of a key within their specific Intelligent Workplace database to find the best sellers from every demographic. Saves time for that employee, and saves money for that dealership.
Another example is employee expense reports. What used to be a paper-centric process that involved locating the right form, printing, filling out, signing, and manually handing off to the correct gatekeeper can evolve, using an Intelligent Workplace service. Instead, it can be digitally streamlined using a desktop or mobile app.
It comes as no surprise that the common intranet has proven to be useful to encourage collaboration, promote engagement, and improve overall efficiency. The Intelligent Digital Workplace is a next generation intranet that turns efficiency gains into proficiency gains, and ultimately reduces the skills gap.
Improve Proficiency of Knowledge Workers
Knowledge is any organization's greatest asset. Your team and your systems hold the information needed to bring your business into the future—but are they being used to their fullest potential? Emphasizing collaboration improves not just your bottom line, but also your employee experience. With an Intelligent Workplace service, your people, processes and technology work together with the information they already have, with the tools they already use.
The Intelligent Workplace sits on top of your existing collaboration tools and other systems across your enterprise, and brings them to the next level. The secret sauce is its ability to gather the most relevant information from across all your enterprise silos, understand your context, learn from past behavior and outcomes, and deliver insights through the applications and devices of your choice.
Beyond improving the efficiency of sharing and/or finding information, these insights boost proficiency by allowing people to handle more complex tasks independently and conveniently.
The Intelligent Workplace boosts employee productivity by adhering to these three main capabilities:
Responsive

; delivers Google-like answers from information accessed from across your business's disparate information silos.
Prescriptive

; suggests related content, products and people based on the original query, who you are and what you are working on.
Optimized

; recommends content and people that have helped others succeed who had similar queries. Predictive analytics and machine learning constantly analyze and update these recommendations in real-time for optimal success.
Not only does the Intelligent Workplace alleviate your skills shortage and improve the proficiency of your knowledge workers, it increases your return on knowledge by putting all your information assets to use. Furthermore, it leverages scalable and simple technology that supports your business's rapid growth.
Intelligent Search and Predictive Analytics technologies are what makes the Intelligent Workplace possible. Intelligent Search provides a scalable and simple platform that allows you to continually add or remove new content sources from a global content pool, then dispense the information on demand.
Perhaps one of the greatest things about the Intelligent Workplace is that it doesn't require you to migrate your data into a single repository, and can surface information through a standalone search interface or a search app integrated into a system of your choice.
Predictive analytics then leverages usage analytics and applies machine learning to analyze behavior and deliver recommendations based on the prior experience of others in a similar context.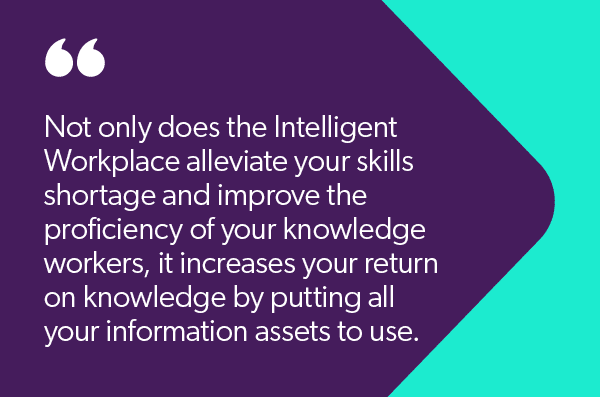 Get Smarter With Your Workplace
COVID-19 brought on many challenges to the entire planet. Some businesses have already adapted and are thriving; some have not and have failed.
Where your business fits into the new digital workplace requirements depends on how well you can integrate your systems and personnel with collaborative processes, tools, and philosophies, moving into the other side of COVID-19.
The Intelligent Workplace is personal, effortless and everywhere—making your knowledge workers and your business more proficient and scalable.