Machine Learning and Predictive Analytics Powers Intelligent Assisted Support
Today, there is no aspect of our lives that is untouched by technology. The more technology advances, the more it influences the way we learn, communicate and make decisions.
As consumers of the digital era, we have become conditioned to search for the answers we need. Whether we want to know how many steps we took in a day, a hotel rating on the other side of the world or how to turn on our TV, the answers are a click away. The way consumers engage with brands is fundamentally changing the way businesses interact with them.
Support automation is helping businesses keep up with the ever-evolving demands of consumers and stay ahead of their competition.
An Overview of the Support Automation Timeline
Before automation, support knowledge management consisted of product manuals, faulty memories and handwritten notes. Automation capabilities have changed the game and continue to make it easier for knowledge workers to access information that their customers need – dramatically enhancing customer support.
In the early 90's, expert systems were introduced. They were menu-driven knowledge management systems that were pre-written flows that would prompt users with questions and lead them to the right answer. The challenge with expert systems was that businesses had to know the questions customers were going to ask in order to build them. This model was not only unrealistic but it was not scalable. Every time new features and capabilities were introduced, the menu would need to be re-written. Needless to say, they actually hindered productivity more than helped.
Fast forward to the early 2000's and we started to see some great advancements in support automation. One of the first developments to actually simplify the automation process was the client/server CRM system. Its easy-to-use capabilities improved the way tickets were created and customer history was managed, dramatically enhancing the efficiency of support organizations.
Then multi-channel support was introduced, allowing knowledge workers to create response libraries by documenting emails and chats. These libraries made it easier and faster respond to customers, handle multiple chats at a time and respond to emails automatically.
Around 2010, customer support was forever changed through the adoption of communities and social media. Instead of solely relying on internal documentation, companies began to tap into the knowledge and experience of the masses. They recognized the wealth of information that was being shared between their employees, customers, partners and other industry experts, and used it to expedite resolution.
However, the most revolutionary support advancement of this decade was unified search. It changed the way both employees and customers engage with knowledge. For the first time, the best answer was accessible, regardless of where it was stored, with a single search. As a result, businesses saw an increase in productivity, customer satisfaction and overall support success.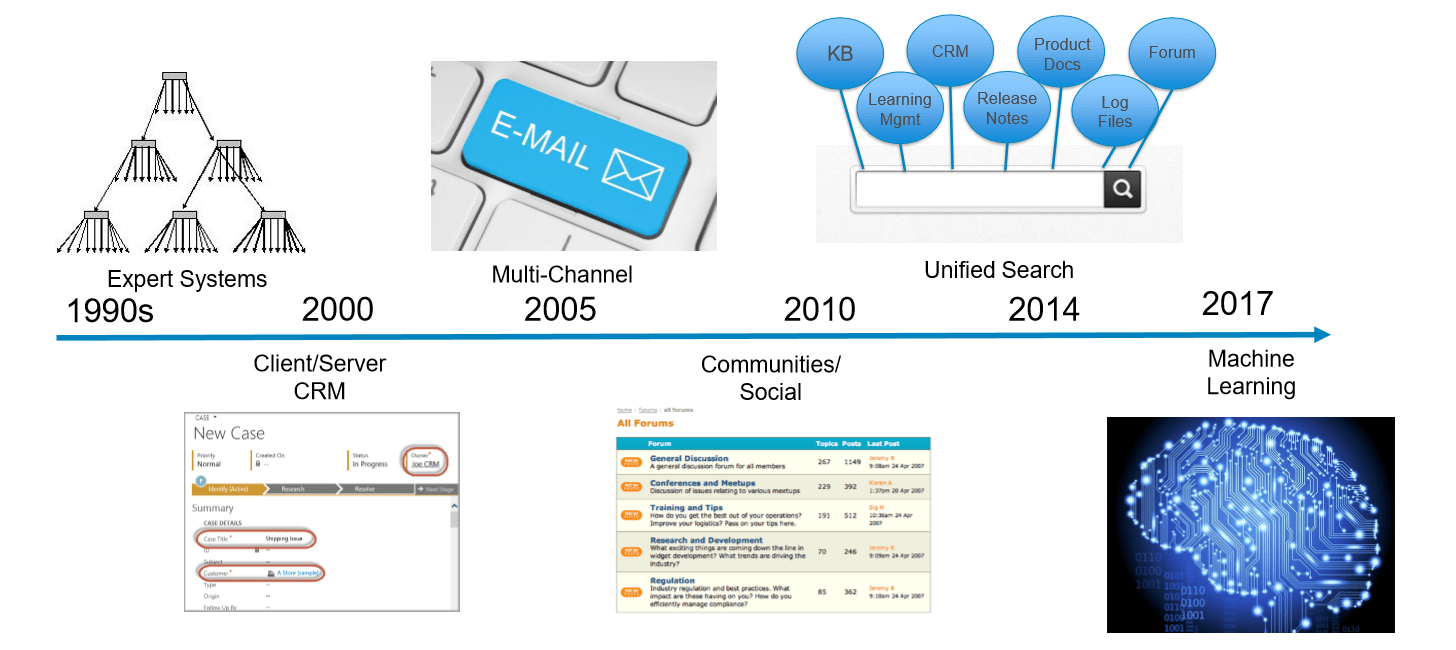 All signs point to AI
Today, companies want to enhance their search capabilities to generate insights. As a result, there has been a lot of buzz around AI and machine learning. Decision makers are eager to learn how they can use AI to break down their data and predict what their customers and agents are looking for and what they'll need to succeed.
Leading organizations have already begun to embrace AI and are using their data to drive a better user experience. The 'intelligence' is pulled from the unified ecosystem of record and is powered by rich analytics and machine learning. With it, companies are able to automate agent activities and process flows. This helps agents to analyse case history, liaise with internal experts and recommend relevant solutions to the customer with ease. Customer automation is also made possible through machine learning as it identifies missing self-service content customers are searching for and it recognizes the top used and least used content by demographic.
The advantages of machine learning continue to grow and experts predict that over 60% of organizations will be using it in some way by 2018. John Ragsdale, VP Research, Technology & Social, TSIA shares, "The number one request from TSIA members over the last 6 months has been analytics and machine learning".
Why intelligent assisted support?
Data is crucial to the success of a support organization. but it is just a piece of the puzzle and is unavailing if it's not used. Assisted support puts that data to work and is benefiting companies in the following ways:
Improves customer experience:
Higher CSAT
20%+ faster time to resolution
20% increase in first call resolution
Upskills support engineers:
45%+ faster time to proficiency
20%+ higher employee retention
20%+ higher employee engagement
Enables a strong self-service strategy:
Improve customer success with self-help online
Increase case deflection and self-service success
Builds organizational learning:
Actionable information to developers about customer issues
Incident reduction due to root cause removal
Innovative companies are building their intelligent assisted support strategy on four key pillars:
Build a solid knowledge foundation. Establish a process to capture and re-use knowledge and create a virtual knowledge base that makes all potential case-resolving content available to customers and support engineers.
Put content in context. Improve the customer experience by offering a single view of all content, the ability for your customers to self-serve and contextual recommendations. Improve the support engineer experience by providing agents visibility into customer search journeys, knowledge directly in the flow of work and access to related content, articles, experts, cases and other documents.
Monitor and measure. Take a holistic view and monitor usage, adoption, content consumption, contribution and measure success regularly.
Continuously learn and improve. Find and address content gaps, automatically promote helpful content based on what has made others successful, and proactively suggest relevant and contextual content or offers.
As the amount of digital interactions increase, as must company's ability to handle it. Agility, efficiency and relevancy are what's needed to survive in the digital era. Coveo™  AI makes that possible and easier than ever before. Coveo machine learning and usage analytics technology learns what makes people successful, continually improves search results and predicts relevant content – keeping your customers happy and your employees engaged.
Dig Deeper
Service organizations that have the best agent experience do just one thing differently from everybody else. And that creates an environment where agents are engaged, efficient, and happy to stick around. Discover the key to creating a better agent experience in the 2023 Customer Service Agent Relevance Report.
The Key to Creating a Better Agent Experience
Free Download: Customer Service Agent Relevance Report 2023