When employees say "it's me," the only suitable response from employers is "I know." That was one of the lasting takeaways from a recent discussion between Greg Laporte, Director of Product Management, and Barry Brooks, Sales Engineer at Coveo. The two spoke during a Relevance 360° Week session entitled, Revitalizing the Workplace Experience.
Both Laporte and Brooks agree that knowledge is a great opportunity for this kind of personalization. The days of flat, uninspiring intranets that do little more than house links are long gone. Today, relevance is the word, as is personalization and consistent employee experiences. As employee experience management regains top billing on the priority list, here are some things that Laporte and Brooks suggest that companies keep in mind.
Shine the Bright Hot Light on Employee Experience
What happens when the entire world suddenly moves to a hybrid or remote working environment? "All the things that are difficult to do, hard to find, or flat-out broken get a huge spotlight put on them," says Brooks. "We saw that during the pandemic and now, as many companies are choosing to keep employees 100% remote or offer some hybrid approach." 
If companies couldn't afford low employee engagement, burnout, and turnover before, the COVID-19 pandemic only made the risk more acute. And one of the main drivers of these negative employee outcomes is a lack of access to quality information. McKinsey estimates that the average "interaction worker" spends 20% of their workweek "looking for internal information or tracking down colleagues who can help with specific tasks."
When auditing your own employee experience framework, this is a good place to start.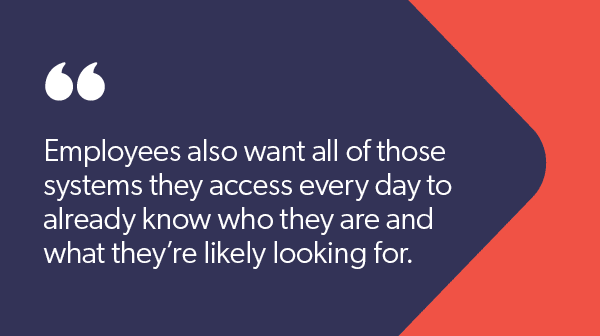 Ask What Employees Actually Want
Laporte and Brooks also agree that, to bring this number down, companies need to find new ways to deliver consistent, personalized experiences across all of the portals, systems, and interfaces that employees use every day. That means asking employees what they want and how they want to engage with their work on a daily basis. 
"I find that the answer usually boils down to, 'let me find the info I need and be able to do what I need to do wherever I'm at,'" says Brooks. "Employees also want all of those systems they access every day to already know who they are and what they're likely looking for." 
In other words, companies not only need to personalize the employee journey, but also deliver that same experience consistently across channels to promote employee engagement. "Maybe I'm an employee that starts off on my mobile device in the morning," says Brooks. "I want to be able to start on mobile and move to my laptop without interrupting the experience at all."
Of course, the people-power required to deliver this kind of employee experience platform at scale is far too great. Which is where technology, such as AI, can be used to automatically stitch all of these experiences together, often bringing in many different sources of data and information. 
Look Internally at What You Already Have
Given the urgency behind a positive employee experience, there's a tendency to rip and replace everything. Instead, Brooks encourages companies to ask the right questions about what a company already has. "Do we have the right mix of portals? Can we streamline things at all? These are good questions to ask. The best strategy is to focus less on moving content but instead using applications that go out and grab all the content you already have."
For an organization that isn't ready to move off of multiple portals and platforms, or can't possibly do so in the short term, there's alternatives that still allow for better experiences in the interim. "That's where something like Coveo can be really powerful in unifying various experiences," Brooks added.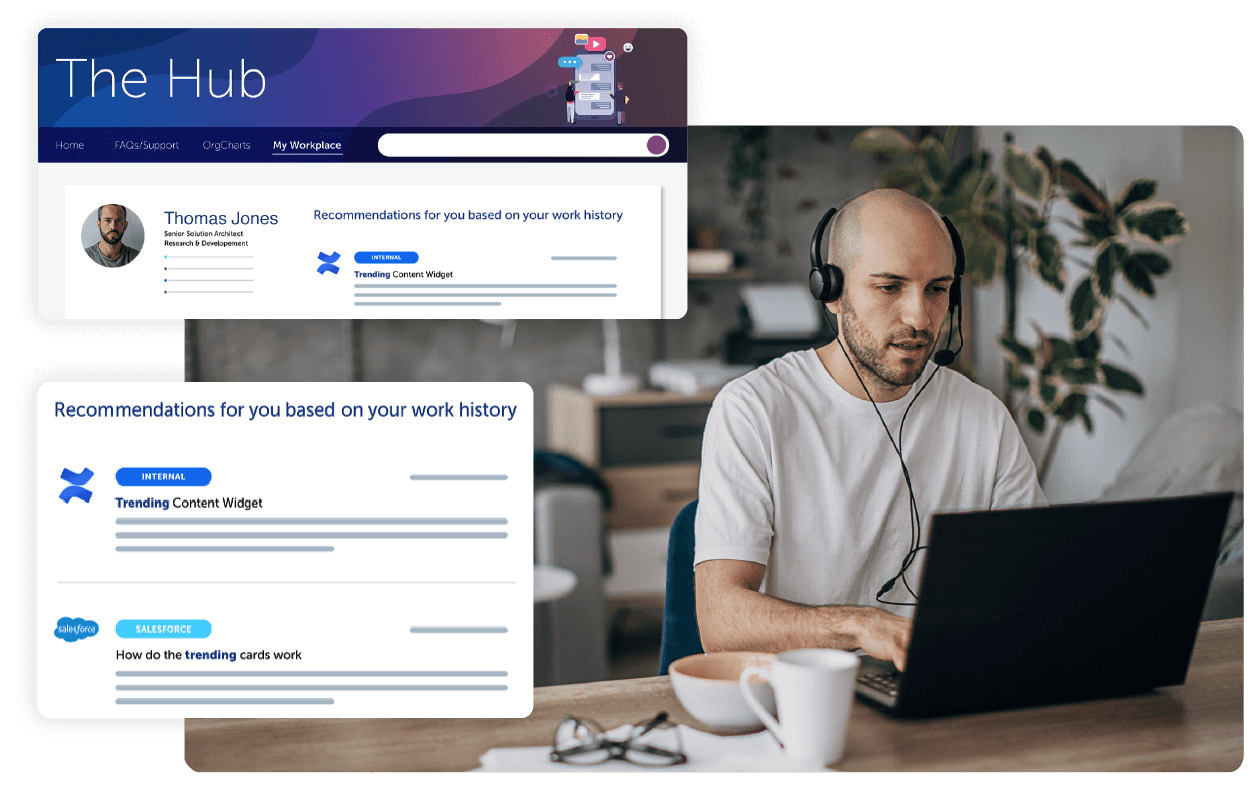 Here's what that might look like in practice. Take an internal employee portal powered by Coveo. Here's what the employee sees: 
A prominent search bar that recognizes them by name and provides quick, AI-powered search capabilities
Another panel with recommended content based on job title
If that person is a new hire, they'll see the five or six articles that the past 50 new hires used
A panel with links to email, LinkedIn, and phone for their team (manager, coworkers, and direct reports)
Location-based (home city) and personal-profile based (interests and hobbies) suggestions
Again, none of this is new content or information. Just a new technology to bring it all together.
Build Digital Experiences that Mimic Personal Life
Finally, Brooks underscores how motivated employees are by the digital experiences they enjoy in their personal lives. "I want an employee experience on par with the last best digital experience I had, which usually comes from my personal life on an app or web browser," he says. He points to two strong examples:
The Big Box Retailer Example
Brooks recalls the "expert finder" experience that a big box retailer rolled out to all of its locations. Essentially, this is an internal mobile app that employees can use in store to create, share, and search things like how-tos, tips and tricks, product comparisons, and so on. "This way, employees from other stores can access the app on mobile and tap the screen and consume knowledge content the way they want to."
Sounds a lot like Google or YouTube, right?
The Distributed Tech Company Example
In another example, a tech company with 50,000 global employees—all remote—flipped its old content paradigm on its head. "They went from flooding employees with all the content in the world, to a 'content finds us' model that's a lot more personalized." 
The company didn't have to "lift and shift" its existing platforms, nor undergo some massive centralization. It just employed an AI solution capable of bringing content from disparate sources into a single, tailored experience.
The Takeaways for Revitalizing the Workplace Experience
As you embark on your own employee experience projects, here's the key takeaways from this particular Relevance 360° Week session: 
Employees demand modern experiences with really, really good UX (of which search is a central part)
You don't necessarily need to centralize content to deliver consistent experiences across channels
Personalization only goes so far unless it is scalable
The employees last experience sets the bar for the new experience
Again, you don't have to completely overhaul your systems to deliver a modem experience. You don't have to rip and replace existing portals in your system. 
"The tech is here to level up what's already out there," concludes Brooks. "You can inject ML/AI models into those experiences and drive more personalized experiences wherever internal employees are at."
Dig Deeper
Looking to upgrade your employee's remote work experience? Whether distributed or in-person, everyone benefits from secure access to critical and trusted information resources. Here's our Guide to Build a Connected Workplace for your Remote Workforce.