Before the covid 19 pandemic, the health insurance industry was changing rapidly to meet consumer demands.
The pandemic accelerated a change in service delivery, moving from in-person to remote that continues even with the vaccine rollout. This has reset consumer expectations for how they receive service from their health insurers and providers alike.
We see four health insurance trends coming this year that will have the greatest impact on member experiences in the health insurance market.
Quality Of Customer Experience Matters More Now Than Ever
The US health care system was designed with government, providers, drug companies, and insurers in mind, not patients. The result of this is a byzantine and opaque set of business processes that frustrate consumers. Only 49% of consumers say that the health care customer experience is satisfactory.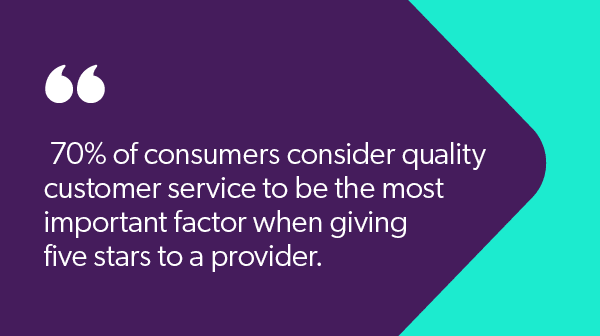 Consumers are demanding more, and are willing to go to alternative providers if they don't. The lines are blurring, too, with retail giant Walmart starting to sell insurance coverage. These alternatives give consumers leverage to expect more from their health insurer.
Consumers expect seamless experiences, regardless of how they choose to receive their care or interact with providers and insurance companies. After all, 70% of consumers consider quality customer service to be the most important factor when giving five stars to a provider.
They look to health insurers to offer a bank- or telco-like experience, with a robust member portal, chatbots, and other connected health services. A member portal is the natural first step individuals take when starting care, such as finding a provider or looking into the status of a claim. Consumers have been trained to expect an experience with usability and findability top of mind. And they are using these features too: patients rely on online search (38%) more than provider referrals (30%).
To make this work, health insurers are applying AI to personalize the health plan experience, offering up content suggestions or steering users to the right piece of content. This can be further expanded with chatbots, which steer members to content that best meets their needs.
These expectations go beyond the member portal. If a member does call in for service, they expect agents to have relevant information in front of them, such as status of their claims, and to quickly solve any issues they encounter.
Connected Health Surged In 2020, And Continues To Grow
Connected health, the trend of delivering healthcare services remotely, grew rapidly during the pandemic. With restrictions on visiting providers, patients turned to telehealth or telemedicine in place of in-person visits. Virtual health care provider visits jumped to 28% in April 2020.
While the concept is not new, the pandemic forced providers and insurers to revisit how they approach telehealth. Insurers not only offered it as an option but also helped raise awareness of it with payers.
It turns out that, not only did patients like the concept, it offered some attractive cost savings that pleased providers and insurers, too. Telehealth will continue long after the pandemic has ended—on average, 80% of consumers are likely to have another virtual visit, even post COVID-19.
To meet this expanded demand, providers and insurers need to not only build up the infrastructure to deliver remote medicine but also the service infrastructure to support it.
Connected health also includes things such as home-connected devices. By leveraging the Internet of Things (IoT), insurers and providers can remotely diagnose or monitor patients. This enables providers and insurers to intervene early to improve health outcomes along with saving money.
A remote blood pressure monitor could identify a troubling trend in a patient. An insurer may prompt the patient's provider to check on them, maybe to see if they're taking their medication or to come in for a full health screening.
The remote nature of these devices helped them grow in relative importance for patient care in 2020. Coupled with the rapid pace of innovation in medtech devices, the importance of connected health will be a key determiner of customer satisfaction in 2021 and beyond.
Vertical Integration Disrupts Service Models
Vertical integration is the process of a company buying or controlling its suppliers or distributors. In the last few years, the health insurance industry has been rocked by blockbuster acquisitions that vertically integrate.
For instance, in 2018 CVS completed the acquisition of Aetna, integrating a national pharmacy chain with a health care insurer. The rationale for the acquisition was to deliver superior customer experience and care for patients.
This trend continues with recent announcements of UnitedHealthcare acquiring Change Healthcare and Centene acquiring Magellan.
We expect more activity such as this over the coming year. This means these insurers will be updating their go-to-market models to match the promise of the acquisition.
It will result in blurring between providers, insurers and outsourcers.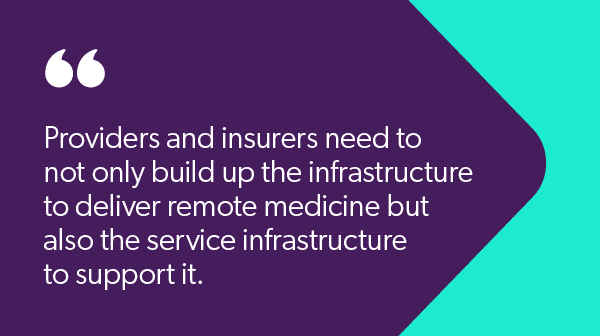 Artificial Intelligence, Big Data, And Machine Learning Will Transform Health Outcomes
Health insurers collect large amounts of data. All of the healthcare trends up to this point involve more data being generated and collected by providers and insurers—data involving the status of claims, health conditions, and connected devices.
While that data has been used in the past to help set reimbursement rates, it offers new opportunities for health insurers to improve their quality of service. This is not a new phenomenon, but COVID-19 accelerated the trend. Deloitte states that 75% of large health care organizations would spend over $50M in AI expenditures in 2020.
What would this look like? A health insurer could subsidize the purchase of personal fitness trackers, then leverage that data for personalized recommendations. Those recommendations could include a premium discount or tailored exercise regimen. This helps the insurer save money in the long run by offering preventive care.
AI naturally extends into claim processing, which is dreaded by members and providers alike.
For members, a slow, opaque process leaves them feeling stressed about their medical care. Will the insurance cover it? Service agents need a reassuring answer fast for that anxious member on the line, without having to "swivel chair" from one system to the next.
For providers, a snaillike-claim process that results too often in mistakes or erroneous rejections impacts them financially. This process is ripe for automation, as the AMA pointed out claims have up to a 19.3% error rate.
Dig Deeper
With the opportunity for members to engage with their health insurance online, expectations are skyrocketing.
Health insurers need to focus on delivering an exceptional digital experience, while supporting their service agents to achieve first-touch resolutions and avoid burnout.
To learn more about how to deliver a digital health insurance member experience customers expect and how to help them help themselves, read Coveo for Healthcare.