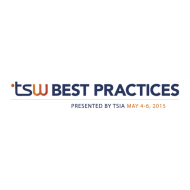 Next week, 1,000 technology industry service & support leaders will gather at the TSW Best Practices conference in Silicon Valley to share ideas and explore the key role that service leaders must play in driving successful outcomes for customers.
Embracing that role, many service leaders are looking to up their game in knowledge management. TSIA reports that 69% of members plan to invest in improving customer- and agent-facing KM solutions this year.
Enormous Potential
They are making these investments because they understand KM's potential: 73% of customer service leaders surveyed by TSIA would expect at least a 20% productivity improvement with better knowledge sharing and access.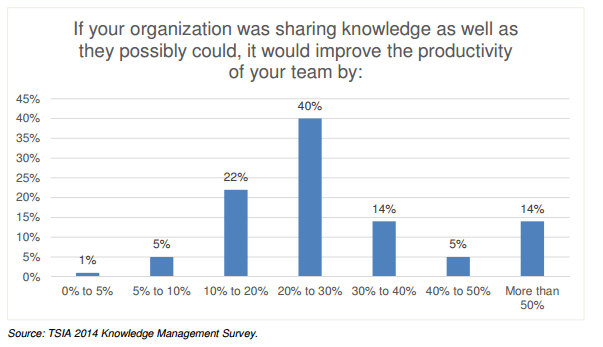 And that potential extends beyond merely efficiency; it directly impacts the support outcomes that drive satisfaction and success. Just consider how much more competent your customers and agents could be if they have your collective knowledge at their fingertips.
Three Ways Search Drives Support Outcomes
Many companies have tried and often found it an impossible task to put all of the information agents and customers need into a single, vetted knowledgebase.
Since case resolving knowledge is everywhere, the only effective way to reach it at scale is with unified search technology. Search technology taps into the power of the fragmented, disparate information throughout the enterprise and presents it in context to customers and agents where and when they need it.
#1 Search helps customers serve themselves
According to TSIA, 59% of company self-service sites don't search beyond the knowledgebase. This leaves out relevant information from communities, product documentation, newsletters, blogs or even YouTube.By putting this disparate information in the hands of your customers on your self-service site, they can find solutions to problems on their own, without needing to call for support.
For example, using unified search on its Success Community to integrate several sources of information, Salesforce was able to increase case deflection by 4% in just three months (their average case load was about 50k/month).
#2 Search helps agents be better at their jobs
The average contact center agent at TSIA member companies uses from 4-11 different systems to routinely provide support to customers.
Unified search eliminates the burdensome task of manually searching these systems, and even proactively recommends relevant solutions, information and experts based upon the details of the case-at-hand, right in the Salesforce Service Cloud console. Seeing relevant content in context allows agents to focus on the customer – not research – accelerating case resolution, minimizing escalations, and boosting agent proficiency.
"Coveo has made it possible for us to index every single thing that any agent would need to search on, and do it right here [Service Cloud Console] in a single interface. Our agents love it," said the internal systems manager at PDI.
#3 Search gives managers tools to improve performance
Most contact centers have no way to monitor knowledge use, identify content gaps or tune search so that the most relevant content rises to the top.
With search-based usage and knowledge analytics, you and your managers can spot trends, fill content gaps and optimize the relevance of search results in your contact center and on your self-service portal.
To learn more about the role of analytics, check back here next week for a free copy of TSIA's new report, "Leveraging Analytics to Boost KM Success: Proactive Analytics Streamlines the Knowledge Maintenance Process."
If you'll be at TSW Best Practices next week, request a meeting with the Coveo team or stop by our booth to see search in action.