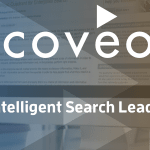 Last week, Gartner released its 2015 Magic Quadrant for Enterprise Search. For the second year running, Coveo was named the most visionary leader among 15 search providers reviewed. This is a very proud and also humble moment for us. Our customers, our partners and every member of our team can and should take credit for this achievement. Without all of you, we would not be able to achieve our vision.
We are obsessed with the opportunity of transforming business by connecting information everywhere and giving people the insights that matter, at every point of work and for every customer interaction – helping them upskill in real time.
In the Magic Quadrant report, Gartner Analysts Whit Andrews and Hanns Koehler-Kreuner wrote that "enterprise search technology is growing more powerful," and we couldn't agree more. We firmly believe that like consumer search, intelligent search is fueling the next wave of growth for businesses, particularly within digital workplace and digital customer transformations.  
In the MQ, Gartner reported that companies are seeing more success with enterprise search than had been thought possible: "Companies and governments are using enterprise search technology effectively in ways that just a few years ago would have been impossible and thought unlikely to succeed in the future."
We believe that there are several keys to this success, and they align with the strengths for which Coveo was cited in the report:
Unusually rich security functions which support various authentication models and enable complex privilege systems to be preserved in search results;
Autosuggest options which enable organizations to derive automatic suggestions from the search index; and
Analysis of results which reveals patterns in unstructured content.
Each of these elements is critical for intelligent search success, because each is foundational to achieving high levels of relevance – which in turn is required for viral adoption – by employees, customers and partners. In the end, search technology is only as good as it is relevant to the task at hand, and workers and customers alike know to recognize this first hand. This is precisely what we focus on.
Autosuggest means search becomes the "butler" – understanding what you need before you even ask for it, and recommending the information and experts who can help you achieve your goal at any given time, within any system, on any device. We are in the world of proactive and predictive insights, surfacing relevant information that the user did not think about asking for at the first place, and suggesting the probable next best action. Understanding patterns enables both high levels of information and human correlation, as well as behavioral analysis to continually enhance relevance. This is an area where we are investing massively.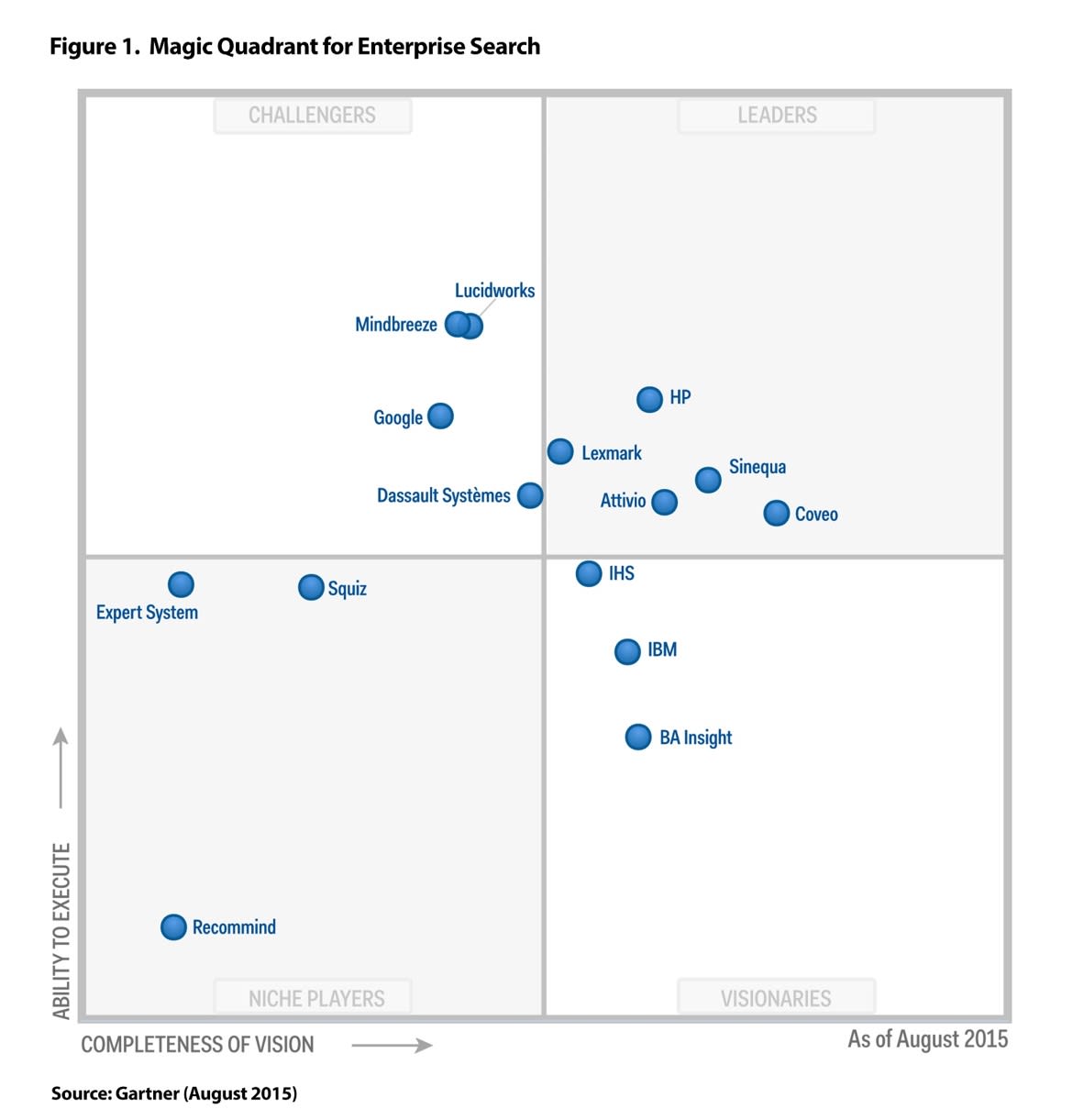 The future of intelligent search is bright, and it is evolving. There is more executive focus on search today than at any time in memory – we believe this is because search forms the heart of the digital workplace, connecting information and people in consumer-like ways. Industry analyst firms such as Gartner and others are creating new reports, new names for search, and even creating new categories of technology that search enables.
Research has shown that people learn via search and at Coveo, our mission is to help people upskill as they work, at the moment of need, helping businesses become more agile as they transform to digital workplaces.
In the MQ report, Gartner proposes that:
"By the end of 2019, more than 10% of internal search results will not originate from explicit queries." 
This is already the case with Coveo Intelligent Search apps, and we believe that this ability to automatically suggest content and experts that matter – combined with unparalleled relevance – are the future of search and hence of digital workplace agility. Such capabilities help "deliver a more consumer-like computing environment," as Gartner defines the digital workplace, and enable people to become more skilled as they work, capable of tackling ever higher-level work.
As an example, our Coveo for Salesforce apps understand what the user is working on and simply show related content and experts. Companies such as Salesforce itself, along with VMWare, Ribbon Communications (formerly Sonus Networks), Genesys, BMC and many more are finding tremendous value in upskilling employees and customers as they work, with intelligent search. At a Dreamforce session last year, Salesforce Chief Support Officer Atul Nanda said, "What Coveo has done for us is massive and game-changing." Other companies, such as AECOM, are using Coveo to connect the entire digital workplace for tens of thousands of employees on the Force.com platform. This is what we get excited about.
Our Coveo for Sitecore apps help websites become search-driven, taking into account the context and profile of website visitors. CMSWire and GE Healthcare, among others, are using Coveo to personalize site visitor experiences.
Coveo is growing rapidly, fueled by our contagious passion. Our results underscore the importance of intelligent search, as organizations transform their workplaces, with sales growing consistently at 80 percent. We recently announced our new cloud platform (read Why We Built Coveo Cloud), expanded our partnerships, had several record-breaking quarters, and our developers even found time to create and launch a fun, free new app (check out our Coveo Dreamforce Session Explorer). Most important, our customers have continued to generate tremendous return from embedding intelligent search when and where people work (read our customer success stories).
I would like to again thank our customers, our team and our partners for sharing their passion and support for intelligent search apps to transform digital workplaces, helping them become more agile, more consumer-centric and more highly and variably skilled.