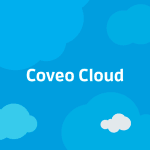 Our mission at Coveo has always been to drive innovation in the field of enterprise search by looking to the future and building the tools we know our customers will need to be successful. That's why three years ago we decided to bring our secure search technology to the cloud, and build a search-as-a-service offering optimized for the modern enterprise. And this week, I am excited we are announcing the results of this work: Coveo Cloud. I believe it represents the right technology at the right time. Here's why:
Enterprise Cloud is the New Normal
Many organizations leverage public cloud architectures to process enterprise workloads that in the past ran strictly on-premises. This is a logical evolution, as people better understand and experience the unique value a public cloud can deliver:
Elastic resources: New servers spun-up and retired instantly, coupled with virtually unlimited storage.
Robust security: Physical, network, and services security levels so stringent even intelligence agencies are now adopting cloud architectures.
Global scale: Geo-distributed data centers are now able to support the demands and SLAs of global organizations.
Consumption-based pricing: Highly cost-effective and predictable, ending the era of large, upfront capital expenditures.
Cloud accelerates innovation
As Steven Sinofsky recently noted: On-premises systems can no longer innovate fast enough for the modern enterprise. Only the cloud has the elasticity, scalability, and cost-structure required, and now – when architected well – it has the security, robustness, and ease-of-management organizations need. And these are precisely the elements needed to build really powerful and flexible enterprise search applications.
Best of Breed Fuels Fragmentation
Consolidation is no longer realistic
New cloud services are replacing the workflows once performed by "super platforms" like Microsoft SharePoint, SAP, and others. Companies like Salesforce, Dropbox, Box, Zendesk, Jira, Slack, and Sitecore have taken a leadership position in their respective markets by delivering best-of-breed point solutions, and organizations are using them because they're simply better, easier to use, and reduce the IT footprint. But the movement to cloud-based point solutions gives rise to a new challenge:
Data silos are proliferating
Point solutions organize and secure content in their own unique ways, and each creates its own data silo, largely segregated and untapped by the organization's other tools and apps. These silos in effect form an "ecosystem of record," with valuable enterprise content and knowledge assets distributed across the organization, and often not easily findable.
Managing these data sources in a way that enables employees, partners, and customers to find the content they need – in a compliant and secure fashion – is a major challenge.
Unifying Siloed Data Through Search
Enterprise search, meet the cloud
Enterprise employees, partners, and customers often need to access diverse, siloed data sets to be successful. A customer hoping to resolve a product issue on a company's website or online community might need to access product documentation, knowledge articles, and customer reviews to find what they need. Support agents might need to quickly access old support tickets, log files, engineering records, and other content. Whatever the situation, getting streamlined access to data residing in siloes is essential to efficiency and productivity in the modern enterprise. It means faster time-to-market on new products, better customer service, and happier customers.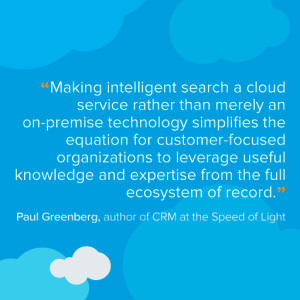 Enterprise search – when done the right way – is the best way to deliver this unified access.
The challenge, however, has always been one of connectivity: How do you build a cloud-based search index that unifies content from across all of the systems, sources, and apps an enterprise uses – both on-premises and in the cloud? How do you handle the unique security models of each underlying data source, and have precision control over when and how the source system is crawled?
Native connectors
Coveo has built and maintains our own connectors to dozens of secured data sources. We do this because delivering unified search across diverse sources only works well with connectors designed specifically for their target systems, their underlying data structures, and their unique security models.
With Coveo Cloud, we've committed to delivering these same high-performance connectors able to crawl both on-premises and cloud-based content securely, with the unified index residing in the cloud.
Unifying diverse data sources into a single cloud index is step one. Enabling end users to quickly find what they need to be successful – in the course of their work – is just as important.
Transparent, tunable relevance is essential
Making enterprise content findable, and making role and context-based content recommendations a reality – requires a relevance engine tuned to the specific organization. So at the heart of Coveo Cloud is our relevance engine, which combines a deep level of configurability with easy tunability. Content boosting, synonym matching, and other tuning functions are made easy for administrators with slider-bar controls and an integrated thesaurus. Using Coveo's Query Extension Language, developers can build relevance templates that deliver a personalized search experience for different audiences.
Analytics to understand your content and users
Admins and devs need to understand how different users are actually interacting with the search service: What are they looking for but struggling to find? What content gaps exist that need to be addressed? What documents are leading to greater customer interaction, or faster customer case resolution?
Coveo Cloud includes Coveo Usage Analytics (UA), a highly scalable and secure service that captures every interaction between users, Coveo Cloud, and the underlying content it surfaces and recommends. To make it as actionable as possible, we made sure UA supports the logging of literally any custom event, so admins can track how search impacts key KPIs like customer case deflection on an online portal, or first contact resolution within a customer contact center.
Coveo's UA provides the data-driven intelligence needed to tune relevance based on user behavior and business objectives…not guesswork.
Search & the power of the crowd
One of the "holy grails" of enterprise search has long been automated relevance tuning based upon actual user activity and content use. Just as Amazon uses the behavior of similarly profiled customers to recommend products to online visitors, companies have long sought to optimize search experiences for their employees and customers based on actual behavior and content interactions.
This is our vision for Coveo Cloud, and over the coming months we will be introducing crowd-based relevance tuning technologies and machine learning capabilities into the solution. We believe these capabilities will prove a game changer in the field of enterprise search, and it wouldn't be possible without the power of the cloud.
Cloud-Based Enterprise Search is Here
Enterprise search delivered securely from an easy to manage cloud architecture is the future.  But it doesn't work without a truly end-to-end solution; one with a highly-secure cloud platform, a library of secure indexing connectors, a transparent and tunable relevance engine, an actionable usage analytics service, and automated crowd-based relevance tuning. This is what we are building with Coveo Cloud.